Welcome! My name is Becki Kregoski and I'm a food fanatic and beer lover.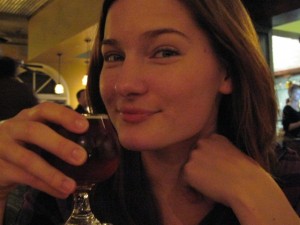 History of Brews - The first beer I ever tried was green – St. Patty's Day up at UCSB. No wonder I didn't like beer at first! However, my tastes were refined over the course of many years, traveling from Pacifico with lime to Fat Tire to Gulden Draak, Arrogant Bastard, Chimay, Dogfish Head and beyond.

On December 26,2010 I took up homebrewing and brewed my first batch, "Dos Beckis". It was love at first taste. I'm now a proud member of the Maltose Falcons homebrew club and brewing as often as my closet space allows.
I worked as assistant brewer at Wolf Creek Brewery in Valencia for six months in 2012, and moved on to craft beer distribution on October 1st, 2012 where I'm at today.
Currently I intern at Enegren Brewing Company in Moorpark, California, helping with everything the owners will let me get my hands on – brewing, working the tasting room, deliveries, tap cleaning, consumer education and beyond!
History of Bites – I love food. Completely adore it. Couldn't live without it (har har).
Food and I haven't always had such an accepting relationship. During my youth, I shunned anything that wasn't macaroni and cheese or mashed potatoes with peas. As I matured, I began incorporating more and more different foods into my repertoire, and have officially become a "foodie". I will try any food once and welcome challenges to my tastebuds.