Aside from my Starbucks visits while on the road to another show, and my very, VERY rare desire for a McFlurry during long road trip vacations, I tend to stay as far away as possible from fast food. This past weekend, however, I found the new meaning of fast food, and I am in love.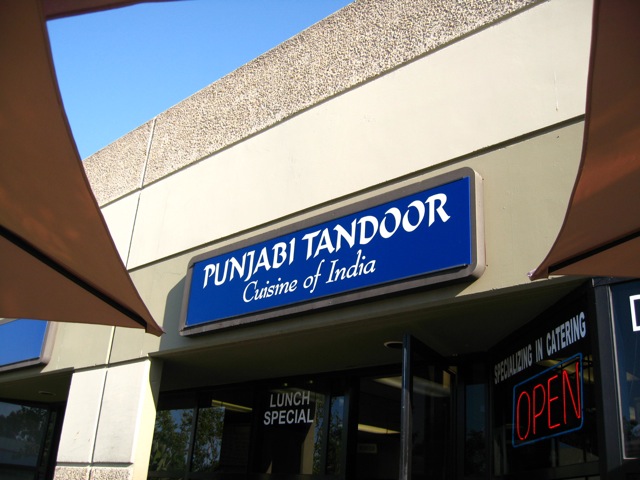 Yelp brought this hole-in-the-wall to my attention. The previous day, I'd discovered Indian Tandoor sitting in a strip mall, and was greeted with the most amazing Chicken Tikka Masala I'd ever had in my entire life – all served on styrofoam within five minutes of ordering. Punjabi Tandoor was the next day.

We placed our order and a few minutes later, had fresh samosas placed before us. These were piping hot and stuffed to the brim with savory saffron-scented potatoes, pearl onions, peas and carrots, and served with a spicy-sweet red sauce that tasted like warmed honey studded with dried red chilies. I inhaled mine and held myself back from licking the crumbs of the styrofoam plate it was served on.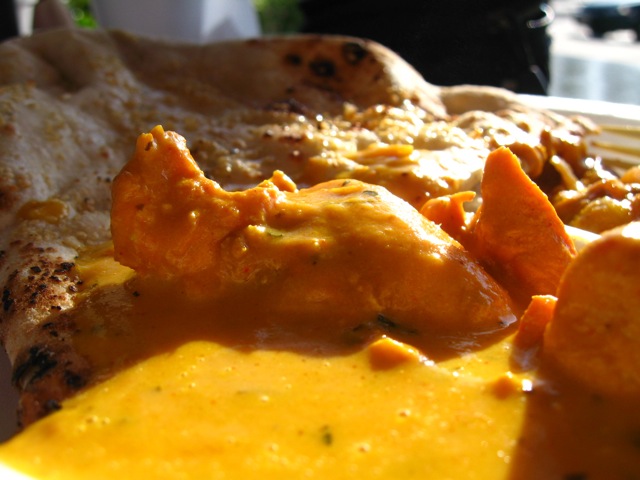 Seconds after I'd finished the samosa, our Chicken Tikka Masala and Baingan Bharta came rolling out. The chicken was delicious, but nothing compared to Indian Tandoor. The eggplant on the other hand… the absolute BEST Baingan Bharta I've come across in my entire Indian food-consuming career, and I've tried a LOT! It was perfectly cooked with a sweet charred scent, and spicy enough that you'd need tissues, but not so spicy that you couldn't finish. The freshly baked garlic naan that came alongside burned my fingers because I couldn't wait for it to cool before using it to sop up the delicious sauces.
The next day, I needed to try more of this non-chain fast-food that is speckled throughout San Diego.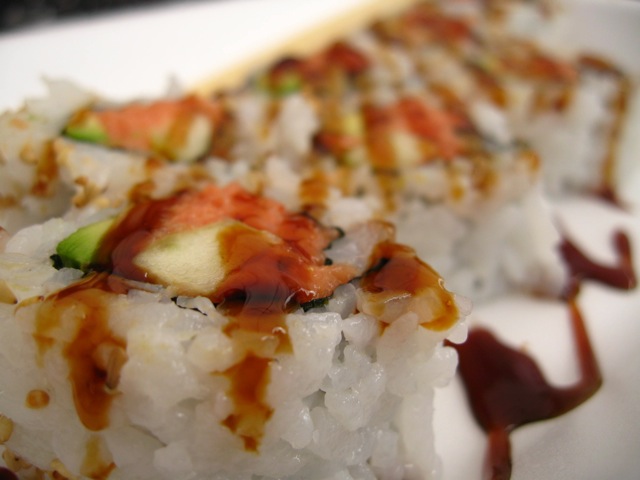 Enter Drift Sushi. Okay, technically they're a catering service, not fast food, but I watched them make my spicy tuna roll and serve it to me in two minutes, so I think it counts. This is, by far (prepare to roll your eyes), the BEST spicy tuna roll I've ever had. Am I getting monotonous? This roll was my breakfast, and I ordered it again for dinner. They generously stuffed it with creamy avocado and fresh cucumber, and even drizzled on eel sauce at my request.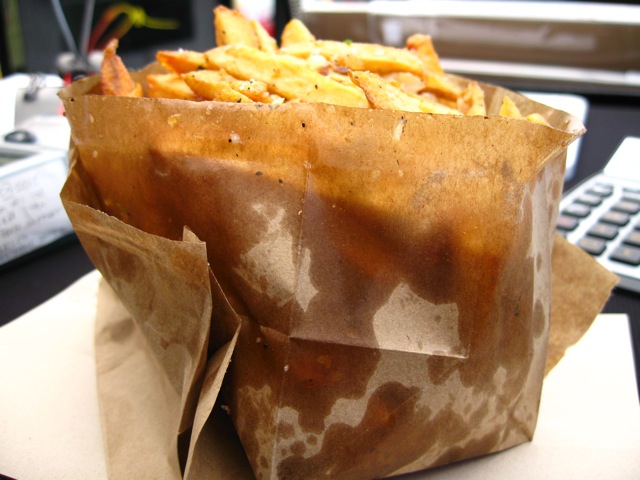 I wish I could tell you which booth served these, but I just followed my nose. I ordered the garlic fries from the unknown booth and watched as they flash fried them and then tossed them in a sauce made of fresh minced garlic and dried parsley. You KNOW fries are good if they bag they're served in becomes transparent! I ate the top layer and then shared the love with other artists around the show.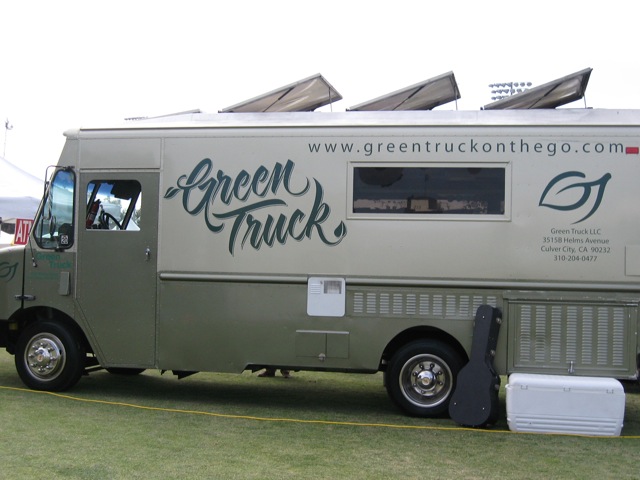 And here's the ONE solitary food disappointment of the trip. My first food truck.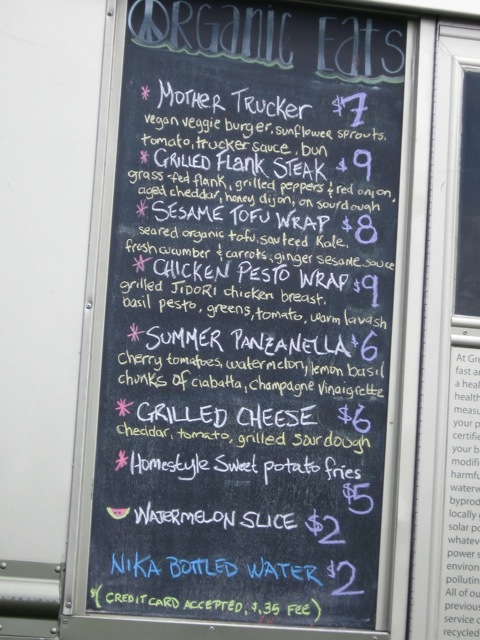 Witty  names, organic ingredients… If only their food lived up to the board.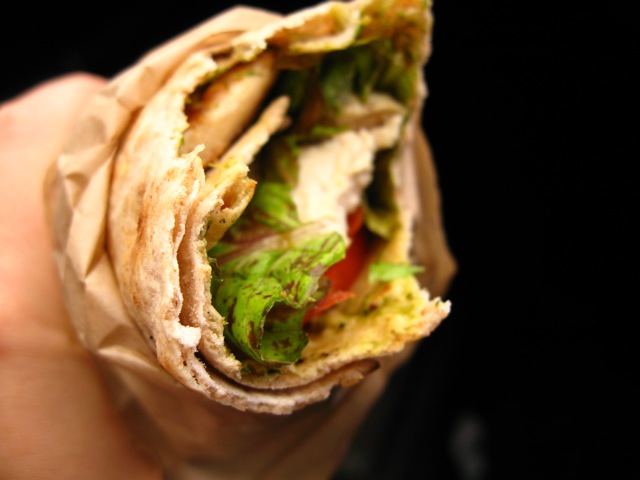 I got the chicken pesto wrap with speckled lettuce and dry chicken. So glad I shelled out $9 for the experience.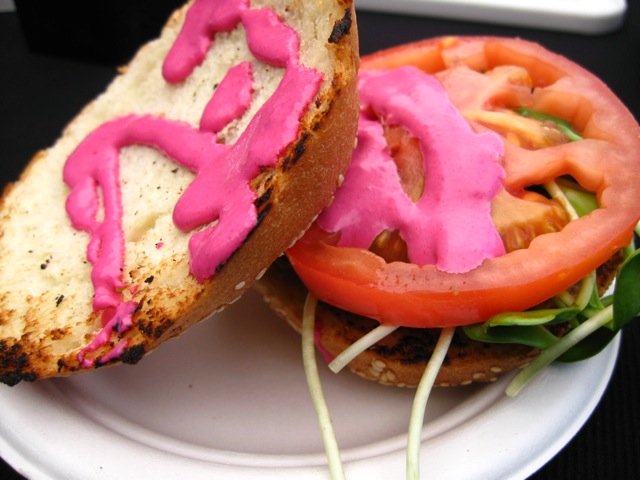 Ora got the Mother Trucker vegan burger which she said was also dry. I was simply mesmerized by the neon pink beet sauce.
Food truck experience aside…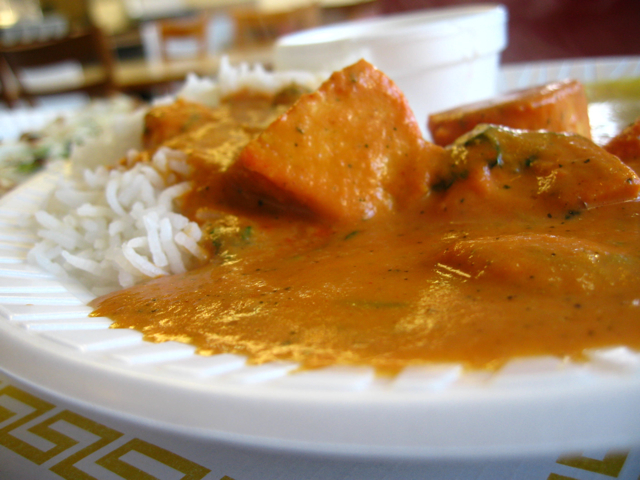 I shall remember my "fast" food weekend fondly!