Happy Thanksgiving, take 2!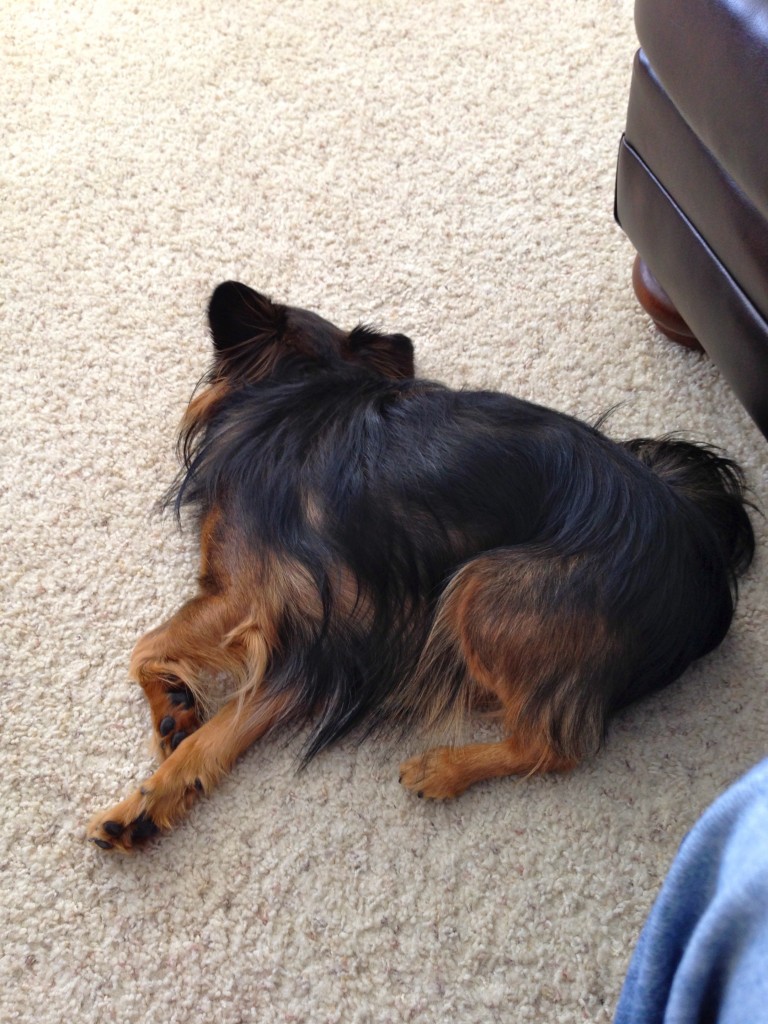 I hope you're feeling just like this today, otherwise you didn't do it right. My parental unit and I went over to my bro and sis-in-law's house, also known as The Vegans, for Thanksgiving dinner last night. Today we'll be making a second dinner so we have leftovers for the rest of the weekend, as is tradition.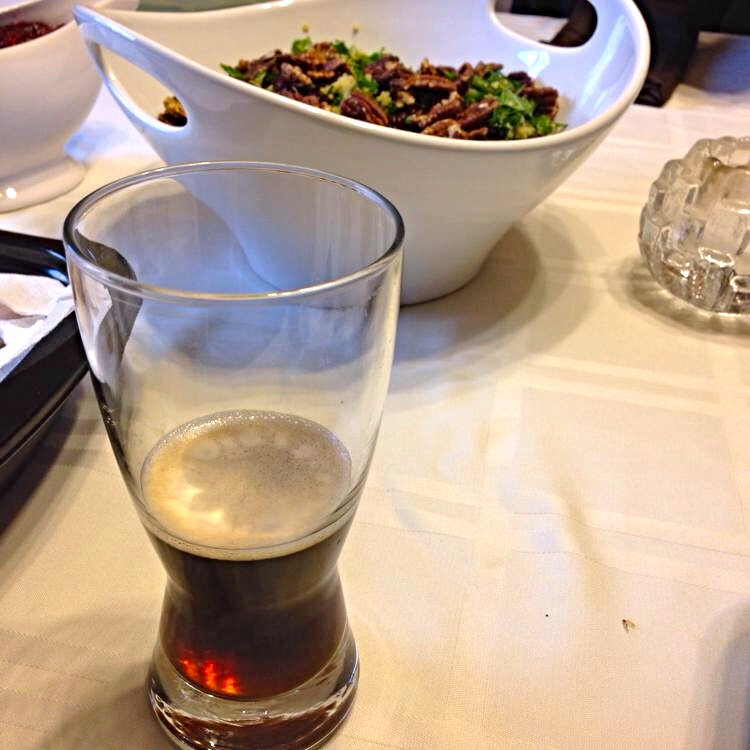 For those of you who were asking about or confused by my Untappd check-in, I did not have Bud Light as a beverage. I just didn't want to enter all the stats for my brother's pumpkin homebrew – which was absolutely epic. Sweet and caramelized with actual flavors of roasted pumpkin, spicy cinnamon and a bite of clove. Also epic – that kale salad in the background. Recipe coming soon!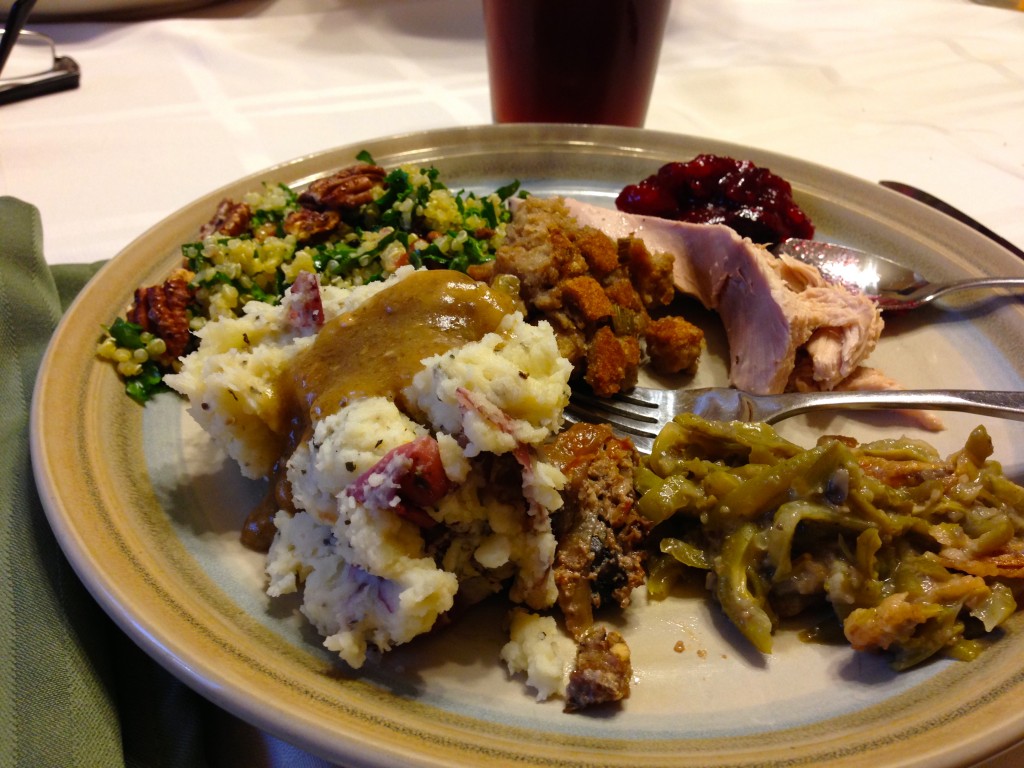 I loaded up a very attractive plate with turkey from the organic farm (story to follow below), vegan green bean salad, vegan meatloaf, vegan stuffing, kale salad (you guessed it – vegan) and vegan mashed potatoes with vegan gravy. VEEEGAN! Luckily, The Vegans have had years of experience in the vegan kitchen and have learned how to make absolutely delicious vegan food, sparing me from making many mistakes. Vegan.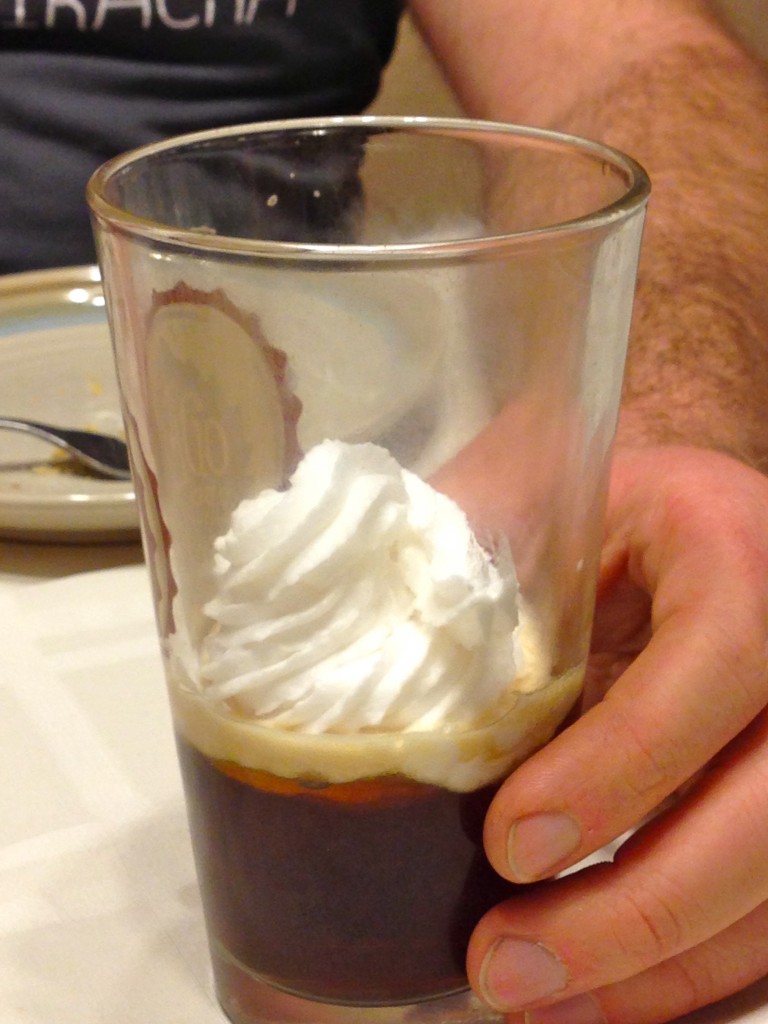 For a special dessert, James decided to add a little rice whip to the top of the pumpkin ale. I stuck with Andrew's homemade bourbon-scented coconut whip.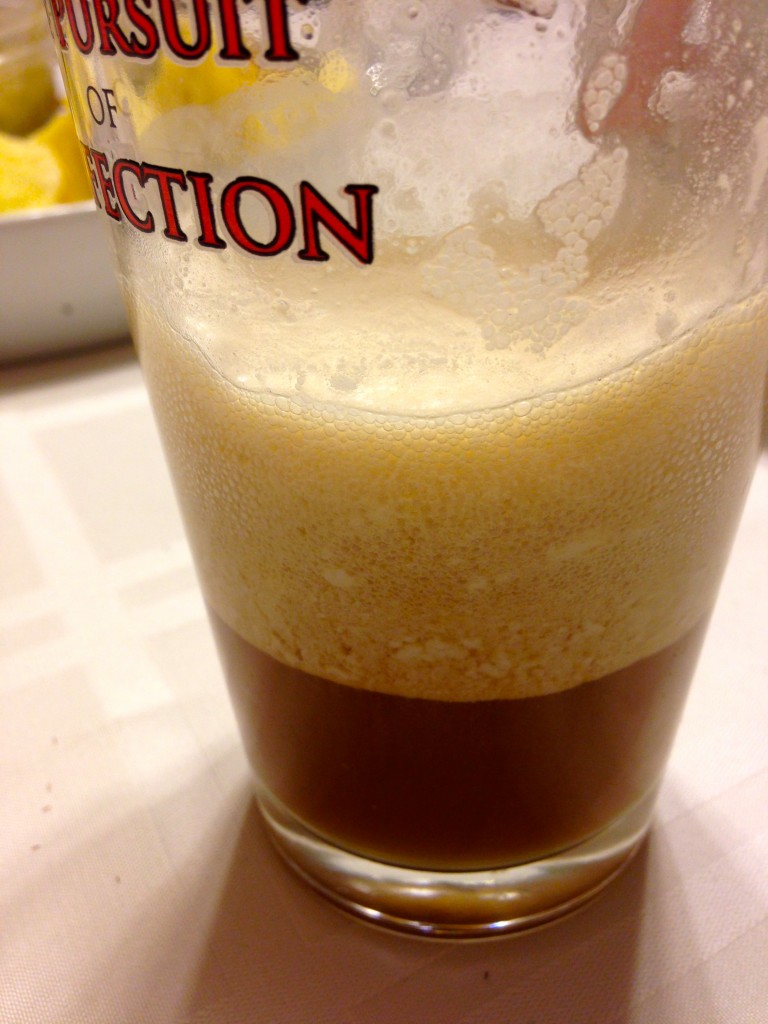 Whisked a little for an even more attractive picture… Horrible picture, delicious flavor.
Now for a little story about my trip to the organic farm. Please don't read until you have finished all leftover turkey:
My Trip to the Farm
My mumsie and I drove up to a house at the head of a dead end road in farm country. The gate was closed and I would've been more than happy to continue on to the confines of a warm and bright grocery store to find a turkey vacuum sealed and easy to handle. My mumsie had other plans. We both stepped out of the car and walked to the gate.
"Hello…?" My mom called out across the muddy yard.
"Come on in." A man wearing knee-high galoshes came walking out from the open garage, scanning the bushes around the perimeter, rifle in hand. I didn't budge. There was no way I was making the first move.
"Come in!" He repeated, "Just close the gate behind you so the dogs don't get out."
We slowly entered, latched the gate behind us and stood there, waiting for the next instructions. The man continued his jaunt through the bushes, randomly poking into a few of them with the nose of the rifle before continuing on.
"Hi! I'm Shannon! What are your names?" A bouncy little girl with a pink bow wrapped around the crown of her ponytail came running up to us. My mom introduced herself and asked, "Shannon, where do we get our chickens and turkeys?"
Shannon smiled widely, took a deep breath and said, "I have chickens and ducks and ALL MY DUCKS ARE DEAD…"
I stood there, a terrified smile plastered across my face. We turned to the open garage where Shannon's mother was efficiently sawing off the head of a plucked chicken before spraying out the inside with a high pressure hose. We walked over as the husband came back from his stroll around the yard.
"You didn't find them?" His wife asked. "You know, I couldn't find where they nested last night. We can't just let them run free."
He looked at his wife, shrugged and said, "These are hollow point bullets. It'd be a chicken explosion! I'll just kill them tonight." And walked off.