Oh my geez. On Saturday, I combined the three best things in the entire universe. I was preparing for the shop brew with the Maltose Falcons and wanted to bring something that would sustain the group for the day, be insanely delicious, and make them all love me. Chocolate + beer + bacon = LOVE!

Oatmeal Stout Brownies with Caramelized Bacon – Printable recipe available HERE.

Ingredients:
12 oz. oatmeal stout (I used Stockyard because that's all Trader Joe's had. I'd recommend something a little richer, like a double chocolate stout)
1 cup extra dark unsweetened cocoa powder
2 cups dark brown sugar, firmly packed
1/2 cup melted Earth Balance (I used butter since I was serving to ravenous men, but normally I'd use something dairy-free)
4 eggs
2 tsp vanilla extract
2 cups white whole wheat flour
3/4 tsp kosher salt
A crapload of chocolate chips
For the caramelized bacon:
6 strips of THINLY sliced bacon
1 heaping tbsp dark brown sugar, tightly packed
1. Tilt a large bowl and pour the stout slowly in. Mix together the oatmeal stout and the unsweetened cocoa powder.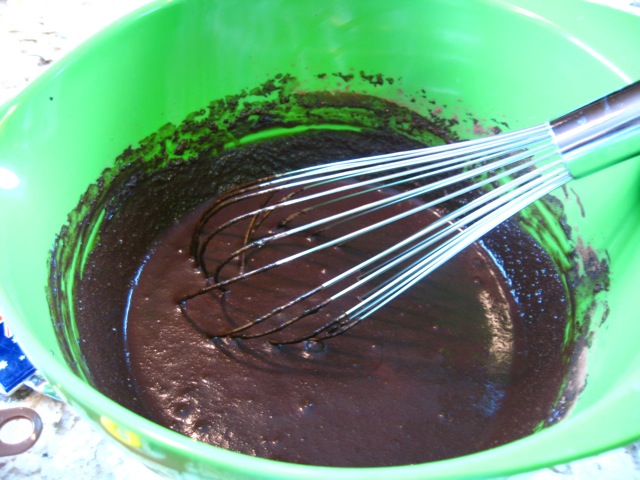 2. Add the brown sugar, butter or butter substitute, eggs and vanilla extract and whisk, making sure all the yolks are broken.
3. Add the flour, salt and a handful (or four) of chocolate chips and stir just until blended.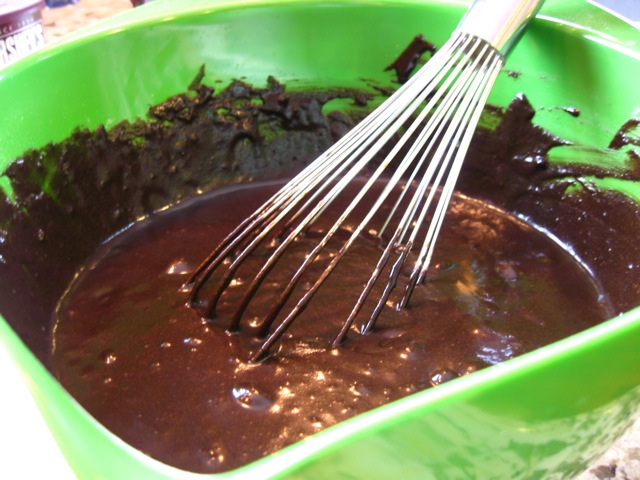 4. Pour into a greased 9 1/2 x 9 1/2 inch baking pan.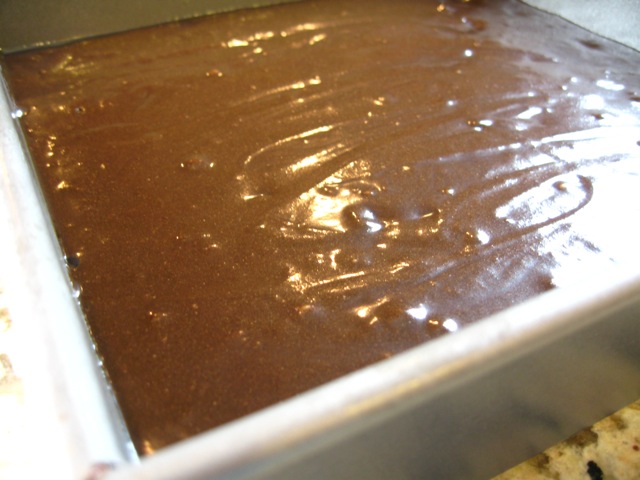 5. Bake at 350 degrees for 35-40 minutes or until toothpick inserted in the center comes out relatively clean.
6. While the brownie is baking, place 6 strips of thin bacon (MUST be thin in order to get crispy!) in a cold skillet, then turn burner on to medium heat.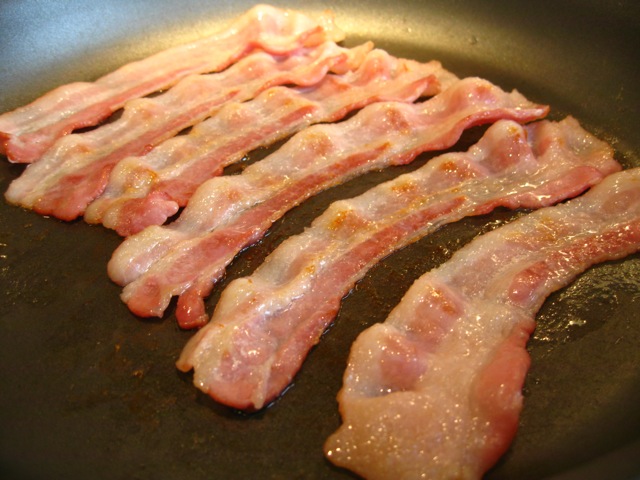 7. Cook over medium heat for about 8 minutes, turning every two minutes and draining off grease as it forms.
8. Lay cooked bacon on a plate covered with paper towels and let drain.
9. Take the slightly cooled bacon and chop into small pieces.
10. Add the bacon back into the pan (wipe the pan with a dry paper towel to remove as much grease as possible) along with a heaping tablespoon of brown sugar.
11. Turn heat to medium-high and stir constantly until the sugar melts and coats all the bacon (about three minutes).
12. Remove immediately and spread on a piece of parchment paper.
13. When the brownie is done cooking, sprinkle the caramelized bacon crumbles all over the top, then cover with foil and let rest for five minutes.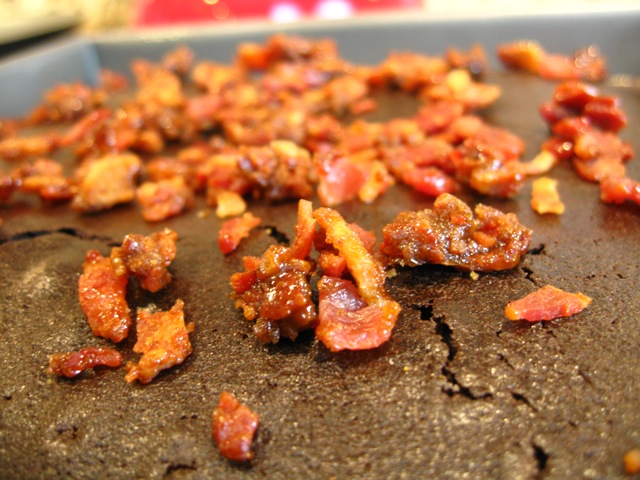 OH MY GEEZ, BACON!
I served this at the shop brew and it was DEMOLISHED by the hungry guys.
Lesson of the day: If you want to be adored, BAKE THIS NOW. It's also perfect for St. Patrick's Day – and would be even better topped with a scoop of Paciugo's Guinness gelato and a scoop of organic maple caramelized bacon gelato. Oooooh myyyyy geeeeeez! I should've done that!!!