Today I got to check out Breckenridge Brewery in Breckenridge, Colorado, and got a personal tour from the brewmaster himself, Matt Darling. His first words when he saw me: "Chive on!" Awesome. Just plain awesome.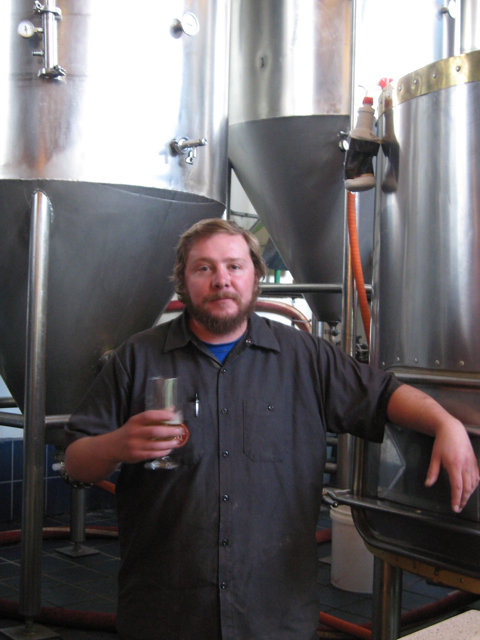 You can tell the brewers by their epic beards. It's just a fact.
Matt Darling has been homebrewing since he was 15 years old, starting with vodka and wine before moving to beer. He's been the head brewer at Breckenridge Brewery for five years after working as the assistant to Drake Schmid for three. He considers John Jordan, the brewer at Flying Monkey who is also a microbiologist, his mentor. I had a mini-interview with Matt to follow:
Becki: What was your "gateway" beer that made you really appreciate good craft beer?
Matt: Probably Samuel Smith Oatmeal Stout. (Very classy "gateway", Matt!)
Becki: Of all of the beers at Breckenridge, what's your personal favorite.
Matt: Our ESB (Extra Special Bitter).
Becki: Ooooh, can I try that one? Is it year round?
Matt: No, it's seasonal. We make it in autumn.
Becki: *Sniffle* *sad face*
So my quotes aren't quite exact, but all the information in them is! (At least I think it is. Correct me if anything's wrong, Matt!)

The brewery is located just south of the busy part of Main Street, nestled in between dozens of aspen trees.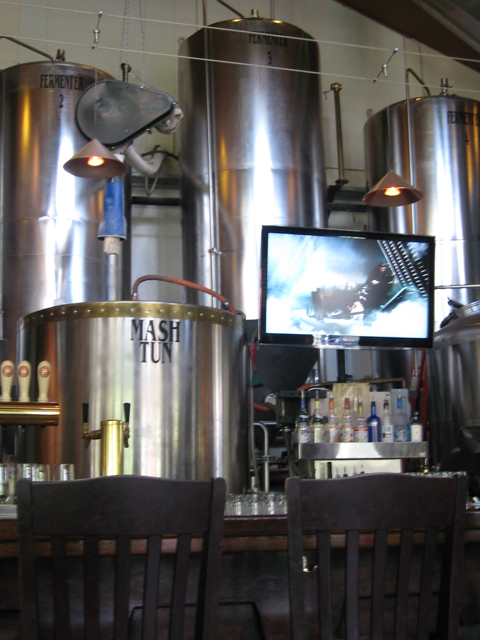 When you walk in, you're greeted by the entire brew system. It's laid out behind the bar in all its glory. On brew days, you can actually sit at the bar and watch them go through the entire process. You'd be pretty trashed by the end though – on brewing days Matt is there from 9am to 6pm with only his assistant, Jimmy Walker, to help. That mash tun has to be filled twice in order to fill one fermenter. That's a crapload of brewing!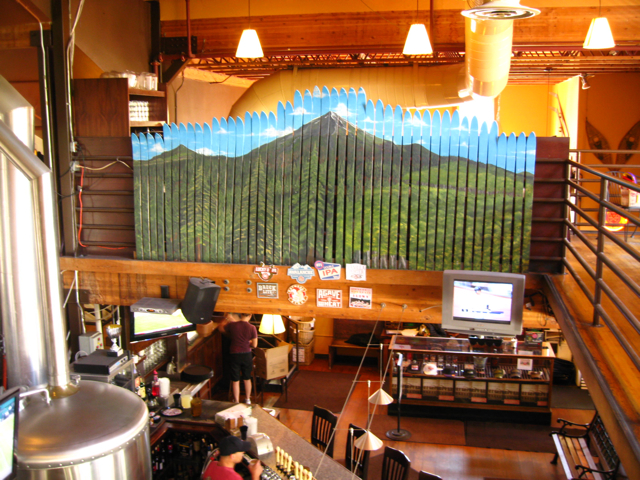 The entire brewpub is bigger than it appears from the outside. The second floor that's not filled with fermenters is used for seating, with lovely views of the brewery.

Oh, and the mountains. Those are lovely too…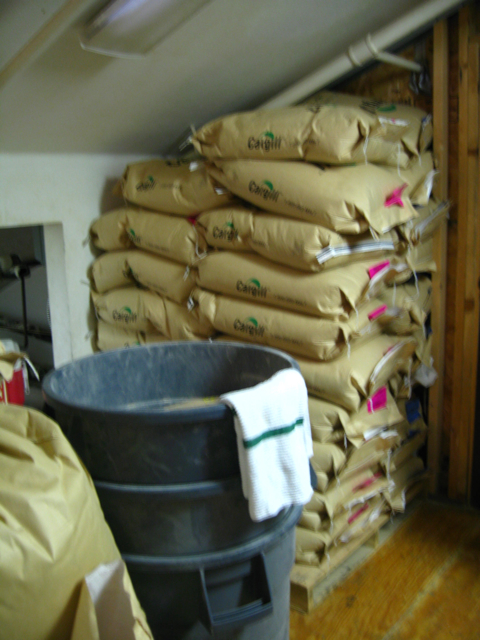 Excuse the following blurry images – macro in dim lighting. Upstairs they have the specialty grains in the mill room. All the regular grains are located in a silo behind the brewpub.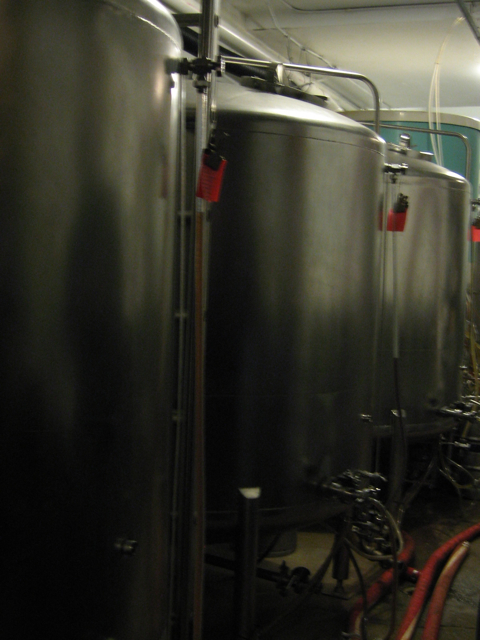 Once all the ales are fermented, they're transferred down to the refrigerated basement into gigantic kegs where they're siphoned up to the brewery until they're empty. It doesn't take too long. They brew about four days a week during summer to keep up with demand here. In winter, it's up to six times a week! Them snowboarders get thirsty!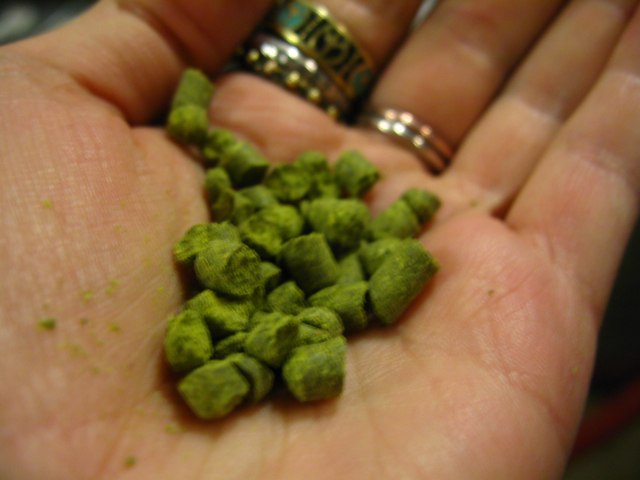 Delicious Cascade hops! They use pellets instead of whole leaf hops to avoid clogging their brew system.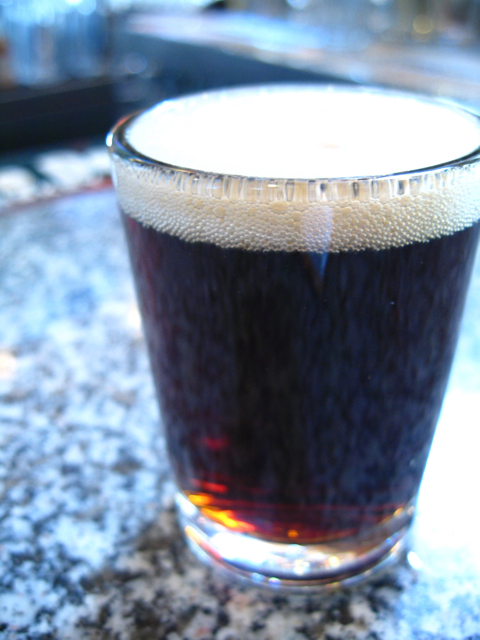 Back up at the bar I got to try the beer from the "brewer's handle". It was a Belgian pale ale with Trappist ale yeast pitched in – beautiful golden color with slightly fruity esters. I was too busy drinking it to get a picture. The beer above is their seasonal brown ale that had been run through the brand new lines in order to allow the hoppy aroma to really come out. They have a barrel that they got from Breckenridge Distillery filled with this brown downstairs, absorbing all the intense bourbon flavors. I wish I could be in town when they open that one!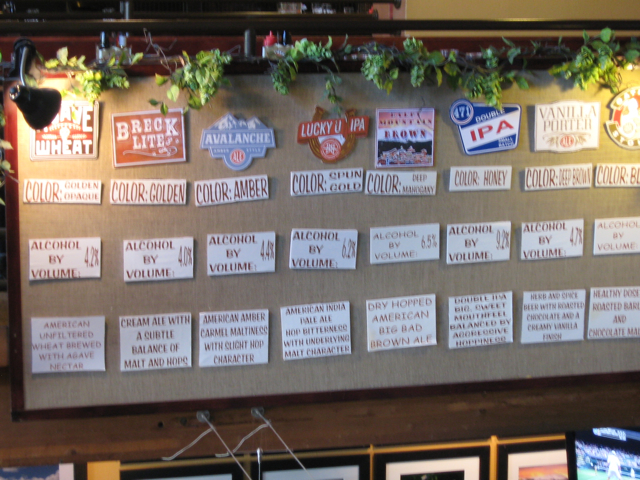 Here's the wonderful, big board full of all of their brews, excluding the few fresh seasonals they have out now: Lucky "U" IPA, Oatmeal Stout, 471 Double Hopped IPA and Baldy Mountain Brown (I think that's what I tried above).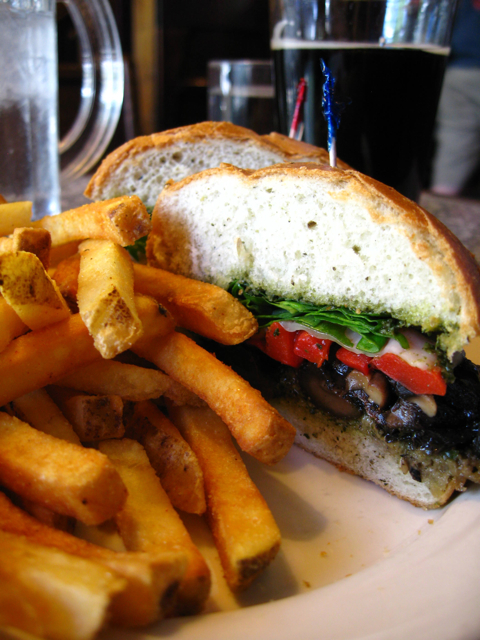 Of course, since it is a brewPUB, I had to try their food! I got the grilled vegetable sandwich – portobello mushrooms, peppers, onions and cheese topped with fresh spinach, piled onto fresh ciabatta bread and covered with pesto sauce. Holy frick, this was amazing. Even better was the beer they suggested I pair with it:

Vanilla Porter. Out of this freakin' world! Seriously, I can't fully describe the awesomeness of this beer. There are no aroma hops used in this, so the vanilla and malt smell comes through cleanly. The first sip is slightly sweet with a warm vanilla flavor rounded out with a full mouthfeel and faint touch of hop bite that lingers on your tongue after you swallow. Only 4.7% ABV, but since I just came from sea level, that was enough to make me feel it!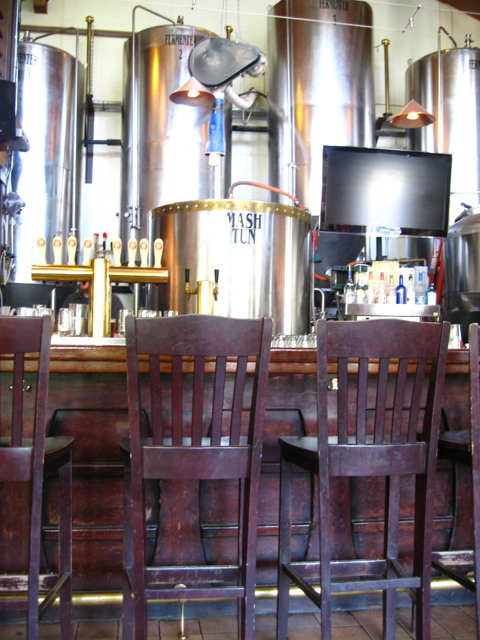 Thanks again to Matt for letting me barge in and giving me all the info! I'll be back tomorrow to try a few more beers – gotta try them while I can since they don't distribute to California. *Sniffle* *sad face*