I've been to the LAB Brewing Company (which stands for Live Art Brewing – beer, food, music and art) many, many times with the EBC crew, but never had a chance to take pictures (mainly because we'd go for dinner and drinks after EBC closed). When I received an invite from Alan and Roger the brewmaster for a personal tour and beer tasting (during DAYLIGHT hours), I agreed immediately.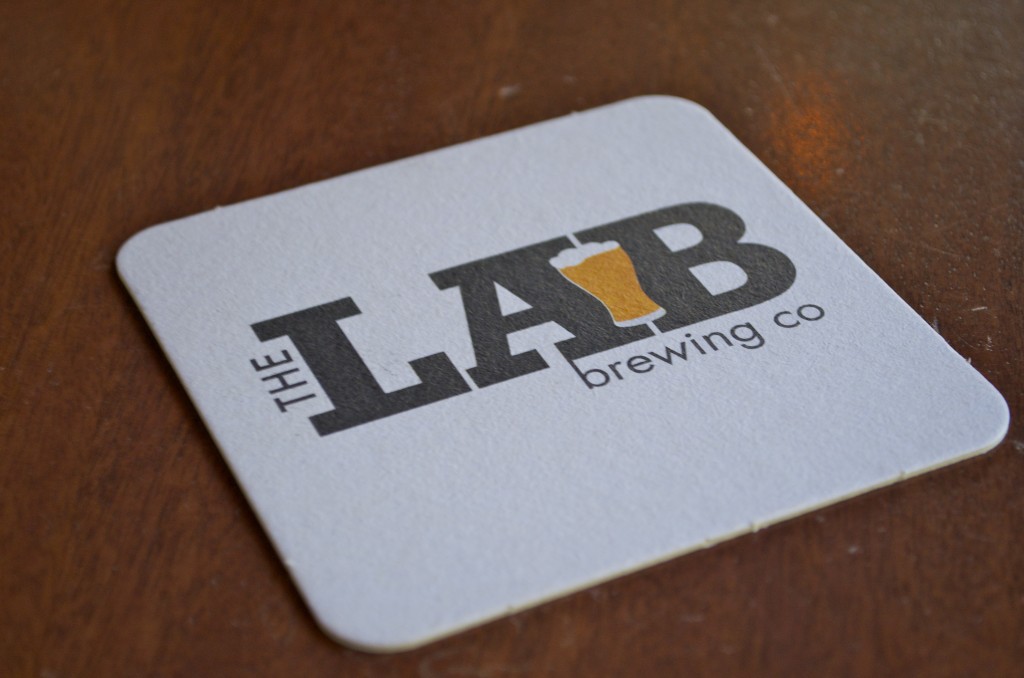 The LAB Brewing Company opened in Agoura Hills November 1st of last year.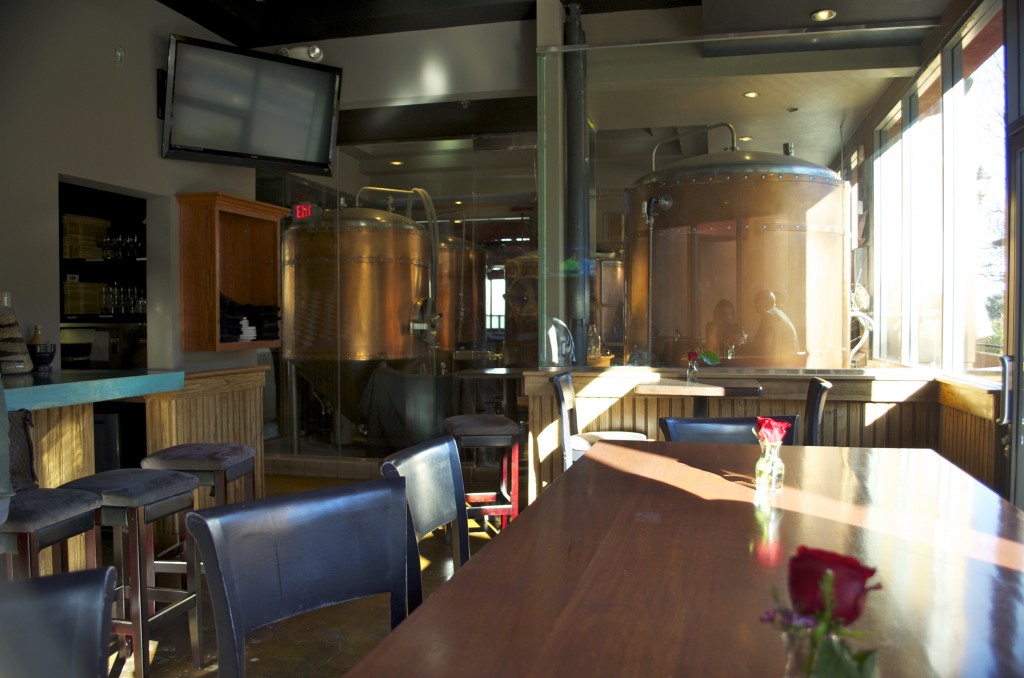 The bar area of the LAB looks directly into the brewery which is encased behind glass doors, allowing patrons to watch the brewing process as they sip the outcome.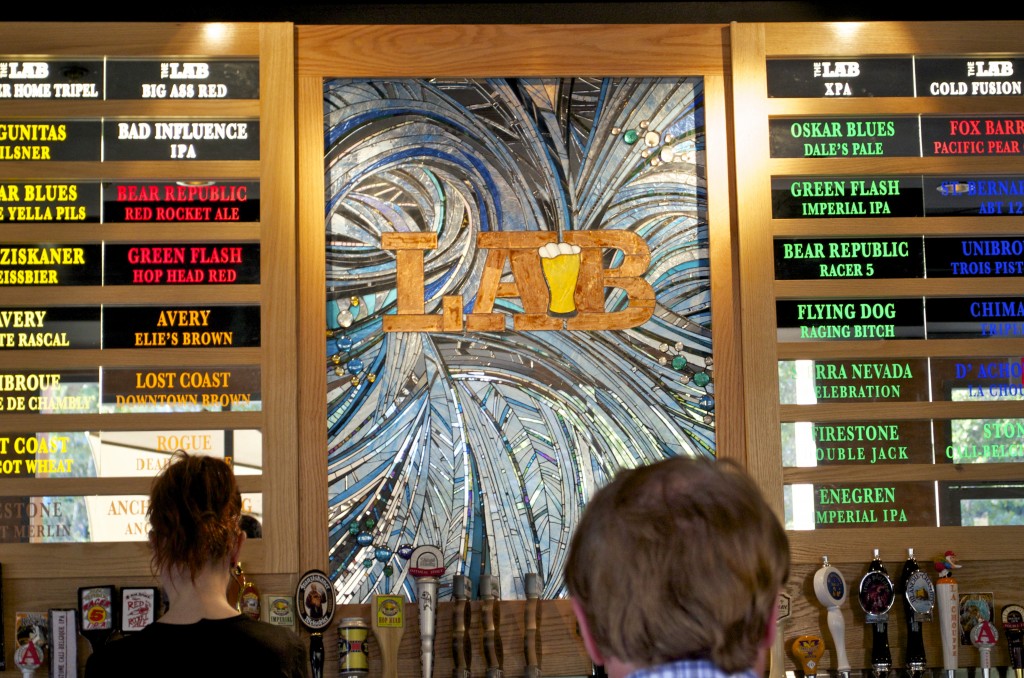 The beer selection here is incredible! Thirty-two taps, heavy on the IPAs (yay!), and rounded out with nothing but craft beer.

The main dining room features a stage where musicians and deejays play on Thursday, Friday and Saturday nights.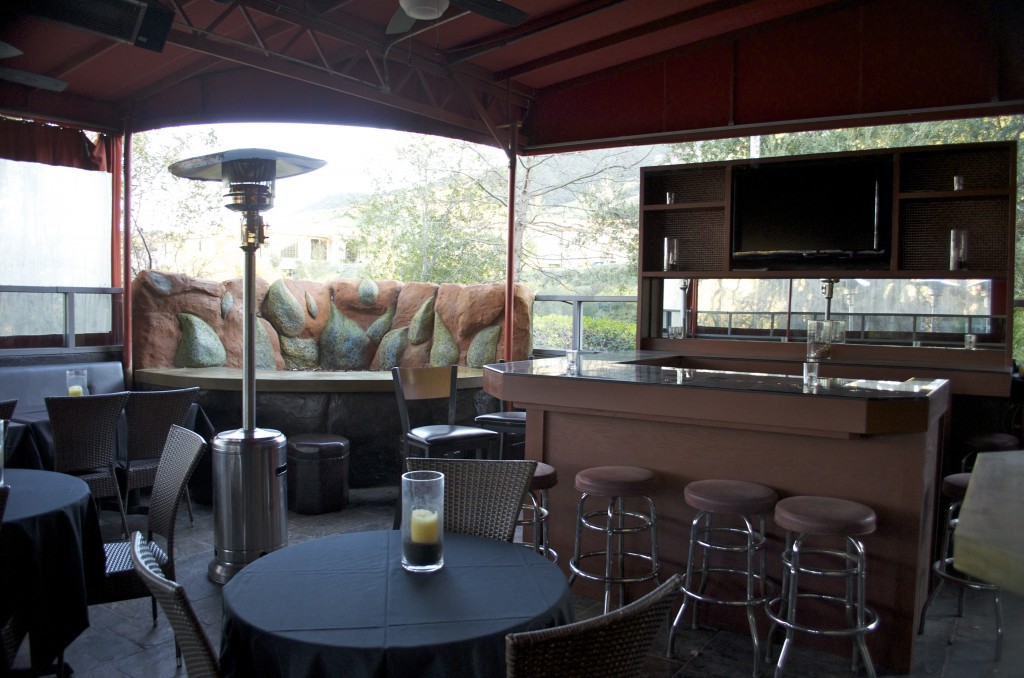 The covered patio is quaint and cozy, with a fireplace in the corner and heaters placed throughout to keep the Californians warm when the temperature dips below seventy degrees on a winter's eve.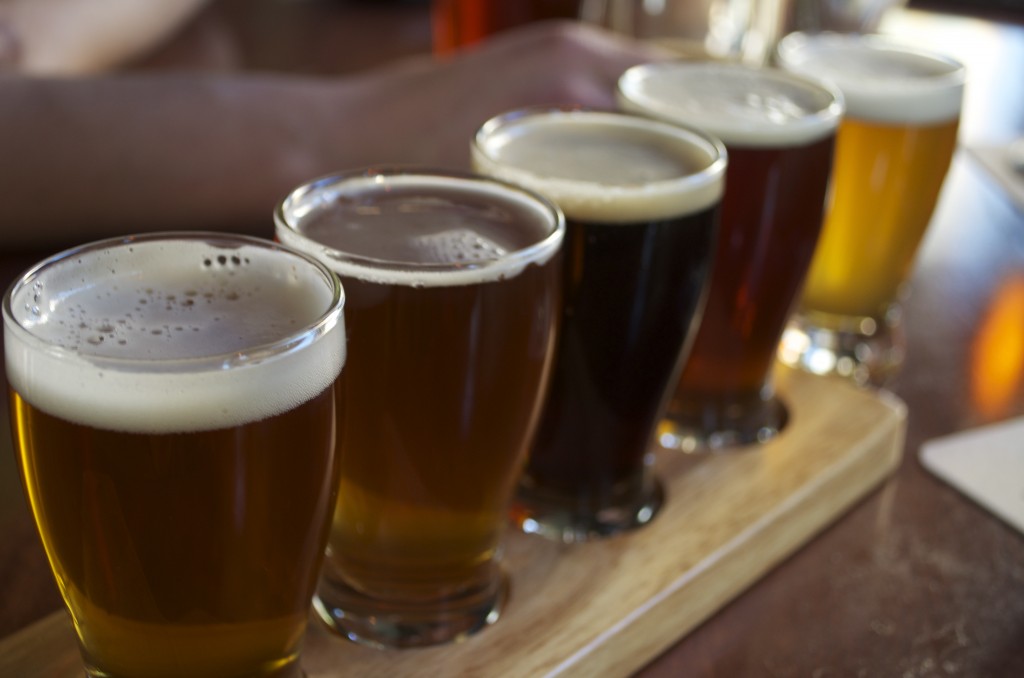 Now to the important stuff – beer and foods! I grabbed a sampler of all the beers they make – Bad Influence IPA, Take Her Home Tripel, Cold Fusion Java, Big Ass Red and LAB XPA. Bad Influence IPA was my favorite of their available beers – a zesty citrus and floral aroma with an extreme bite (93 IBUs and 7.5% ABV). HOWEVER, I was given a sneak preview of the After Midnight Moo Milk Stout straight from the fermentor and fell head over heels! Hints of sweetness, smooth and creamy – I believe they said it was going on the nitro tap? I should probably go back and check, just to make sure, right?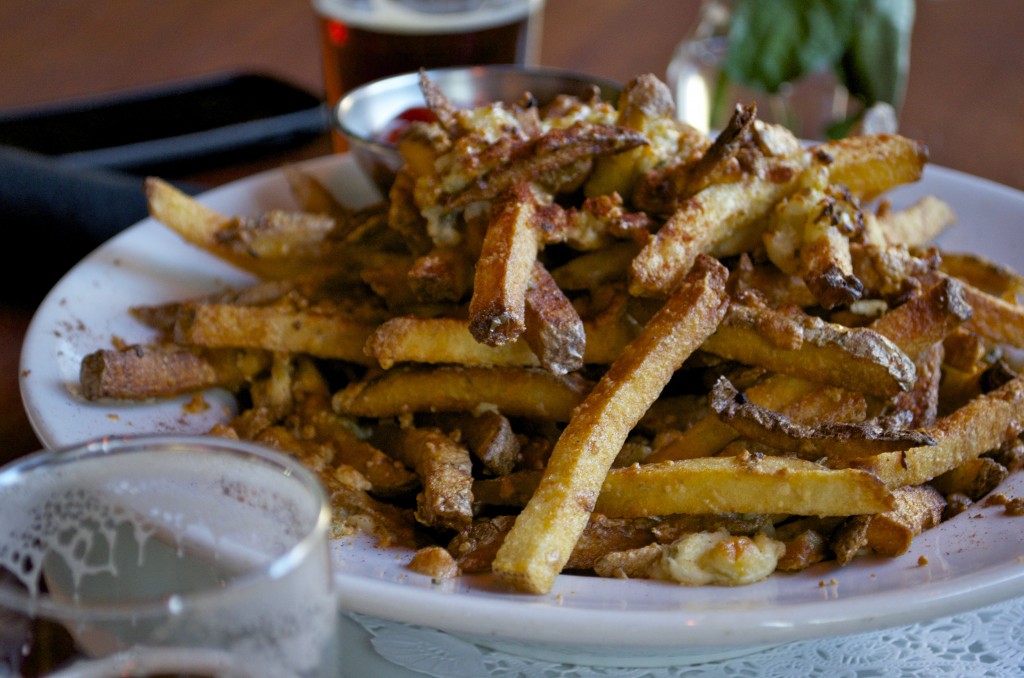 Alan, Roger and I split an order of the house fries with bleu cheese and garlic. These shoestring fries came out sizzling hot, with potent bleu cheese melting into every crevice. They were perfectly crispy with a light dusting of fresh garlic that melded harmoniously with the cheese.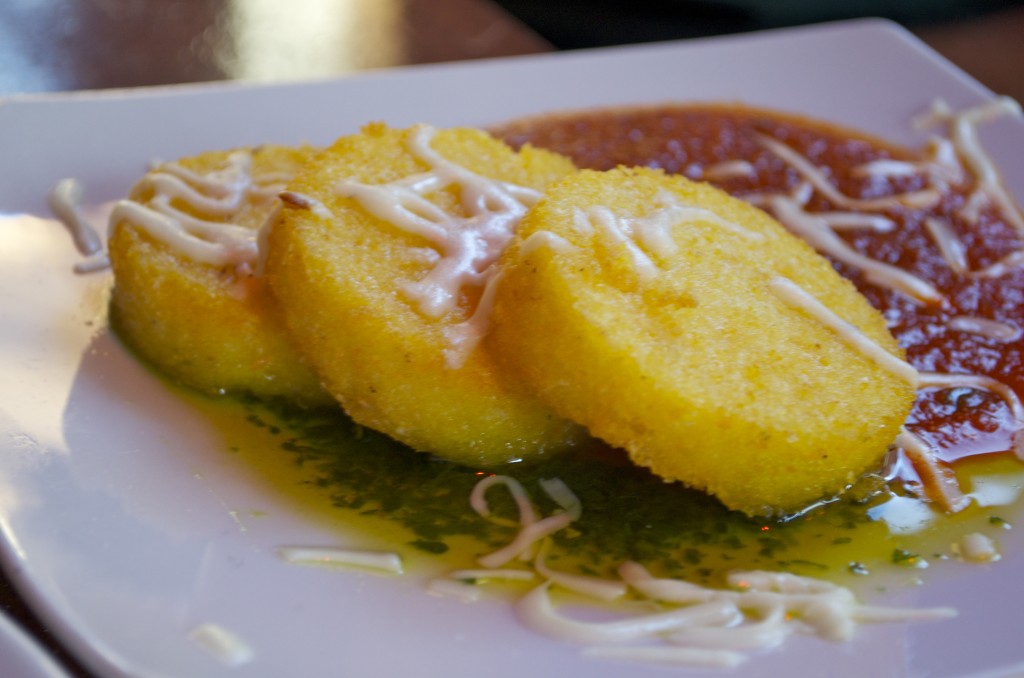 The polenta came out next – crispy on the outside, delicate and moist on the inside, and drizzled with fresh pesto and marinara sauce. I'm not well-versed on polenta, but from what I tasted, this one's a winner! If you want more, I consider that a good thing. I wanted more.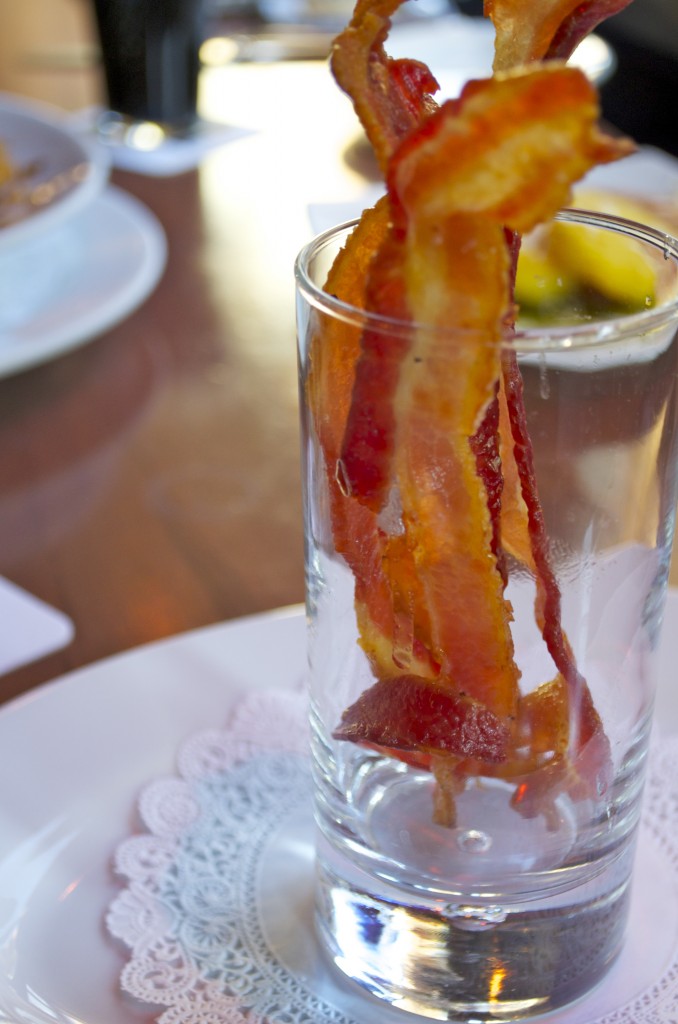 BACON IN A CUP!!! This was actually a little disappointing – candied bacon. There was barely a hint of sugar to any of the bacon strips, and it needed to be baked a little longer to crisp up. Didn't matter though – it was still bacon, therefore I still ate it.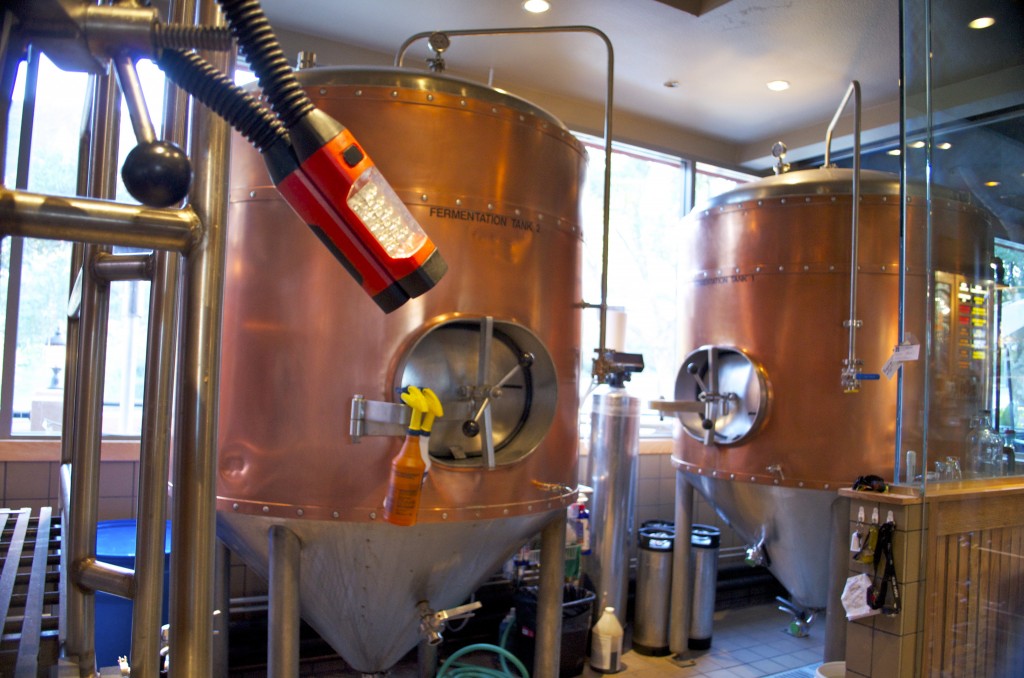 After feasting, I got a tour of the brewery. It's incredibly tight quarters, especially considering that these are 15 barrel tanks, but they've made great use of the small space provided.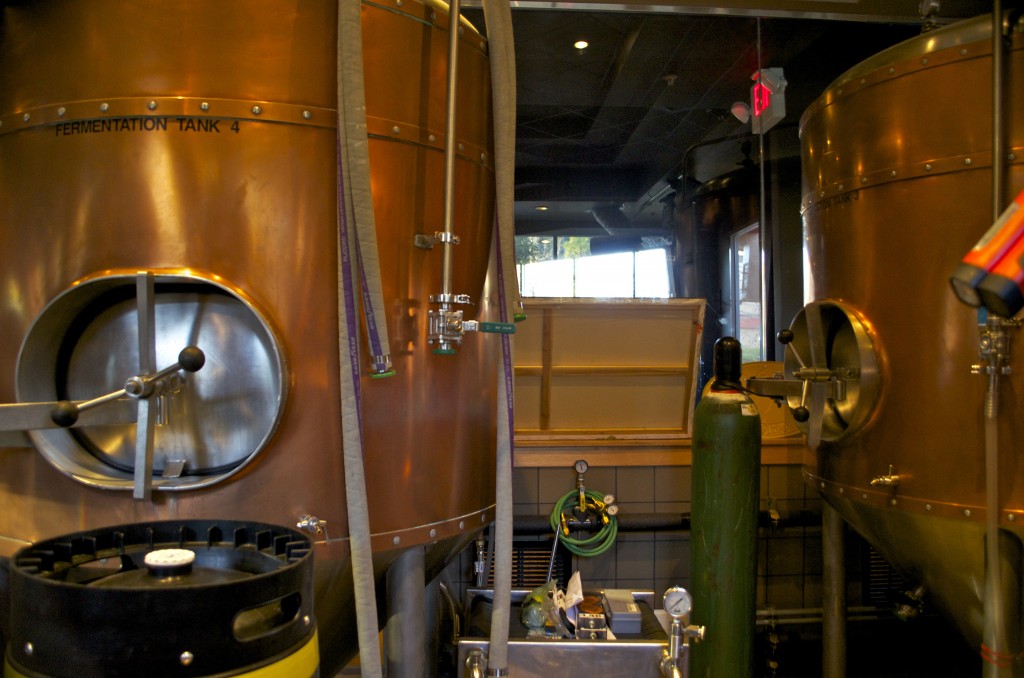 Three of the fermentation tanks are out in full view in the center of the dining room, while the milk stout was relaxing in this one in the middle of the brewery.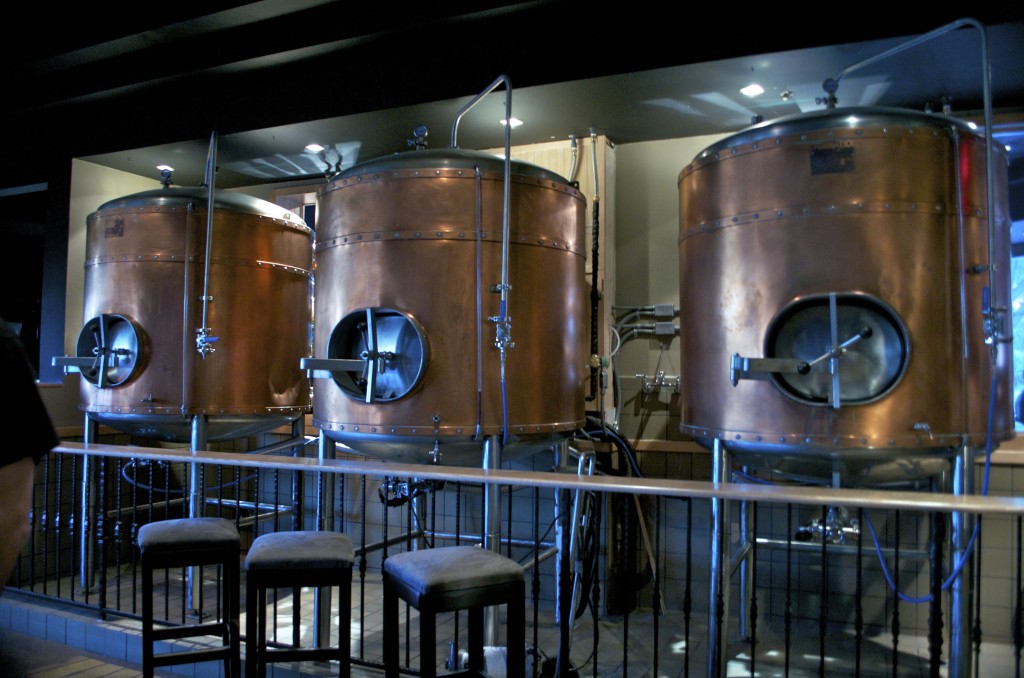 These fermentors lead straight to the taps, delivering the freshest beer possible.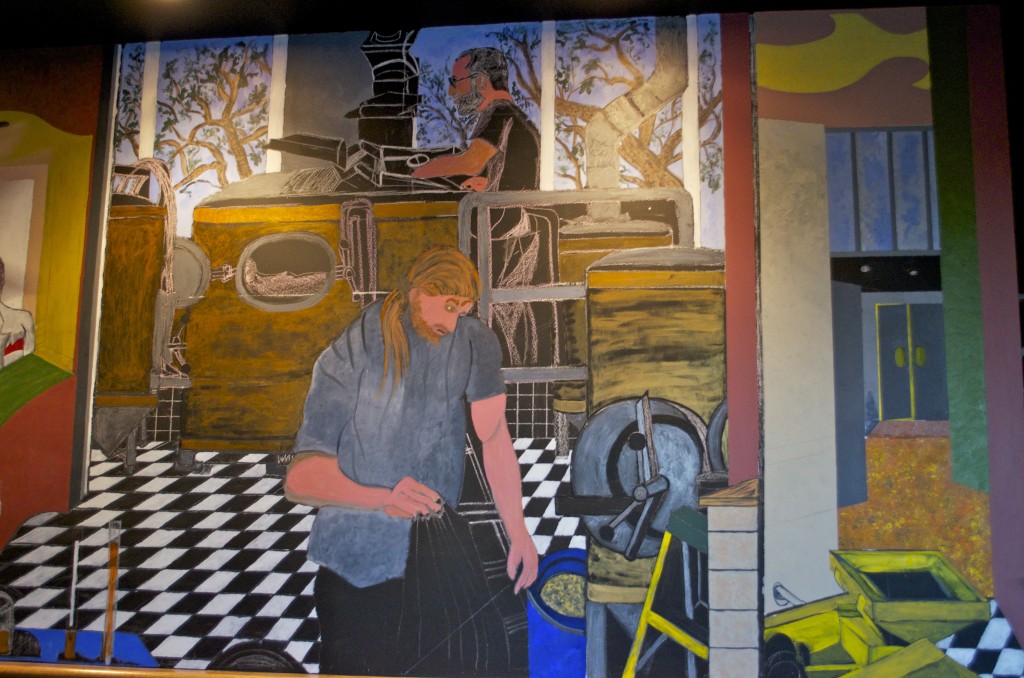 There are murals across the entire restaurant – this is an artist's rendition of Roger Bott, the brewmaster. Let's compare, shall we?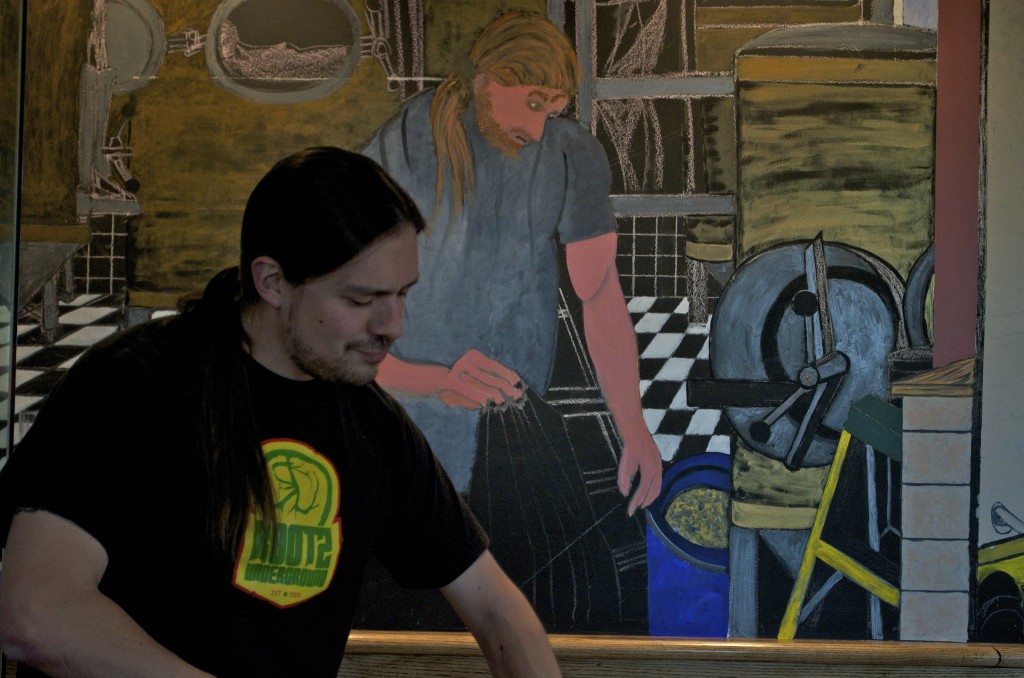 THE RESEMBLANCE IS UNCANNY!!! Time to go blonde, Roger?
I think a separate post detailing the epicness that is the LAB burger will be coming up shortly… I'm feeling hungry again…
The LAB Brewing Company
30105 Agoura Road
Agoura Hills, CA 91301
Open 7 days a week, 11am-close