Happy Tuesday!
Beautiful day to be alive, isn't it? Today, I met up with my best friend from way back in middle school at Golden Road Brewing.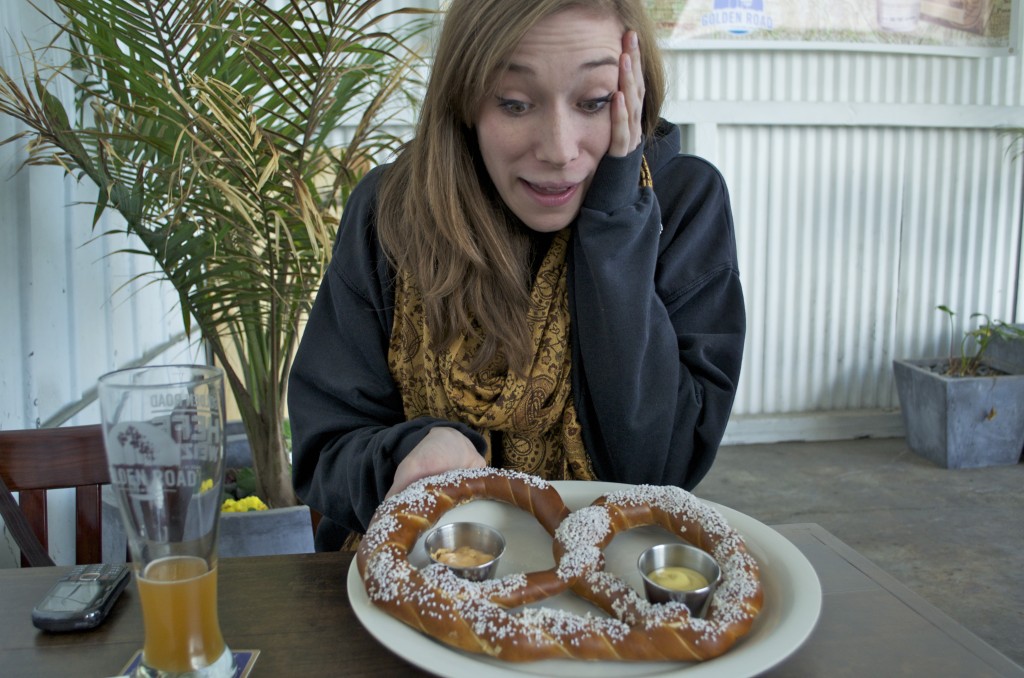 Adore this girl. You may remember her from my visit to Craft & Commerce in Little Italy back in May.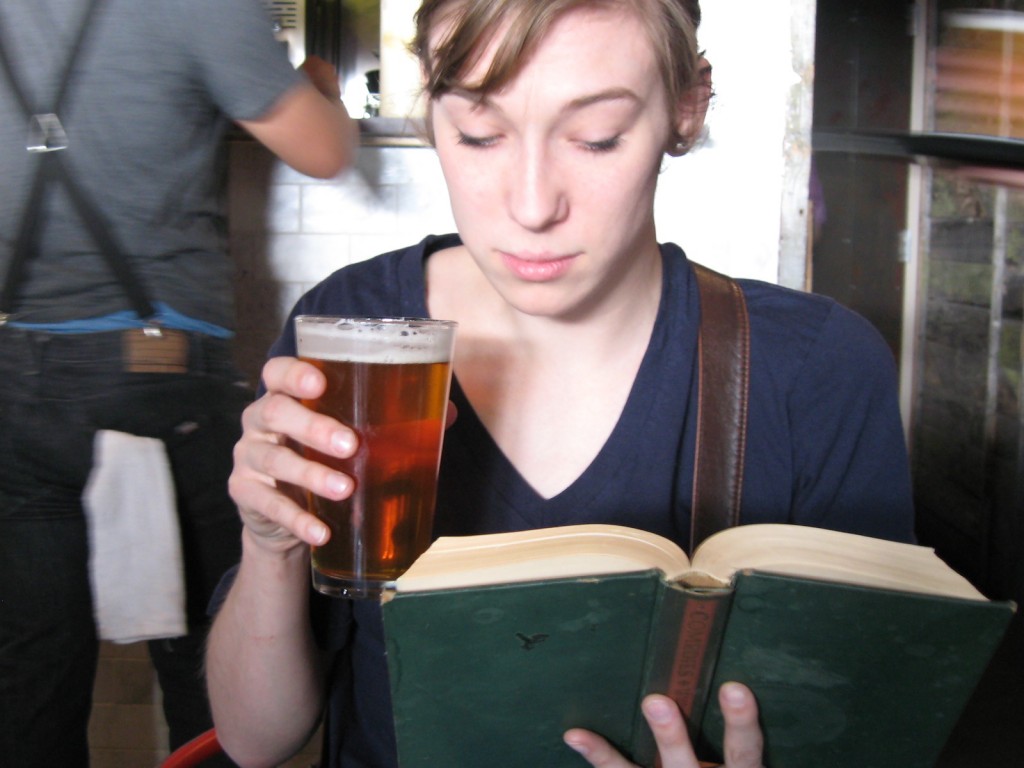 Oh, how I've missed my fellow TAG (Talented and Gifted – yes, we were nerds back then… still are…) friend!

They don't have any taster flights yet, so I got a sip of all the house beers on tap and then settled for the low ABV Hefeweizen. Delicious and perfect for a 70 degree day in Los Angeles.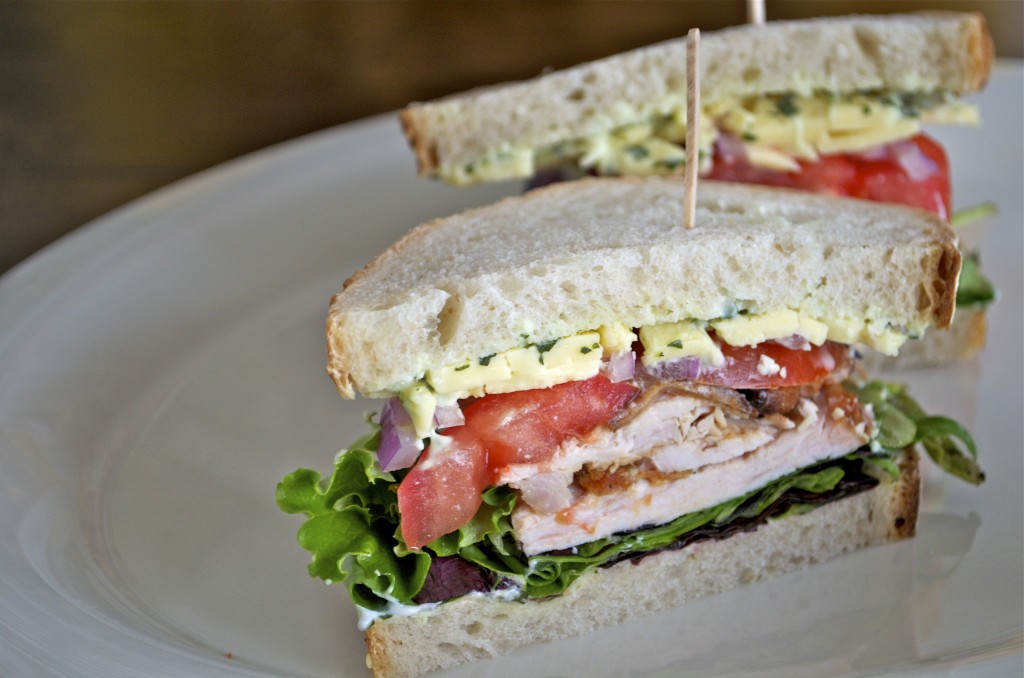 We decided to split a whole mess of deliciousness. This was the Rosemary Turkey Club – peppered bacon, white cheddar cheese and beer-braised turkey with parsley aioli. This was demolished.

I had to order the Coconut "Noodle" Salad again. This is so flavorful and full of happiness and health. This negates every calorie I absorbed today. Cuz there are vegetables in it. And it's vegan. End of story.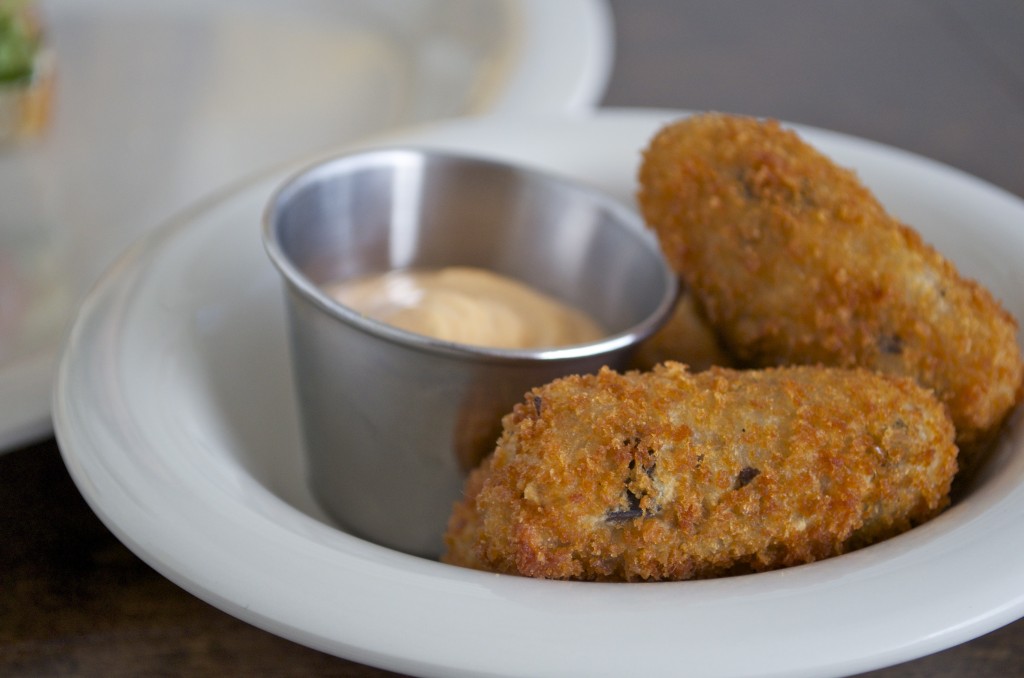 These deep-fried wild mushroom risotto fritters were totally cancelled out by that salad above! I had the maple fritters the first time, which were delicious, but these knocked those babies out of the ballpark! Full of earthy mushroom flavor and topped with vegan pimento cheese, fried to a fluffy crisp. I can honestly say that I had NO IDEA that the dip was vegan! I may have scraped the remains out with a spoon. And by may, I mean I did.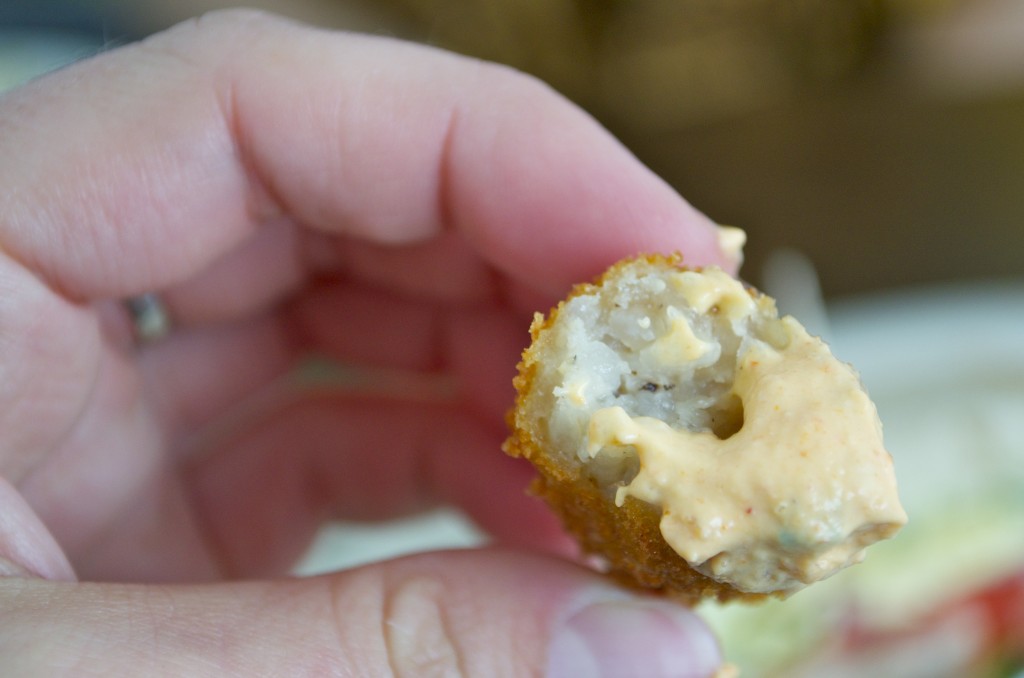 Deep-fried deliciousness. My fingers were smothered in that "cheese" sauce.

The orzo pasta – also vegan and delicious! The perfectly tender roasted veggies and orzo pasta are lightly tossed in a fresh olive oil and balsamic dressing. I tend to avoid vegan foods in rebellion of my bro and his wife being vegan (I'm ridiculous and crave excessive amounts of pulled pork when we go to visit them in Colorado), but Golden Road has completely changed my perspective!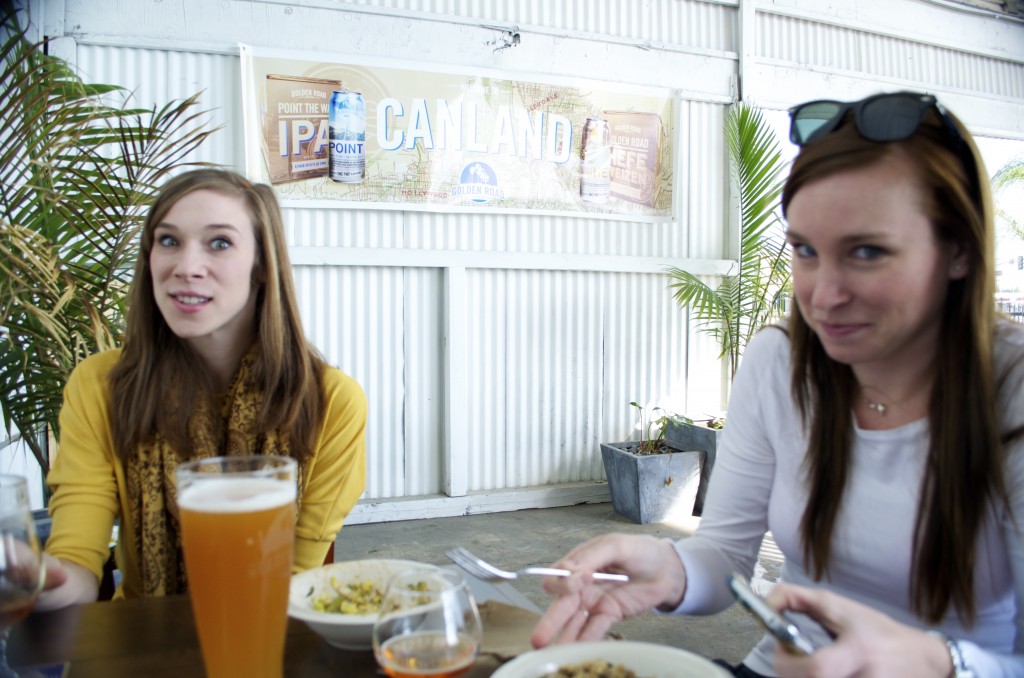 My gorgeous cousin, Allie, stopped by after her nursing class! They weren't perturbed by me taking mass amounts of pictures at all… Two of my favorite girls in the entire world. Insert smiley face here.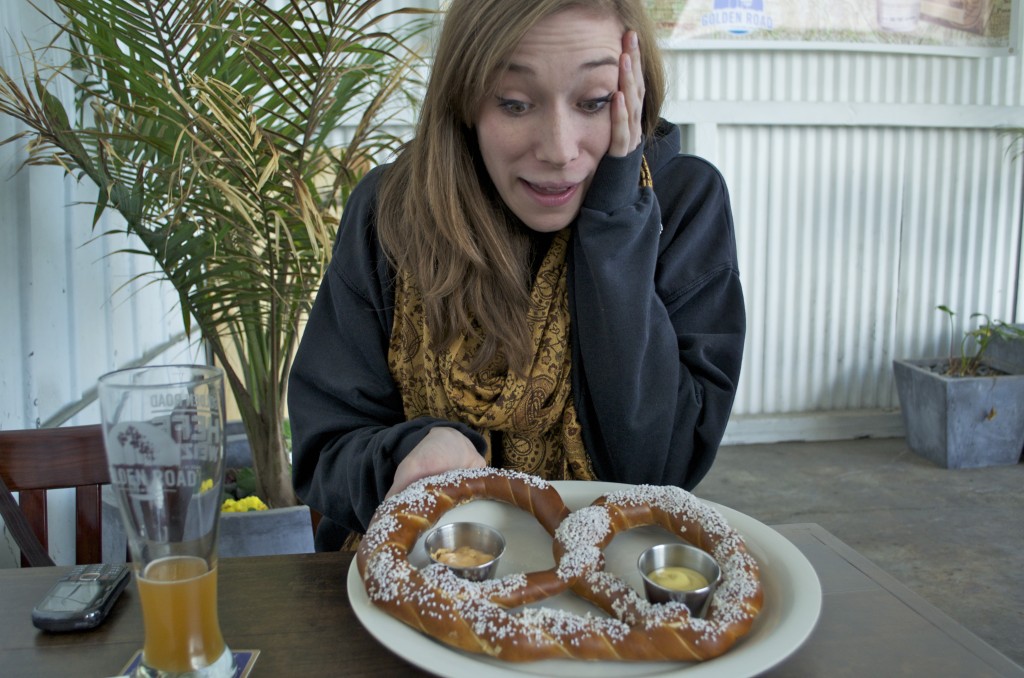 (This picture is so awesome it needed to be used twice)
Kim ordered a gigantic soft pretzel (they were out of the "small" pretzels) that included more of that delicious vegan pimento cheese and the HOTTEST horseradish mustard I have ever tasted. Kim took a bite and turned bright red with watery eyes to match. Please use with caution.

Delicious pretzel face – a little over the top with salt, but once you scrape that off, it's perfectly soft and surprisingly flavorful.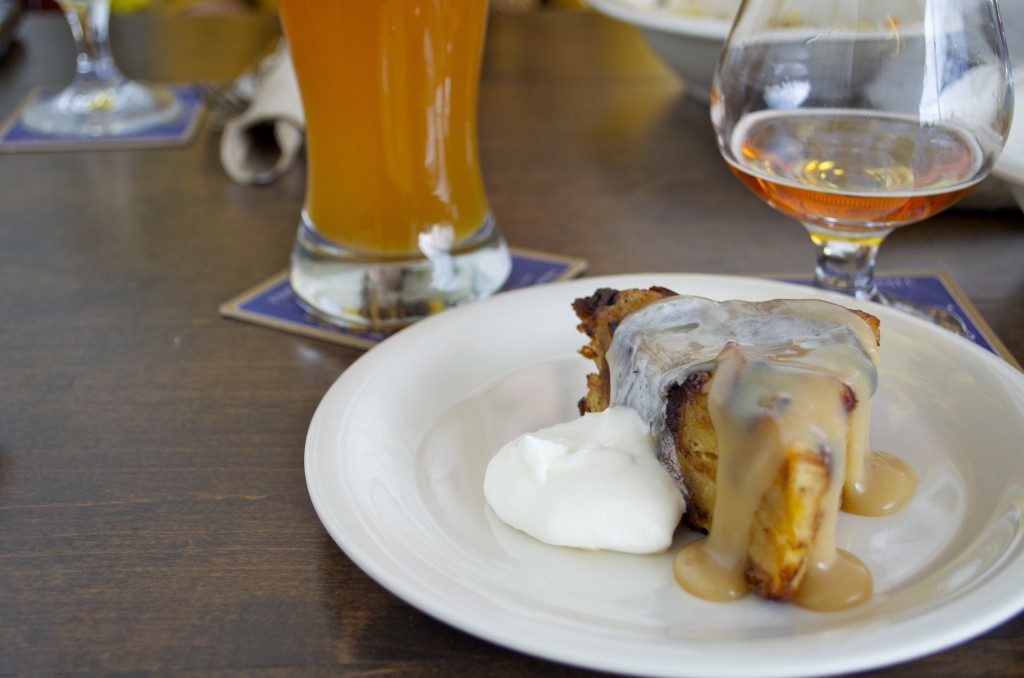 This was recommended to me by Michelle, who stopped into Enegren Brewing's tasting room a few months ago. Thank God for Twitter, eh? BLATANT ADVERTISEMENT TO FOLLOW – MY TWITTER, UNTAPPD and FACEBOOK PAGE! My apologies.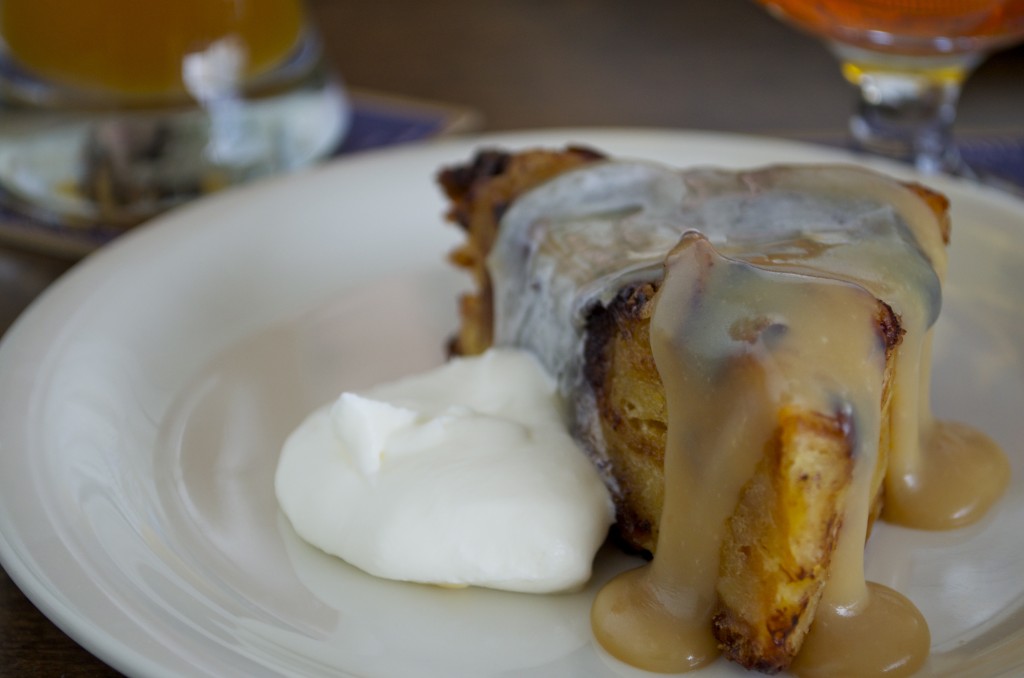 Let's take a closer look, shall we? Croissant bread pudding covered with brown sugar, salted caramel (an actual OMG moment – and I HATE it when people say OMG) and fresh whipped cream. Michelle – from the bottom of my heart, thank you for encouraging me to order this! We ordered a second one after we'd finished licking the plate. I've said this a few times, but this is the most up-to-date BEST BREAD PUDDING I'VE HAD! I'm willing to try more to make sure that this claim is true…
And that was my Tuesday! The brewery visit was necessary in order to recover from last night – working an event for Enegren down in Oxnard for The Kitchen which was featured on Diners, Drive-ins and Dives! What an amazing party!

I wore my brewniform…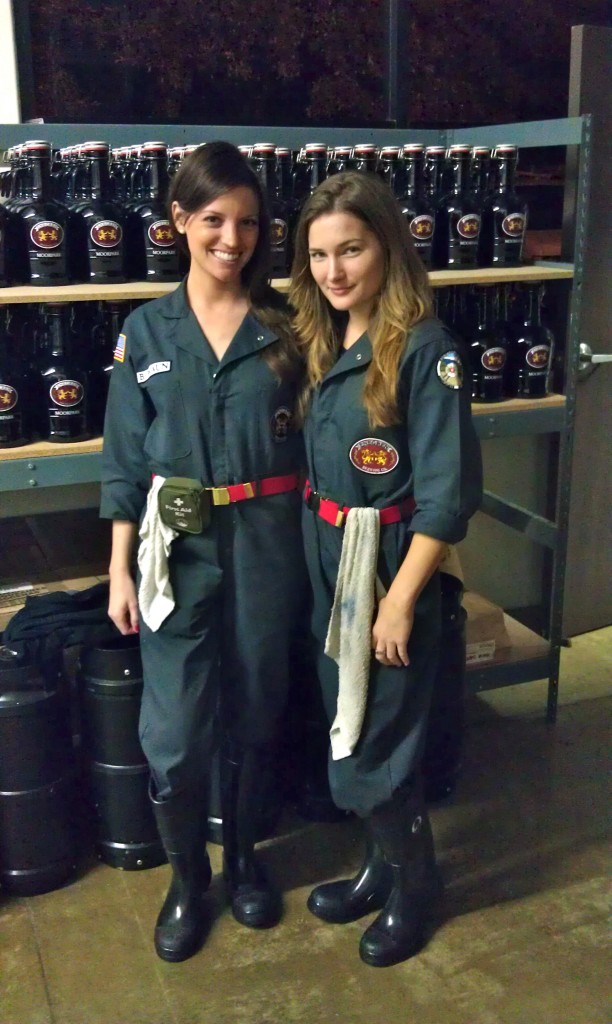 …served tons of beer samples to the gigantic crowd…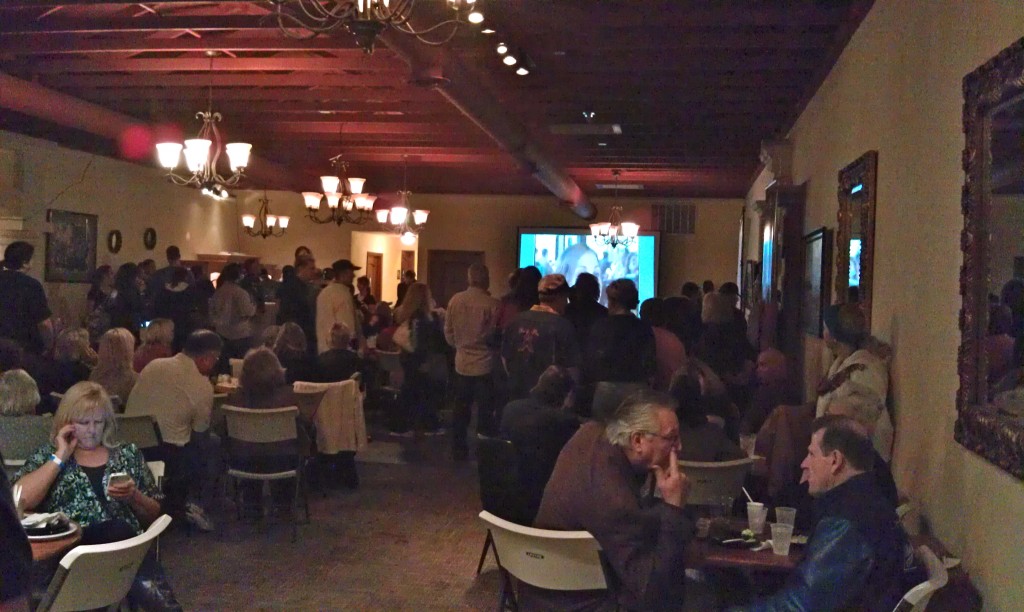 …and have a huge list of people who now want to come visit the brewery! If you're up for it, tasting hours are listed here!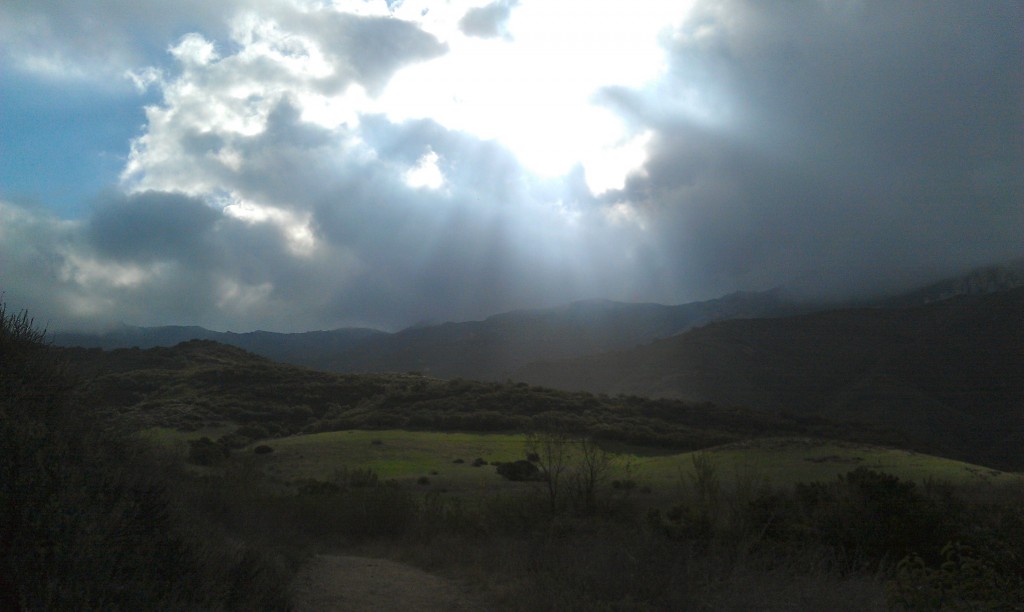 And here's a random picture of my early morning hike. Just because. Happy Tuesday!