Our final night in München, we revisited a spot we'd found on our happy hour tour a few nights prior.

Nonsolovino is a quaint little restaurant on a side street, full of happy locals who are regulars there, and run by Carmelo Bongiovanni, a friendly Italian who is on a first name basis with all of his customers and came to have a jovial discussion with us our first night in. We enjoyed the fine wines and conversation so much, we had to return for the food.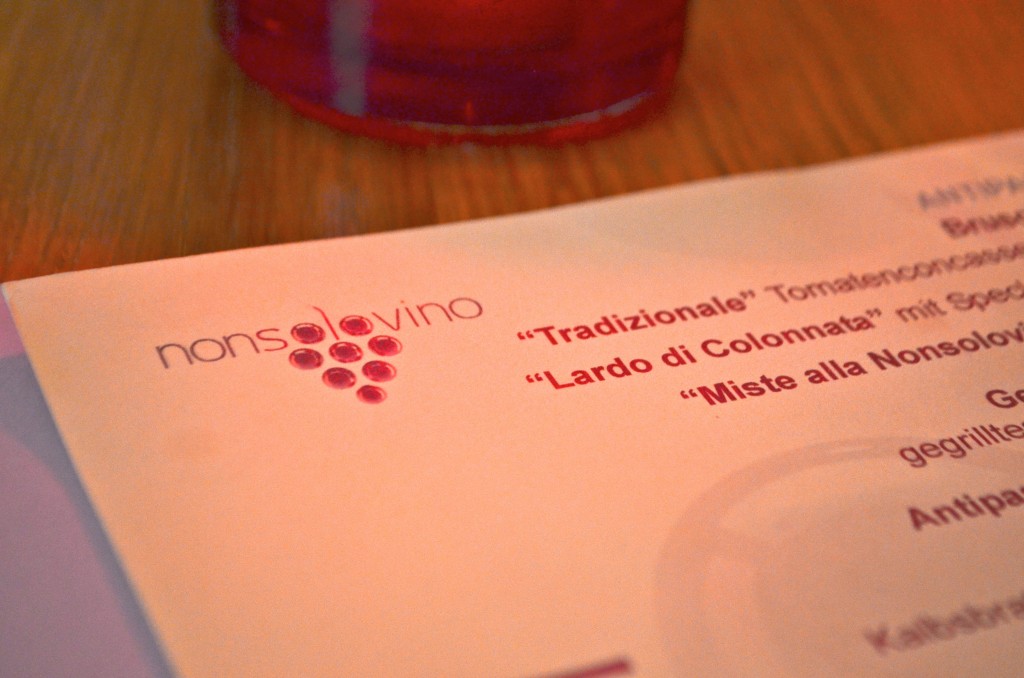 The inside is cozy and softly lit, with an extensive wine menu and a simple food menu.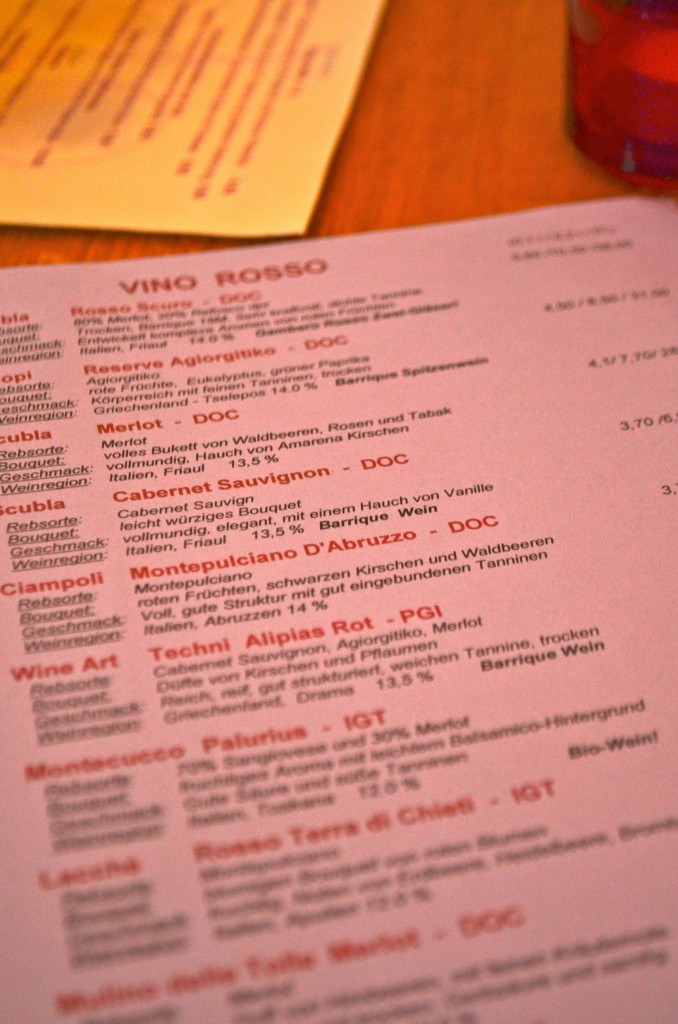 I don't know wines and will be the first to admit it. I asked our waiter's recommendation from the list of reds.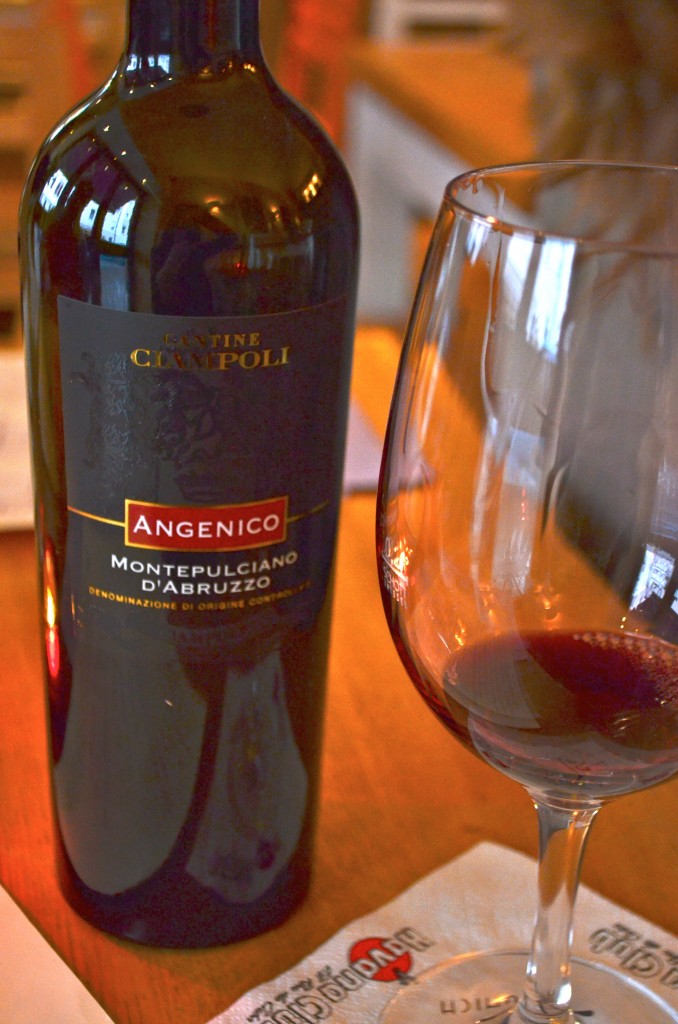 This was a winner. Rich and oaky, full of dry tannins and a hint of what I thought to be bourbon. I was a happy girl.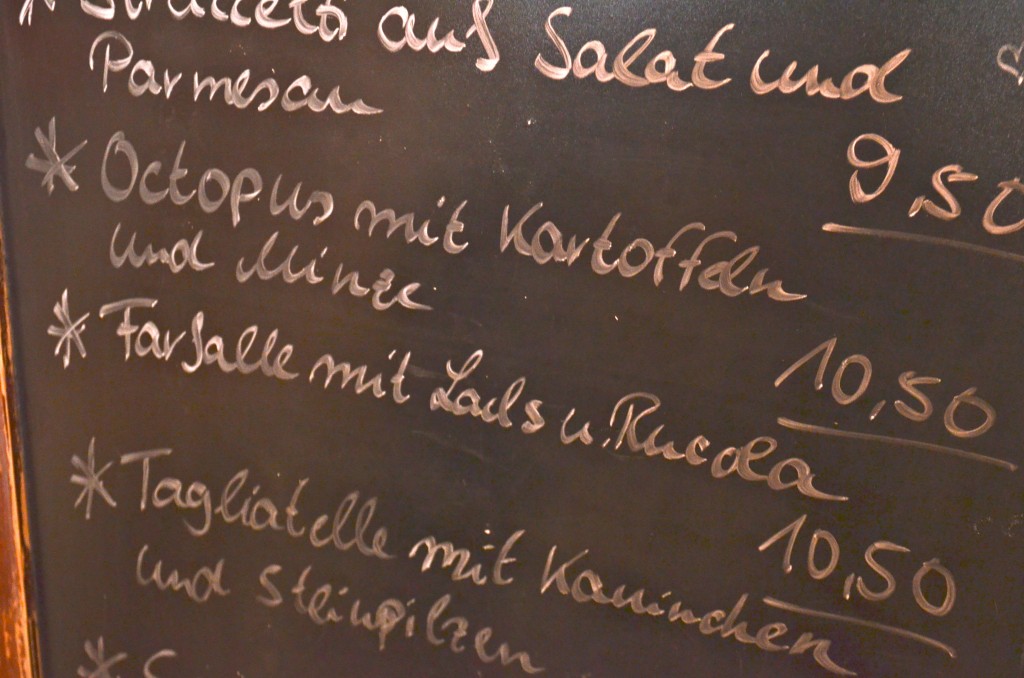 I perused the menu and was prepared to order the gnocchi before they brought in the specials board. Farfalle mit Lads u.Rucola… or something like that. It means farfalle pasta with salmon and deliciousness… or something like that.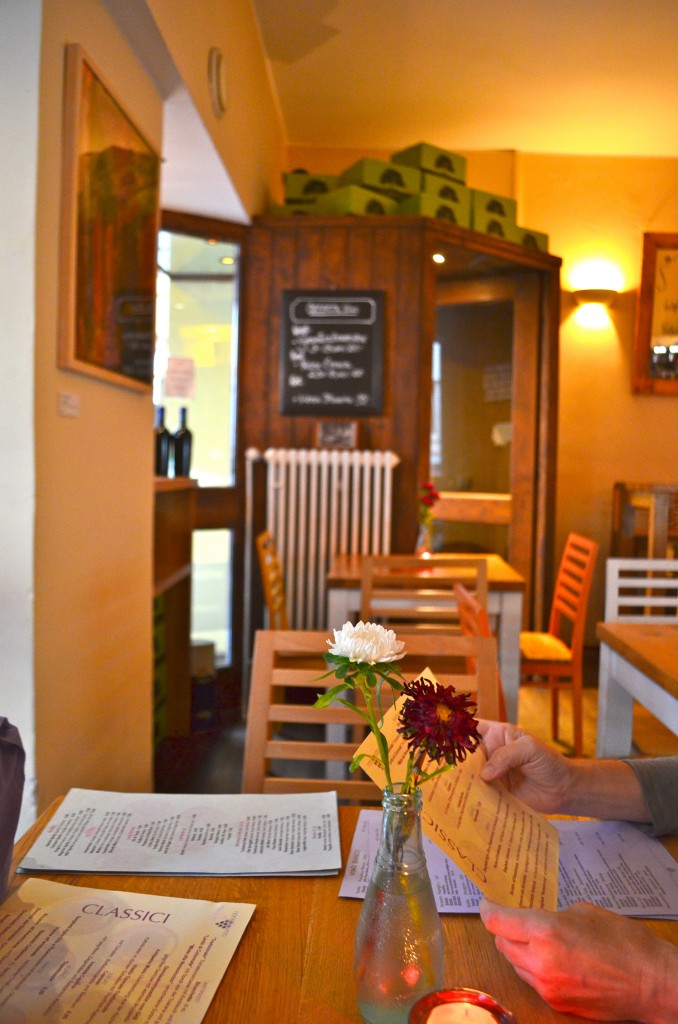 We relaxed, sipped wine and enjoyed the idle chatter of the patrons around us while we patiently awaited our meals. Germany is made for long, relaxed meals. All of Europe is made for long, relaxed meals. If you leave before two hours, you're rushing. Sit back, relax, take another sip of wine and breathe. And please, phones and technology must be left at home.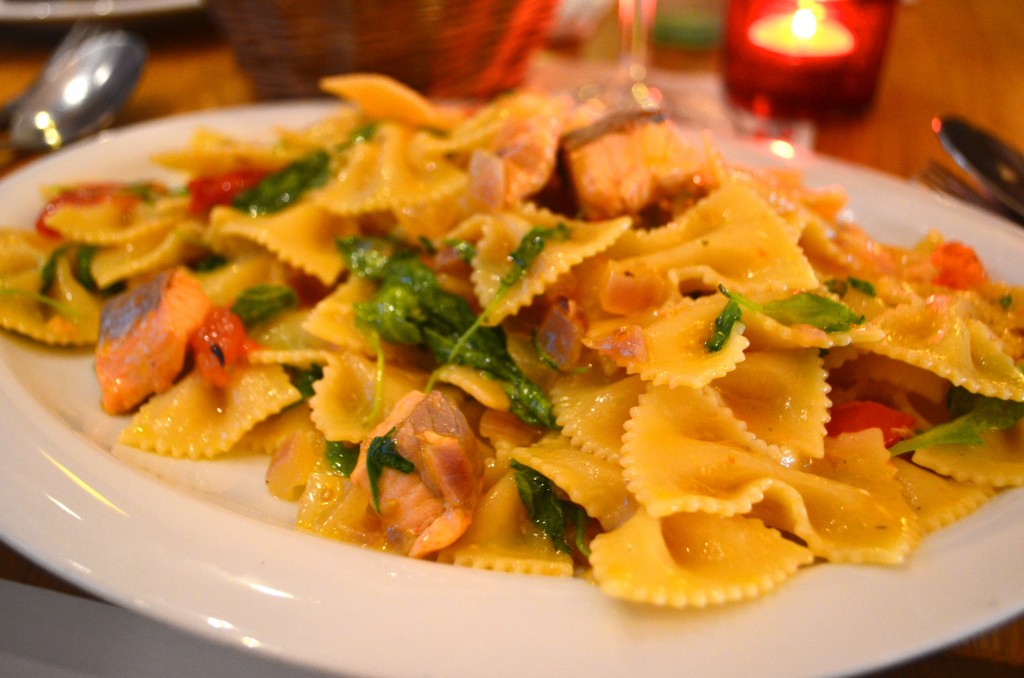 My dish – droolworthy. Al dente pasta with fresh arugula, juicy burst tomatoes and delicate pieces of salmon, enveloped in a warm coat of fragrantly herbed olive oil.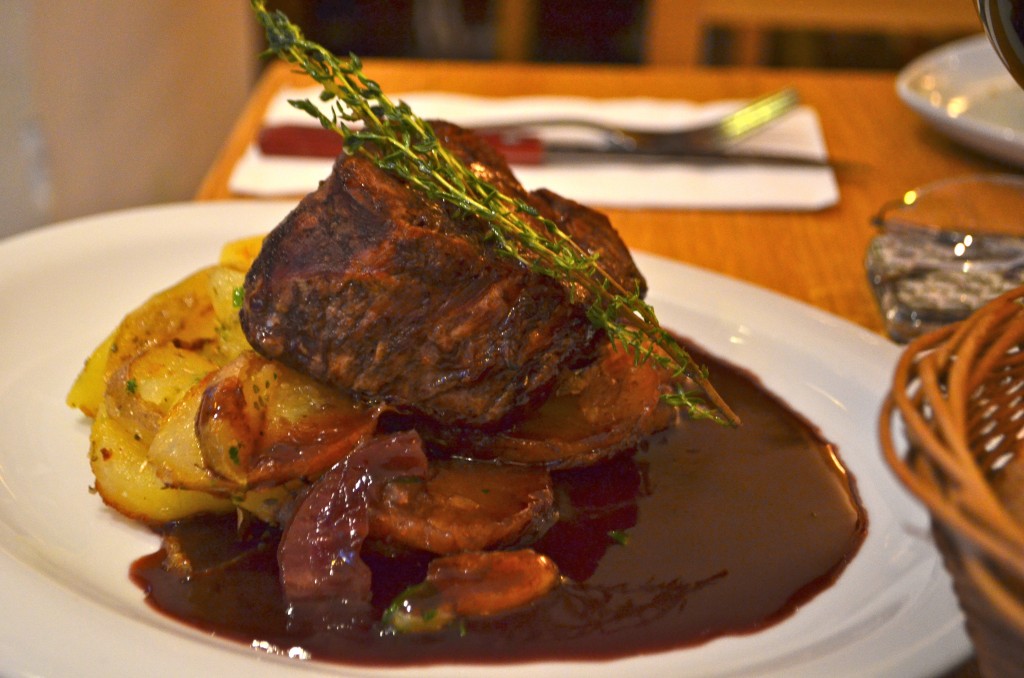 Travel buddy #1 – Tender filet of beef with a red wine sauce studded with mushrooms on top of scalloped potatoes.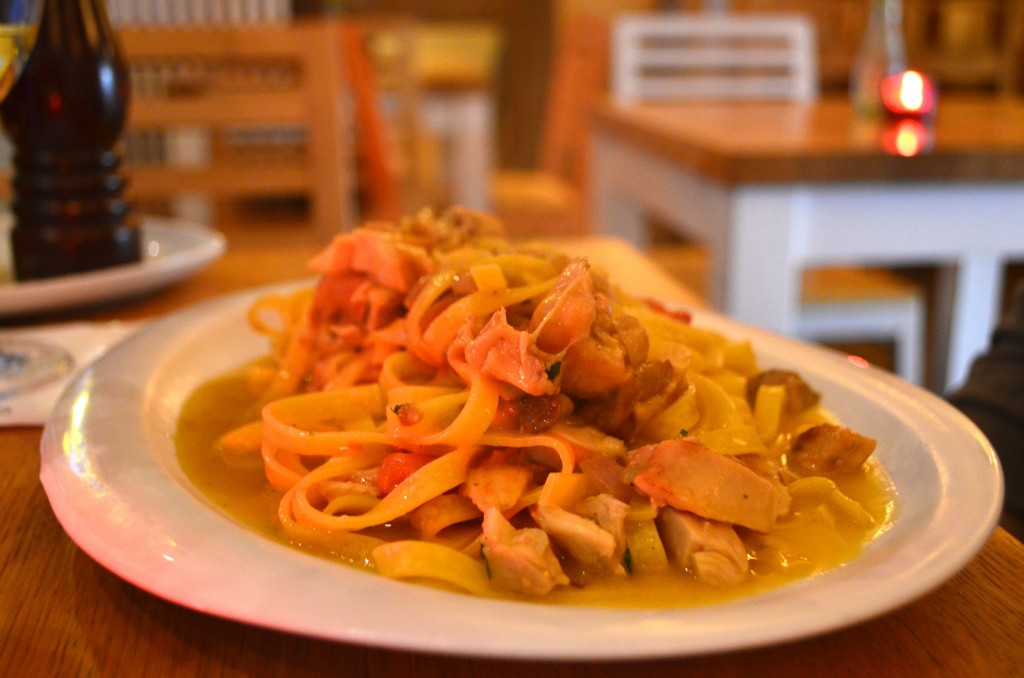 Travel buddy #2 – Pasta with fresh veggies and rabbit. I'd never had rabbit before, but it seems to me like a slightly chewier combination of chicken and pork. All of the plates were scraped clean.

We lounged for another hour chatting with Carmelo and enjoying the ambiance of the place and topped it off with a glass of limoncello courtesy of our gracious host.

If I'm ever lucky enough to return to München, I will be back here for my first meal in the country. A huge thanks to the entire crew at Nonsolovino for their kindness, delicious foods and brilliant wine selection!

Nonsolovino
Metzstraße 15, 81667 Munich, Germany