I had to. I just HAD to. I hadn't been there in almost a month and I could tell that Ladyface missed me almost as much as I missed her, so I took a nice detour and made that special visit. Because, you know, Roman Holiday wasn't enough of a mini-vacation for me…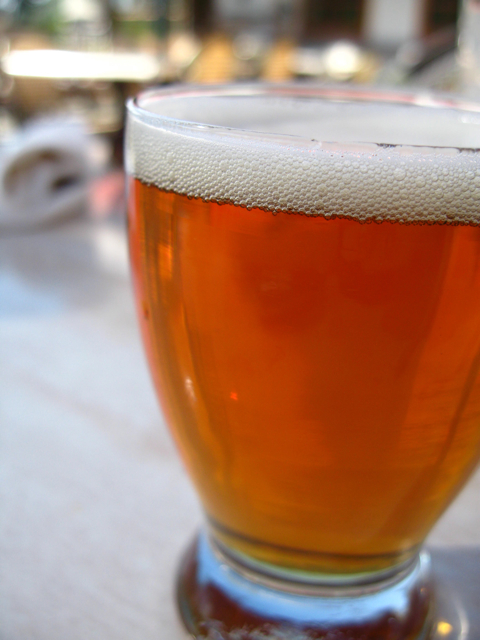 Okay, maybe Roman Holiday WAS enough of a mini-vacation – I stuck with a small taster of Chesebro IPA instead of a full glass. Shocking, I know!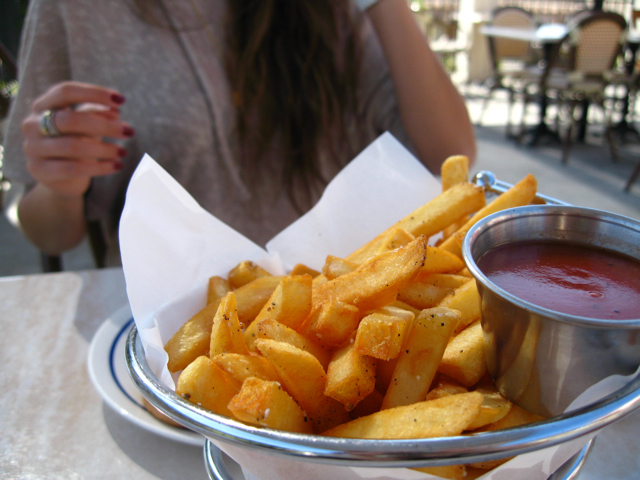 According to Ladyface, sweet potatoes are "out of season". The giant bag I have sitting on my counter begs to differ. I'm not known to throw fits though, as long as I get some sort of edible fod, so I settled for a few of the mouth-watering regular fries with red ale ketchup that Sofia had ordered before I'd arrived…

…and after a long peruse of the happy hour menu, ended up with the same thing she ordered.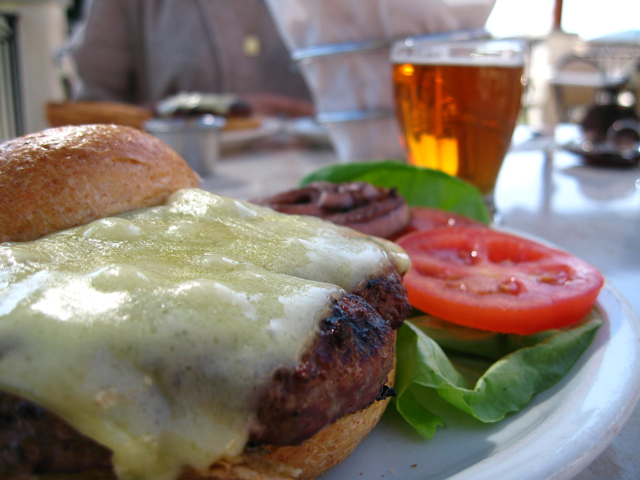 A big fatty burger with white cheddar. Oooooh, I LOVE the way the grease makes it shine! It was SO AMAZINGLY DELICIOUS! Seriously, sometimes all a girl needs is a little grease!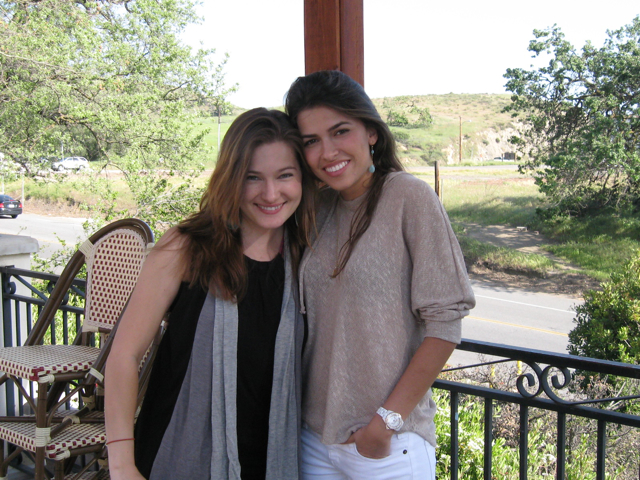 We attempted to take a cute picture. Sofia was in heels, so this is me on the very tips of my toes attempting to look like a normal-sized person next to her. It worked, right? Don't answer that.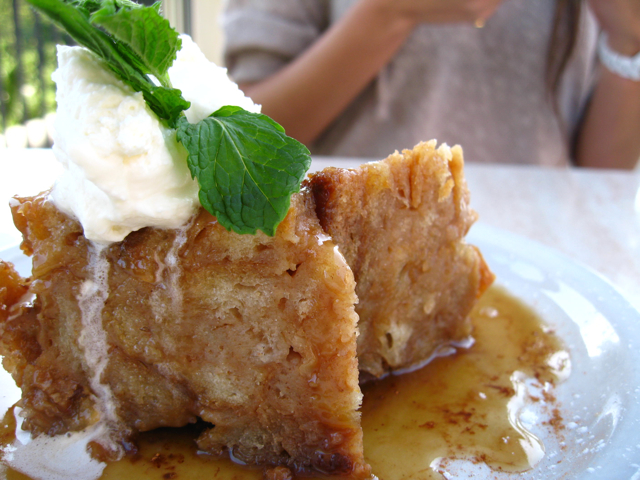 Of course we couldn't end without dessert! This is the CENTER PIECE of the bread pudding! If you ever order bread pudding from ANYWHERE, order the center piece! It will make your life worth living! We asked our waiter to get us the center piece and then followed up by asking the general manager to make sure that we got the center piece. Not that we're high maintenance or anything…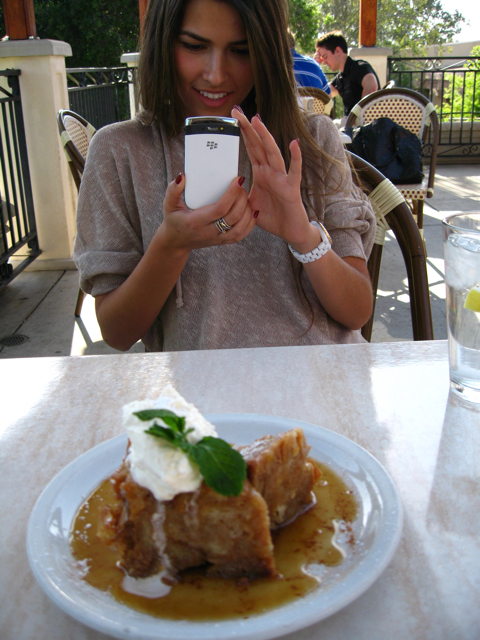 What, your non-food-blogger friends don't take pictures of their food too? If they ever get a center piece of the bread pudding, they would! Center Piece.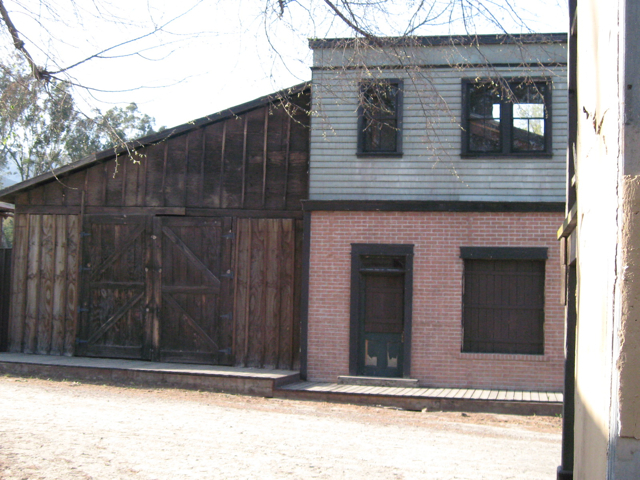 After, we drove through the mountains to visit the old abandoned town I love – Paramount Ranch.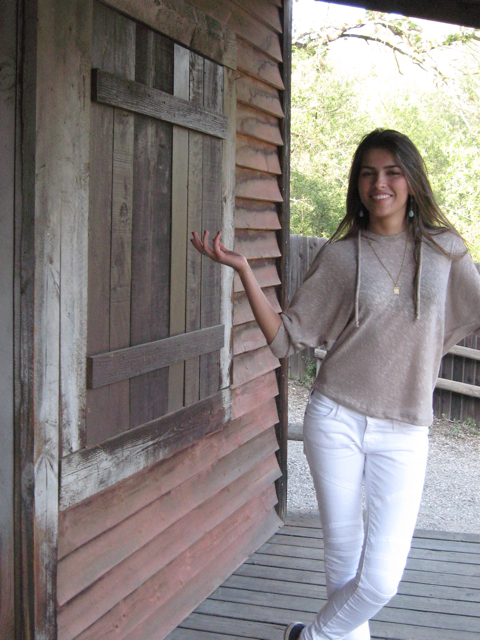 I lent Sofia my Converse while we walked around. We were hanging out on the porch when two girls came by – one carrying a camera and the other dolled up to high heaven. They walked over to the mountainside and started taking pictures. A few moments later, a big burly guy carrying a guitar lumbered around the corner and stood in front of them, strumming a little serenade. Everywhere they went to take pictures, he lumbered after, strumming away. It was awkward to watch.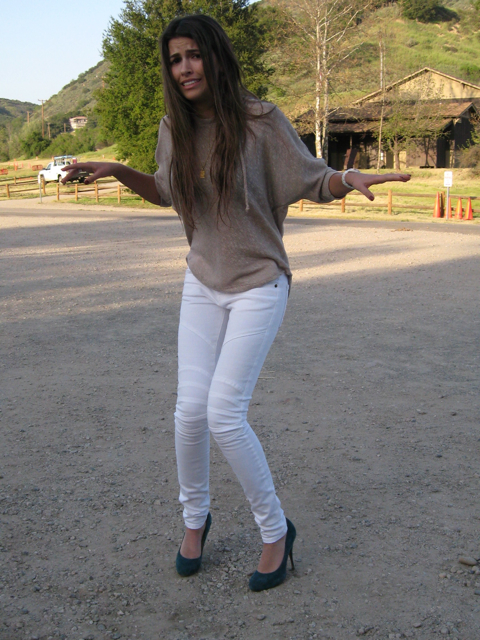 Almost as awkward as watching Sofia try to walk to her car after putting her fancy-schmancy heels back on…
Hahahaha! That picture just made my day!