I've finally decided upon my only resolution for the new year! I'll be on a quest to visit every single coffee shop in Fort Collins, and there are many. I haven't done a full count yet, but once my list is compiled I'll share with you. Yesterday was a visit to Little Bird Bakeshop which I plan on recapping for you very, very soon. But FIRST!

I had to share this magical pairing I experienced yesterday. Honestly, my life has been changed. After delivering a keg to one of our accounts in the morning, I headed over to The Fox and the Crow, a new cheese shop in Fort Collins, to pick up a keg of ours that they'd just kicked. Since I was there, I decided I should grab some lunch to go. After perusing the menu for a few minutes, I asked the owners what their preference was between the French Kiss –  a buttered baguette with thinly sliced ham and brie cheese, or a simple grilled cheese with bacon. They kindly pointed me in the direction of their not-so-simple grilled cheese of the day – French Onion. I just wasn't prepared to miss out on the bacon, however, so I requested a few slices in addition.

Two soft pieces of bread generously slathered in butter, stuffed with sweet, tender caramelized onions, rich layers of slightly salty cheese and crispy bacon panini-pressed into a melty oblivion. The aromas emanating from this heavenly sandwich swirled around the shop, enrobing me with the ever-so-sweet scent of comfort food with a gourmet twist.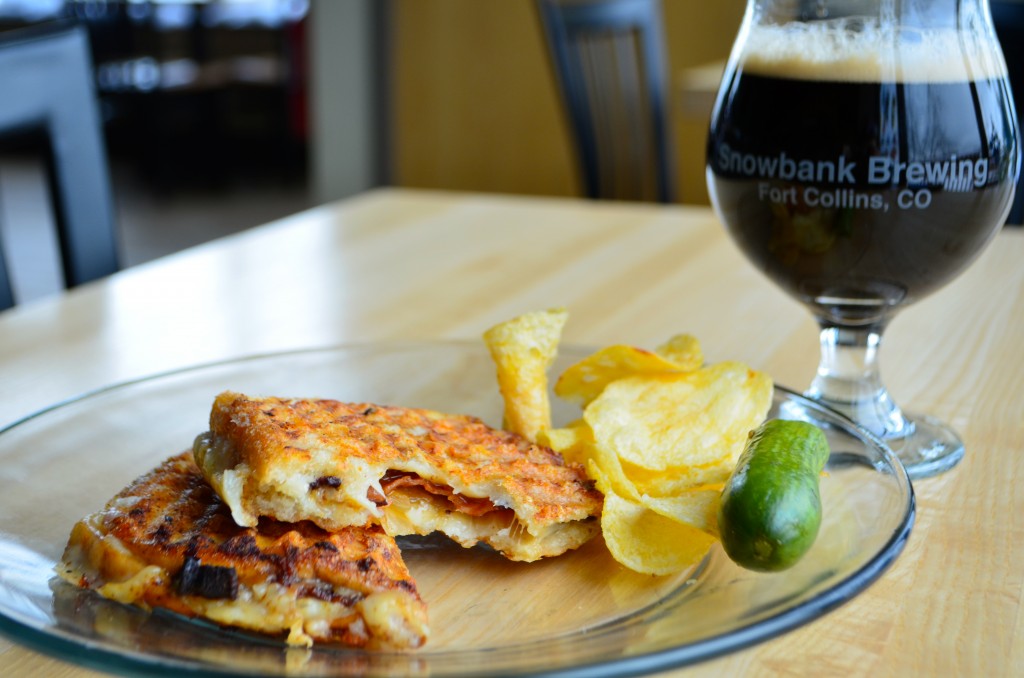 The Snow Squall Black IPA from Snowbank Brewing (also known as my second home) paired perfectly with this meal. Notes of roast enhanced the smoky bacon while the earthy hop bitterness and effervescent carbonation sliced through the richness of the creamy cheese and the sweetness of the caramelized onions balanced out the final resiny bite of the brew. After inhaling this, I was fully prepared to officially start the day. I waddled to the door and turned on the open sign.
If you live in Fort Collins or any surrounding area, get over to The Fox and the Crow and request this perfection of a grilled cheese. And then come see me at Snowbank Brewing to complete the pairing!