I was invited to visit the Bhakti Chai brewery in Longmont last week and jumped at the chance!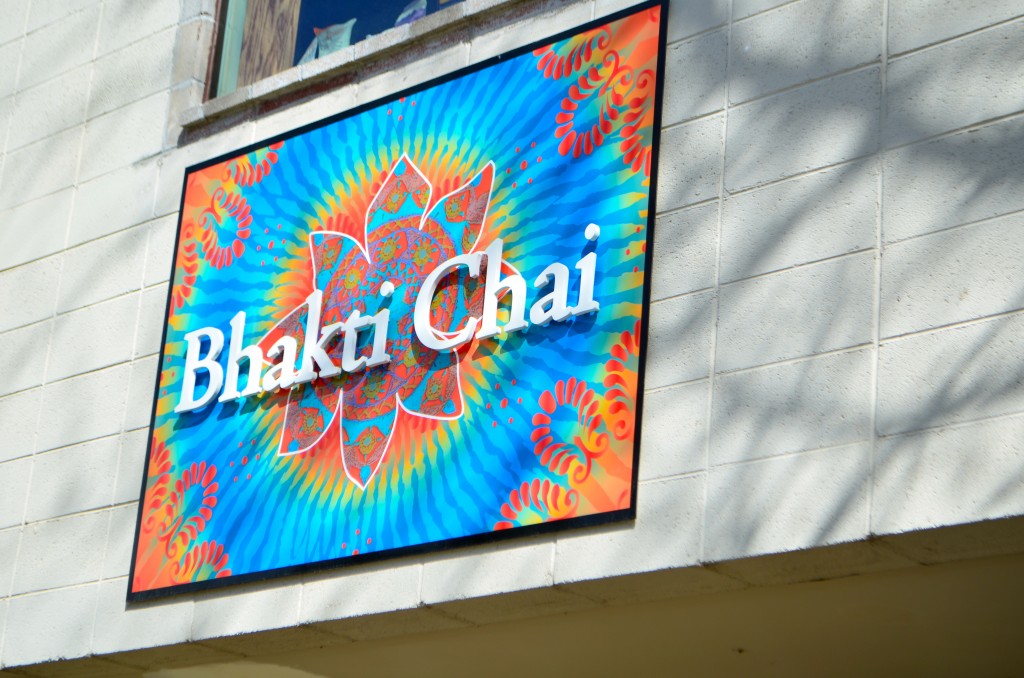 I discovered Bhakti Chai a little over a year ago when my bro forced me to have a sip at Cranknstein when I was visiting from California. I instantly fell in the love with the intensely spicy, gingery cup of warm deliciousness.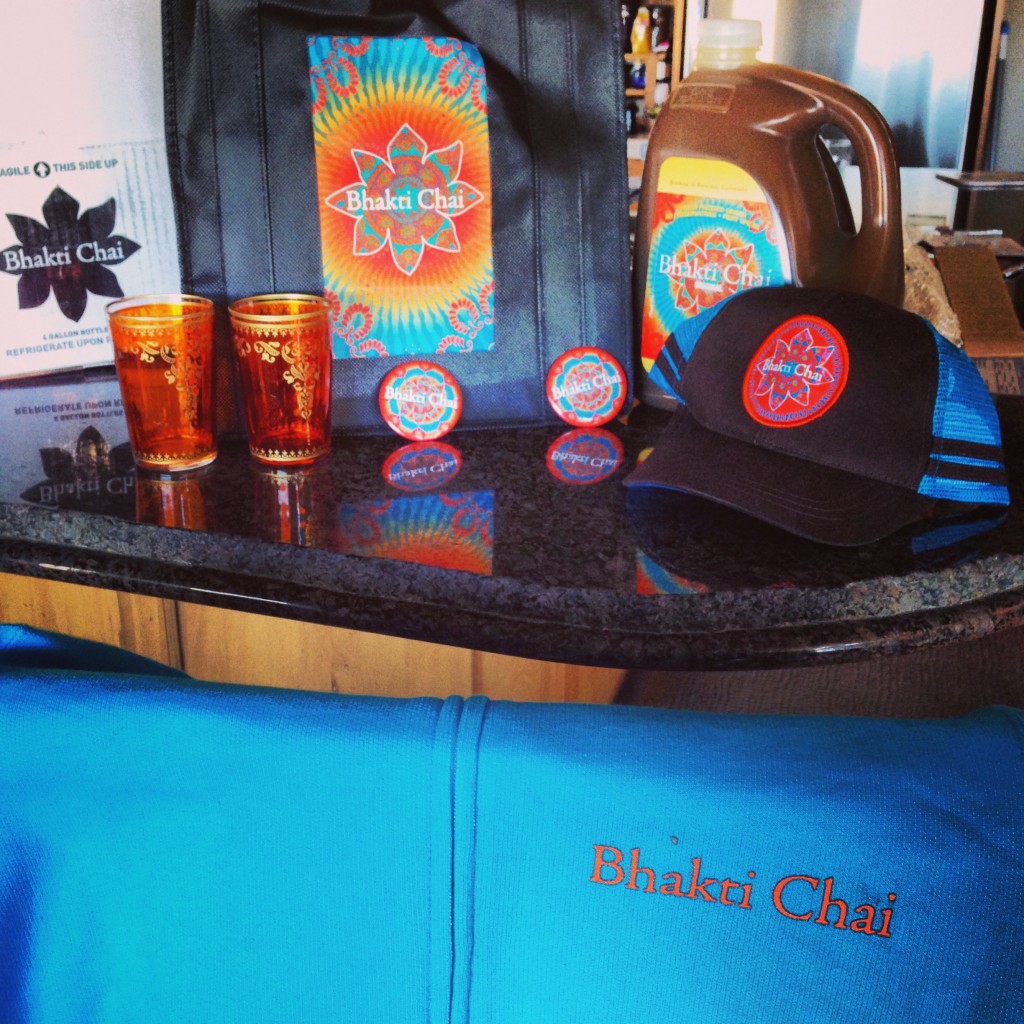 Ever since then, I've been touting my love for the local company and their wonderful drink. I even moved back to Colorado just so I could have more access to it! Well, not really, but it's been an added bonus.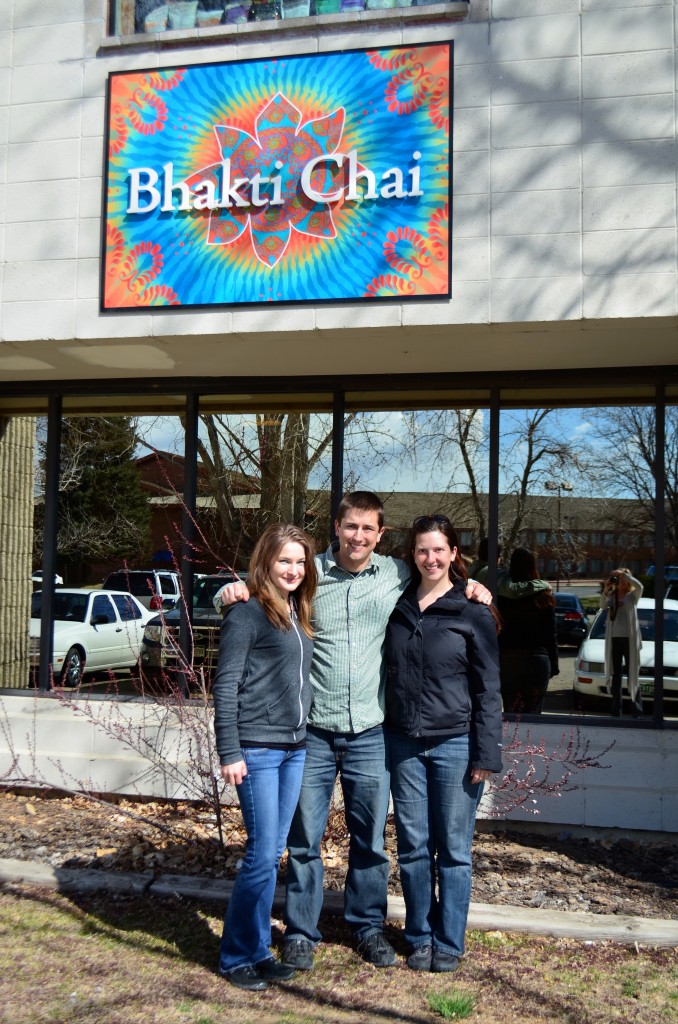 Since my bro is the one who initiated me into the Bhakti love club, I had to bring him and my sis-in-law along! Ignore the pained looks on our faces – we were actually thrilled to be there, but dang, that sun was bright!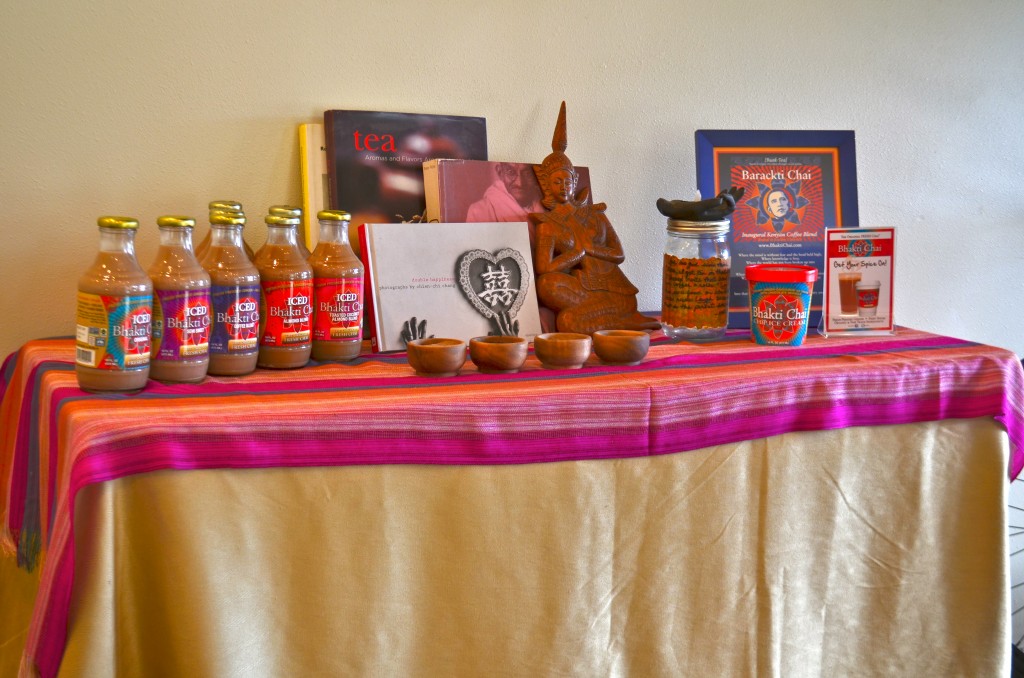 We arrived at the brewery in the morning and were greeted by the warm scents of mulled spices before we even entered the building. This adorable, colorful table was laid out with a handful of the Bhakti products, most of which I've never had the chance to try before!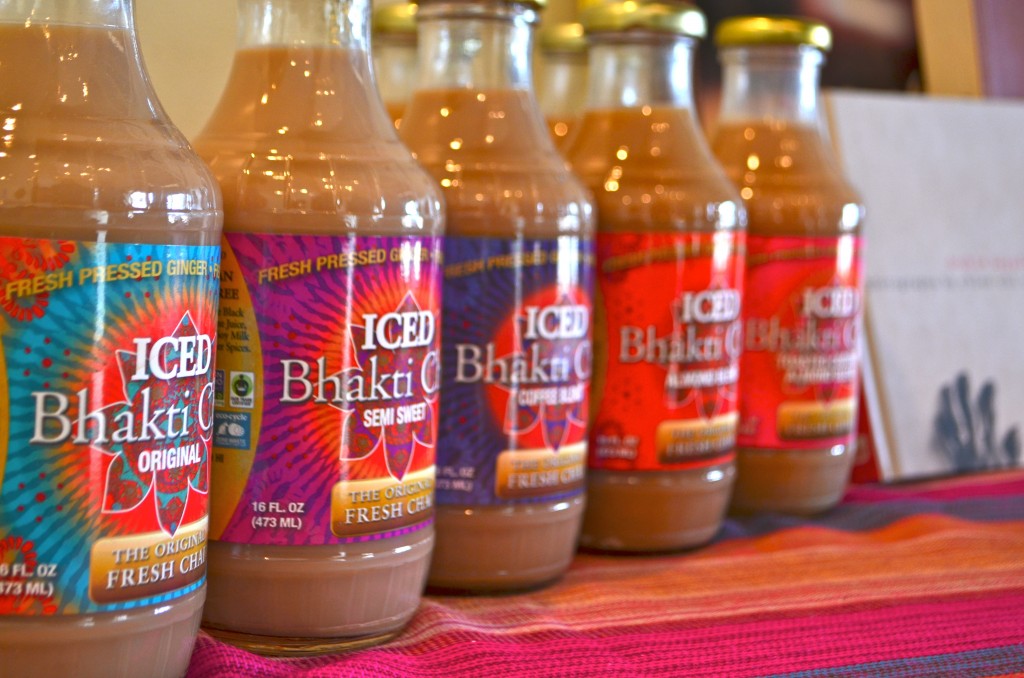 Our tour guide/marketing genius Allison gave us each one of the bottles to sip while we chatted about the history of the company.

See that coffee blend? That is going to be the very first thing that I run to after Lent is over. Coffee and chai? I can't wait!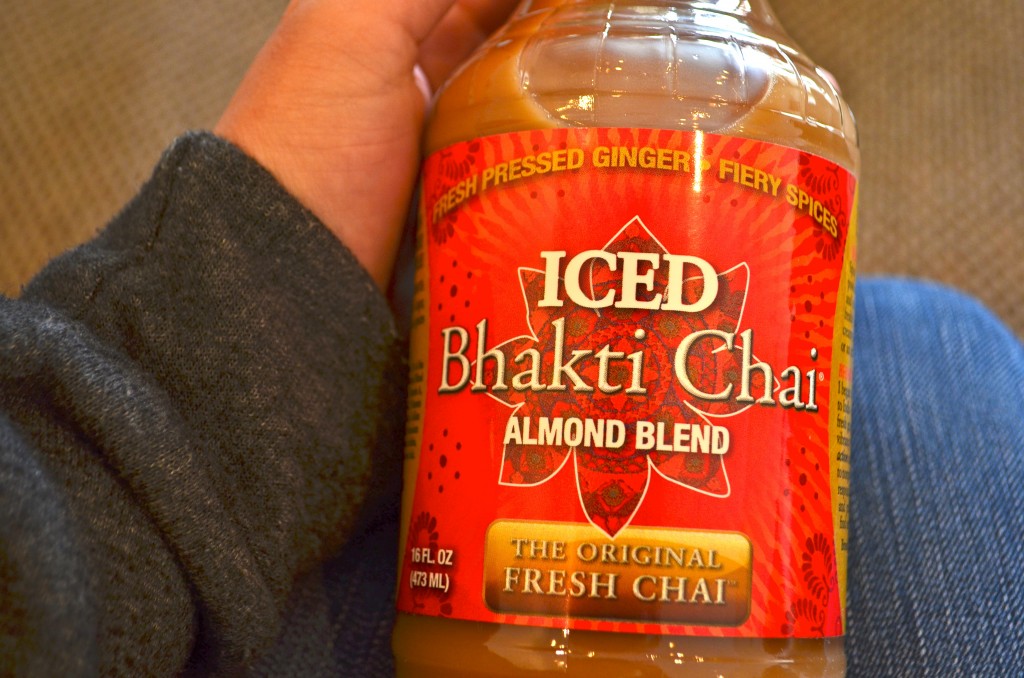 I grabbed the new almond blend. I love that they're using almond milk now – I've never been a huge fan of soy, so this one called to me.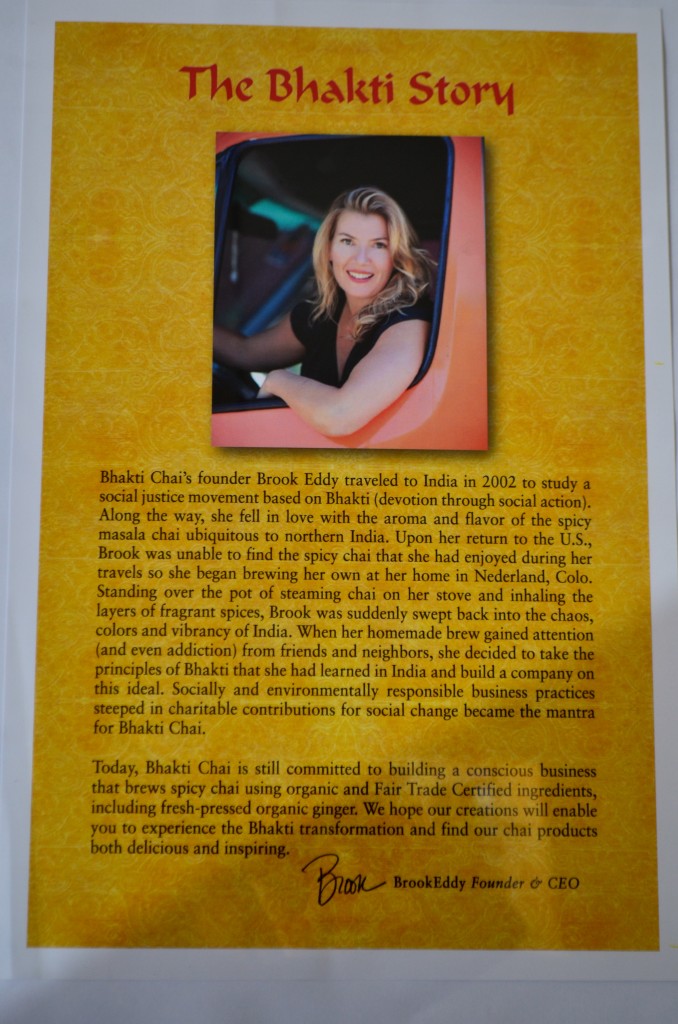 Brook Eddy is the mastermind behind Bhakti Chai. She began making her own blend of spicy chai in her kitchen years ago, and stored it in mason jars to keep in her fridge.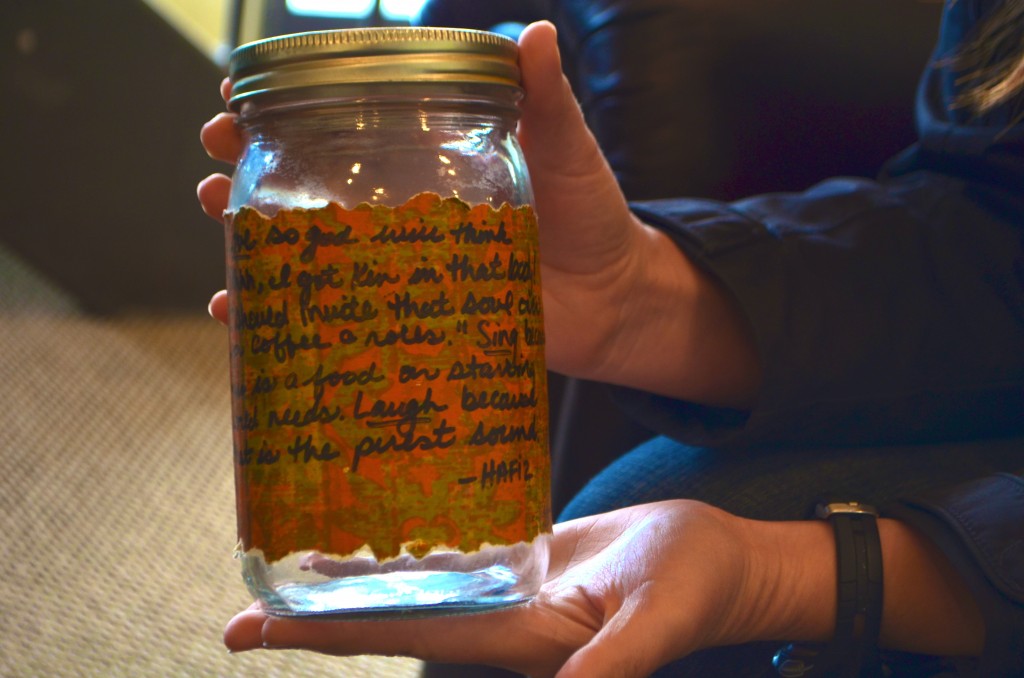 Brook's creation became incredibly popular with her friends who started snagging these jars from her fridge and leaving a few bucks  in their place. Soon, a local cafe caught on and ordered three gallons of the blend to sell in-house, and Brook's company was officially open!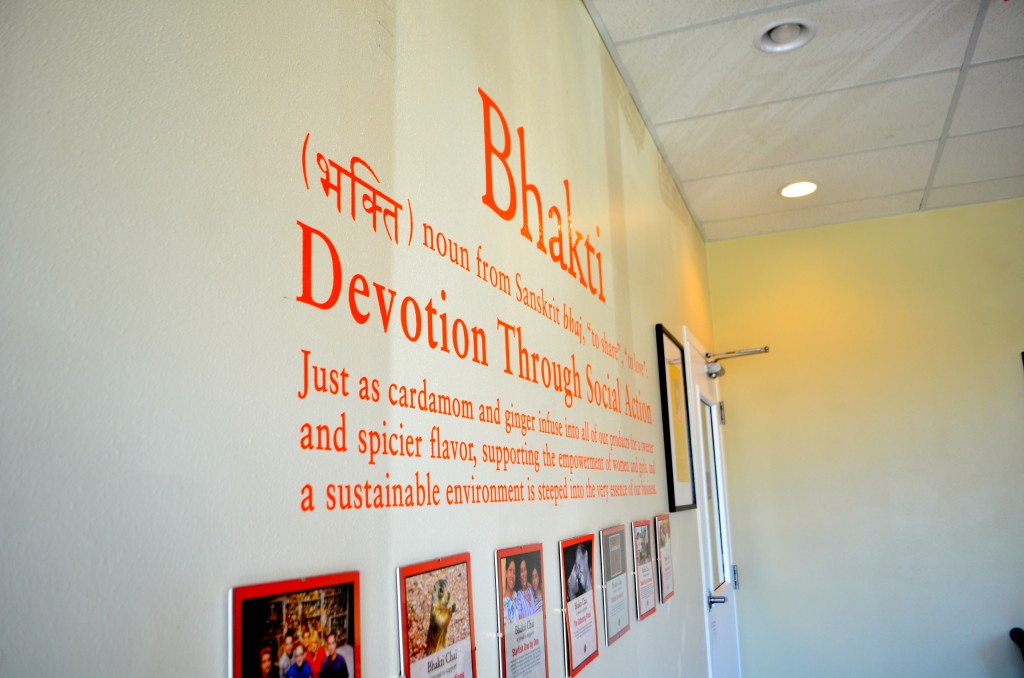 Bhakti means devotion through social action, and this company is committed to the empowerment of women and girls.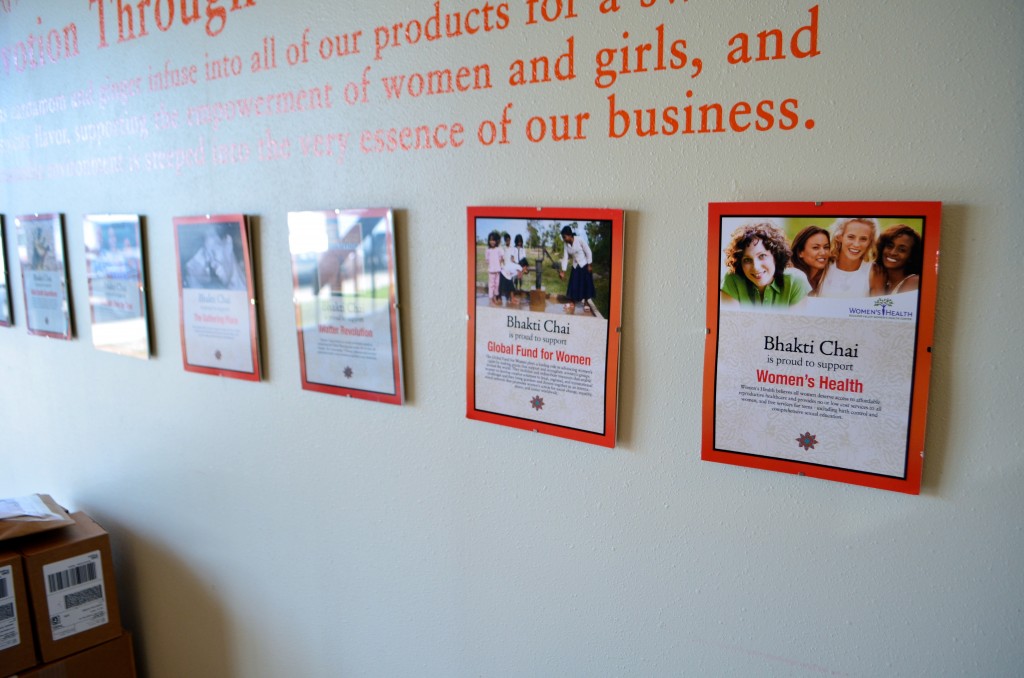 Their walls are lined with examples of all the different organizations that they support. I love how deeply involved and committed they are with these causes. Allison was thrilled to share all of the work they've done.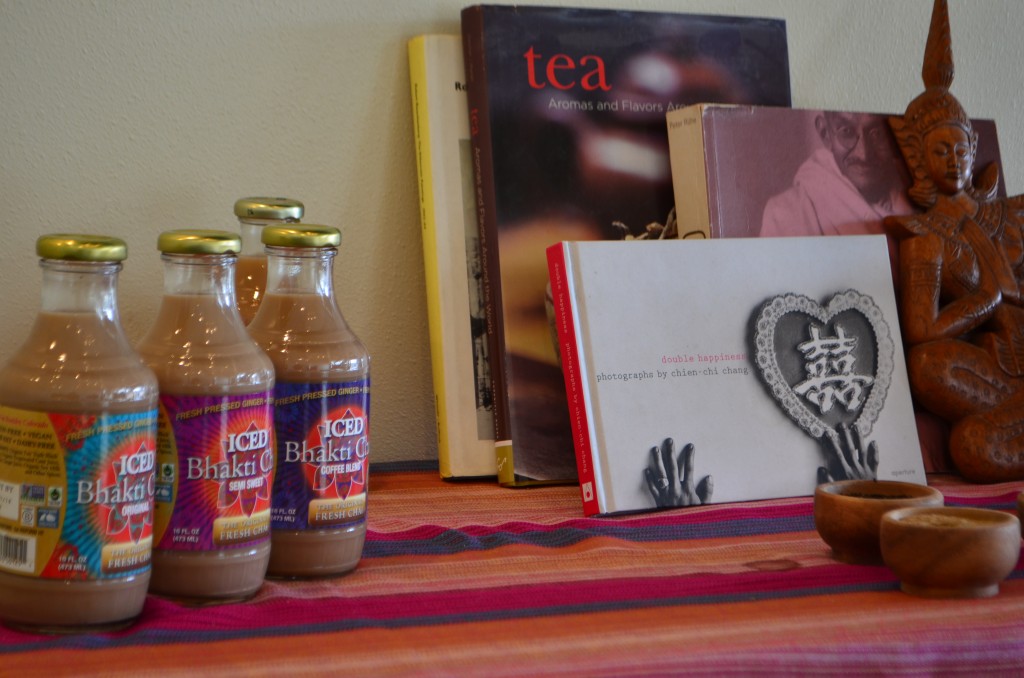 Then, it was time for the tour! We grabbed our bottles, put on some sexy hairnets and entered the brewery.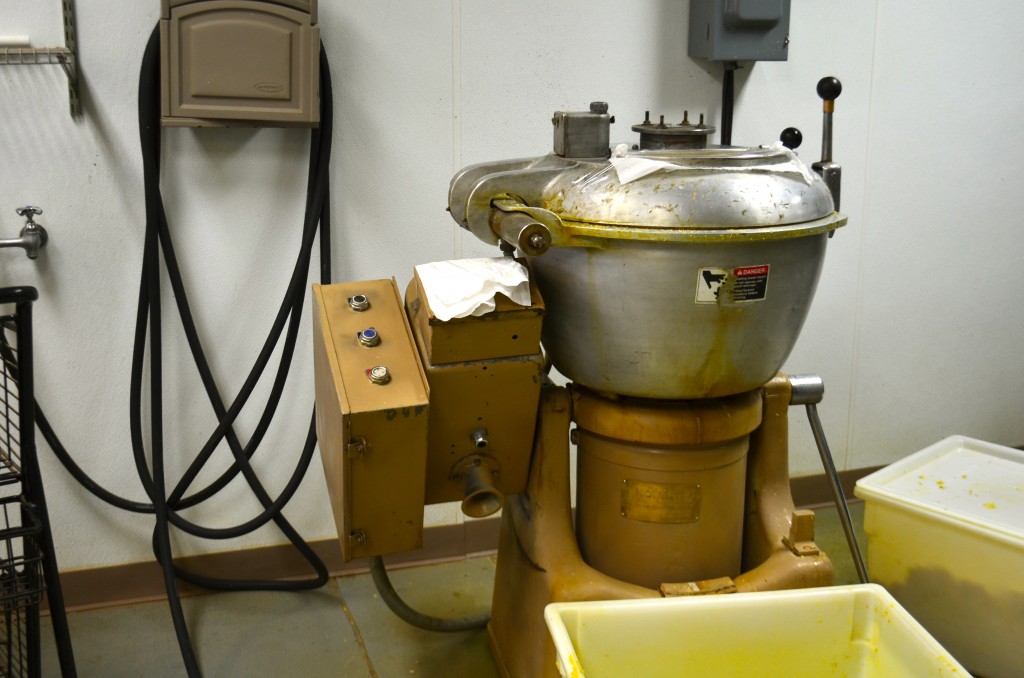 This baby is basically a giant Vitamix. They grind all of their ginger into a pulp to feed into the vice.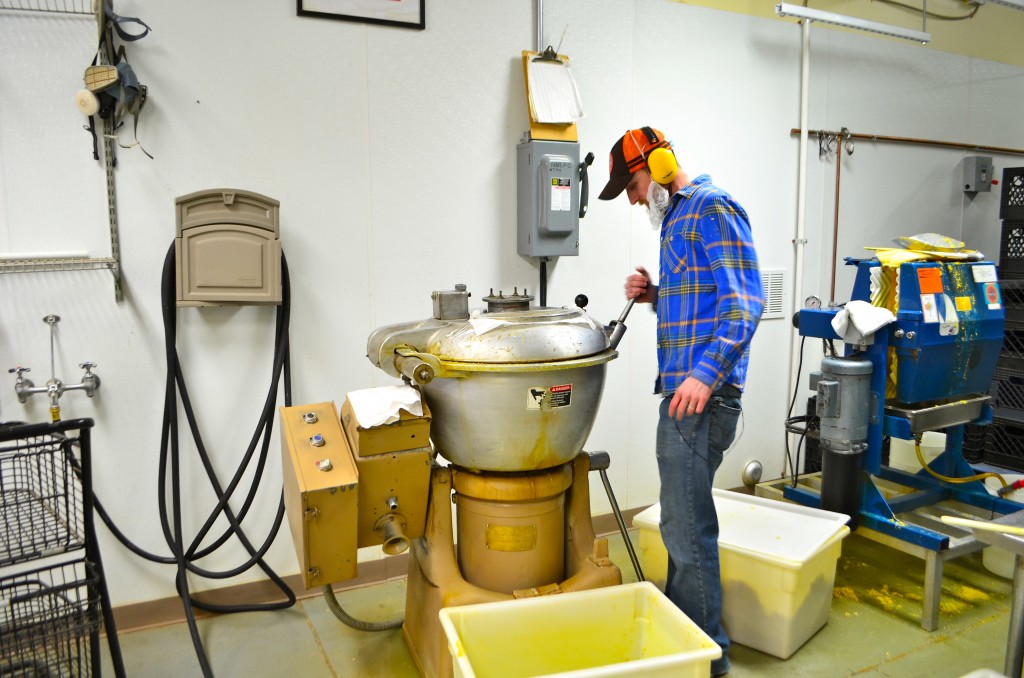 Nate hard at work. Grindin' ginger. Sportin' a beard-net.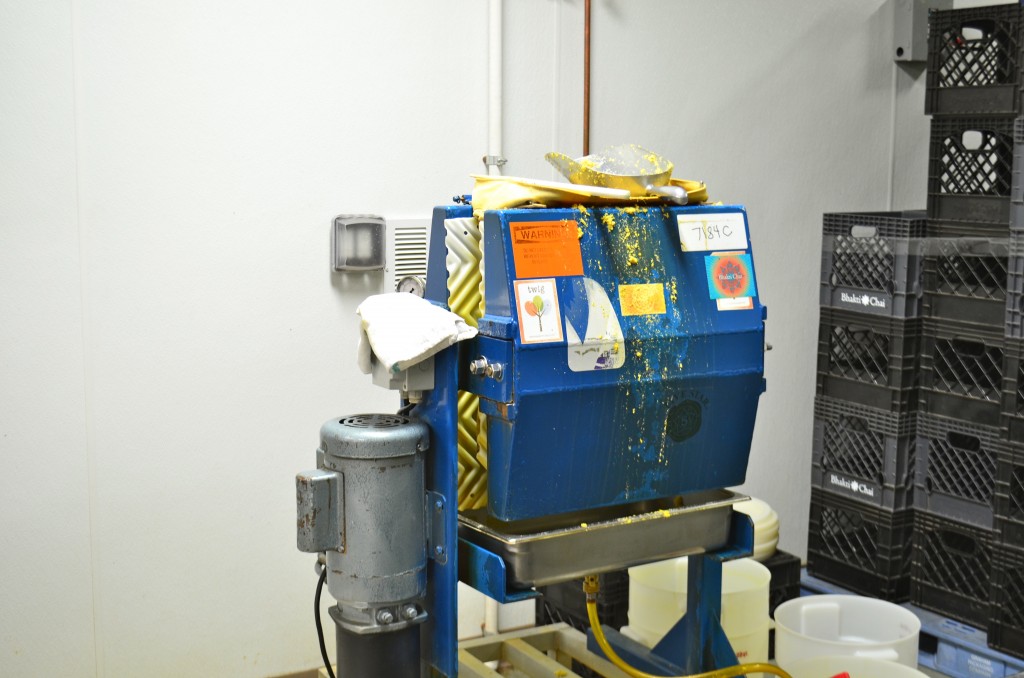 All of the pressed ginger is scooped into this vice which squeezes all of the spicy goodness into large buckets for brewing.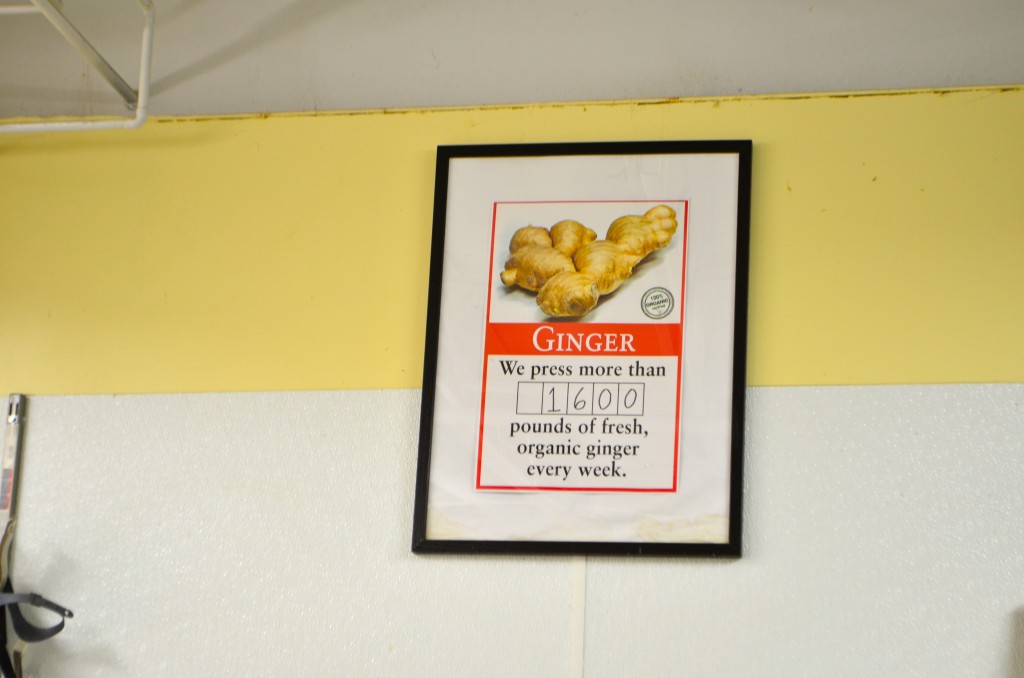 Allison informed us that this number has more than doubled. They actually press around 3,500 pounds of fresh, organic ginger every week.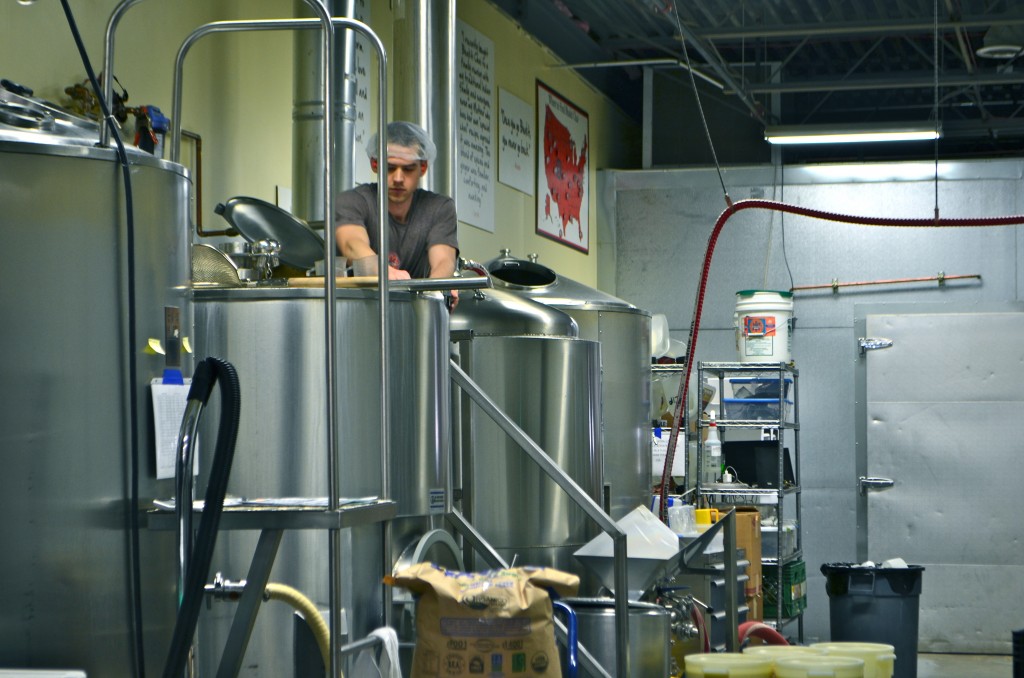 The chai brewery is similar to a beer brewery.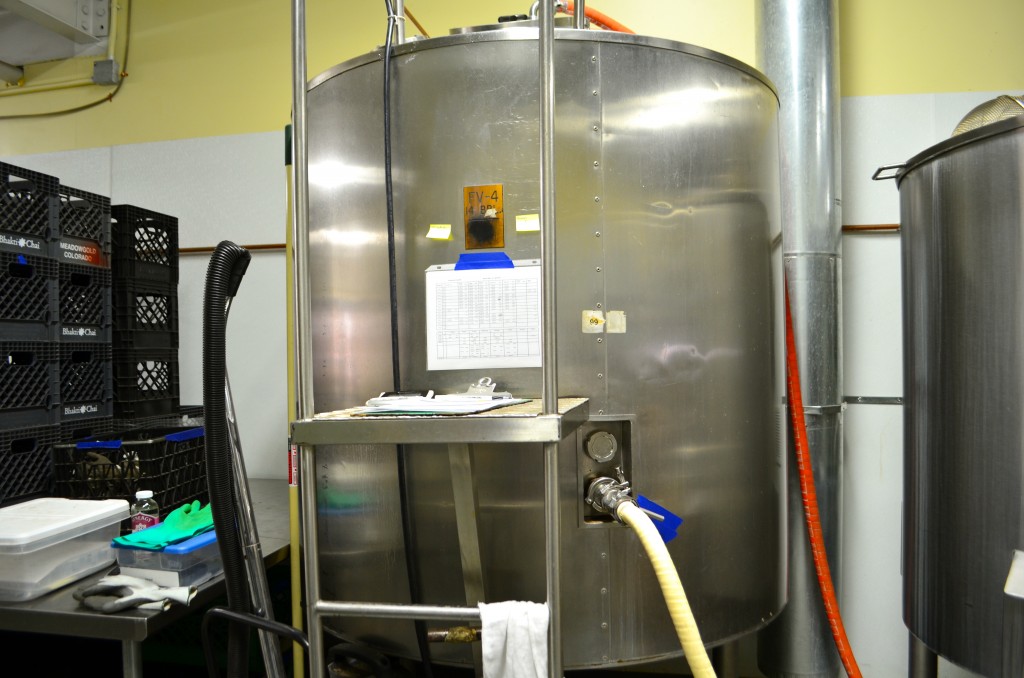 In fact, these tanks used to be the brew system for the now-defunct Oasis Brewing out of Boulder!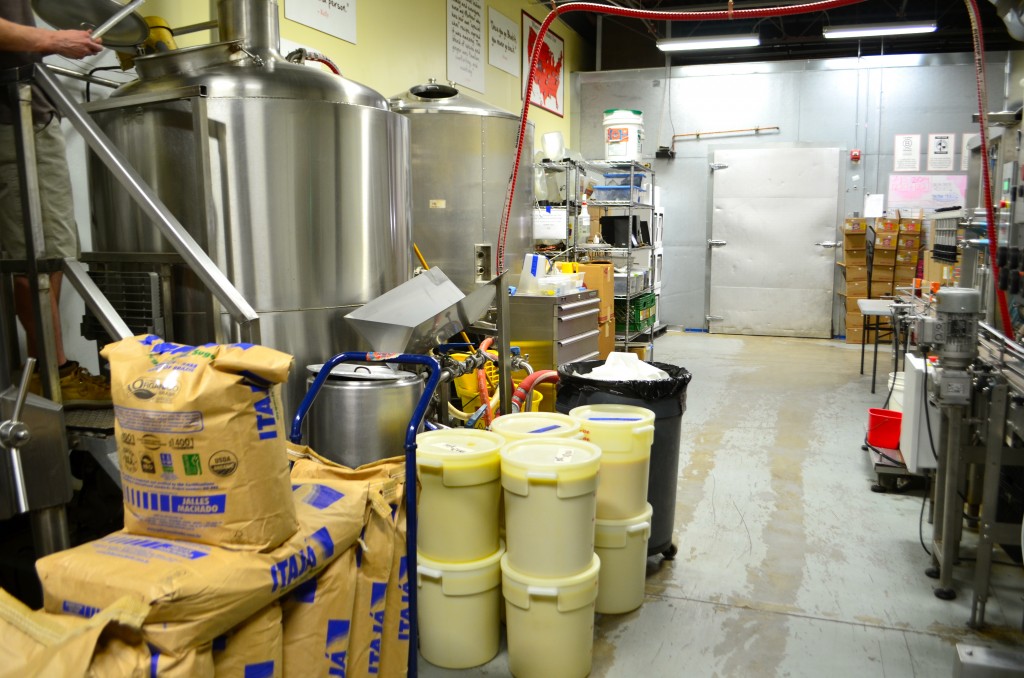 Gallons and gallons of ginger juice and organic sugar being prepped to hop into the boil kettle!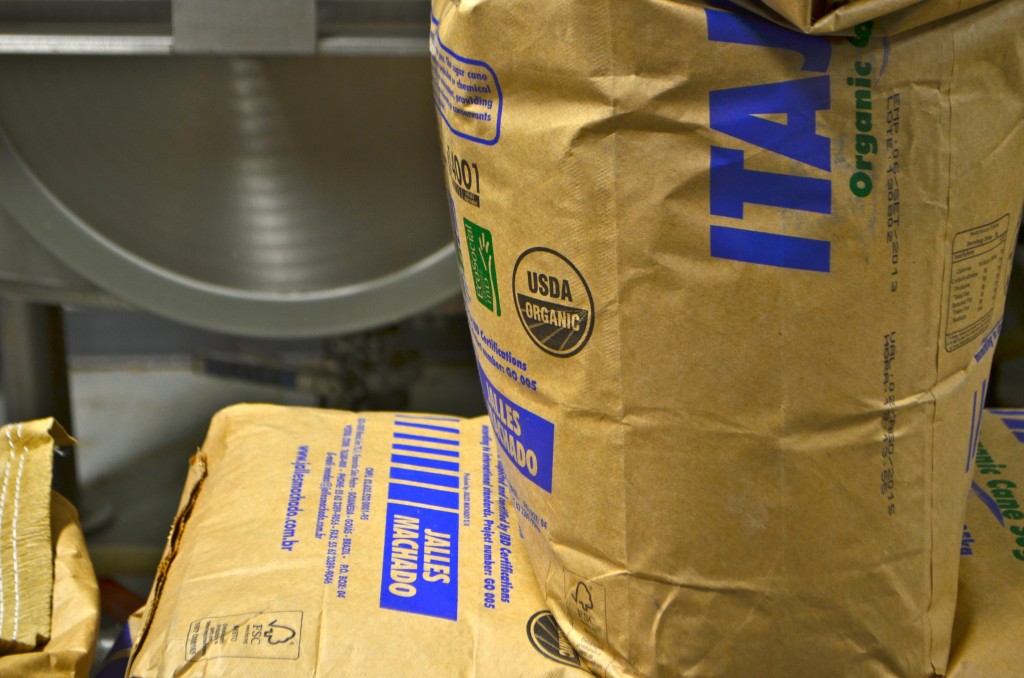 I also love their use of organic EVERYTHING!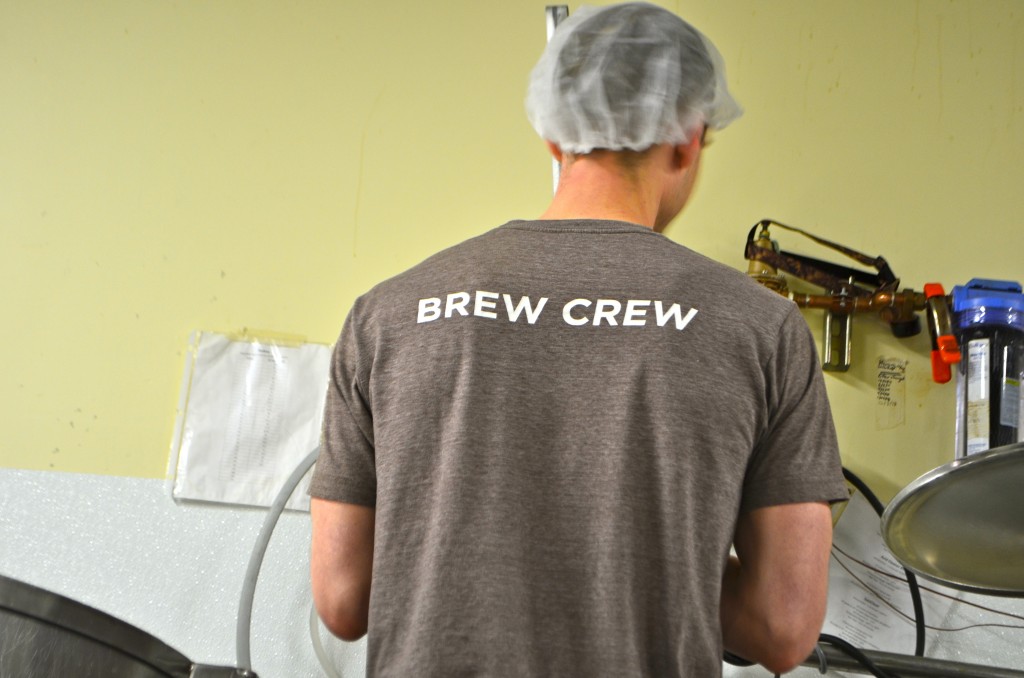 I forced brewer Jared to take a break and pose for me.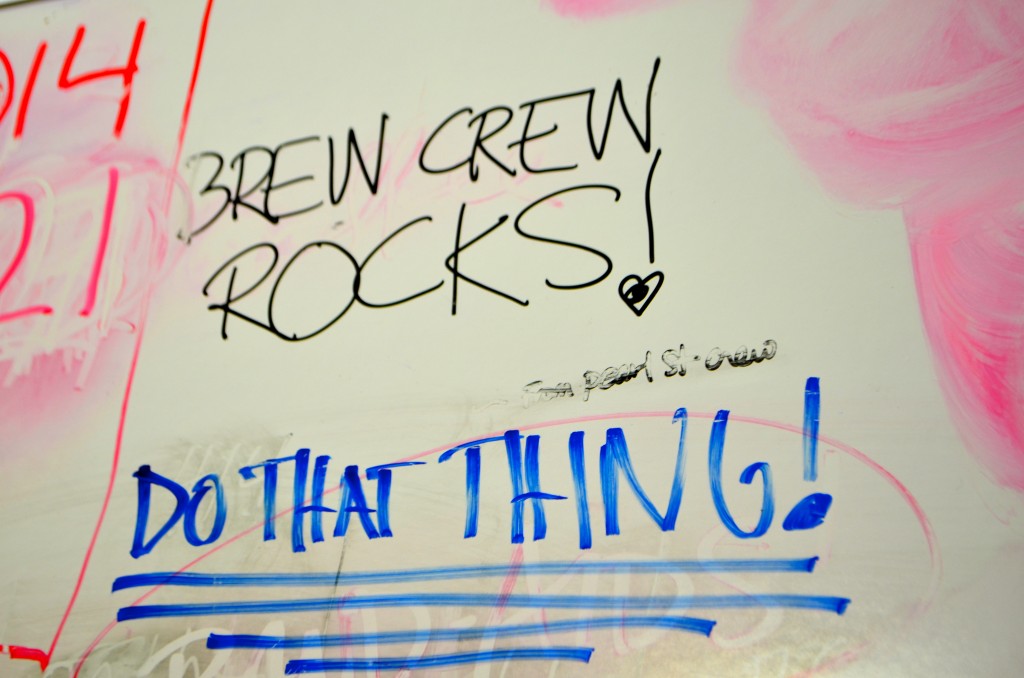 Yes. Yes, they do.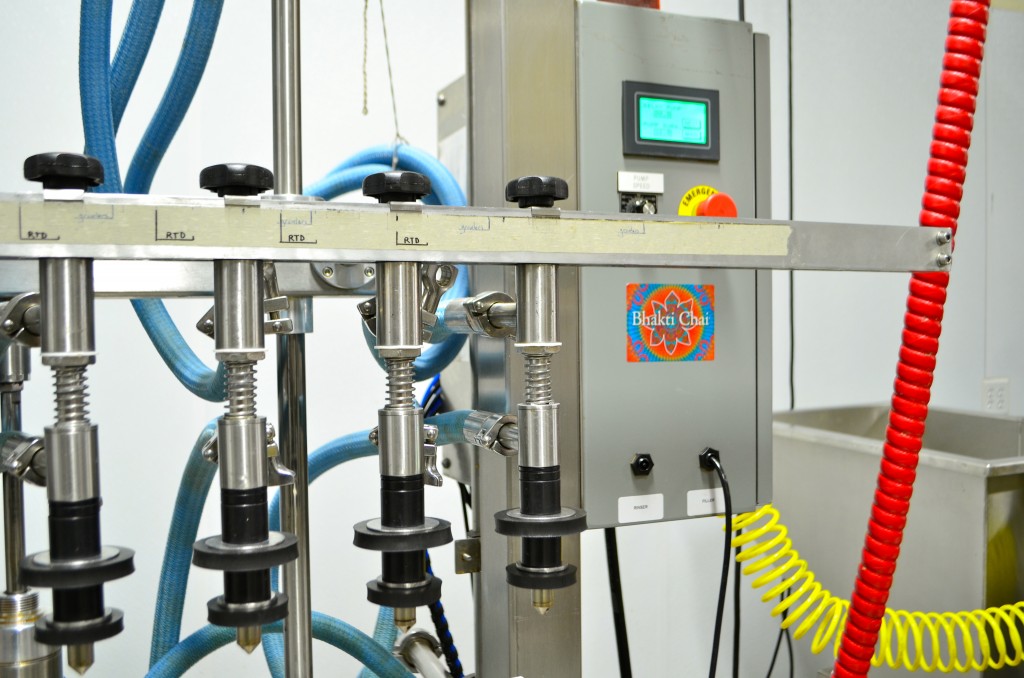 Up until six months ago, Bhakti was hand filling all of their bottles.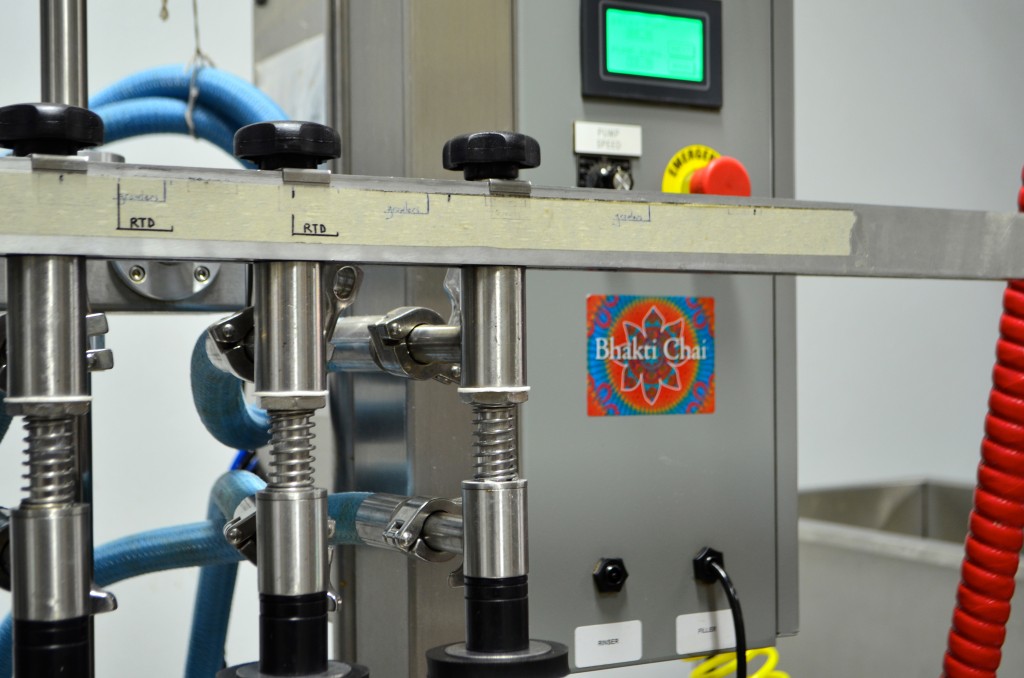 Considering how far spread out Bhakti is, this handy bottling line was quite necessary to keep up with demand.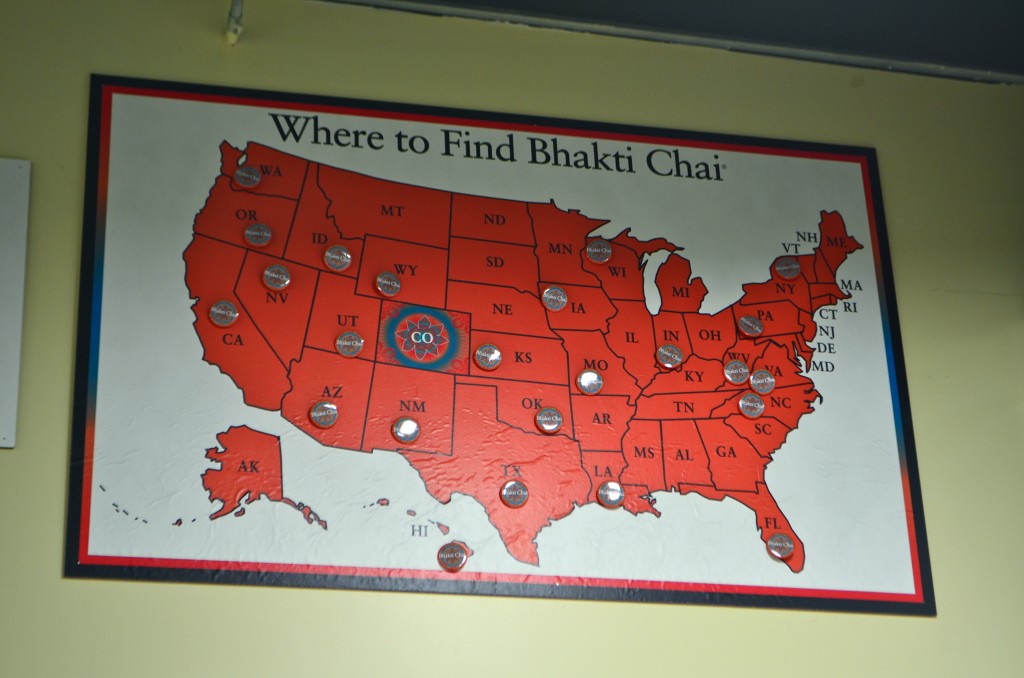 They're spread out across the states with more accounts being gained every month.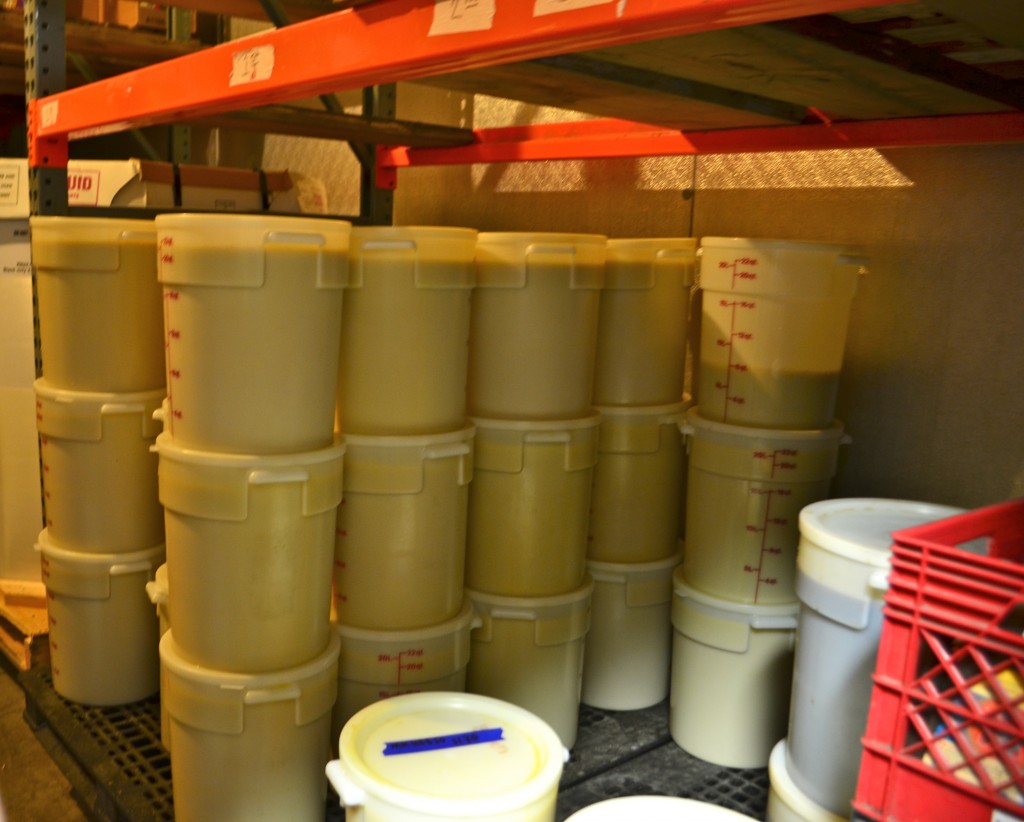 Just a sample of the amount of ginger juice stored up in the walk-in!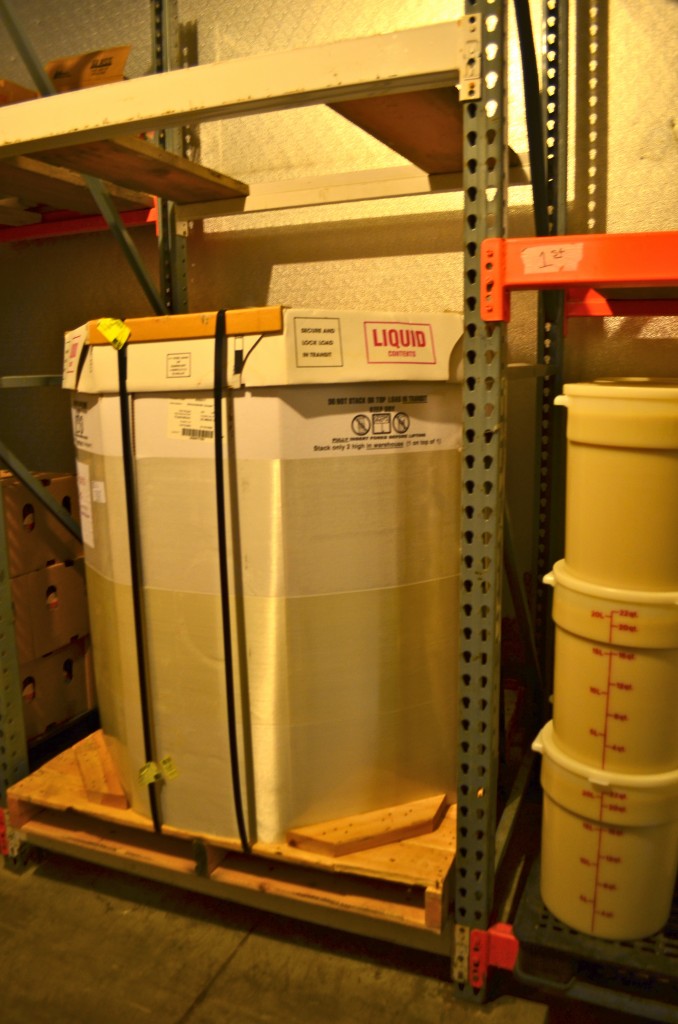 They receive their soy and almond milk in these gigantic vats so they can make their ready-to-drink bottles.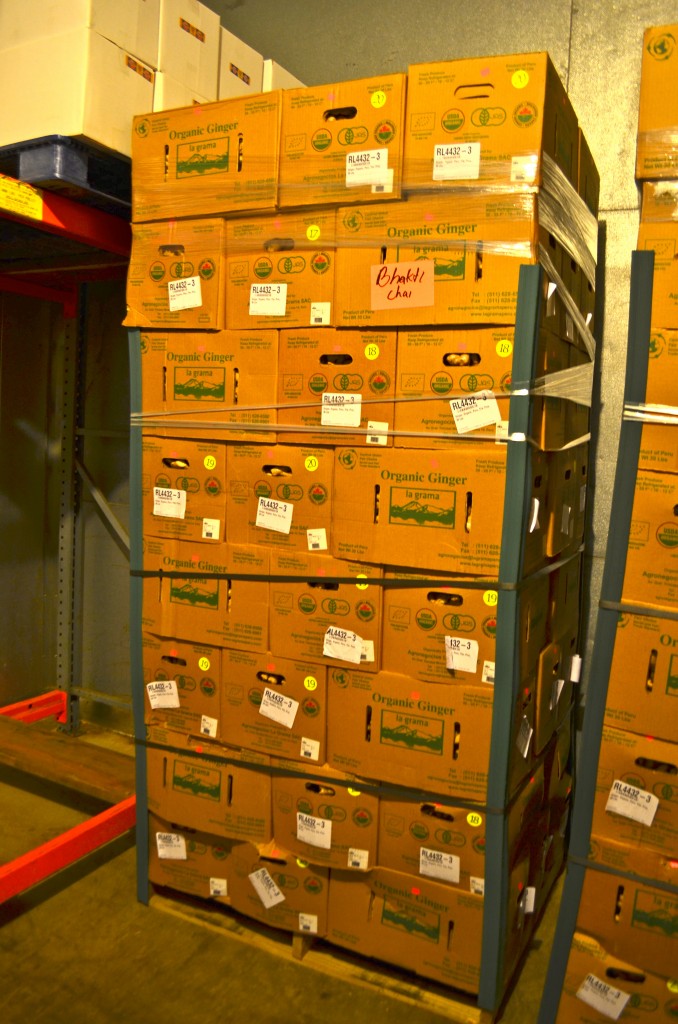 And fresh ginger. So. Much. Ginger!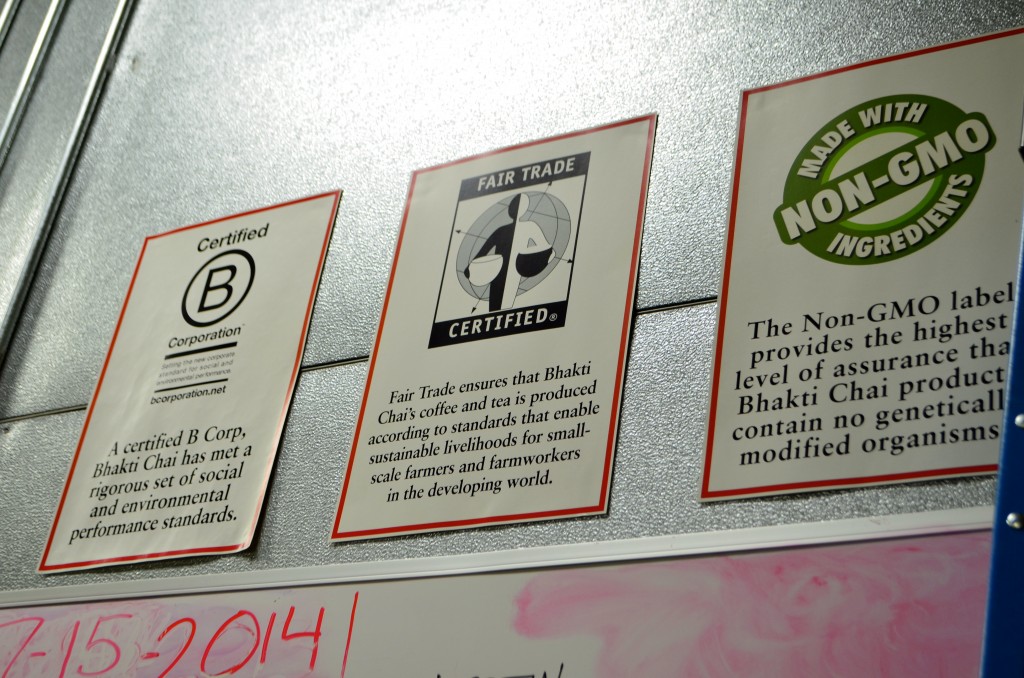 Bhakti Chai is also a certified B Corp – one of about only 1,000 businesses around the world who meet the standards of social and environmental performance, accountability and transparency.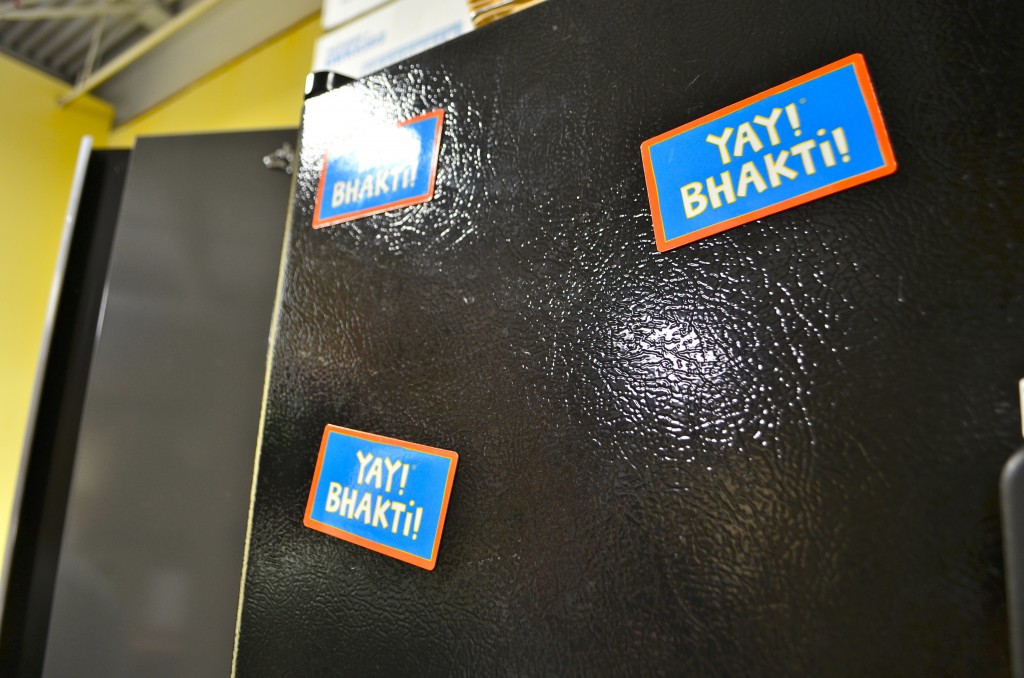 Happy magnets! I was able to get one of these to go on my new fridge!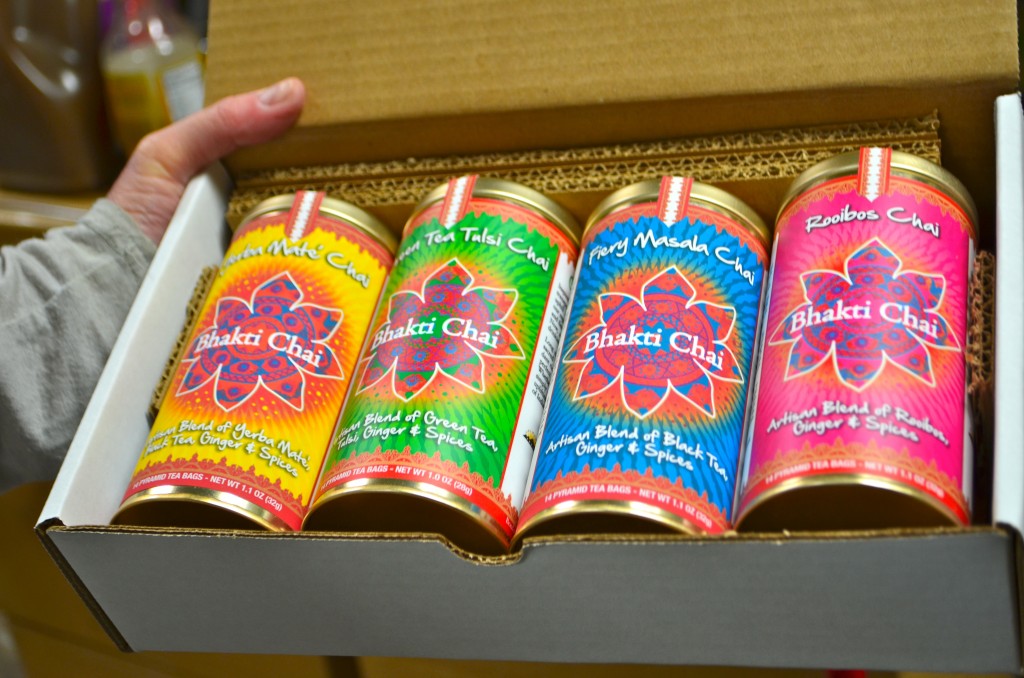 They recently introduced a new, dry Bhakti Chai! Now you can take Bhakti with you when you travel! Since the ginger pulp still has plenty of flavor left in it after going through the press, they decided to dry and pelletize the pulp to put into the new dry tea bags, reducing waste of perfectly good ingredients.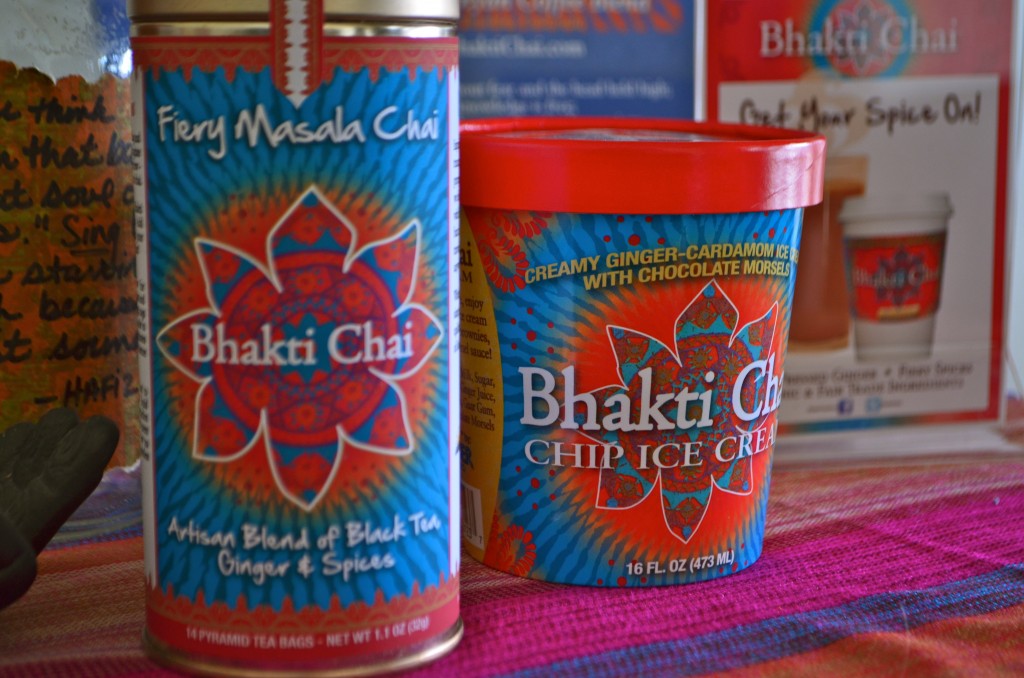 I still have to find some of this ice cream to try! If they start making some almond milk ice cream, I will be their most devoted customer – even more so than I am now!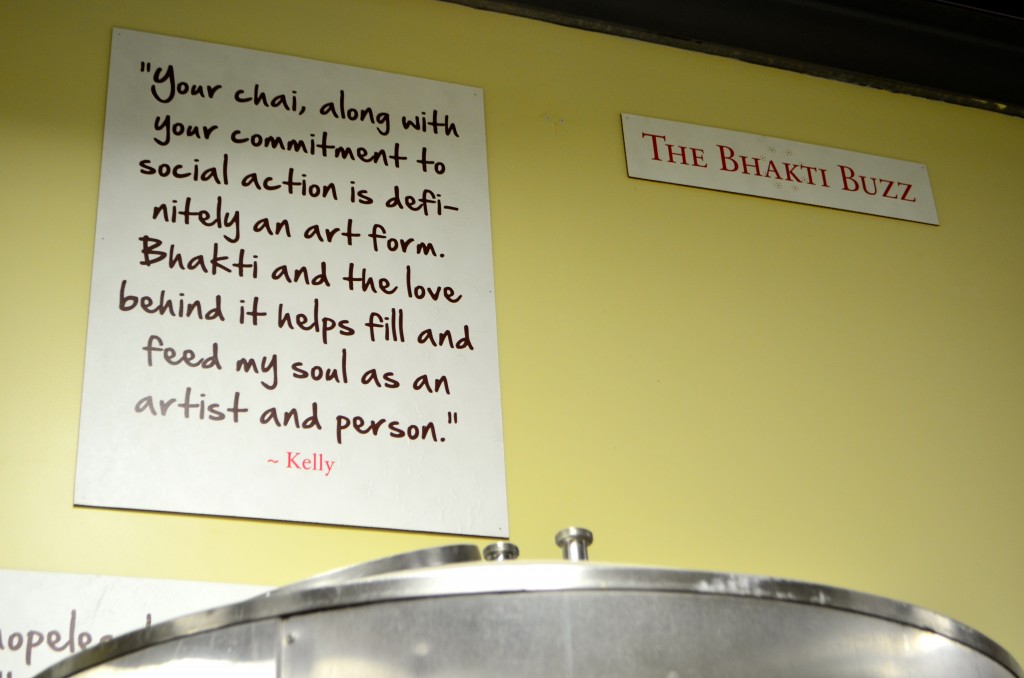 It was one of the most wonderful smelling and interesting brew tours I've been on. A huge thanks to Allison and the entire Bhakti crew for inviting us in!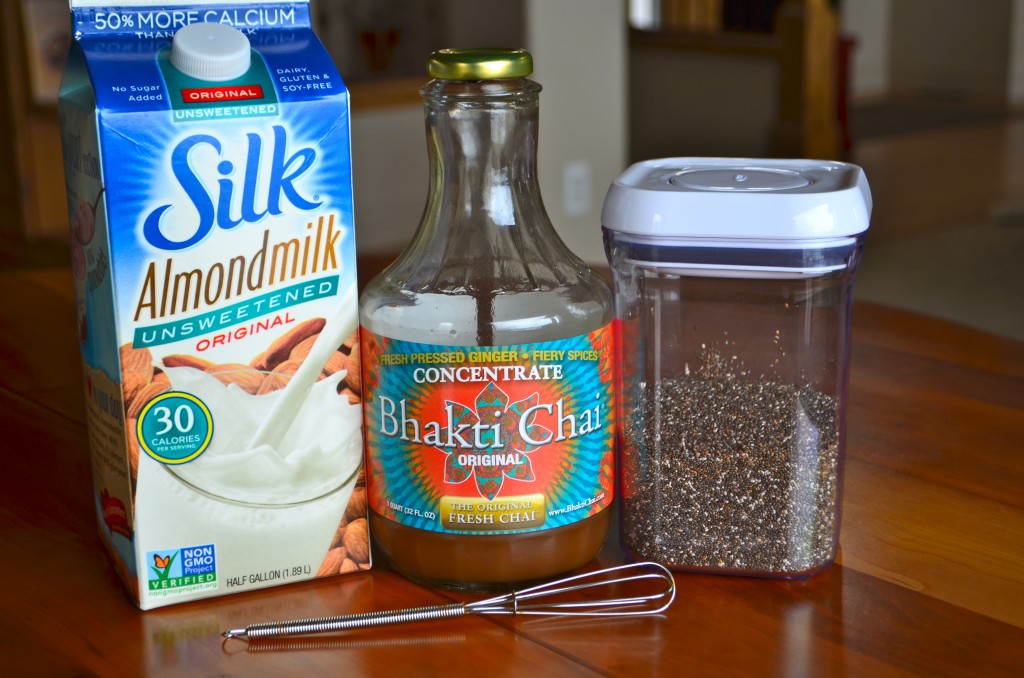 Since I walked home with some special presents that they spoiled us with, I felt inspired to create a recipe. In the food blogger world, almond milk is in, Bhakti Chai is in, and chia seeds are IN.

Combine the seeds, almond milk and Bhakti Chai…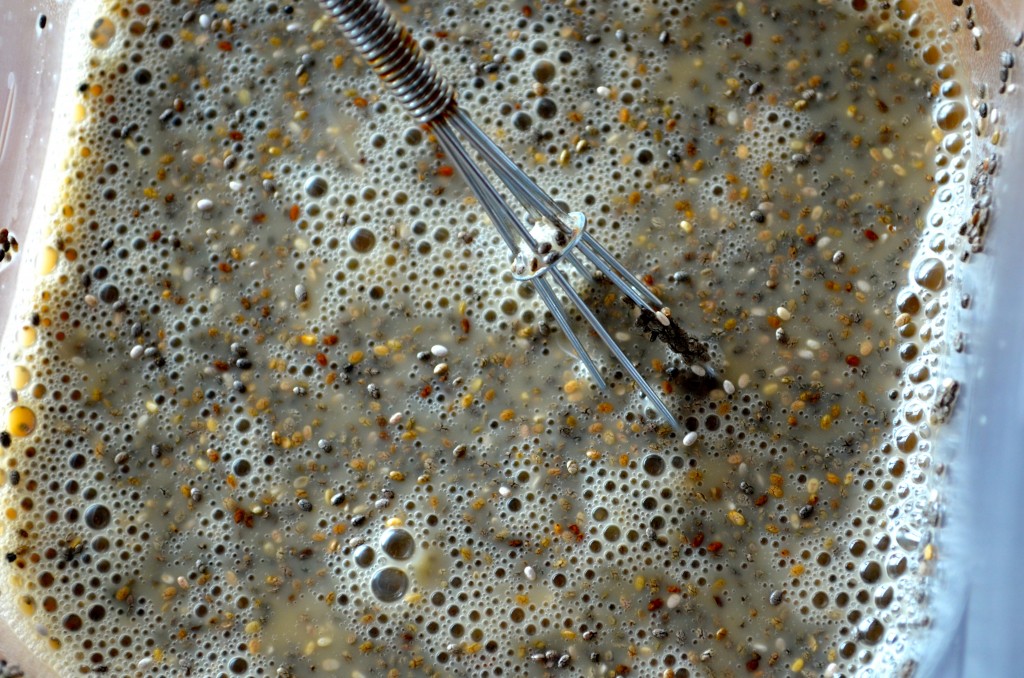 And WHISK your heart out!

Refrigerate overnight and ta-da!
(Note: If you haven't had chia pudding, the texture takes some getting used to, but it is deeeee-lish!)
[gmc_recipe 7518]
Aaaaaaand now for yet another giveaway!!! Bhakti Chai has kindly offered up two quarts of their amazing drink for one winner! All you need to do is leave a comment below telling me what your beverage of choice is. It's that easy! I'll pick a winner on April 14th! Open to U.S. residents only.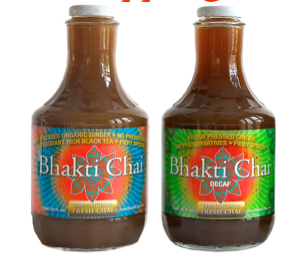 Note: Bhakti Chai provided me with product samples for tasting and a brewery tour, and is also furnishing two quarts of chai to the contest winner, but I received no other compensation for this review, nor was I pressured to write a positive review. All opinions are my own.