Working at the brewery every single day makes it pretty difficult to find the time to actually cook something. Luckily, I've got the pressure cooker to combat that issue. Photographing is another story since I get home after dark every day. For this artichoke recipe, I started cooking at 9am so I could get my good lighting, wrap it up and be at the brewery by 10am. Nothing like garlicky artichokes and beer for breakfast!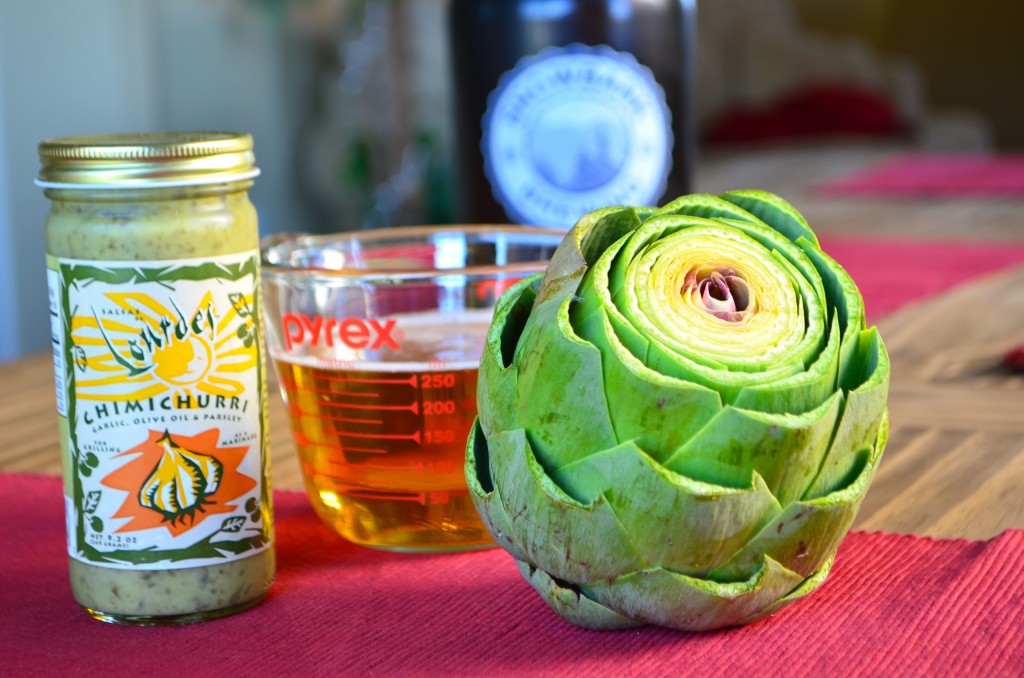 This is a recipe that has been on my brain ever since that first fateful day of Becki vs. artichoke. If you cannot beat the artichoke, you must become the artichoke. Lourdes Gourmet sent me another care package in the mail so I could actually make that dream of a recipe become a reality. First, you hack off the top inch of the artichoke and trim the leaves with kitchen shears.

Smother the top with chimichurri sauce, being sure to work the sauce into the leaves with the spoon.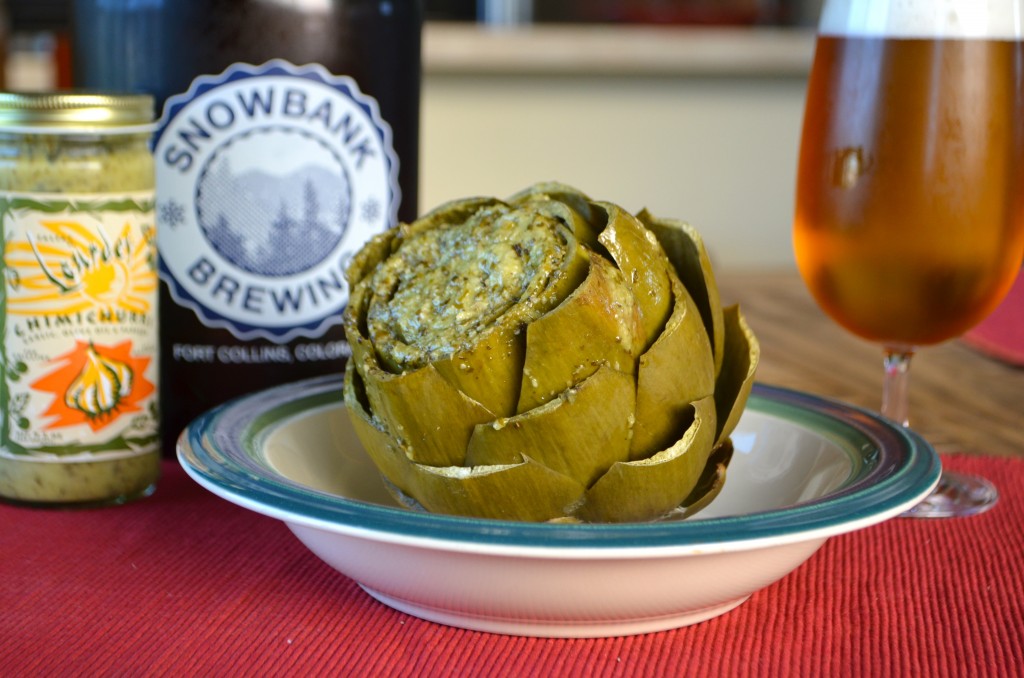 Place in a pressure cooker with a cup of pale ale (preferably Snowbank Brewing's Bike Trail Pale) and cook for 10-12 minutes.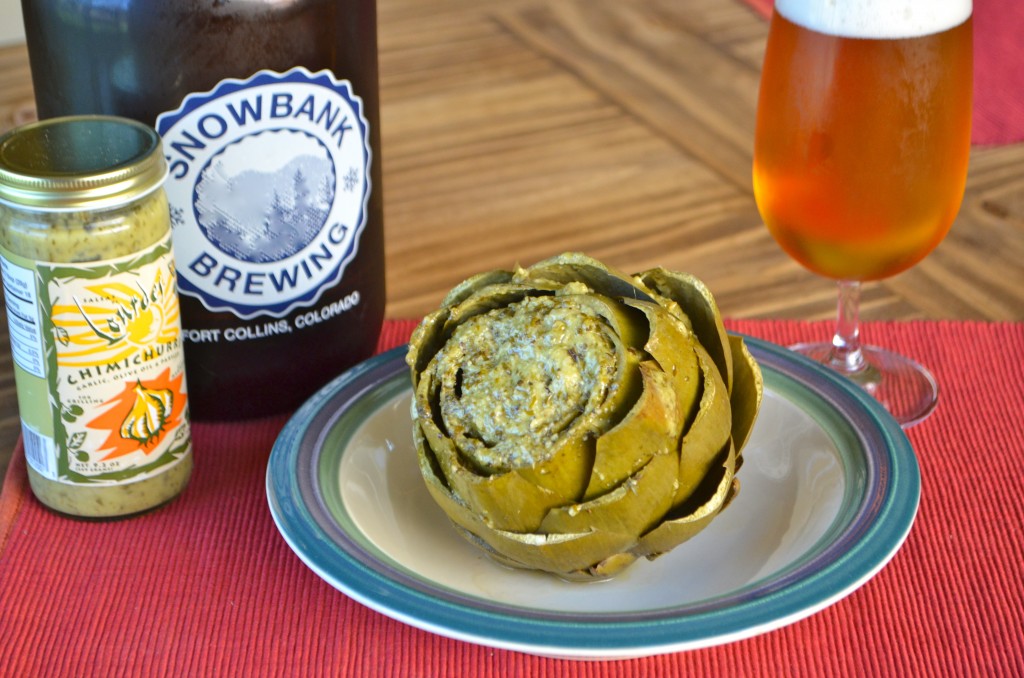 Serve and pair with a pint of the same pale ale you cooked with.
[gmc_recipe 8065]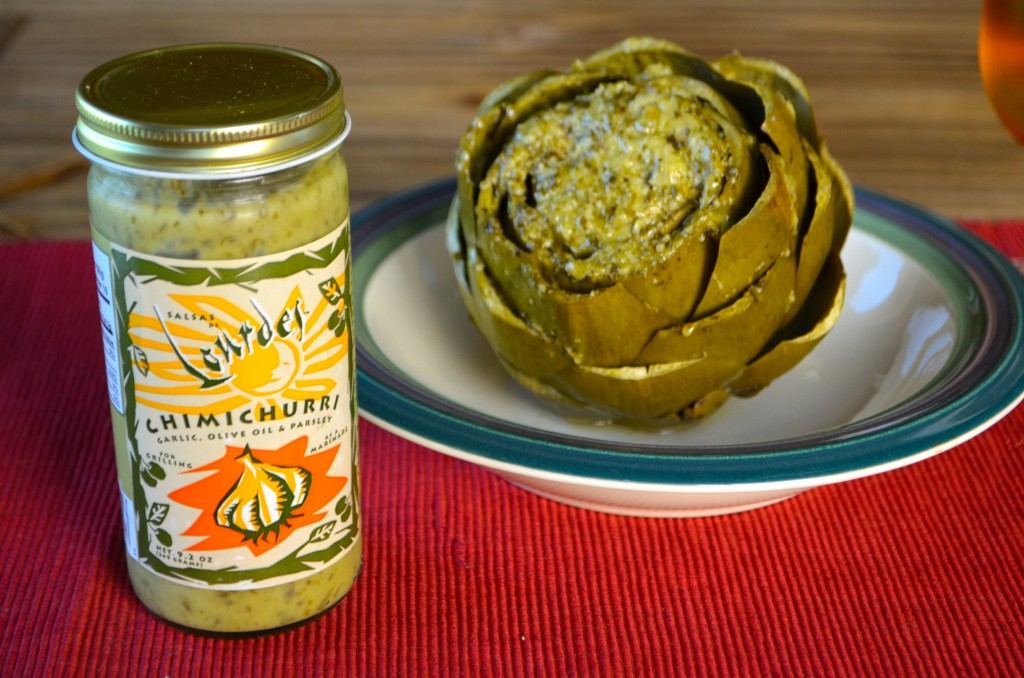 The butter sauce for dipping afterwards is completely unnecessary. The Lourdes Gourmet Chimichurri Sauce melts in the pressure cooker and falls inside the leaves of the artichoke while the pale ale infuses its flavor into each piece. This is, hands down, the BEST and most tender artichoke I've ever consumed in my entire life. I ate it for breakfast and I would eat it again with every meal if I had the means to make it.
Now go invest in a pressure cooker and order some of this sauce online. You can thank me later.
I was supplied with free product from Lourdes Gourmet with which to create recipes. All reviews/opinions/obsessions are my own.