I'd like to introduce you to a happy place. To some *cough* the couple who was getting "frisky" next door *cough*, this place may be happier than it is for others. Either way, the Domain – a Joie de Vivre hotel, in Sunnyvale is a lovely place to be.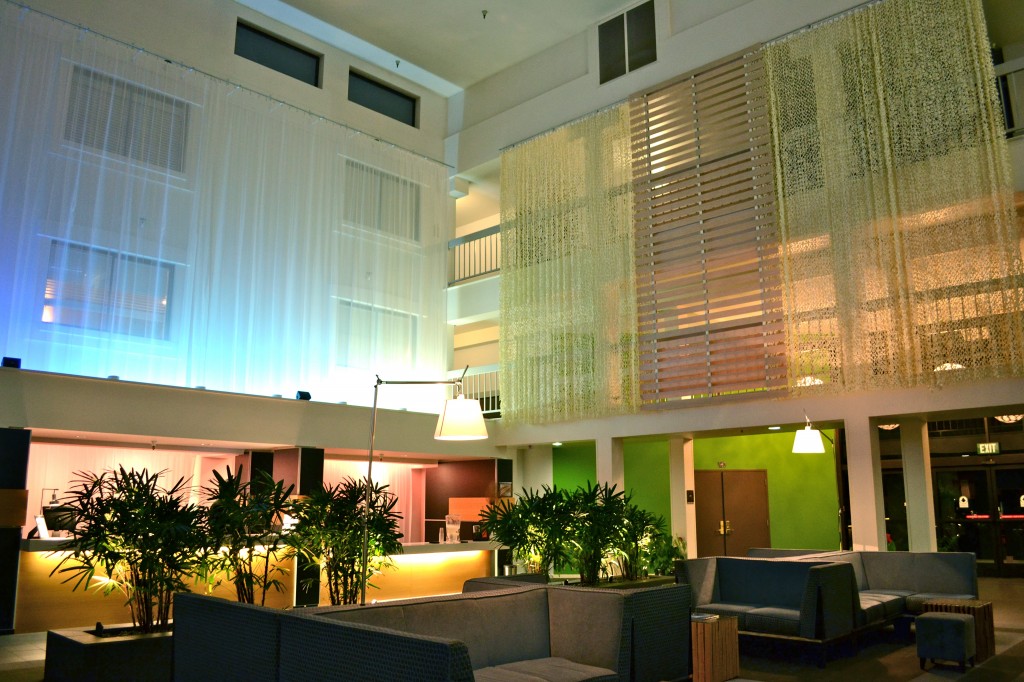 Once you enter the unassuming building, you're greeted by a blast of deliciously icy air conditioning and an equally luxurious scent that wafts about the lobby. If you've ever been to one of those fancy hotels like the "W" in Beverly Hills or the Aria in Las Vegas, you know what I'm talking about. They actually create their own "lobby scent" that you can purchase in the gift shops! I didn't look to see if the Domain sold their scent… I wish I had.

The inside is basic, but full of character and unique touches. For the rooms that have windows facing the lobby, there are sheer curtains, rustic wood slats and woven tapestries to give privacy and filter out the soft glow of the lights.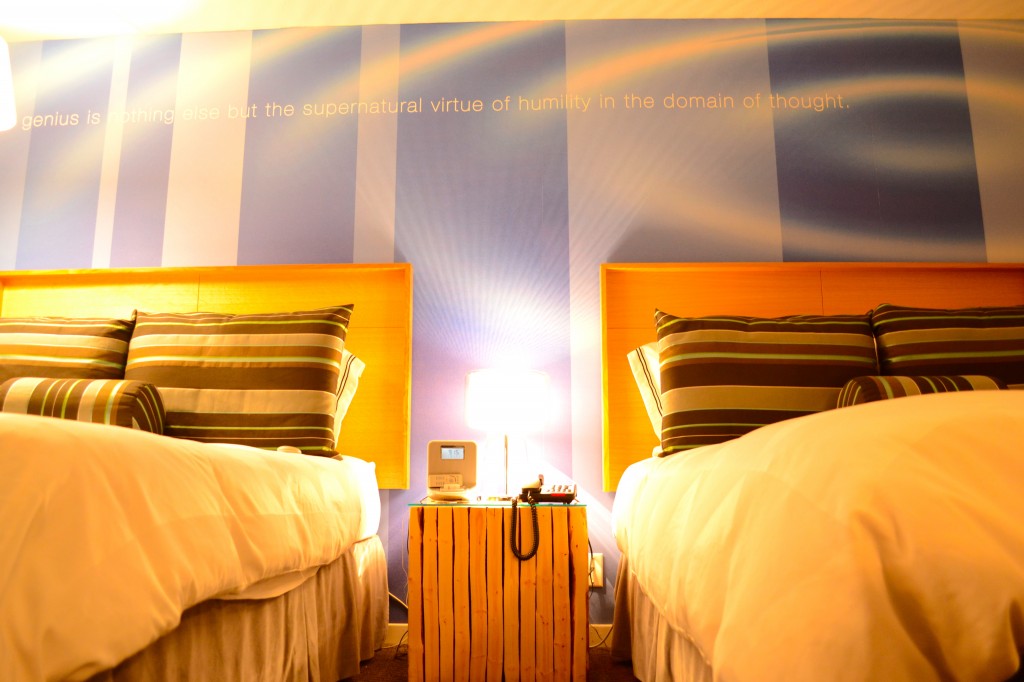 The rooms are spacious yet cozy with different quotes adorning the walls in each suite. "Real genius is nothing but the supernatural virtue of humility in the domain of thought." The Sleep Number beds (once you figure out how they work) adjust to your specific comfort needs. The alarm clock holds a docking station for your iPod so you can wake up to the tranquil sound of your own quiet music as opposed to the blaring sirens that most hotel alarm clocks utilize.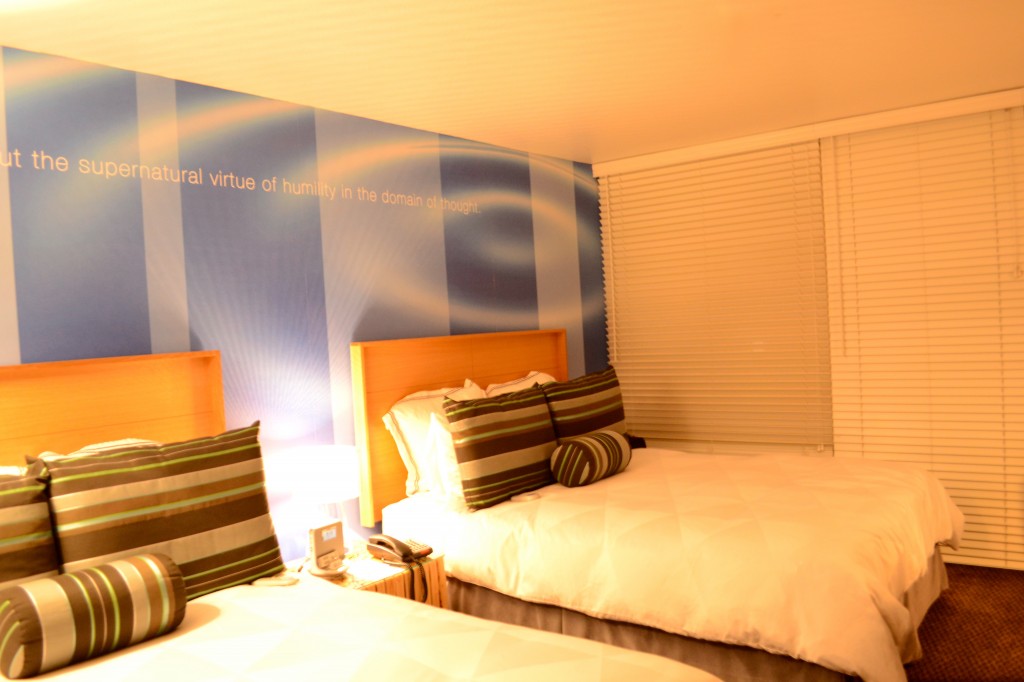 The wall that leads to the balcony is covered by blinds, giving the illusion that it is covered with windows. The window and door allow in just enough of the streaks of light from the sunset to bathe the room in a warm glow.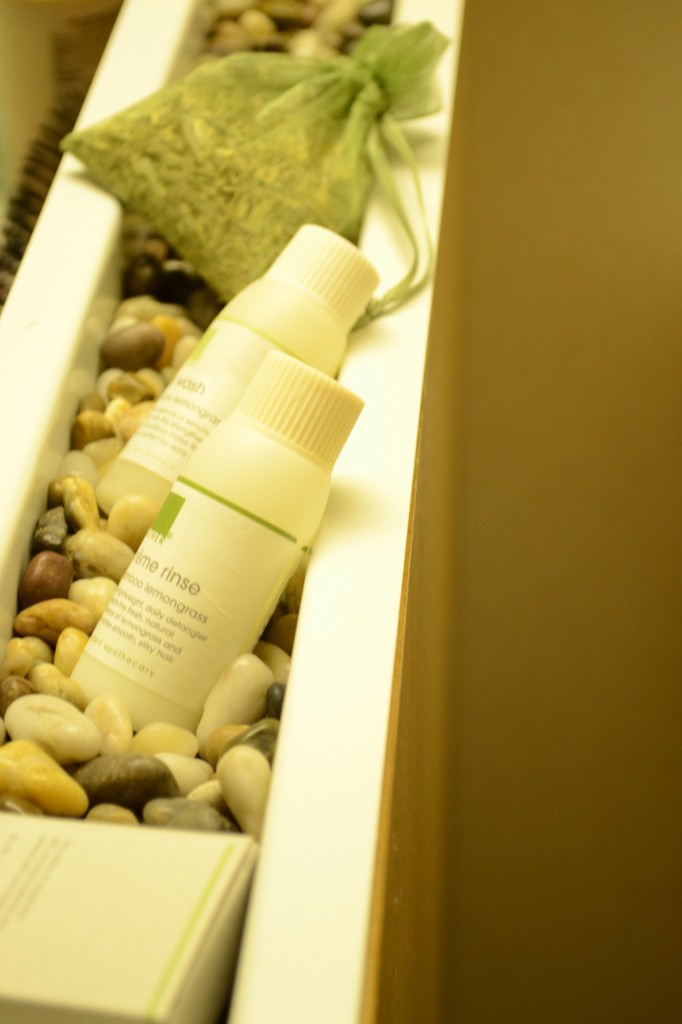 The bathroom features a quaint little rock garden in which the bamboo and lemongrass scented shampoos and soaps are set, enhancing the relaxing spa feel of each suite.

The cafe downstairs features a breakfast buffet in the morning…

…and an extensive dinner and beverage menu featuring cocktails such as "Technopolitan", "Esc", "iDrink" and "Social Media Refresh" to reflect the technology that is Silcon Valley.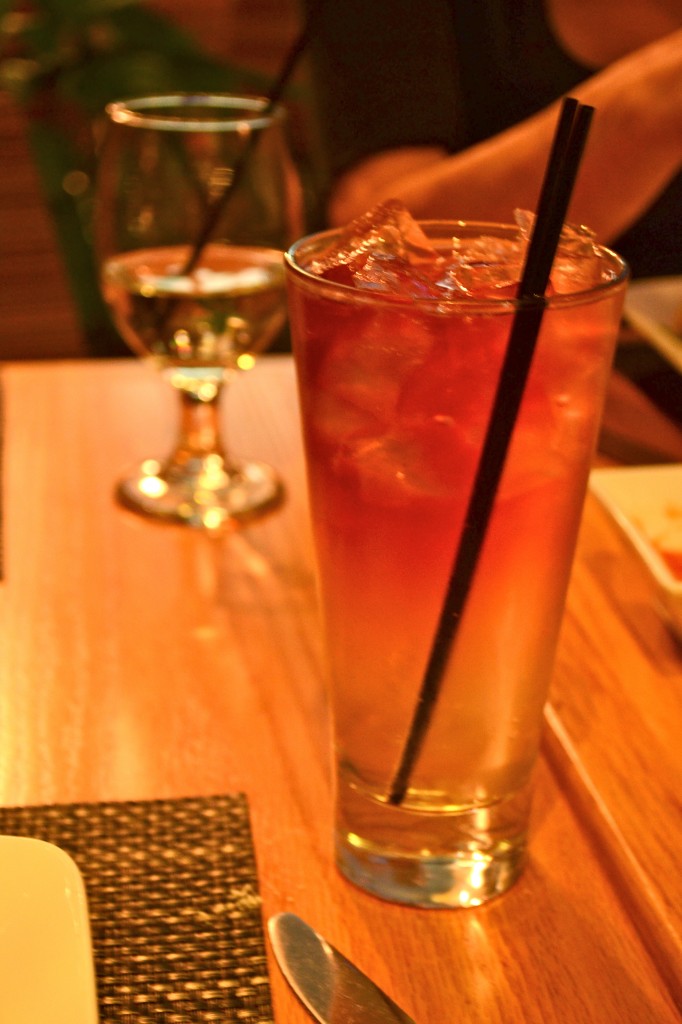 I went for the aptly named "Joie de Veev" – acai liqueur, ginger ale, lemon juice and pomegranate juice over ice. I was indeed full of joy after finishing this delicious drink!
If you ever are looking for a hotel in Sunnyvale, I highly recommend the Domain. The staff is eager to assist and incredibly friendly. While you can't control who your neighbors will be, or what they decide to do from midnight to 7am,  the entire experience in this hotel will more than make up for it!
I'd recommend it MUCH more than this hotel, that's for sure!