I'm in Los Altos for the 32nd Annual Arts and Wine Festival this weekend, and got a chance to hang out with my friend Grayson at a brewery that he used to work at (as the brewer's assistant).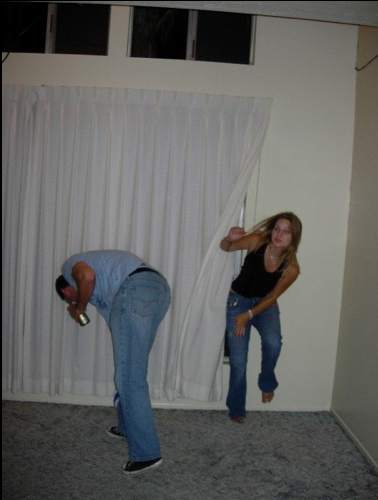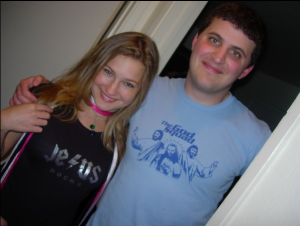 We met in college. Grayson was a senior, living in a house of senior guys. I was a freshman, living in the dorms with my two best friends. Gray and "the Brew" as we so aptly named their house full of boys who brewed beer, basically took care of us the entire  year, and we ended up becoming amazing friends to this day. Gray, have I told you how awesome you are?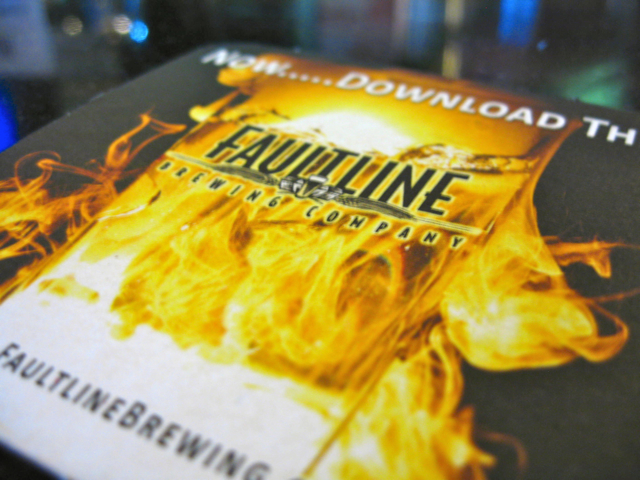 We went to Faultline Brewing Company in Sunnyvale.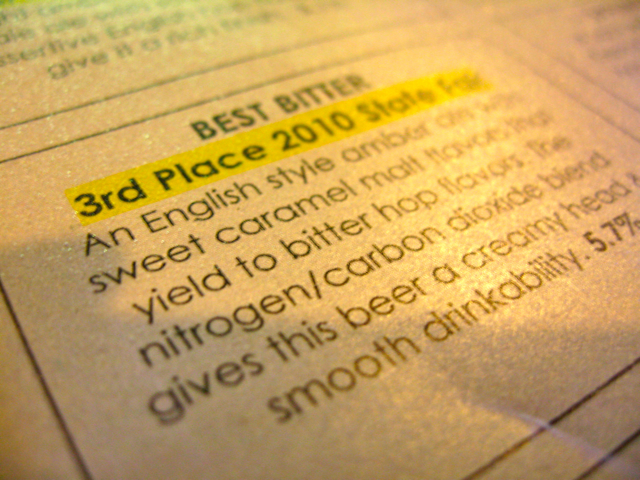 I ordered a style of beer that I'd never tried before – Best Bitter. I didn't read the description before I ordered and had no idea it was nitro-pushed until it arrived.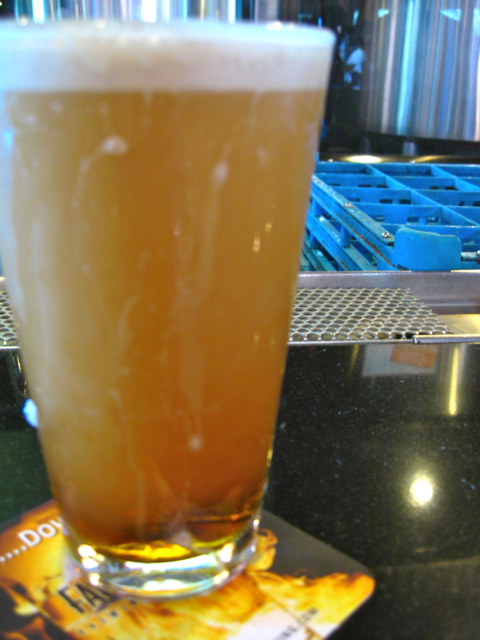 Stupid evil bad camera blurriness.

That's better! It was so pretty, watching all that gas as it seemed to cascade down the glass, dissolving into crystal clear beer. I have to say, I've never been a huge fan of nitro-pushed beers. I've found them to be bland and watery when they're served on nitro, but this was amazing! Beautiful creamy head that lasted the entire glass, smooth body with a slight caramel note on the tongue, and a very mild kick of bittering hops. I have been converted!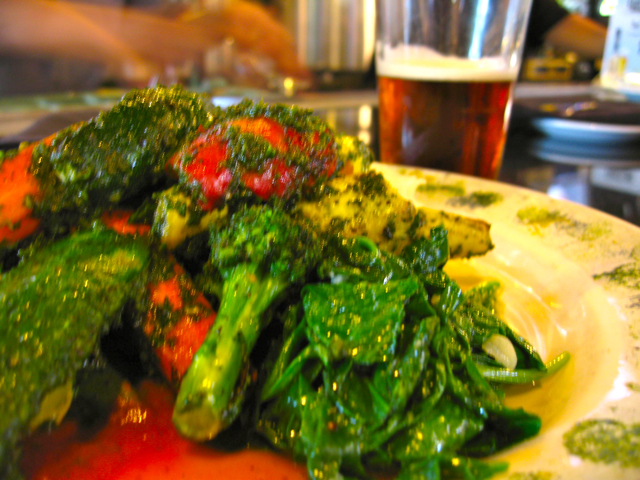 Return of the evil, blurry camera. Apparently it didn't appreciate my selection of food – I got fire roasted veggies tossed in a fresh basil pesto. They came with mashed potatoes, which I requested have tons of garlic and bacon in them. Needless to say, those potatoes were the first to go…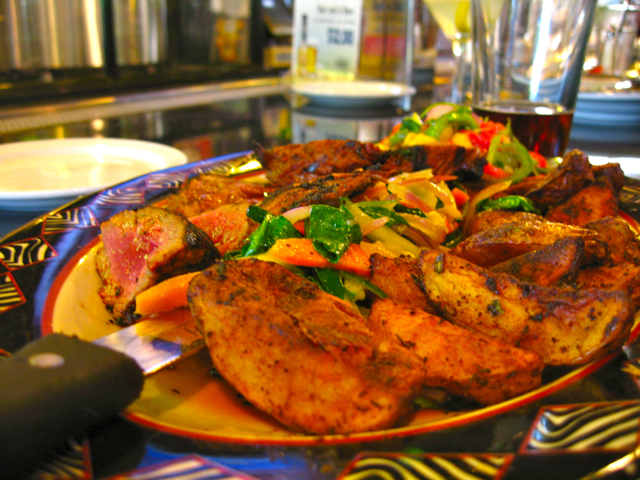 Gray ordered the tri-tip. My camera approved of his selection apparently…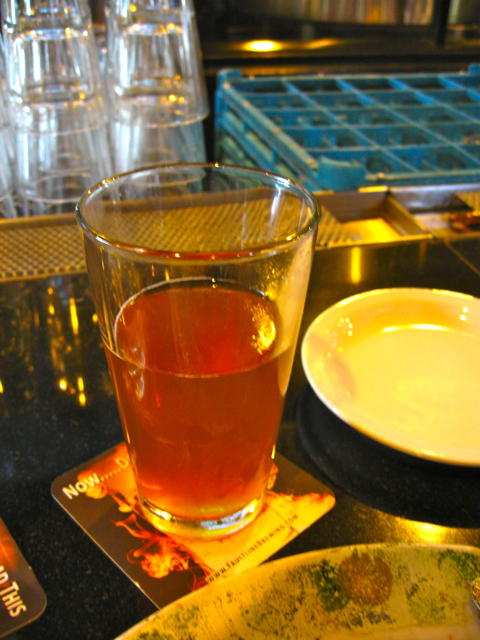 I finished with Faultline's IPA – very mild on the IBUs (50), but still delicious. I've yet to find a hoppy beer that's too intense for me. Stone's Ruination didn't really blow my mind. I actually found Amazon Imperial Red to be more intense. Any suggestions?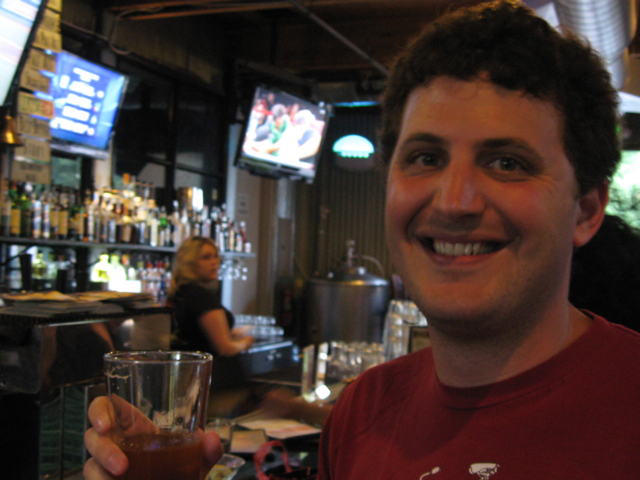 Gray, being the genius brewer that he is (and also a Cicerone Certified Beer Server), has been helping me with my studying for the Cicerone Certified Beer Server test. I don't want to half-ass this thing – If I get a question right because I guessed on a multiple choice, that's not good enough. This is information I actually ENJOY learning about! Anyway, Gray was incredibly patient last night, teaching me about enzymatic mashes and how they're needed for converting the long strands of starches into fermentable sugars. He also walked me through decoctions and kegging. Awesome.
Good food, great beer, one amazing friend.

Then I tried my first macaron and almost gagged on the sweetness! I finished it though. I'm not one to waste food.