I've been playing around in the kitchen a bit since coming back from California. A little detox was needed after the crazy amount of fried fish, buffalo chicken sammiches and good Cali brews that I enjoyed in the sunshine. Tuesday was the initiation of cleansing foods, which ended up being delicious! Go figure.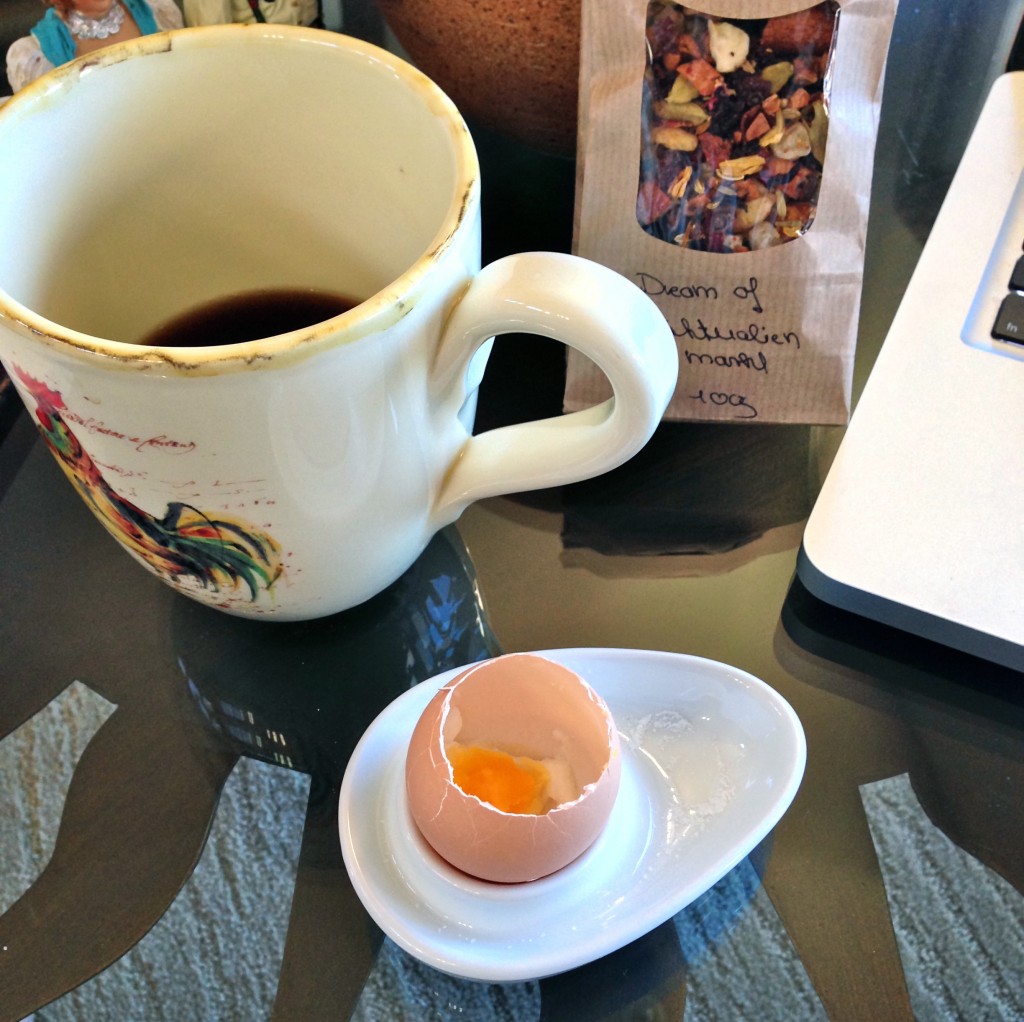 My breakfast before getting back into the intensive workout regimen (after a wonderful vacation full of lazy mornings sipping coffee on the beach) – a hot boiled egg and two giant cups of coffee in an ugly rooster mug.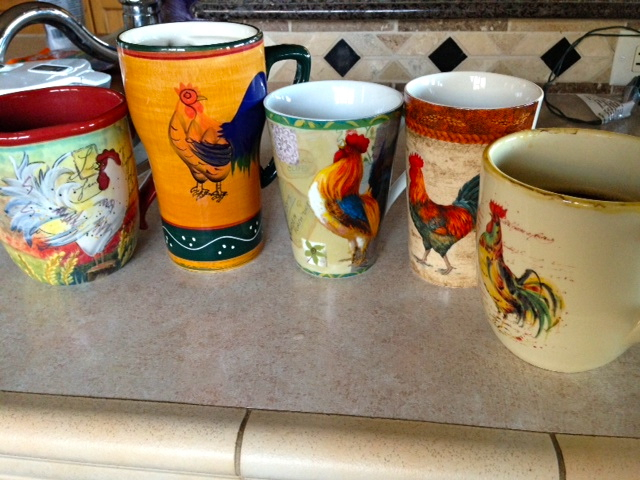 My ugly rooster mug collection! I keep finding these awkward mugs at Home Goods and they look at me like they need a home. I love it. I'm weird.

After sweating my arse off with the workout, it was time for an icy cool down.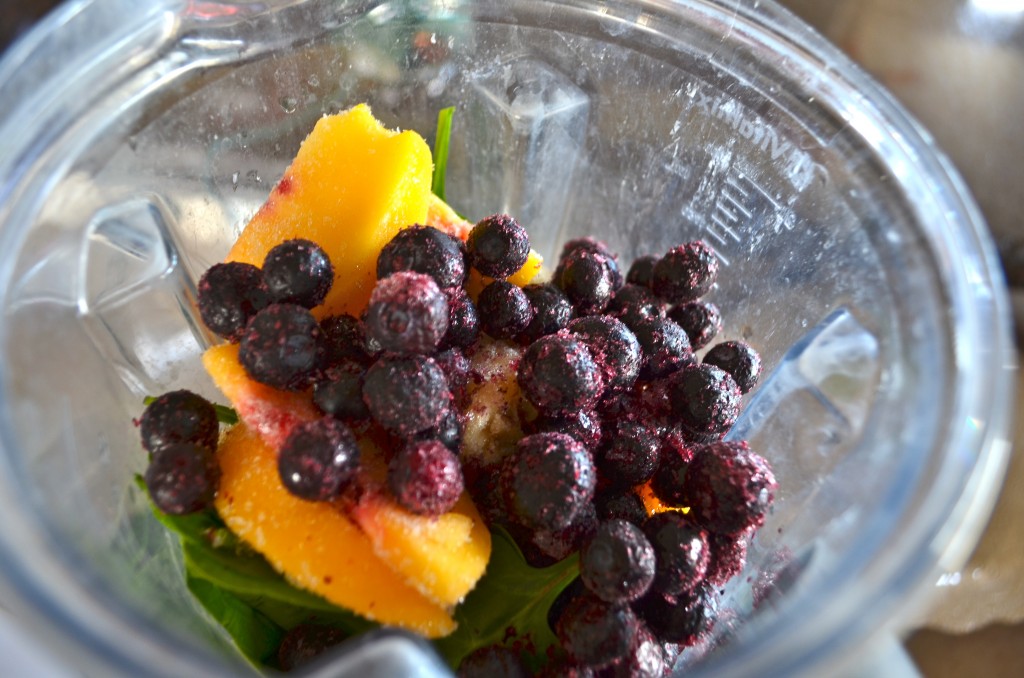 An entire box of spinach, half a frozen banana, 1 lime, a handful of frozen peaches and blueberries and a little almond milk whirled into a creepy looking brown beverage.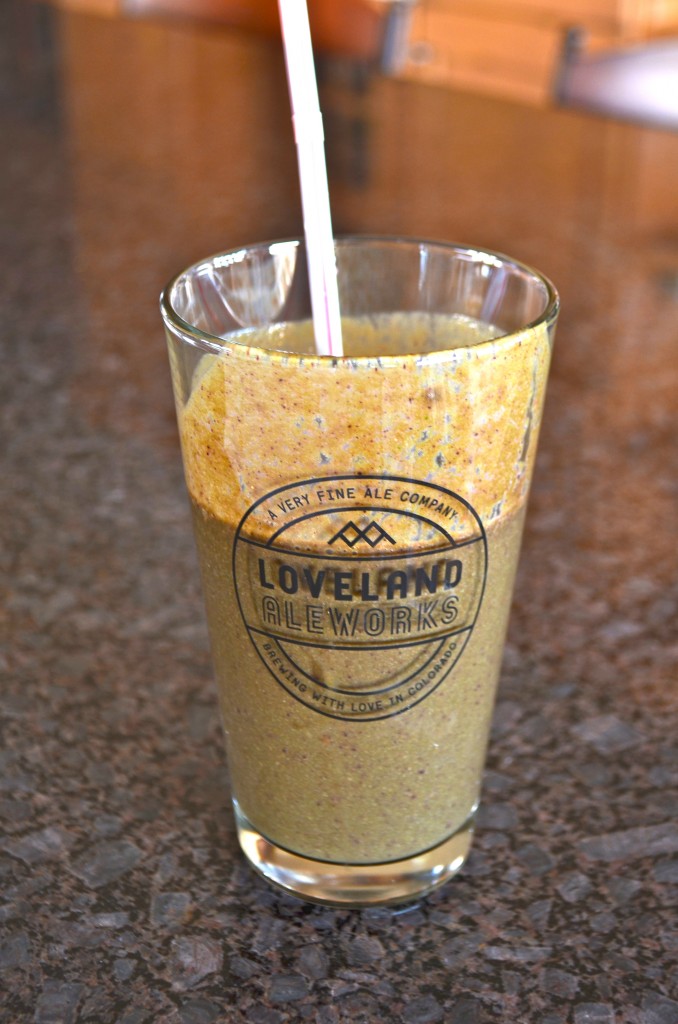 But dang, I love my monstas! No matter how unattractive, they're always so delicious.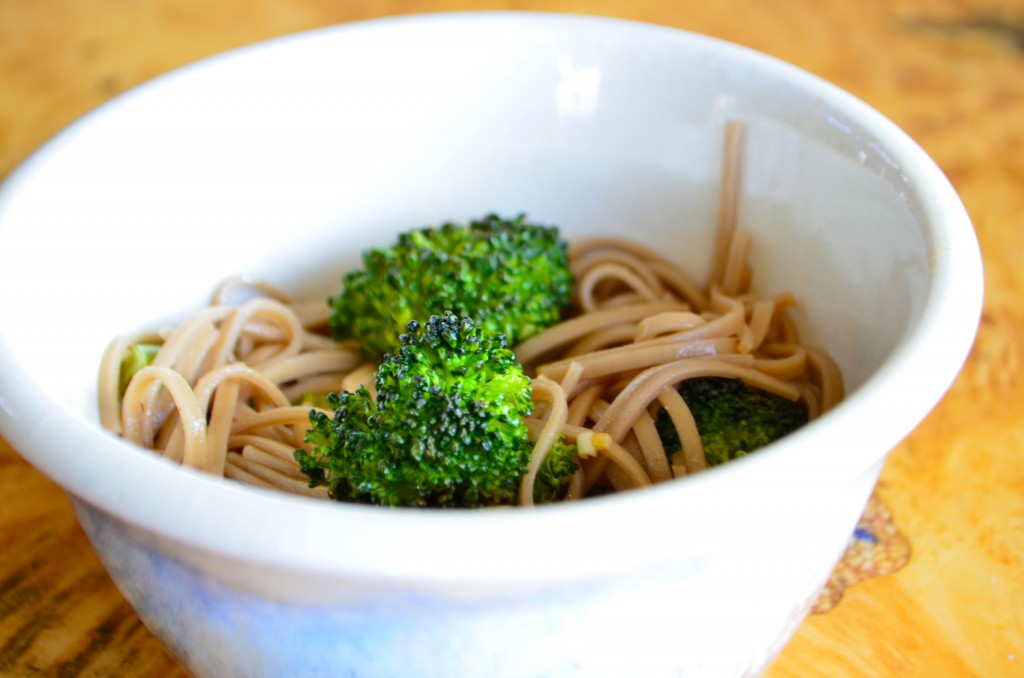 Lunch was an experiment with soba noodles. I've used them once before in a stir fry and wasn't impressed. This time I mixed up a little sesame oil, tamari, lemon juice, minced garlic, powdered ginger, red pepper flakes and a dash of honey and tossed in freshly roasted broccoli and the noodles.

Soba noodles redeemed! Earthy noodles and a spicy, tangy dressing with fresh, slightly caramelized broccoli. Happiness.

Homemade trail mix on the way to Whole Foods – raw almonds, roasted walnuts and cashews mixed with a few dried cranberries. Simple and satisfying.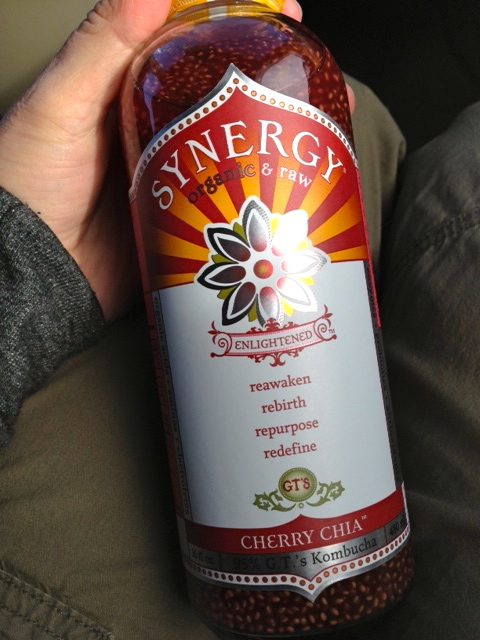 I saw this at Whole Foods and had to pick it up. Cherry Chia Kombucha. I used to drink Kombucha when I lived in West Hollywood and found it extremely weird. Add chia seeds to the mix and it becomes even weirder. I dig weird.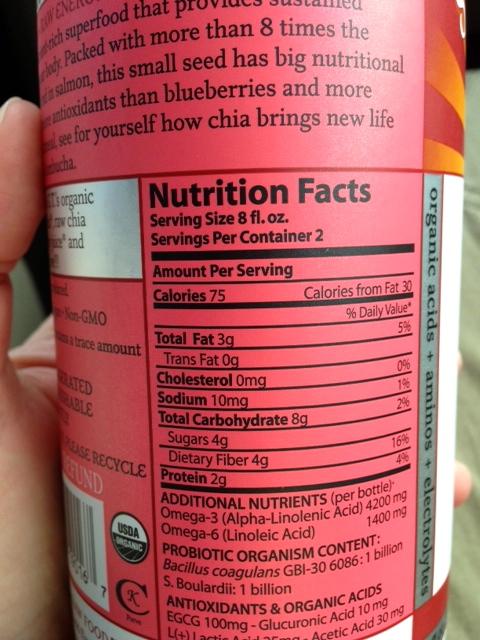 And then the back statistics made me feel all healthy and crap. Bonus! Does anyone brew (ferment) their own Kombucha out there? I might be joining you on the endeavor soon and would love to hear feedback!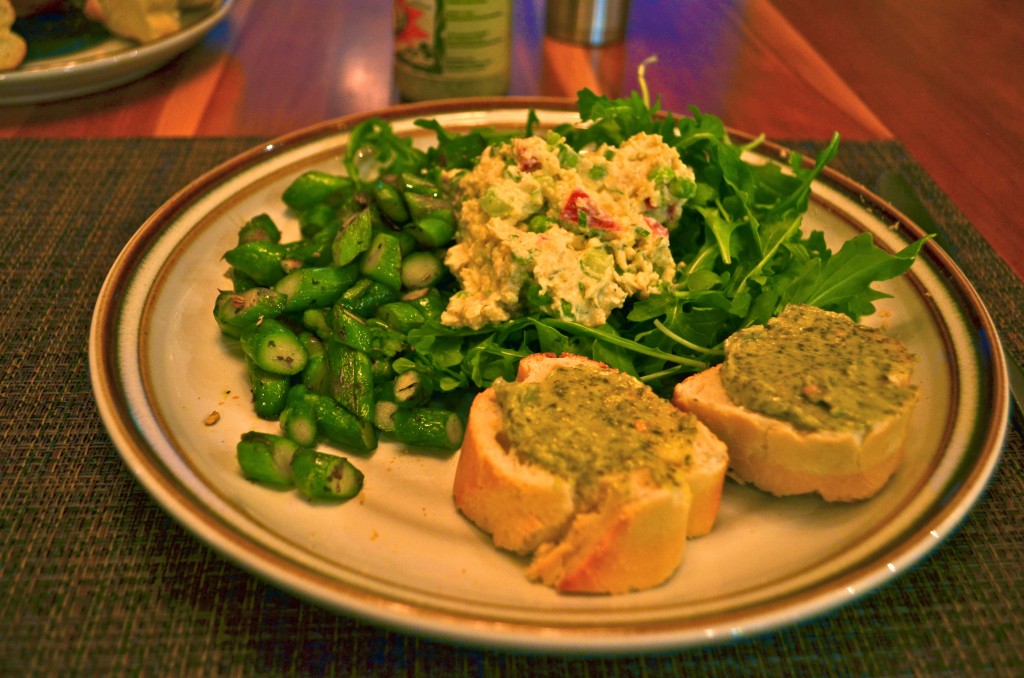 Dinner: Tuno. It's a little bit of a scary word… a frightening concept. Vegan tuna. Well, worry no longer: I put myself out there and experimented for you, and then took terrible pictures that don't make it look appealing at all. *Hangs head in shame* Honestly though, this was absolutely amazing!

I tend to stray as far away from vegan foods as possible in rebellion of my 10+ year vegan bro and sis-in-law, but curiosity got the best of me. A blend of chickpeas, almonds, diced celery, red pepper, green onions, tofu (normally a blech for me, but unnoticable when blended into the "mayonnaise" portion of this), and kelp granules. Scary but good. I piled a good cup onto a bed of arugula and added sauteed asparagus to the side.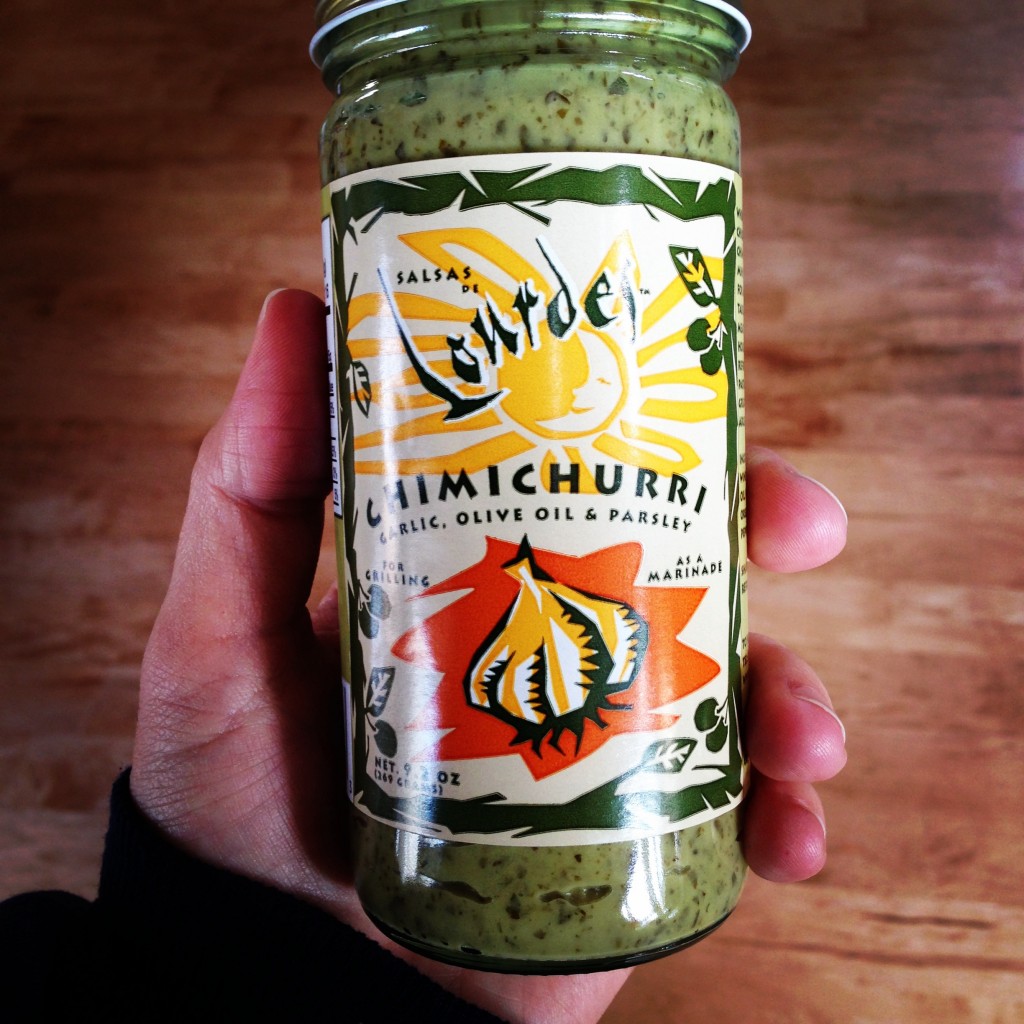 I felt like my meals for the day were almost too healthy, so I made sure to layer a bunch of this chimichurri sauce on a few slices of freshly baked crusty french bread. It's all about balance.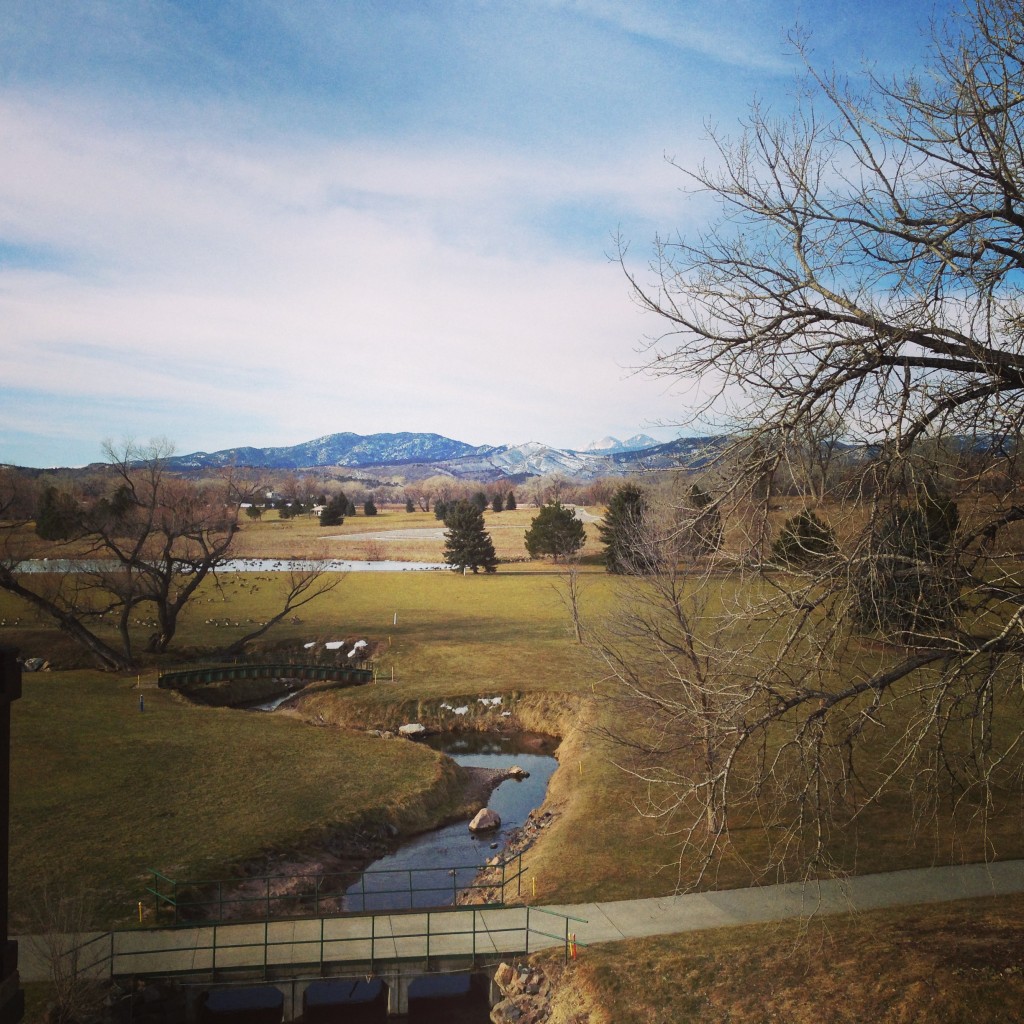 Today is a day made for baking bread and enjoying the 60 degree weather we've been blessed with! Happy Wednesday!
Any Kombucha brewers out there who can offer suggestions/warnings?