Sorry guys, I got impatient. Right after I'd asked for help, I decided I just wanted to give it a go and start my own website. I'm still playing around with templates and need a custom header and need to figure out EVERYTHING else (including how to change the font and spacing).

I did promise you a recipe though, and THAT I can figure out myself, even with this crazy new format.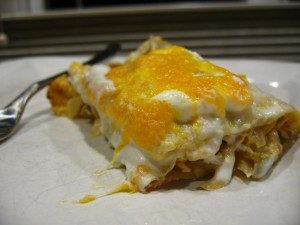 SOUR CREAM CHICKEN ENCHILADAS
Ingredients:
3/4 -1lb boneless chicken breast
1 boullion cube
2 tbsp olive oil
1/2 onion, chopped
1/2 cup mushrooms, roughly chopped
4 oz diced green chiles
16 oz sour cream
2 tsp chili powder
1/2 tsp salt
1/2 tsp garlic powder
7-8 raw tortillas
a boatload of cheddar cheese
1. In a large pot, boil chicken breast with 4-6 quarts of water and a boullion cube until cooked through.
2. While the chicken cooks, heat the olive in another large pot, then add onions and mushrooms and saute until onions are softened and translucent (about 6 minutes).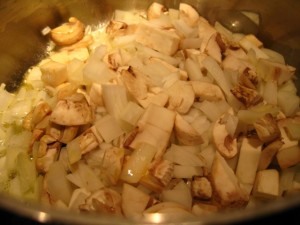 3. Once the chicken is cooked through, drain and shred the meat.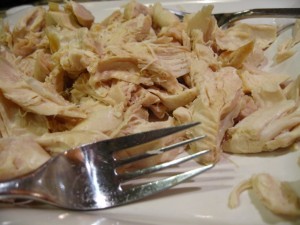 4. Add the chicken, green chilies, chili powder, salt, and garlic powder to the onions and mushrooms and stir well, then remove from heat.
5. Stir in about 3/4 cup sour cream and mix well.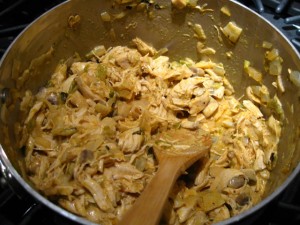 6. Heat an ungreased pan over medium and cook the tortillas 30-45 seconds on each side.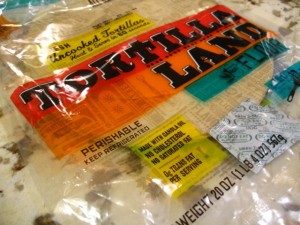 I used Tortilla Land raw flour tortillas – easy to find in Albertson's.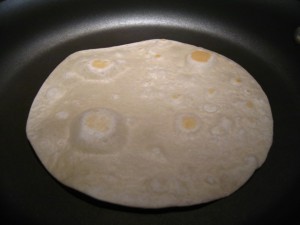 It's all right if they aren't cooked through all the way.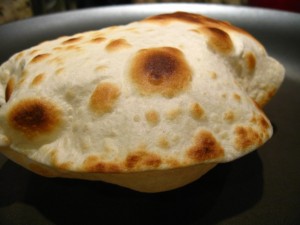 It's hard to ruin them – they taste good no matter what, even burned!
7. Scoop about 1/4-1/3 cup of sour cream and chicken mixture into the tortillas, roll them and lay them in a 13×9 inch pan that you've covered with 1/3 cup of sour cream.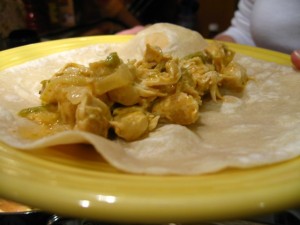 Stuffed…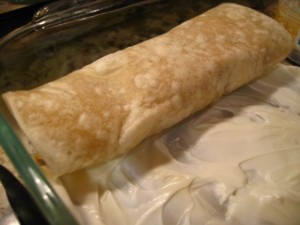 … and rolled!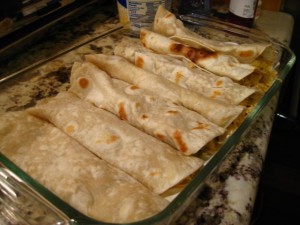 Continue until all the tortillas are filled.
8. Cover the tortillas with the rest of the sour cream and copious amounts of cheese.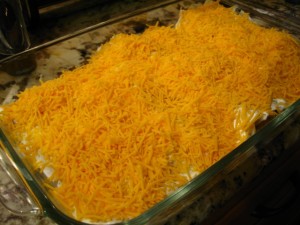 9. Bake at 350 degrees until the cheese is melted and bubbly (about 20 minutes).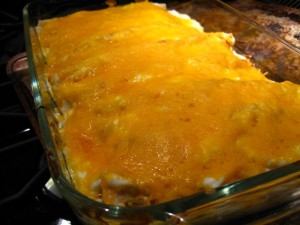 Drooooooool!
10.  Warn your arteries about what's to come, and DEVOUR!
Wow, that was incredibly difficult to write. I don't like change, but I'm definitely learning and OPEN TO SUGGESTIONS! Also, get ready for my first VIDEO post tomorrey!
Aaaaaaaah, I'm overwhelmed!!!