I'm starting a new blog series called Breaking the Chain. There are so many chain restaurants out there in the world that you can eat at anytime, and anywhere. I'm breaking the chain and focusing on local eateries and how they stand apart.
Local doesn't mean only around my area – it means small establishments that are giving it a go on their own, and producing quality food that rivals, and more than often, beats the taste of large chains that manufacture their foods without giving it a second thought. This will include mom and pop places in Arizona, California, Washington and other places I travel to.
My first break: White Elephant.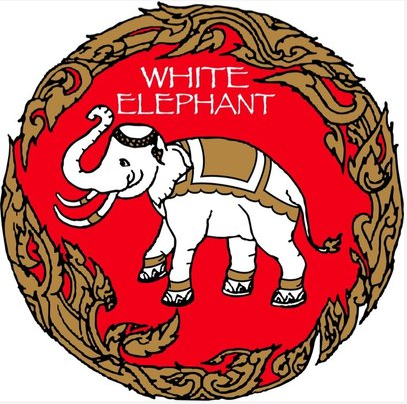 I discovered this lovely little Thai restaurant about two years ago when I was taking classes down the street. The owner, Nok, is a sweet woman who goes above and beyond to ensure that her guests are served the best tasting, freshest food possible.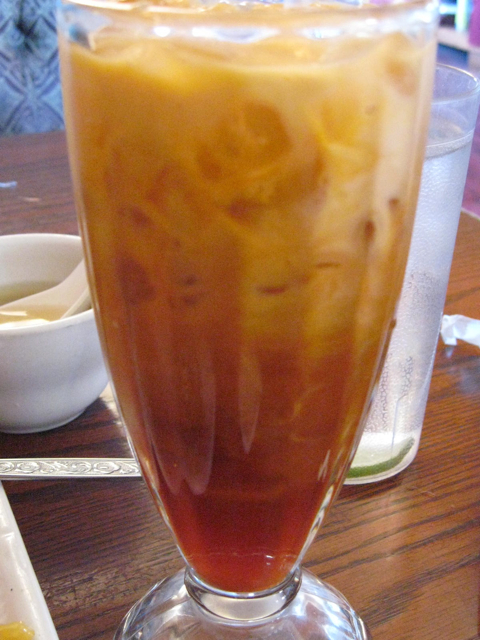 Case in point: I ordered a Thai iced tea and asked if they had any soymilk to substitute for the evaporated milk (dairy-free Lent!). They were out of soy, but our waiter ended up running over to the local Whole Foods and bringing back soymilk so I could enjoy Thai tea! I was in shock! Seriously, AMAZING customer service!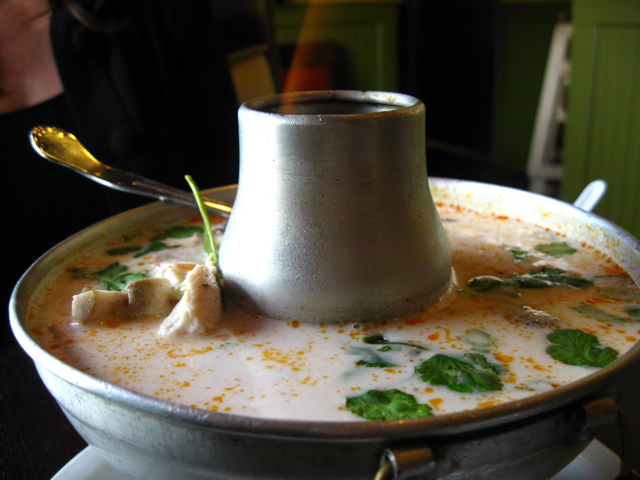 My roommate and I ordered the Tom Kha Gai – a coconut milk-based soup with chicken, mushrooms, lemongrass and galangal root. They lit the hot pot as it got to our table which kept the tangy, savory soup warm while we slowly sipped it.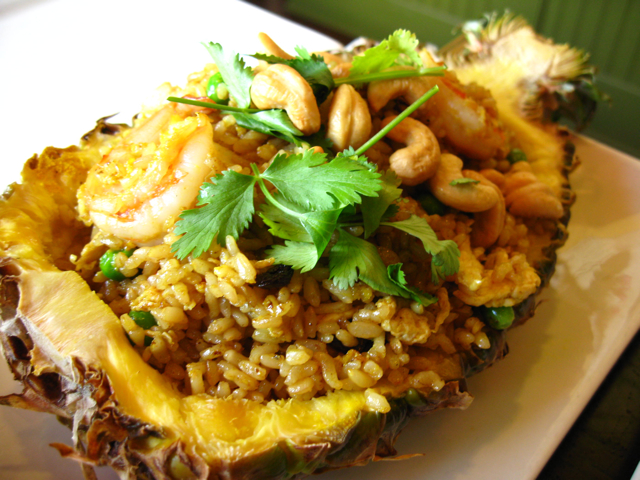 We also split the pineapple fried rice. We requested that it be made with brown rice, and cooked with as little oil as possible. Instead of grumbling over our substitutions and requests, they brought out the most beautifully presented dish I've ever seen. The nutty brown rice was encased in half of a pineapple shell, and studded with tender peas and carrots, juicy raisins and chunks of pineapple, succulent shrimp that were perfectly cooked, and crunchy cashews.
After our meal, we were STUFFED!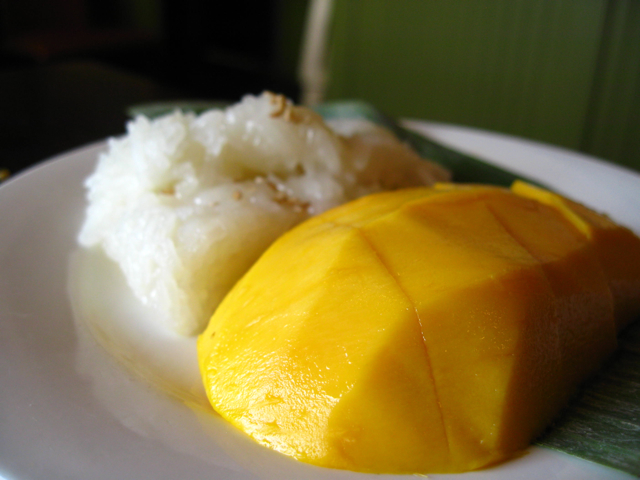 Or we thought we were… Then Nok sent out a complimentary dessert of sweet rice and mango! Over the years, she's learned that this is our absolute favorite dessert, and was kind enough to top off our amazing meal with tender, ripe mango and sweet coconut-scented rice sprinkled with toasted sesame seeds.
Okay, NOW were were stuffed!
White Elephant is located at 668 N. Moorpark Road in Thousand Oaks, California. If you want a delicious meal that you know is made on site and not pulled from a freezer and reheated, check this place out – and tell Nok that Becki says hi! This is my absolute favorite Thai restaurant in the Pacific Coast time zone, and believe me, I've tried them all!
Is there a local eatery that you absolutely swear by? Please feel free to Break the Chain and write about your favorite one! Let's support these mom and pop establishments!