Good afternoon! I've decided to start a little series about pairing different styles of beer with food –  partially in preparation for the Cicerone test, and partially because every single type of meal can be brought to another level when combined with the right style of beer. I'll try to post a new pairing every week and if you have any questions, recommendations or requests, feel free to write them down in the comments!
Yesterday I was feeling a little under the weather and was craving something warm with a spicy "bite", so I threw a bunch of random foodstuffs from my cupboards into a pot and came up with:
[gmc_recipe 5659]
If you'd like, you can even make your own chicken stock for this recipe, which is what I did.
[gmc_recipe 5675]
Continue with the Bite Me Chicken and Brown Rice Stew recipe above.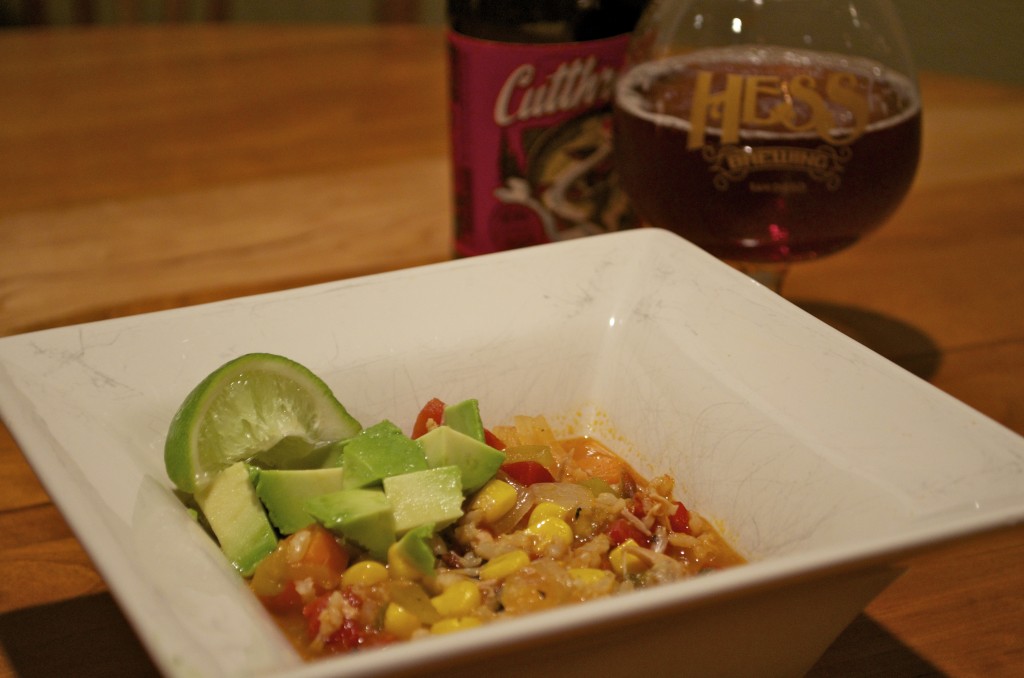 I decided to pair this wonderfully spicy stew with Uinta's Cutthroat Pale Ale (I'd recommend either a pale ale or an IPA for this soup). The pale ale has just a hint of a bitter backend to enhance the spicy bite that rounds out the edges of the stew, but enough of a light graininess so as to not compete with the flavors. The caramel malts that grace your palate at the end of the sip brings out the sweetness of the corn and tender chicken. If you want to really suffer (in a good way), pair this with a seriously hoppy IPA like Dogfish Head 90 Minute or another dry pale ale. The hops will make the spice even more pronounced and clear your head of any congestion, guaranteed.
Other pale ale pairing recommendations:
– Fish 'n chips – crisp hops help to cut through the grease
– Grilled/broiled halibut – dry pale ale doesn't overwhelm the delicate flavors of white fish
– Gumbo – hops bring out the spices while chilling the afterburn at the same time
– Sushi – light flavors in pale ale add a sweet complexity that pairs well with the vinegar-graced sushi rice
– Anything fried, spicy, or seafood of any kind
– Pale ales with higher IBUs are good for dishes like roast beef or pork roasts to bring out the sweetness of the meats
Any other food pairings you've tried with pale ale that you'd like to recommend?