Monday night was yet another Ladies at Ladyface meeting. Are they getting old? Um, no. Never. Not possible. Never ever ever. Never. No.

My mumsie (an eager-to-learn founding member of Ladies at Ladyface) and I arrived early to have a nice, leisurely dinner. I started with the Ladyface Rye. A beautiful red, delicate lacing, and full of wonderful Centennial aroma and bitters. Since we were having lots a few sips of summer beers later, I opted for a taster.

Ever since I had these with Brie, I've been dreaming about them. Popcorn chickpeas aka DEEP FRIED chickpeas. Personally, I don't think you can go wrong with anything that's been deep fried.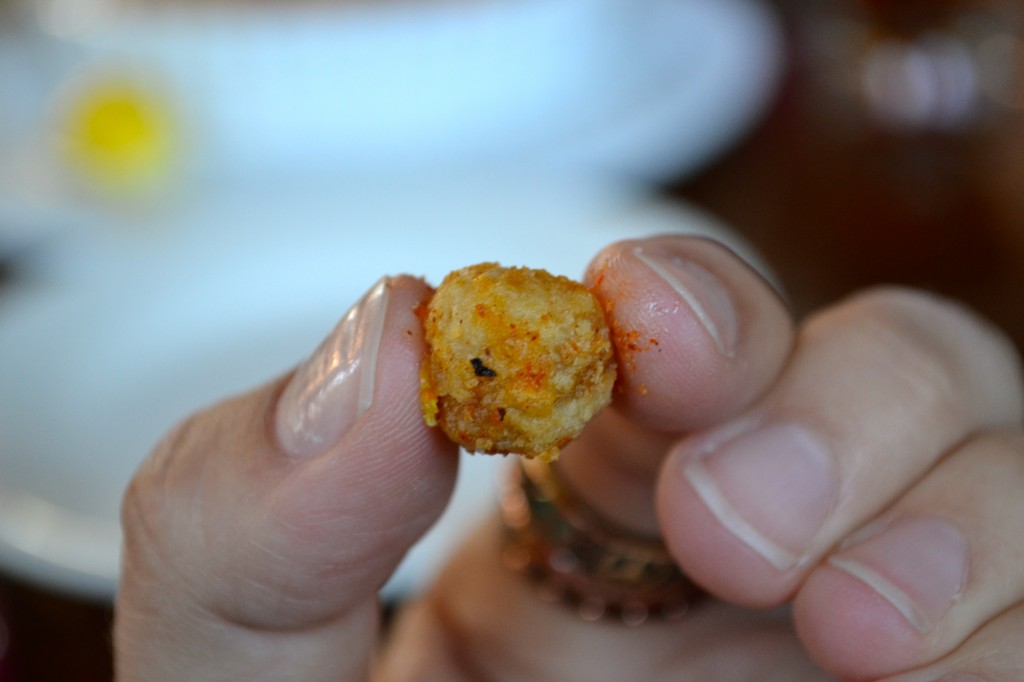 Little crispy paprika and lemon-scented pebbles of deliciousness. I'm salivating looking at my own picture. They're that good.

We balanced it out with some green – spinach sauteed in garlic. See? My blog isn't ALL about unhealthy foods!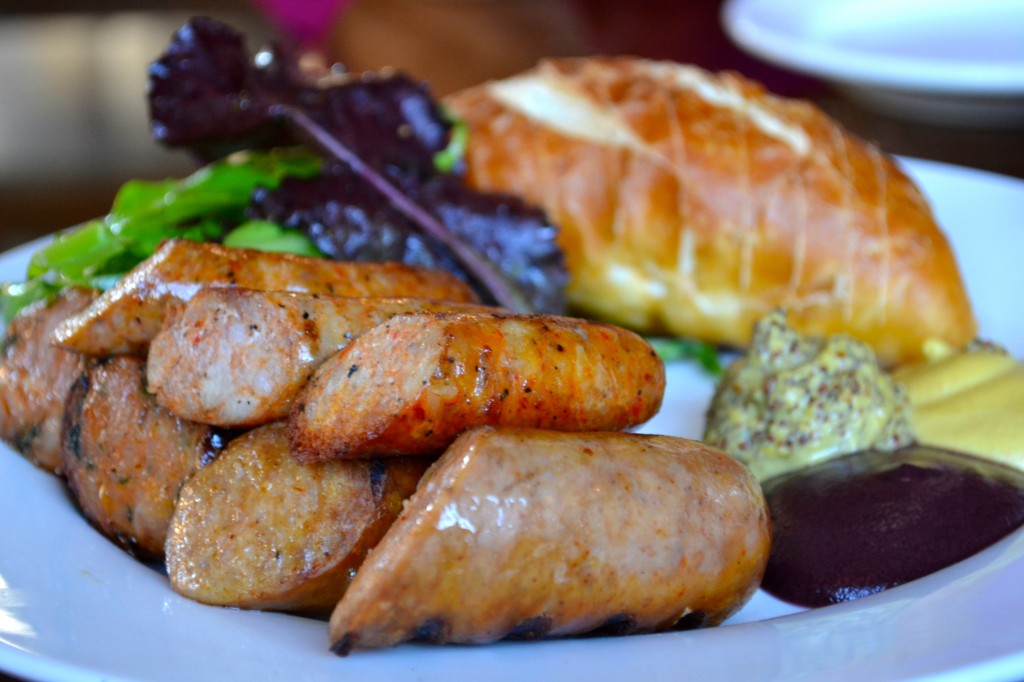 Just MOSTLY about unhealthy foods. The sausage plate contained brats, jalapeno chicken sausage and basque. I wasn't a fan of the basque (I Googled – it's chorizo), but the brats were wonderful! This plate was demolished.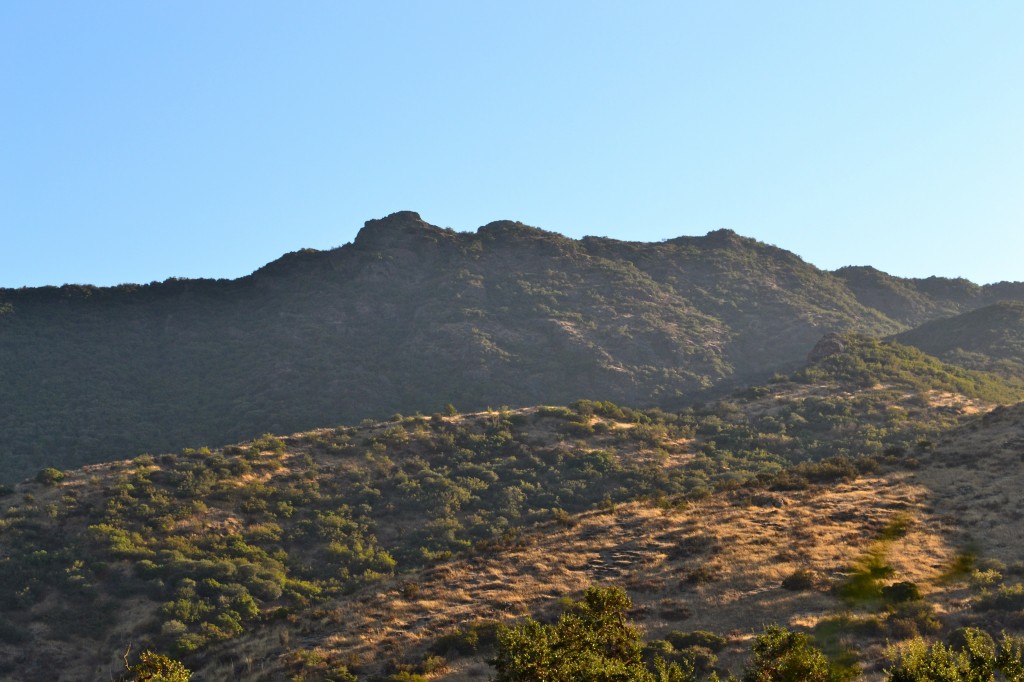 After our meal, we headed out to the patio to join the rest of the ladies and enjoy the warm evening.

It was nice and quiet for the first half hour, then people started filing in as the work day came to a close. Will someone explain to me what a work day is? I just can't seem to remember what it's like to work during the week… I'm kidding. Please don't hate me.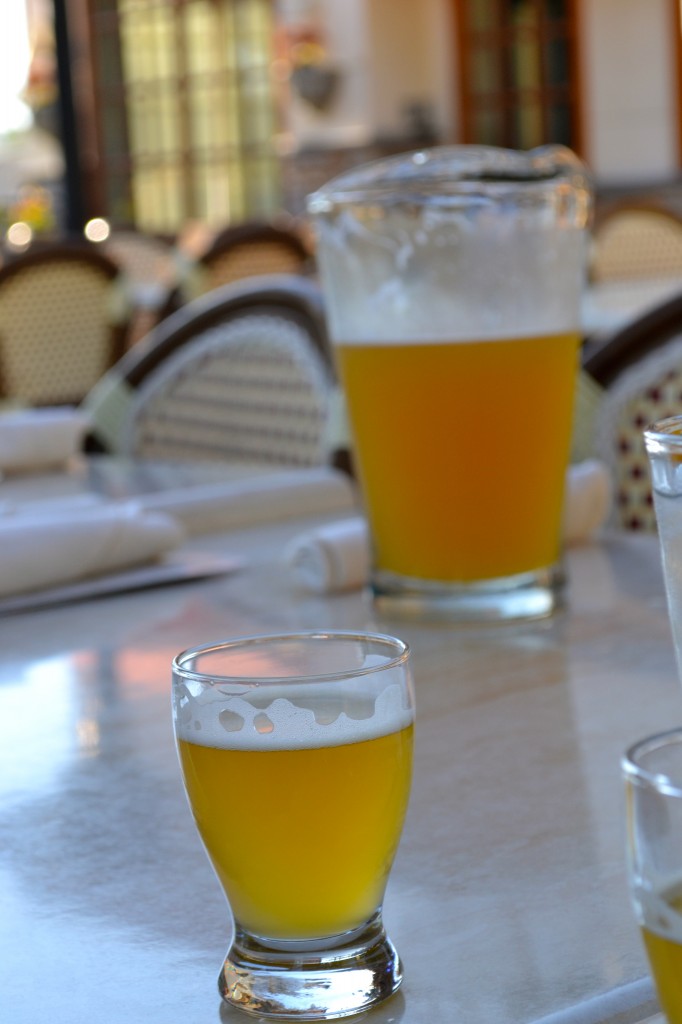 Ladyface had just released their Palo Comado XPA (one reason why our meeting was pushed back a week), and Cyrena passed around a pitcher of the organic, pale, rose-scented sessionable beer. I loved the aroma and drinkability of this, but every summer I'll always reminisce about their Derailleur.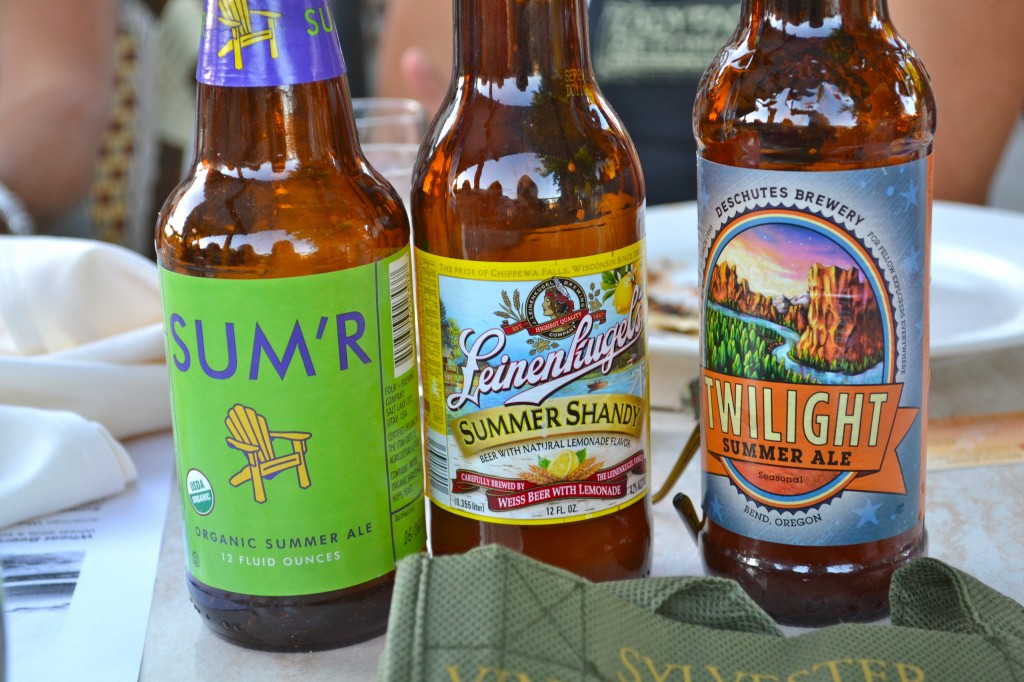 There was a wide variety of summer ales on the table. A hint – don't drink the Leinenkugel Summer Shandy. Weiss beer with "natural lemonade flavor" is nasty. Perhaps with REAL lemonade it would taste better, but I'm not a fan of drinking lemon Pledge. To each his/her own.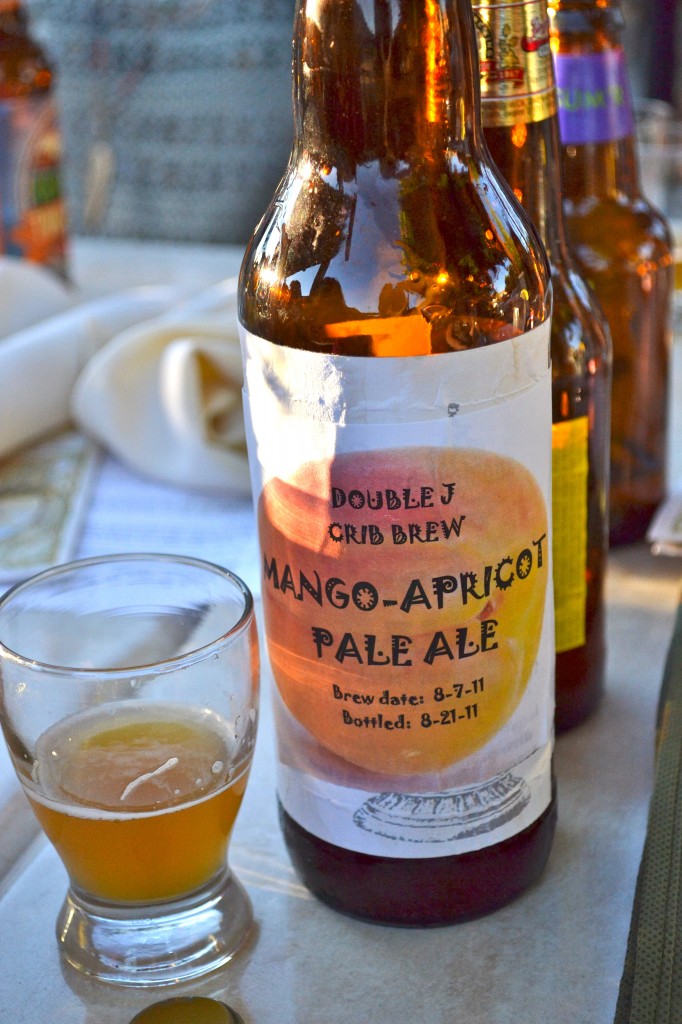 J. J., a local homebrewer, brought in her latest brew – Mango-Apricot Pale Ale. Heavy mango aroma, wonderful, slightly sweet apricot flavor with high carbonation and a smooth finish. I was surprised how much I liked it, seeing that I'm not the biggest fan of fruit in beer. J.J. then had us pour a small splash of cream soda into the beer and try it again. Mango-Apricot Creamsicle beer. Awesomeness in a glass.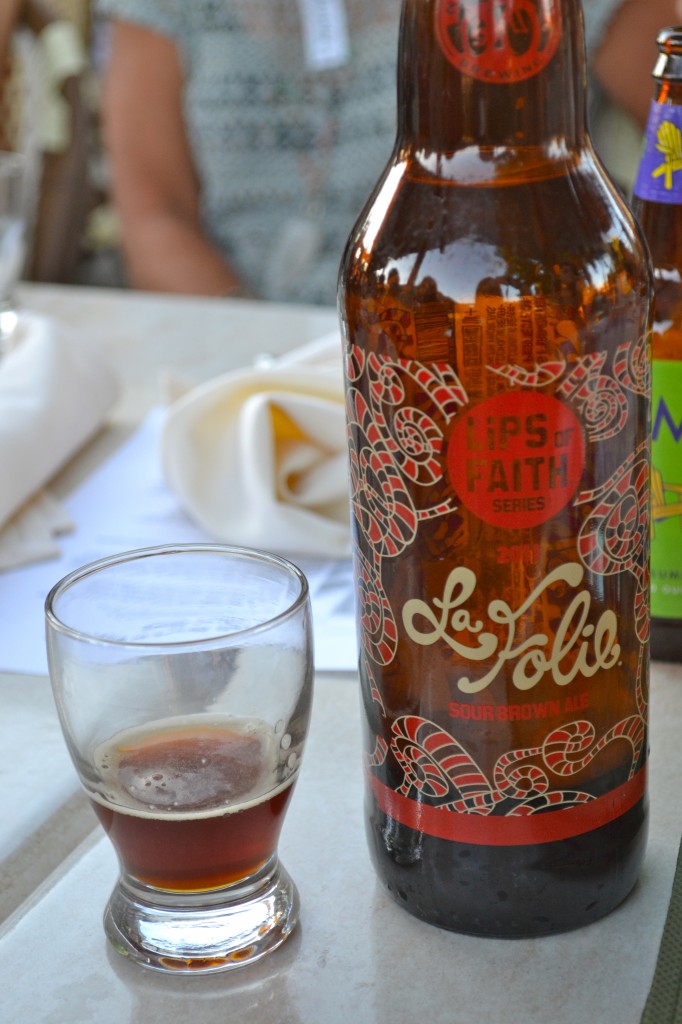 My mom's contribution was the La Folie sour brown by New Belgium. This was the first beer she tried that she actually ENJOYED! The first time I had it, I absolutely hated it. This time – LOVE. It's strange how your taste buds evolve.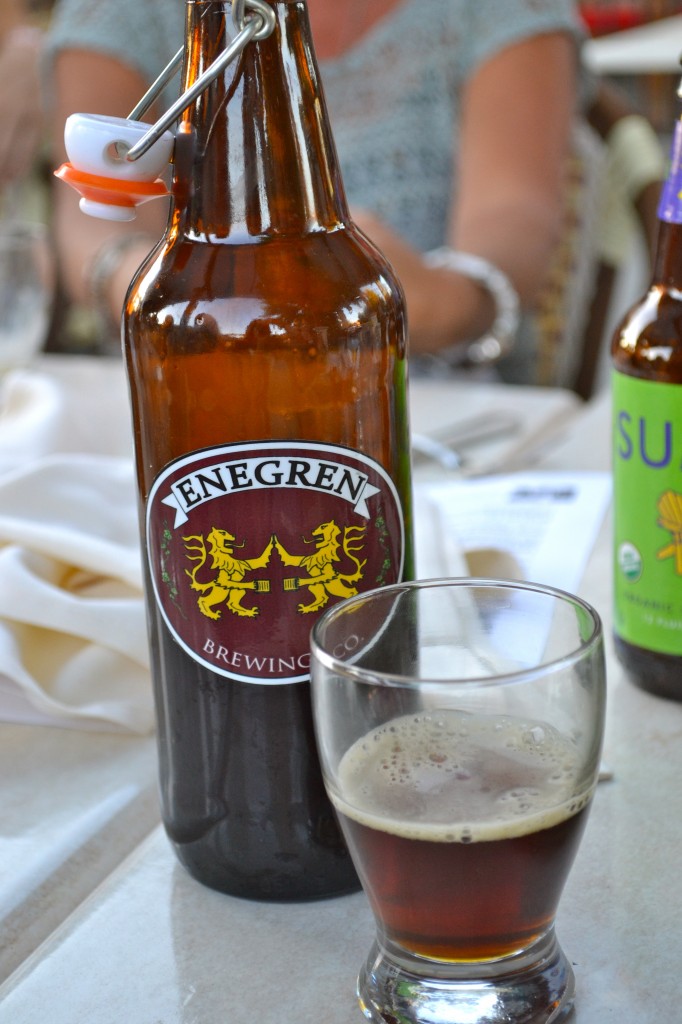 Brie brought Captain's Summer Session as well as a bottle of the Valkyrie California Alt from Enegren. Yes, I've tried both before. Yes, I still had a taster (or two) of both. The finished Summer Session is lovely! I tried it from the fermenter before and loved it, so add a nice chill and carb and it's awesome.

Janelle "doesn't do" sessionable beers. Another reason I love her. She brought Avery's Eighteen back from her trip to Colorado. Nothing like an 8.1%ABV Saison face-punch to spice up the night! Good choice, but boy, did things get crazy after that…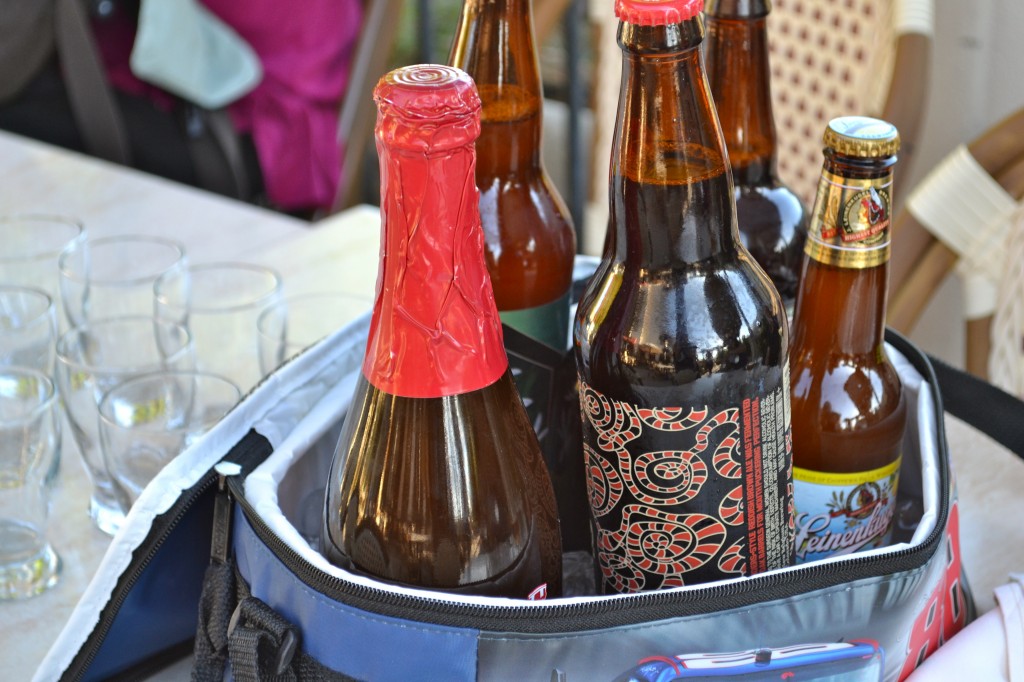 Someone brought out Horny Devil by AleSmith. It's that gorgeous red-wrapped bottle there. ALSO a face-punch at 11%. DEFINITELY not a summer ale, but at this point, no one was caring! We were far too busy socializing, talking brew techniques, new breweries and beer.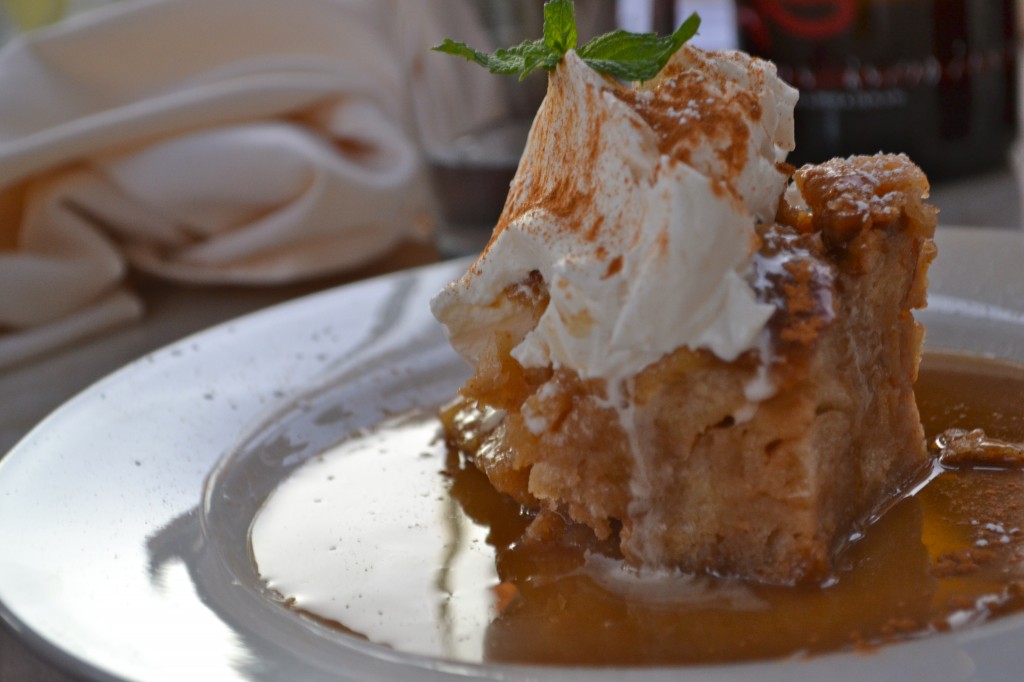 Of course I couldn't end the night without dessert. A center cut of the bread pudding. I think this was the best cut I've had to date! I'm sure they NEVER get tired of hearing me ask for the center cut. In fact, I'm sure they look forward to it… Maybe not… At least I tip well!
The next morning, I was up bright and early to help out a family member who had surgery. Took her to the surgical center, suffered through hospital food…

and now am waiting on her hand and foot.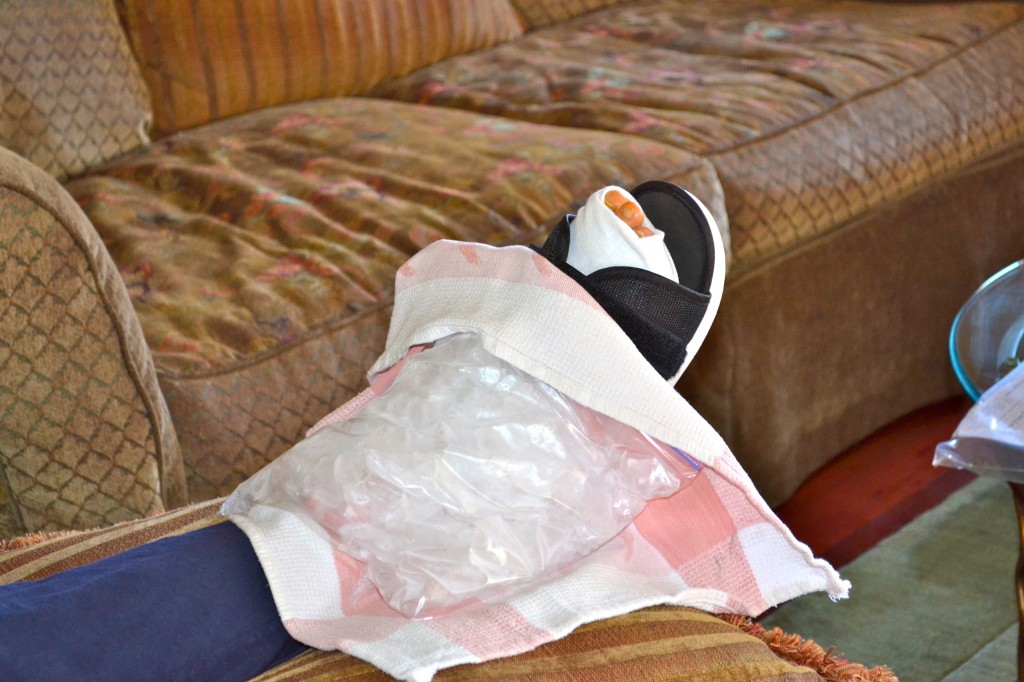 Hahaha, FOOT! Get it? It's a PUN!
Since I had to stay around to care for her, I decided I should do some studying for class. Instead, I did this: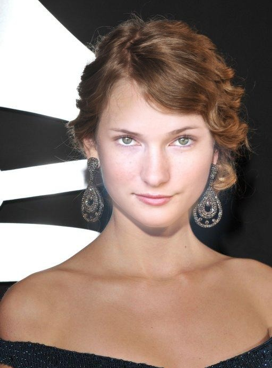 Me as Taylor Swift.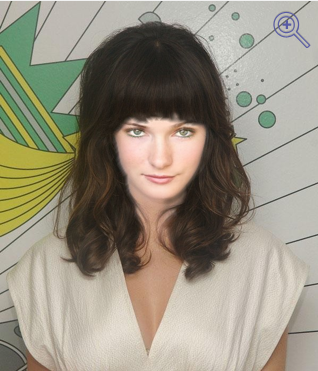 Me as Zooey Deschanel.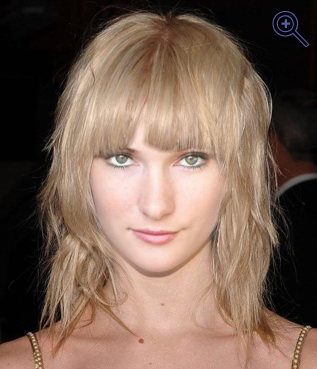 Me as Taylor Momsen.

And me with my MAD AWESOME Photoshop Paint skills, trying on some new hair. If you follow me on Facebook, you already got a preview of this. And for that, I am so very sorry.
Now I should really go study, but the bottle of Coronado's Red Devil Imperial Red is calling my name.