It's been a crazy month. I'm sorry, I'll catch you all up on Monday night, I promise! In addition to packing my room and house, getting smacked in the face with the leg of a 200+ pound couch, pulling a muscle in my leg that makes me walk with a limp and attempting to study for my Cicerone test, I went into North Hollywood to record some ADR for the short film I did so we can start submitting it to festivals.

Luckily, I didn't have to drive all the way down to Orange for this one. Fancy microphone and a cardboard box with a pillow. DONE! Great to see Scott, my director, for the first time in over a year. Far too long, sir!
I then went home, spent the rest of the day packing, spent all of yesterday packing, spent all of today packing and injuring myself, and sat down to enjoy a Woodcut No. 5 Quadrupel by Odell Brewing. First, I would like to proclaim my complete adoration for Odell. One of my all-time favorite breweries. However…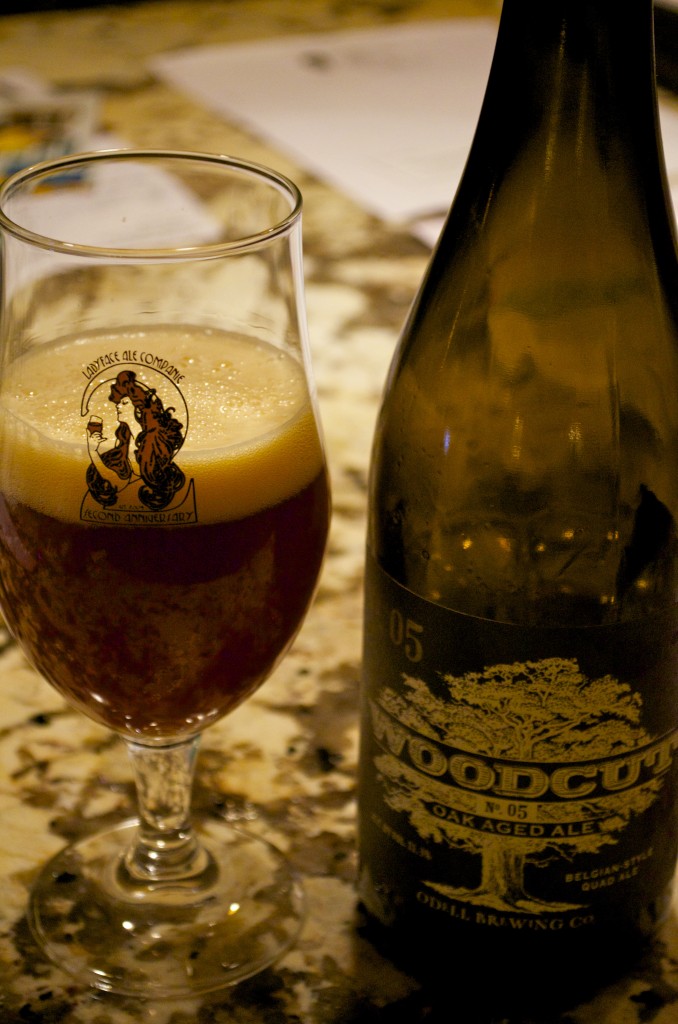 Worst. Beer. Ever. I'm hoping I got a bad bottle, or that it's just been sitting too long in my fridge and turned, but this was the worst beer I've ever tried. The nose is relatively pleasant – full of cherry and dried currant, there was no carbonation (the cork was wedged in so tightly that I needed my much stronger roommate to help me remove it) and after the first awkwardly sweet sip, a lingering bitter funk remained on the back of my tongue, and grew even more awful with time. I dumped out the ridiculously expensive bottle and poured myself a Little Sumpin Sumpin by Lagunitas. Much better.
So there's a quick update on why I've been so sporadic in posting! Packing, injuries and more packing do not make for exciting blogs. Lucky for me (and for your viewing pleasure), I'm heading down to San Diego tomorrey to enjoy William Fitzsimmons in concert and visit a few breweries!
While you wait for the SD recap, go enter my growler giveaway! If you're going to be in the Ventura/Los Angeles area anytime soon, enter to win a free growler! FREEEEEEEE!