I'm back from a wonderful three days in Boston! Two coworkers and I were flown out to Boston by my company for training at the Samuel Adams brewery. This'll be a picture-heavy post – lots of phone pics as well since I didn't feel like hefting my big camera bag along the miles of walking.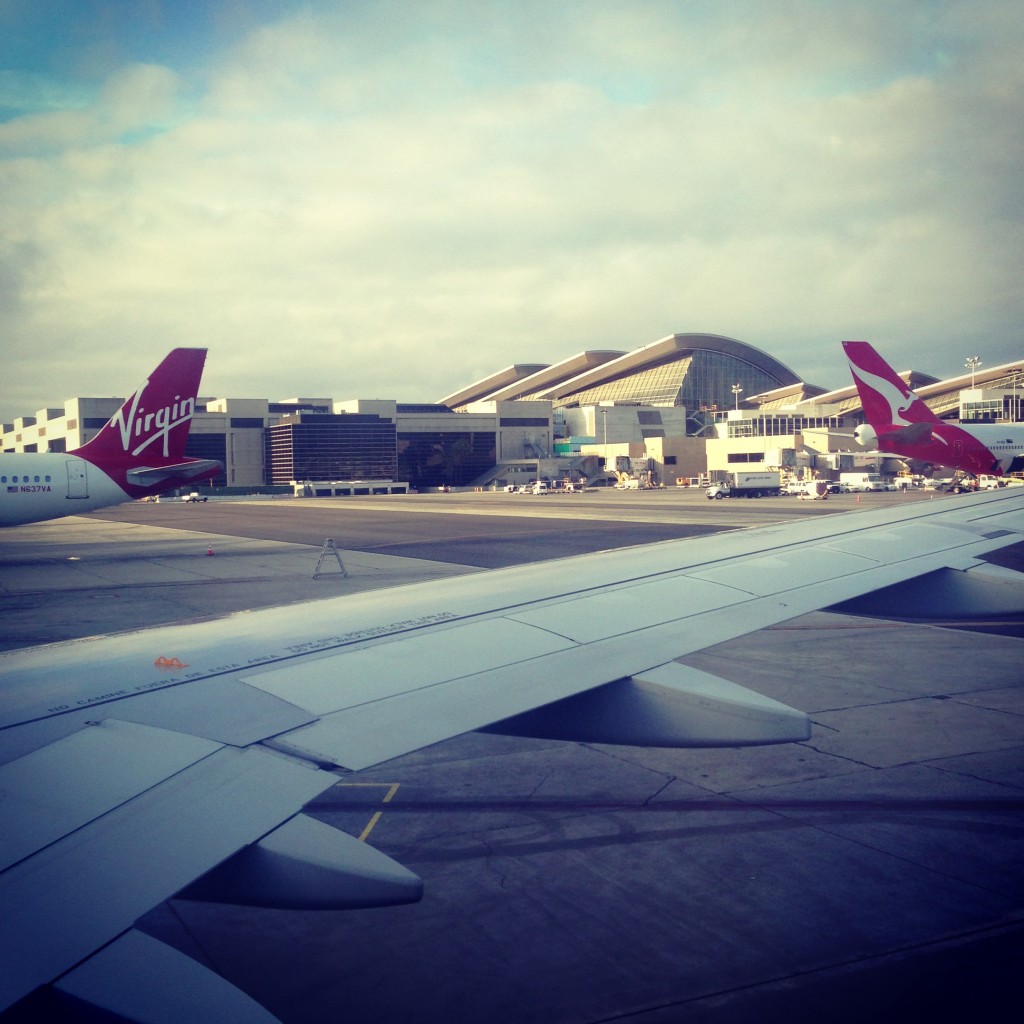 We flew out on JetBlue. Only four hours and ten minutes out with tons of leg space – at least in comparison to United and American! Plus a personal TV screen on each seat. Win! We dropped our bags at the hotel and set out for a walk in the freezing rain.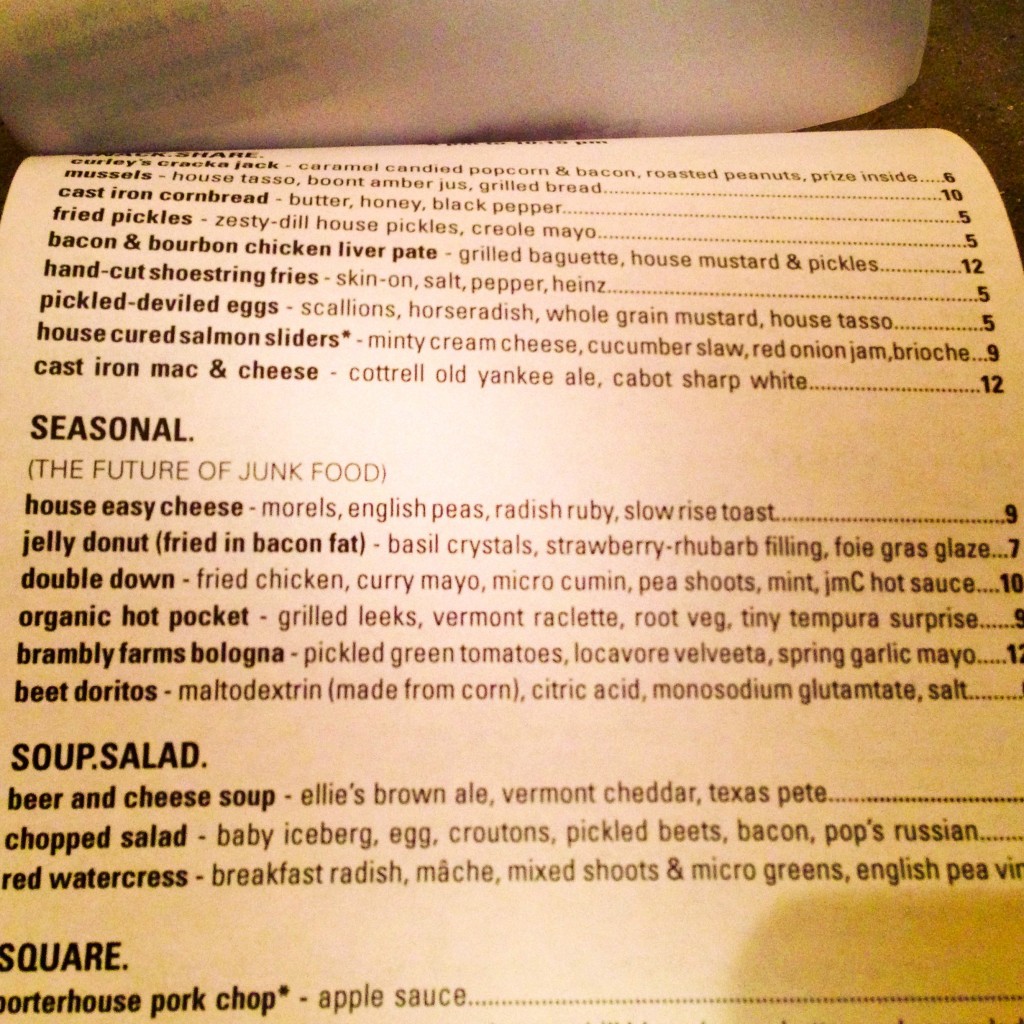 jm Curley is a newer place across the street from Stoddard's Fine Foods and Ale. We grabbed a beer to warm up and perused the menu. The new seasonal special – housemade donut fried in bacon fat with strawberry-rhubarb filling, basil crystals and a foie gras glaze. You read that right. I couldn't not.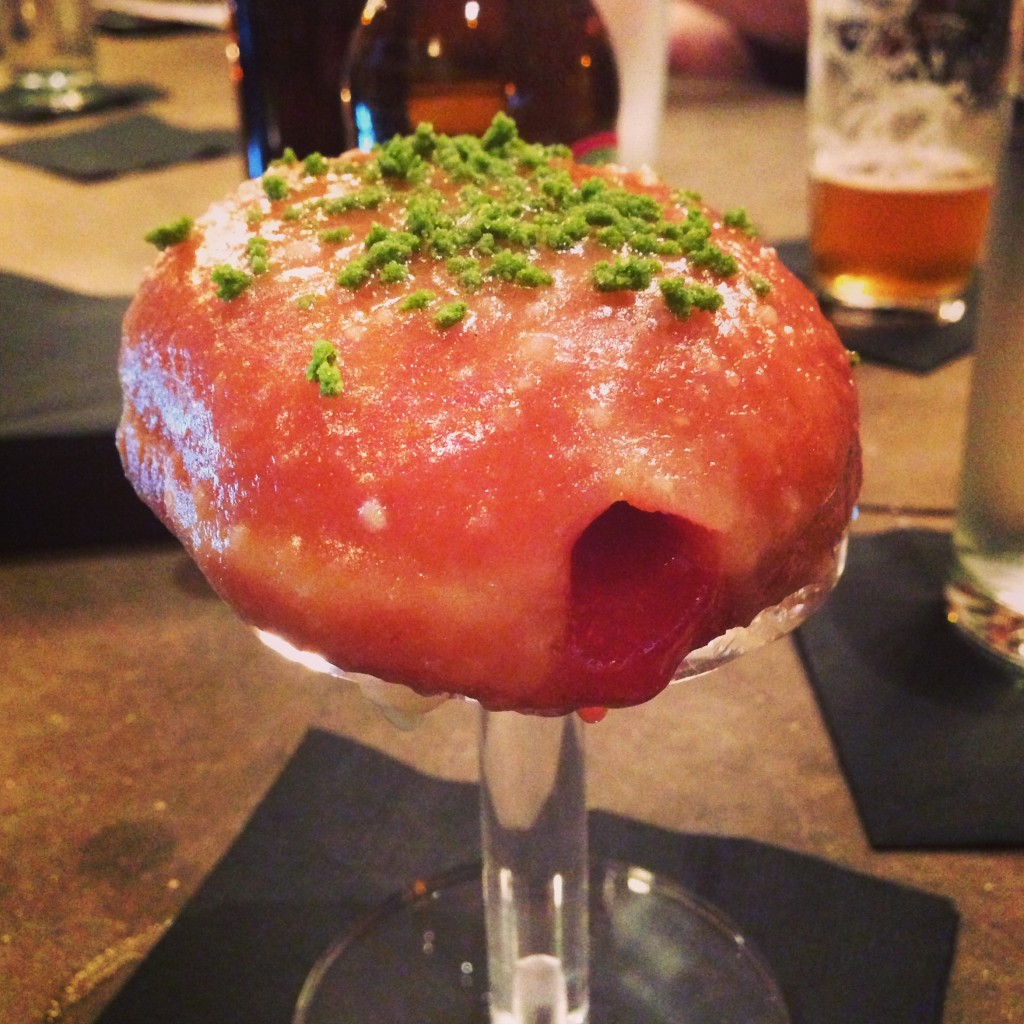 Holy geez.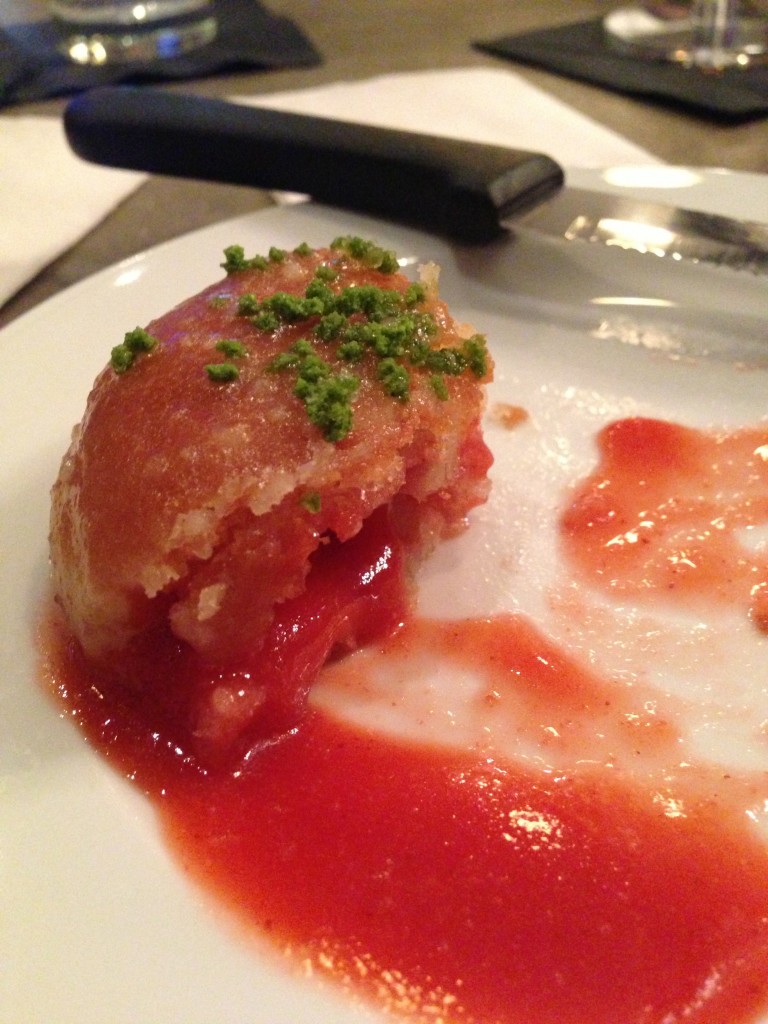 Yes. I can say without hesitation that this is one of the top three things I've ever consumed in my entire life. Ever.

Next up was Union Oyster House, and we were lucky enough to score seats at the bar!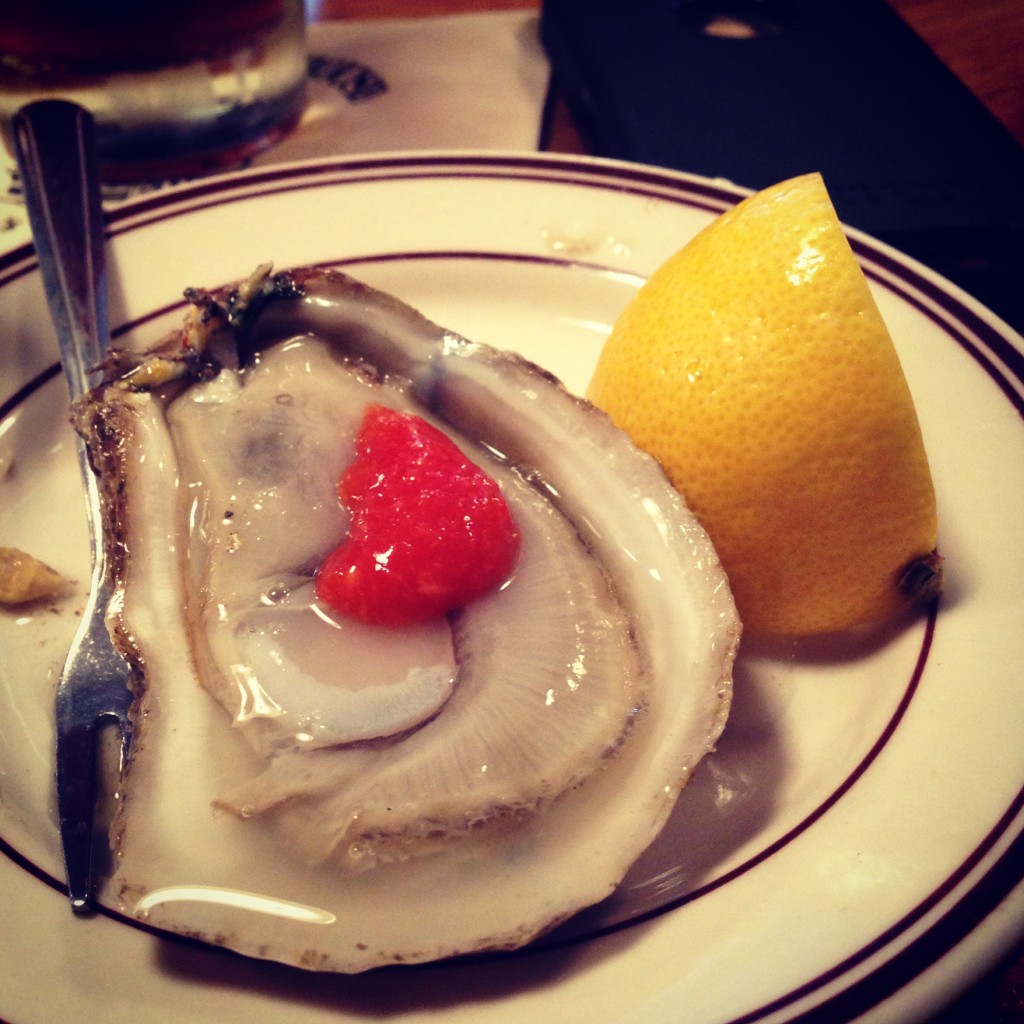 I consumed my first oyster! After very low expectations (my imagination went from dry-heaving to salt water sneezes to other horrible things), I was pleasantly surprised – sweet and tender without a freaky texture! I don't think I'll eat another one, but I'm glad I tried it.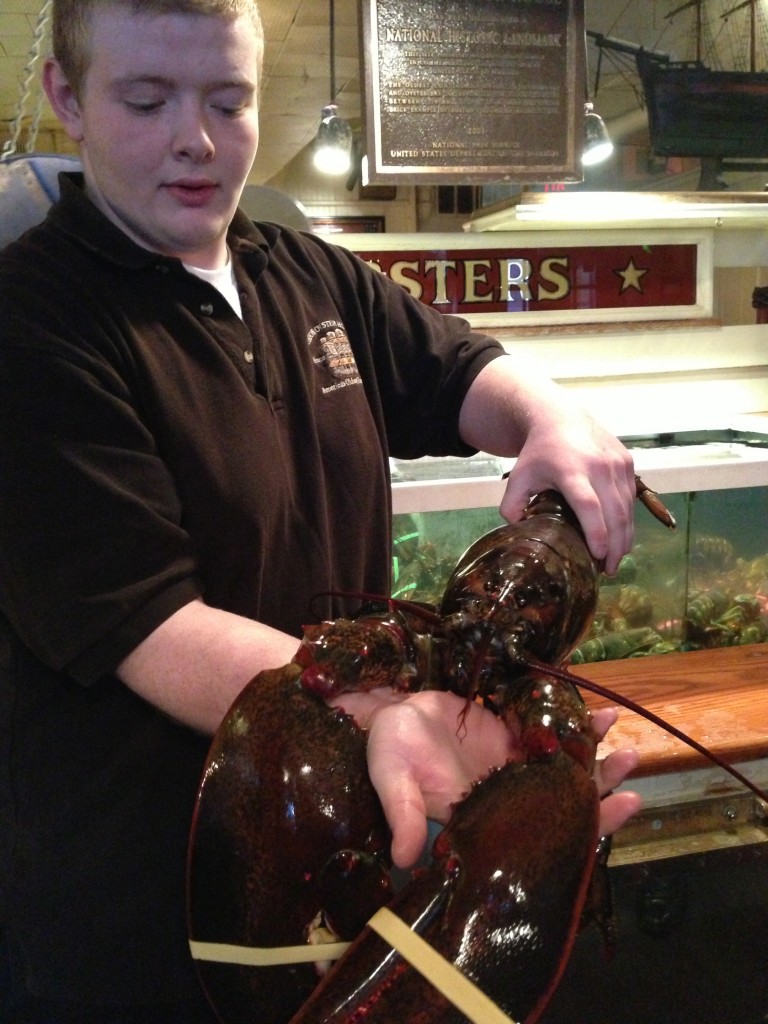 They had quite a full lobster tank which included this eleven pound beast. I didn't consume him.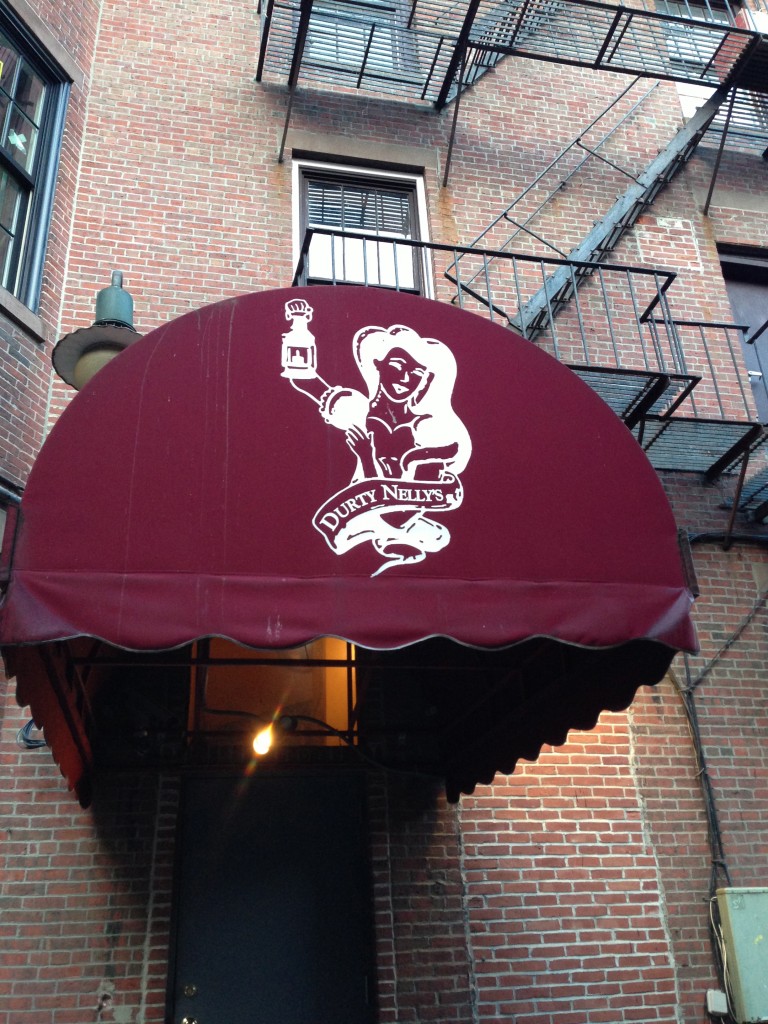 We were sent by the bartender to a locals' favorite, Durty Nelly's, which was full of big brand beers plus a Samuel Adams. We continued along the way, going to a place and asking the bartender where his/her favorite place was and continuing in this manner.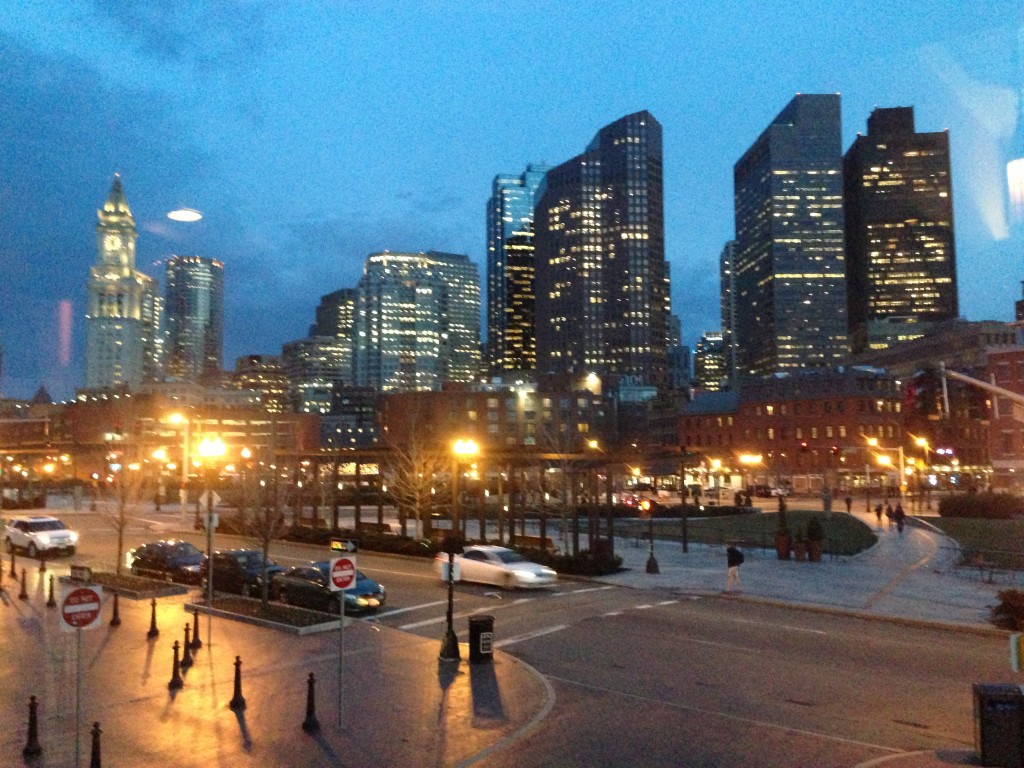 After a few jumps, we enjoyed a freezing cold stroll for about half a mile before hailing a taxi to take us the rest of the way back to the hotel.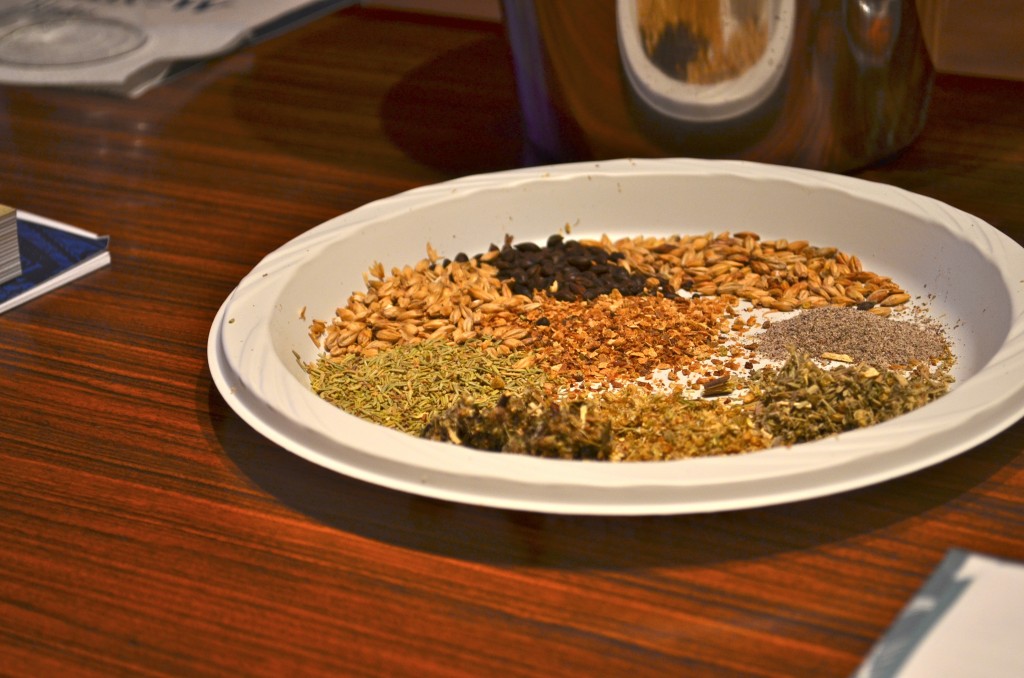 The next morning we were in the lobby at 7am (4am California time) and took the subway down to Samuel Adams Brewery.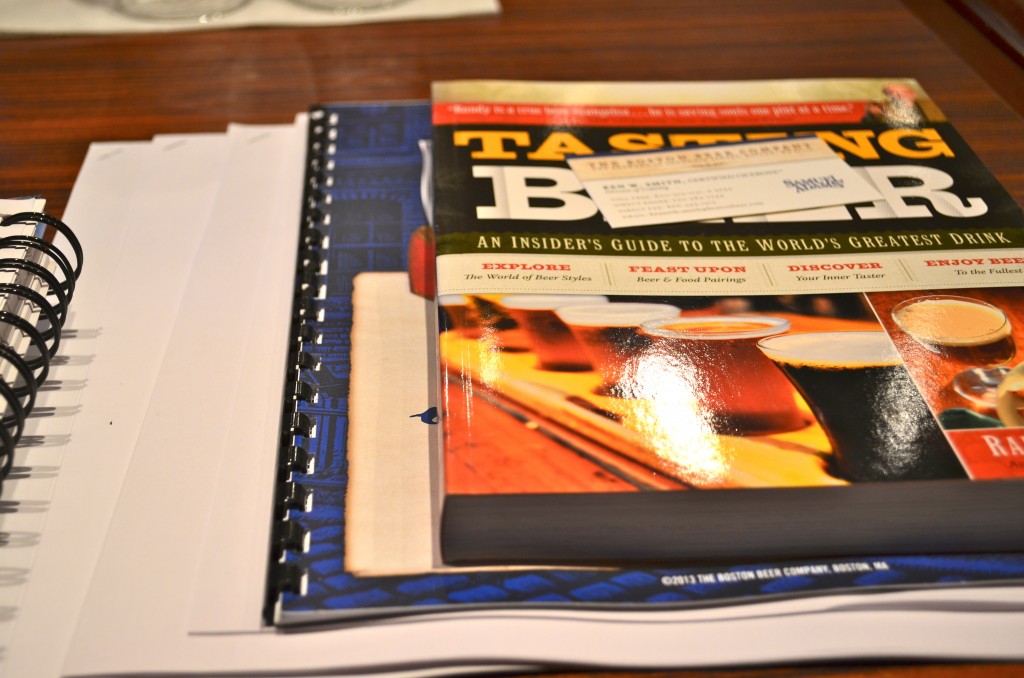 Study supplies were stacked on the tables…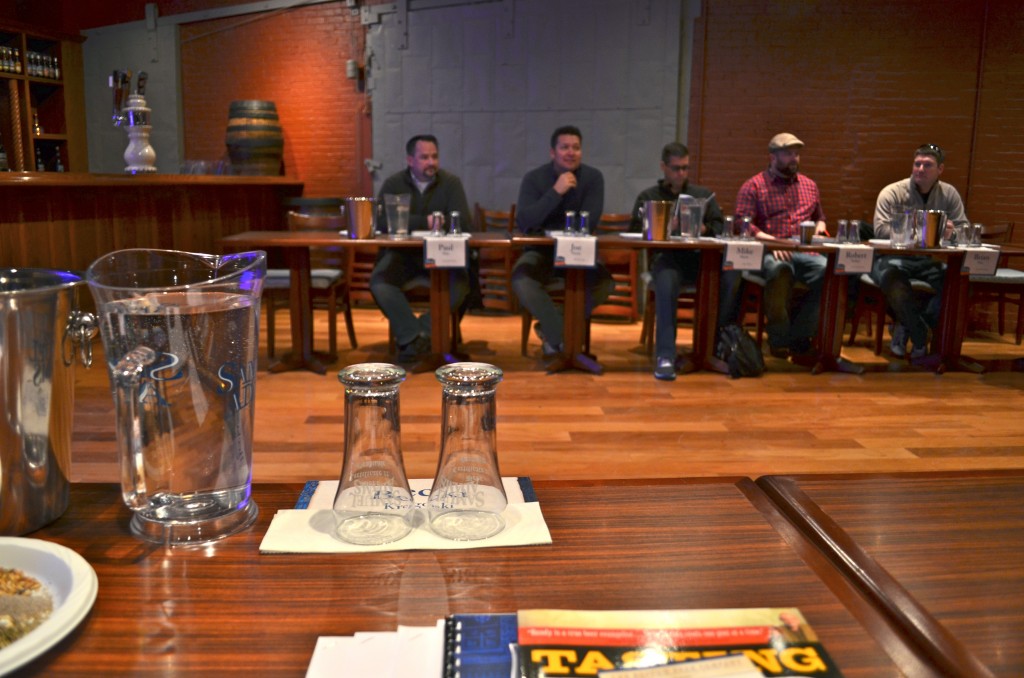 and a group of seventeen total (me being the only female) slowly tried to jar ourselves awake.

Breakfast was brought in by Max's Deli Cafe – delicious every single morning!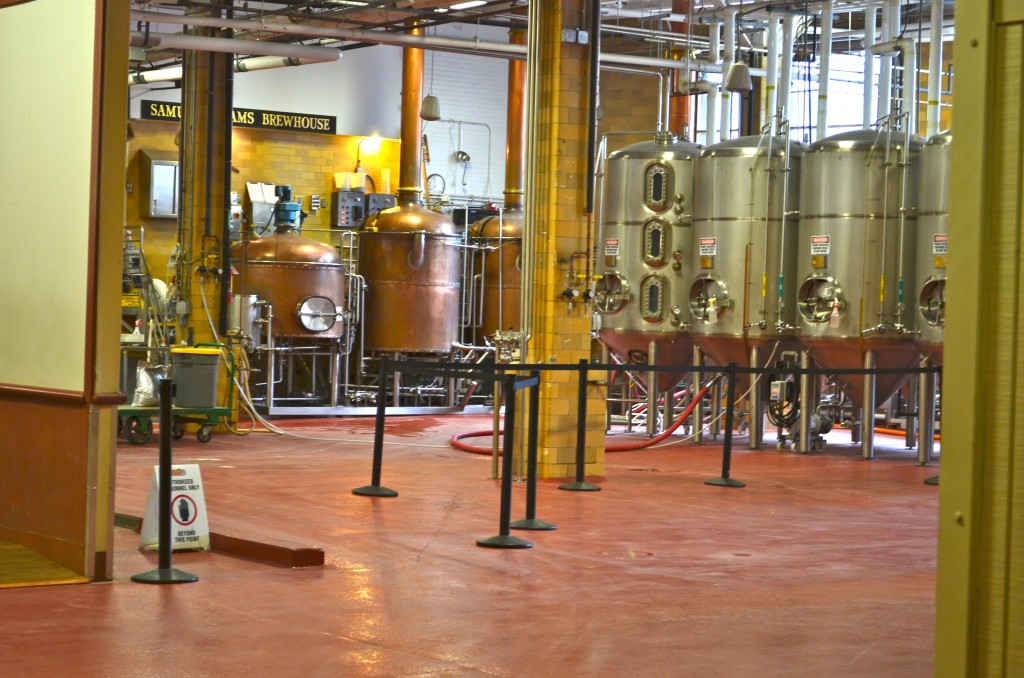 We had ten hours of intense lectures interjected with mini-tours of the brewery.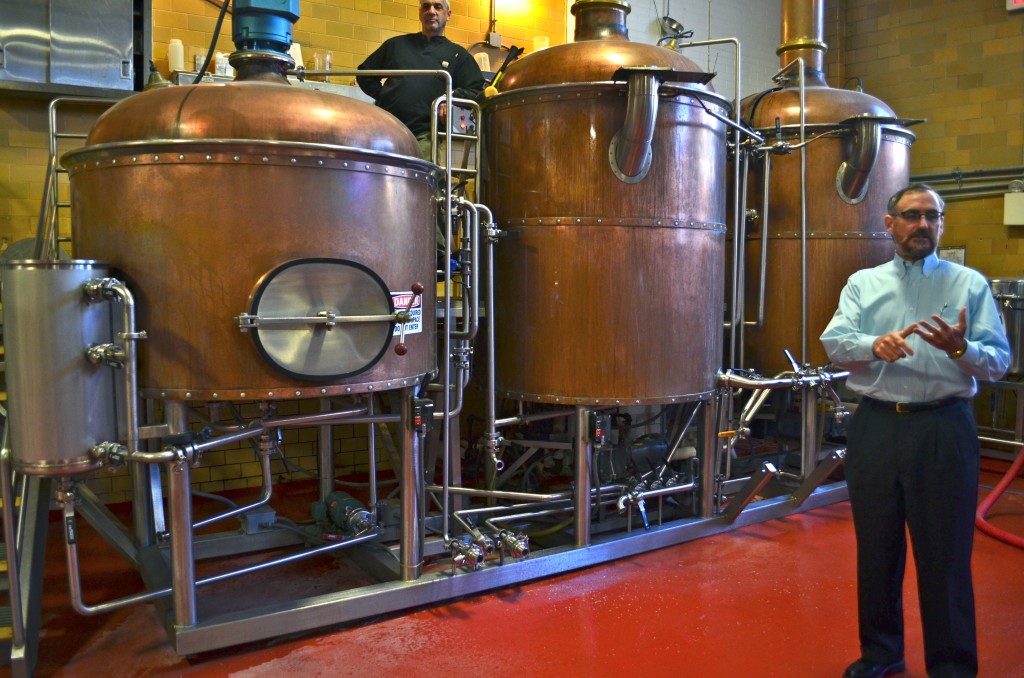 Our instructor and Certified Cicerone, Ken Smith. He has an insane amount of energy – far too much for me when it was 4am my time, but once the coffee started working, I thoroughly enjoyed him and his exciting speeches and lectures.

Head Brewer Dean!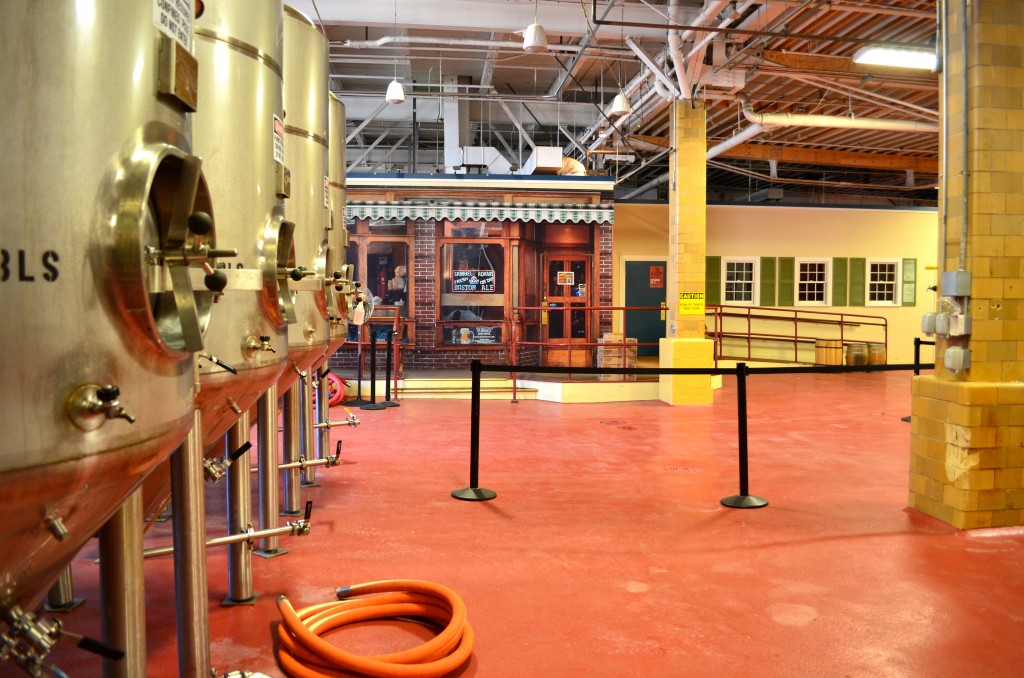 Looking out from the brew system. At lunch I snuck over and Dean was kind enough to let me watch the transfer and sparging of the mash.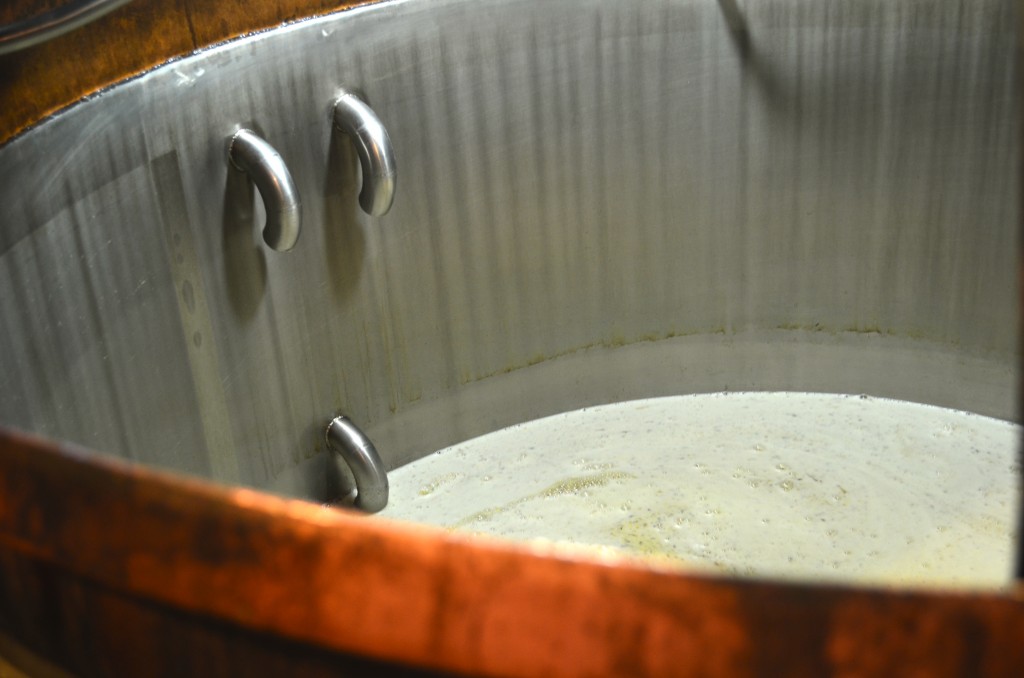 I also got to try the first wort from next years Utopias he was brewing this day! Nothing like a hot cup of sugar water to wake you up in the mornings!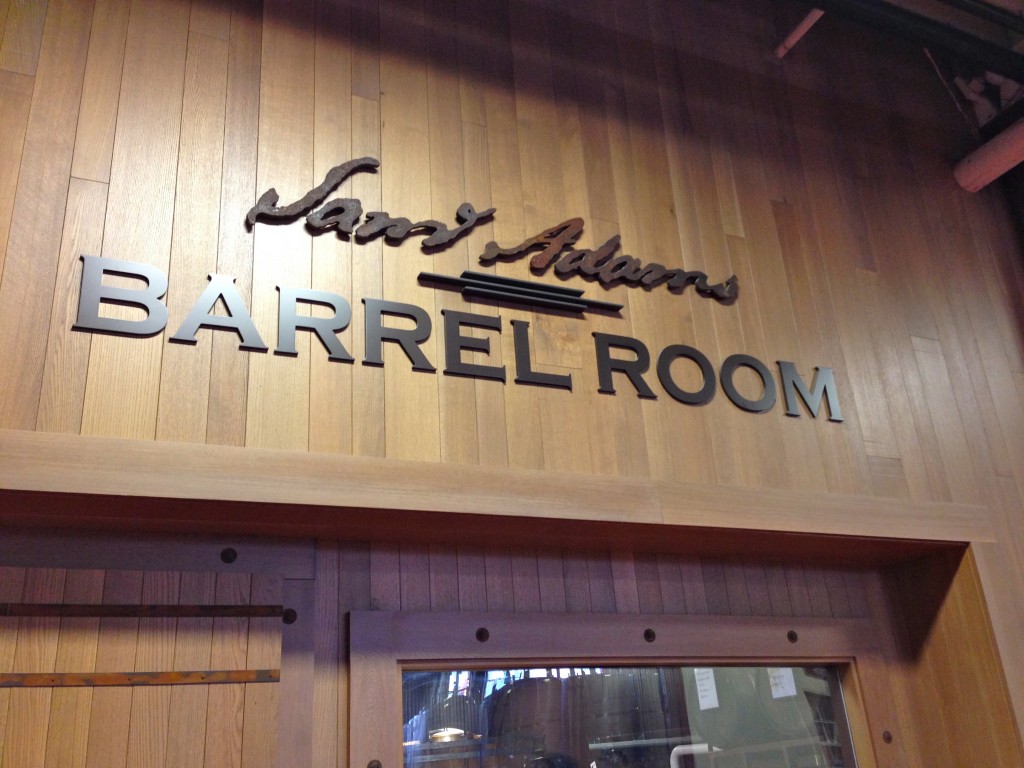 During the sparge Dean was able to give a quick tour of the place.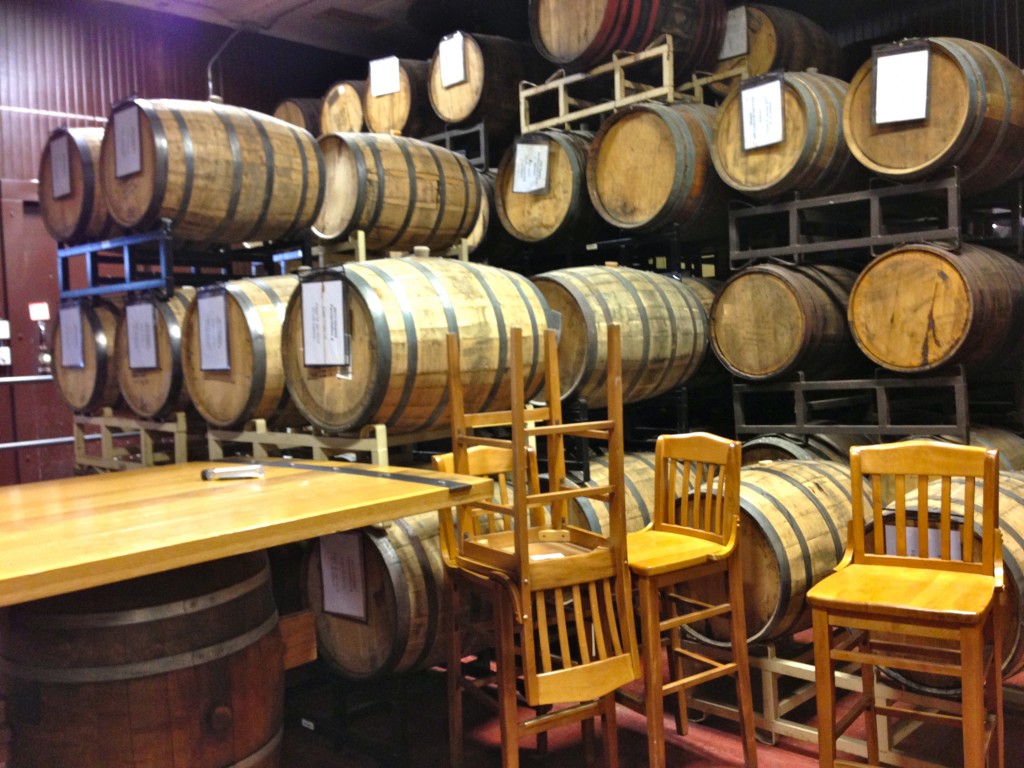 We walked into the barrel room and were bombarded by the wonderful scent of spirits that emanated from the racks of barrels.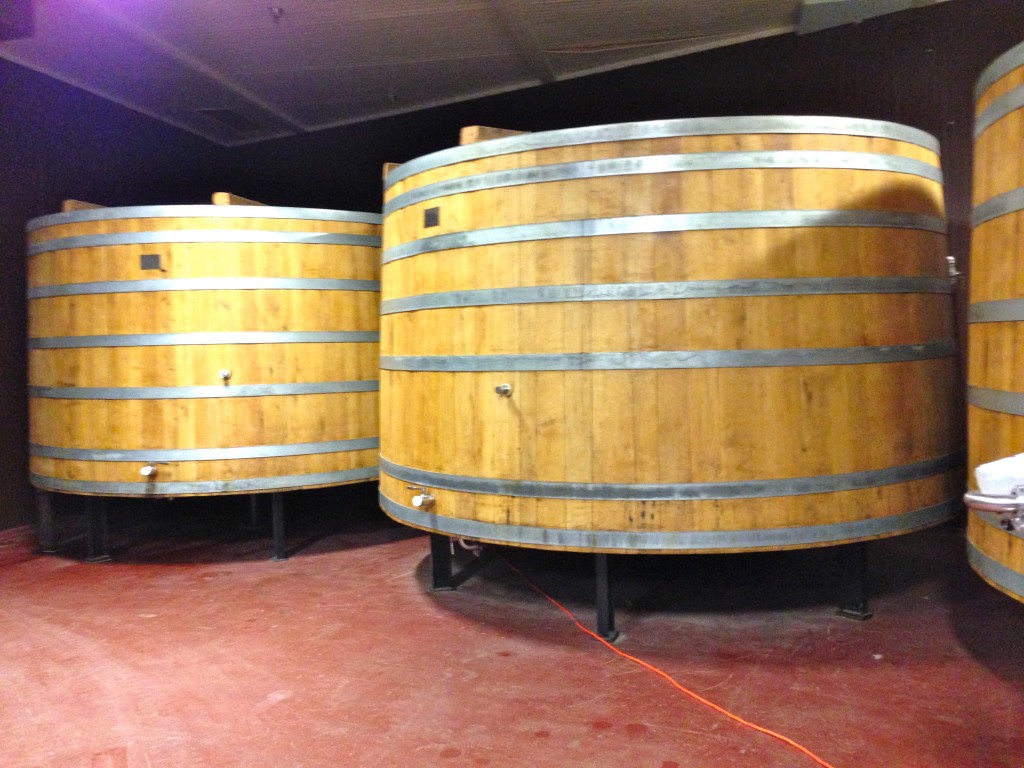 Foeders!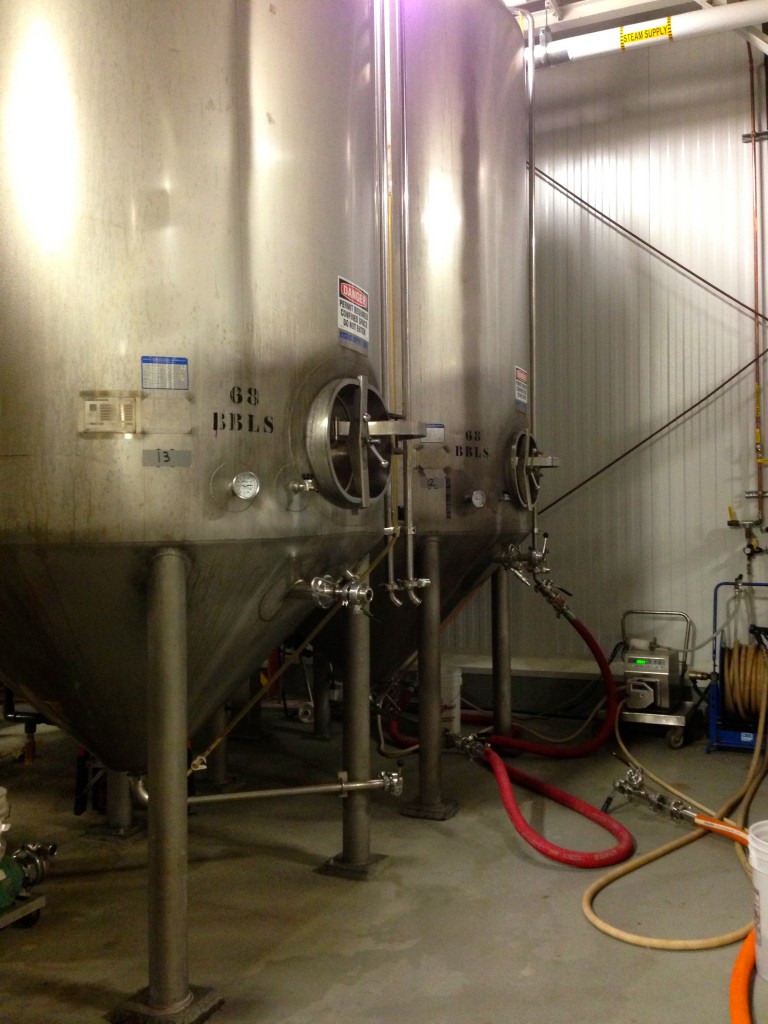 These 68bbl fermenters used to be in the main brewery but have recently been moved into the new building they recently obtained after their neighbors closed business.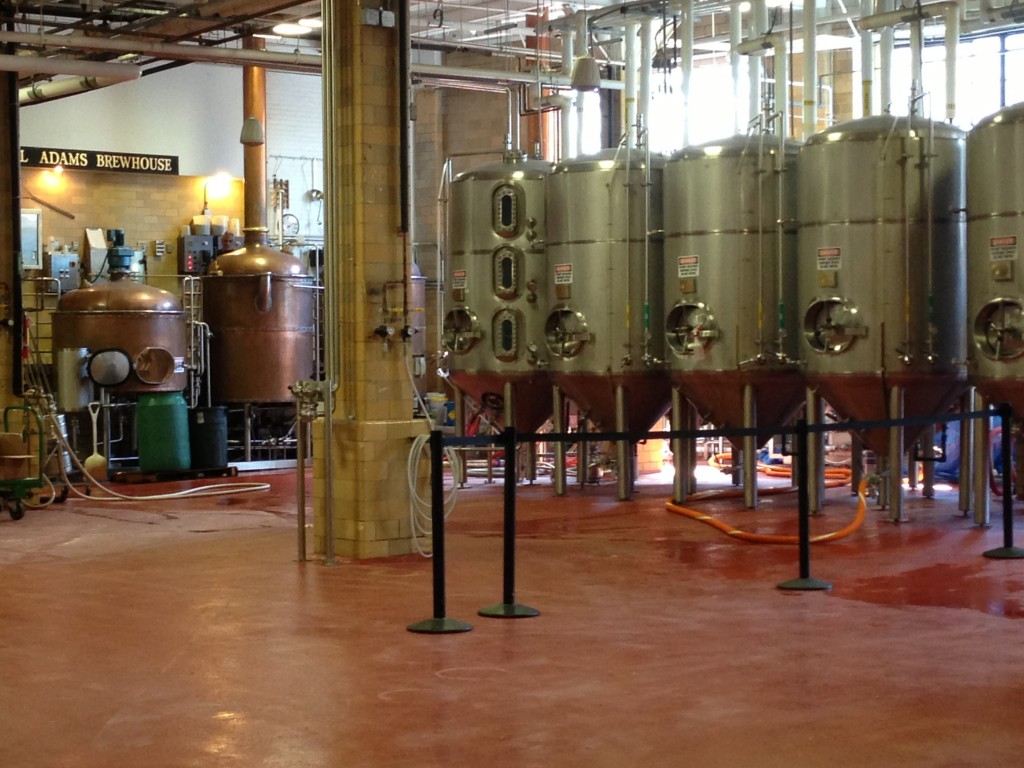 Another lovely view as I creepered around the place.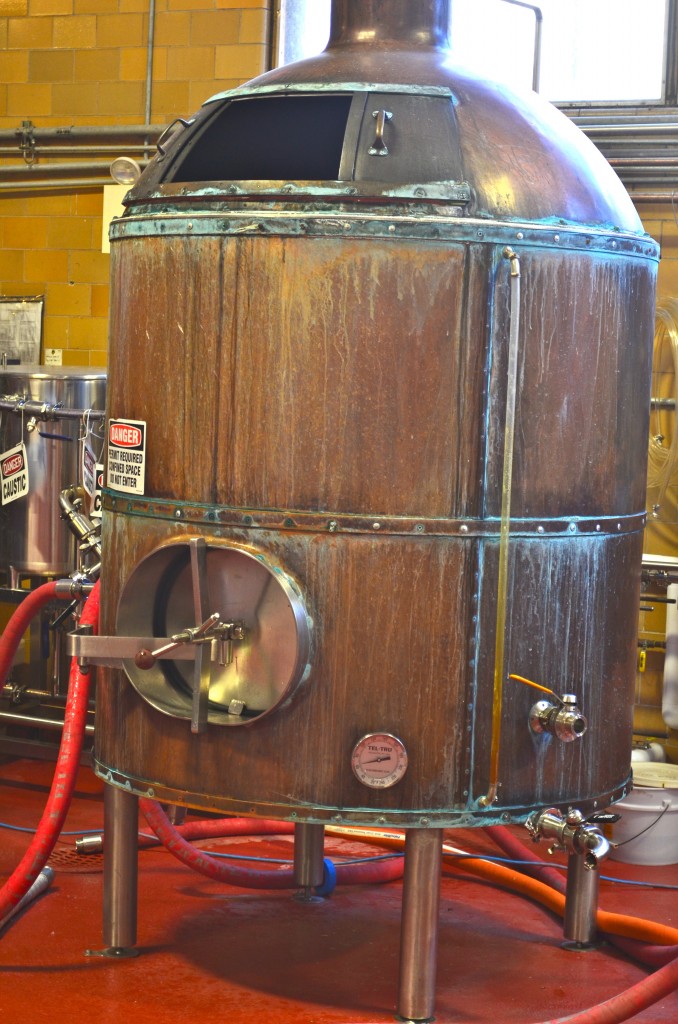 The whirlpool tank – after initial whirlpool in the boil kettle, the wort is transferred here and whirled again to get rid of as much trub as possible before filtering.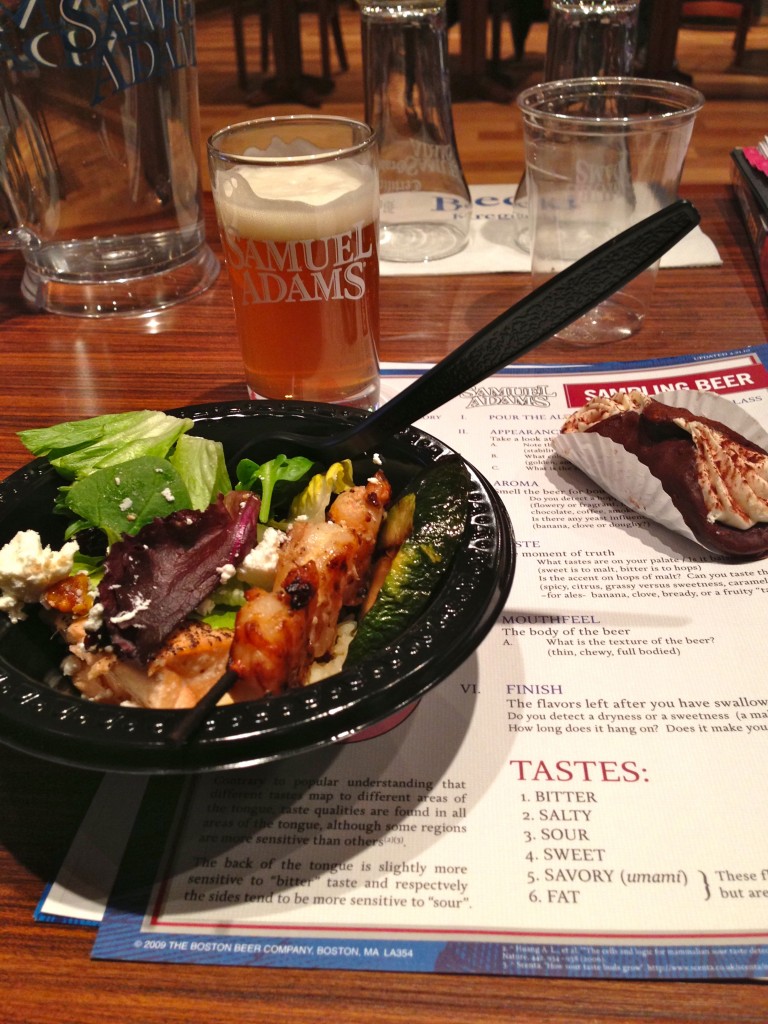 Lunch was delivered again by Max's – roasted salmon, shrimp skewers and fancy salad and grilled veggies.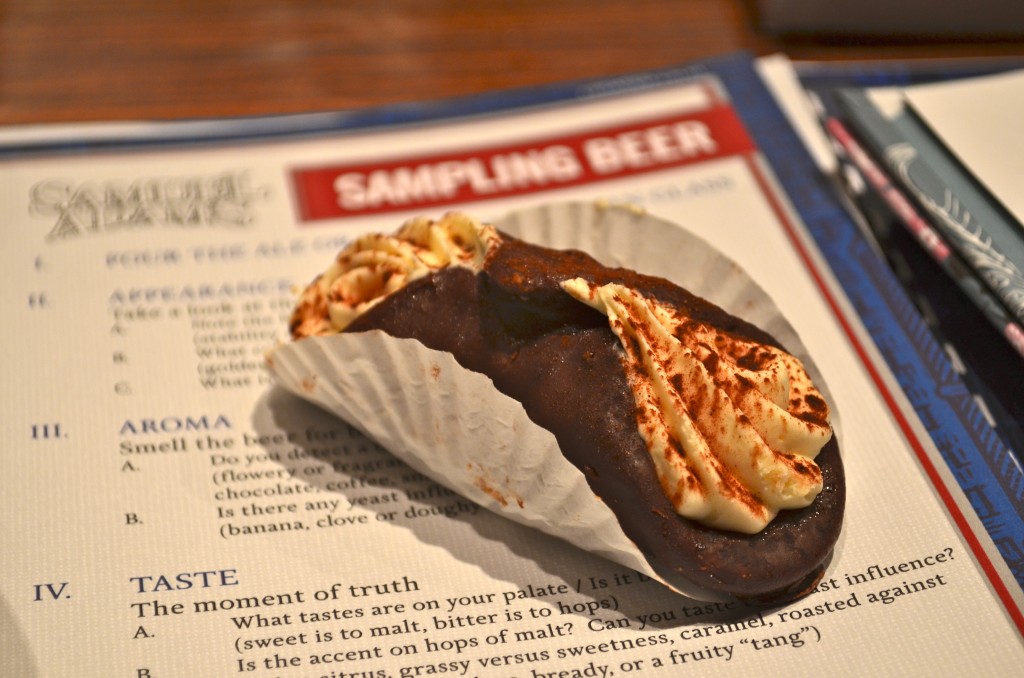 They brought plenty of dessert options which were greedily consumed by the class I was with, and then by the brewers Dean and Bob.

I also got a sneak peak at the 26.2 Pale Wheat that Sam Adams is releasing on April 15th for the marathon! Sweet, smooth and crisp – perfect for rehydration after running a marathon.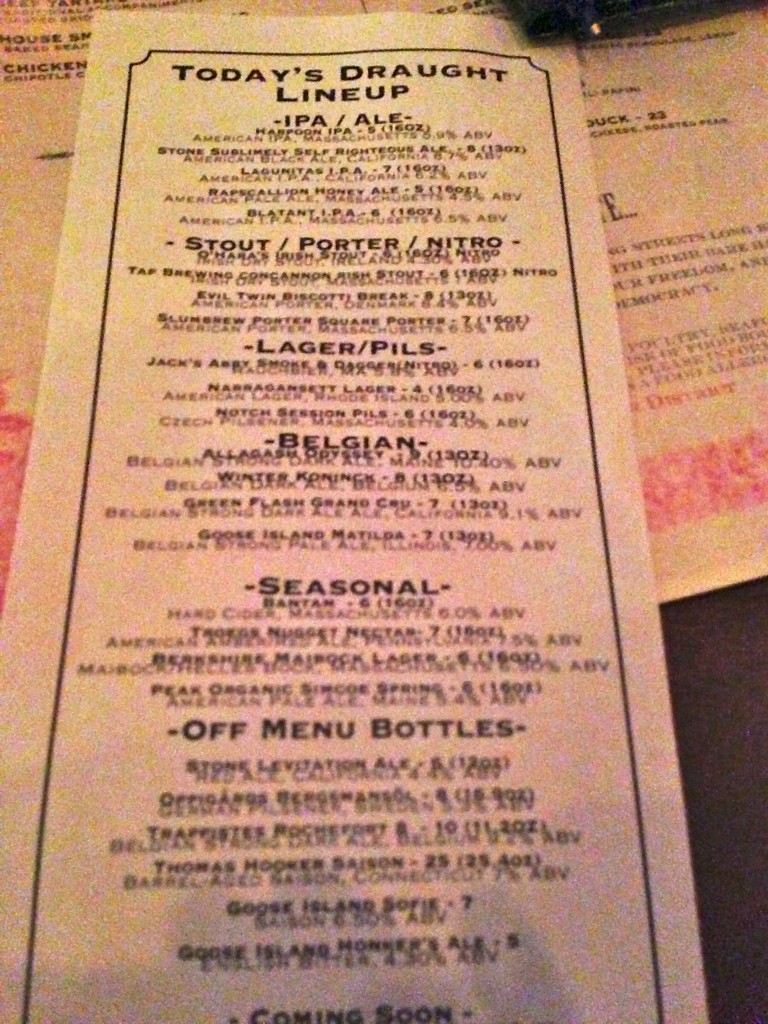 After ten hours of sitting, we were released and headed over to Stoddard's Fine Food and Ale.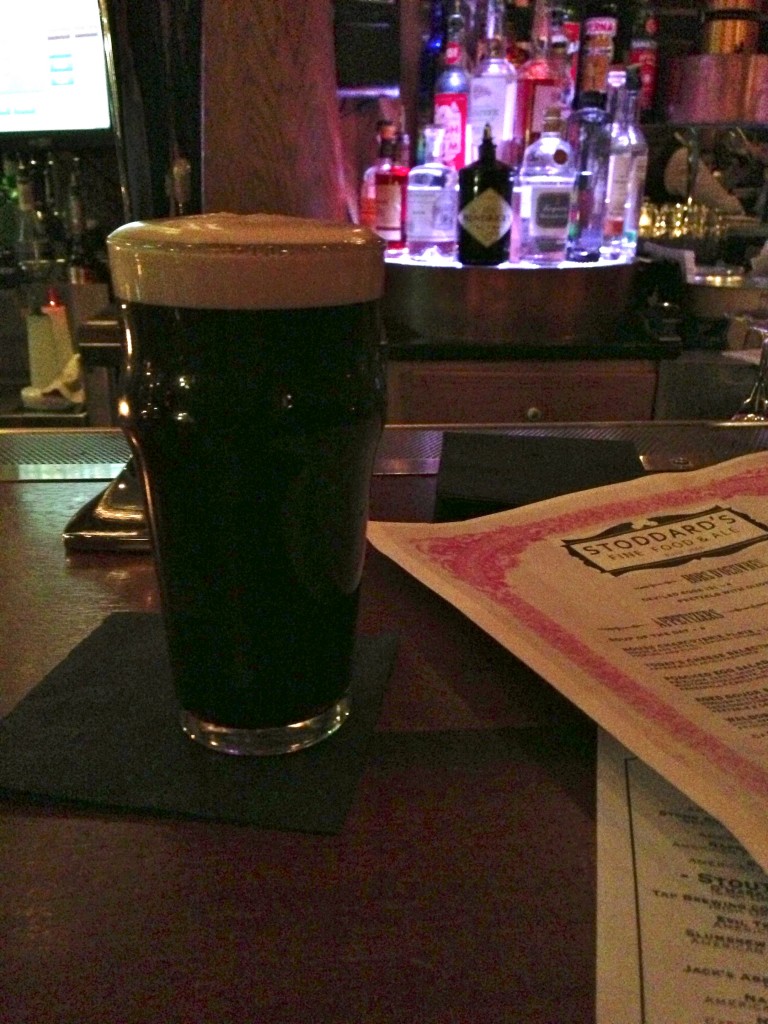 No casks were available, so I stuck with a local porter. We ended the night a little earlier than the previous one… We'd learned our lesson after each having a small headache for the majority of the day…
The next day we met in the lobby again at 7am, but class was cut short after about an hour when poor Ken wasn't feeling well. We set out to explore the city. And by city, I mean foods and pubs in the city.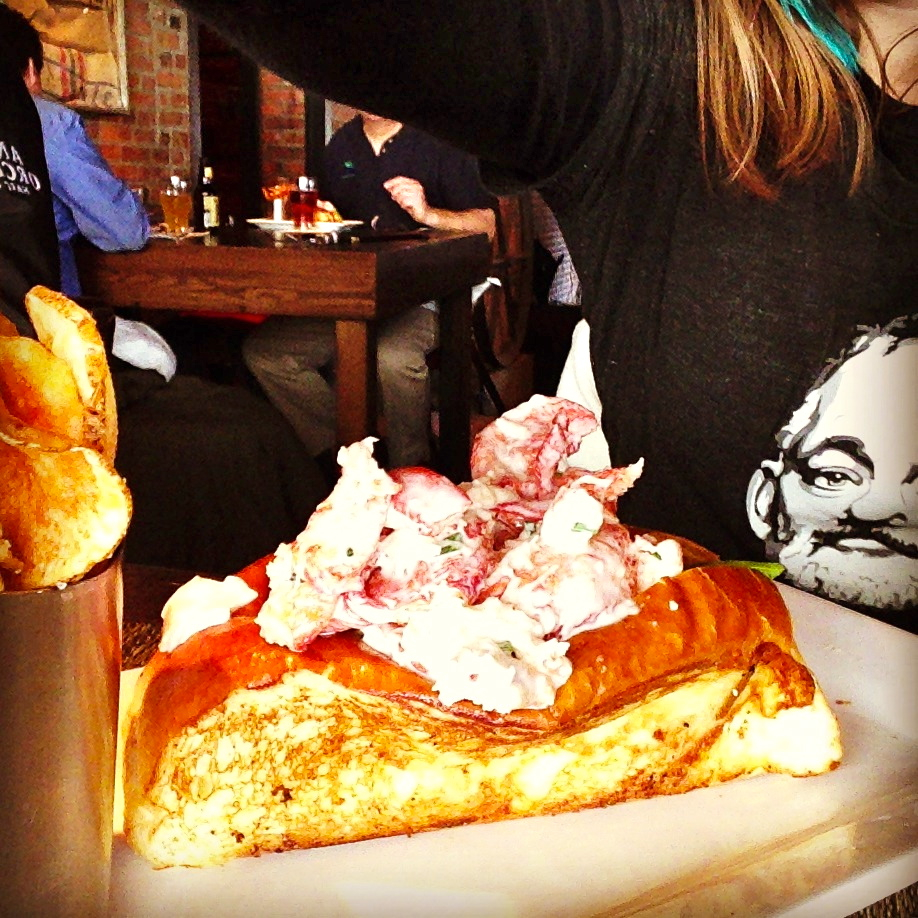 I walked towards the water and found Granary Tavern. After sipping a Saison from the local brewery Pretty Things, the boys met up with me and we each ordered a gigantic, lovely, delicious, more adjectives lobsta roll. Tender and succulent with housemade dill mayo, wrapped in a warm cushion of a frankfurter roll. Happy sigh.

Every bartender we'd come across had told us that Mr. Dooley's had the best pint of Guinness in the city. I don't like Guinness, but I felt like I had to order one when we got here. Maybe it's the gas blend, maybe it's the Irish people pouring the pints, but this was the most delicious Guinness I've ever had! It had much more flavor than I remember – chocolate, charcoal and vanilla cream.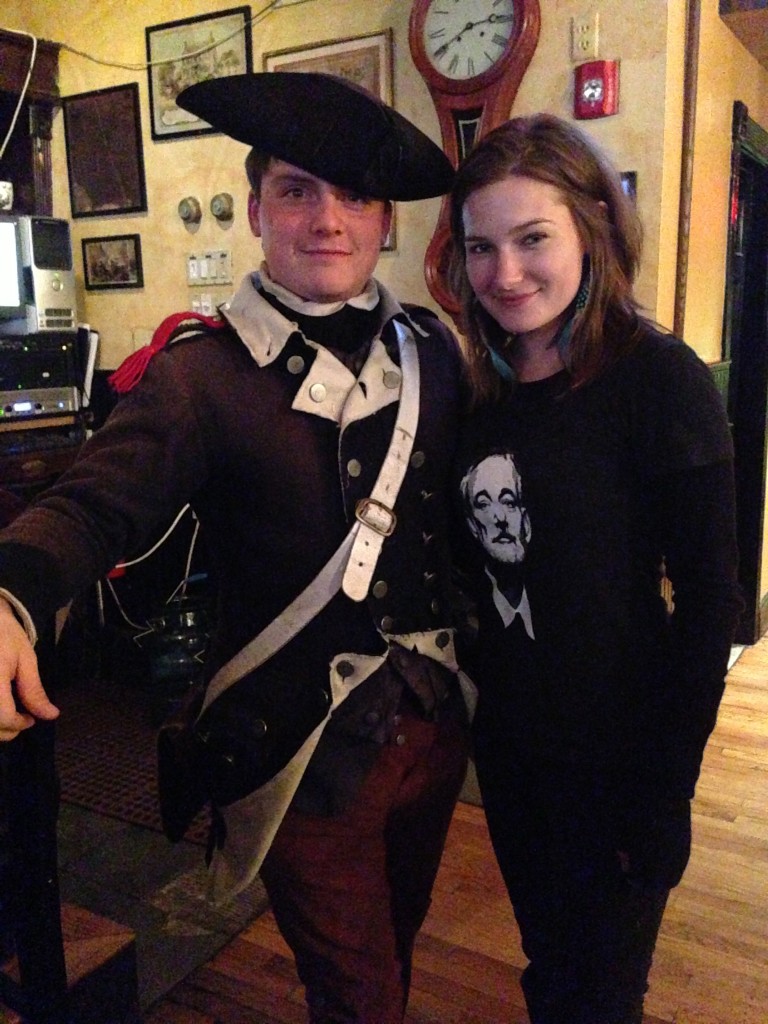 Our next stop at The Green Dragon had a Chiver! We got a slightly drunken history lesson and some good pictures with him. We had a beer dinner scheduled that night, so we headed back to the hotel to relax for an hour before piling into a taxi and heading over to Post 390 where the dinner was being hosted.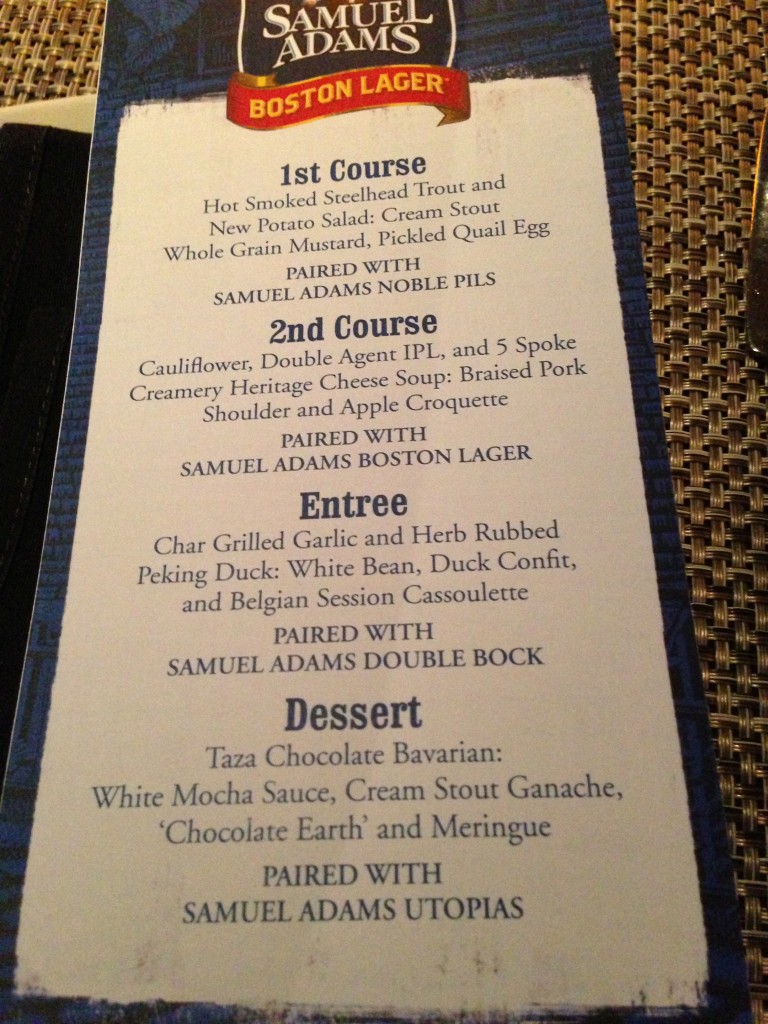 Oh boy.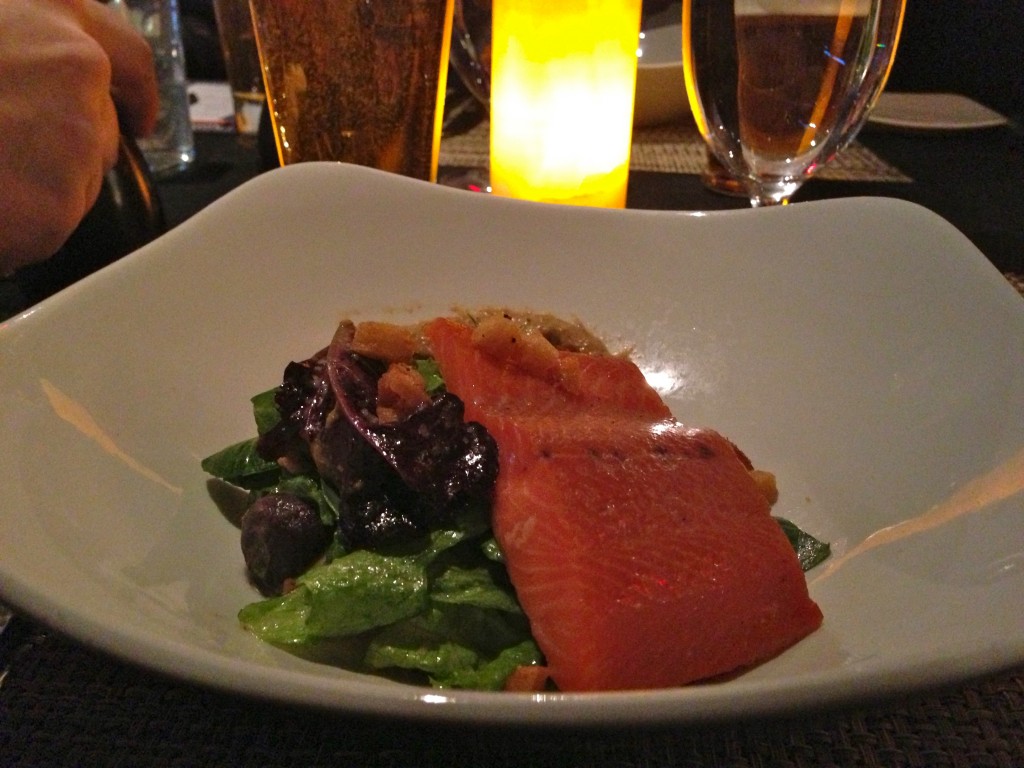 Smokey salmon over wilted mixed greens, potatoes and a pickled quail egg paired with Sam Adams Noble Pils. I had about half of this, minus the egg, before I decided I should probably go slowly with the extensive menu.

Pork and apple croquette in a cauliflower and cheese soup paired with Sam Adams Boston Lager. Again, I had to stop halfway through.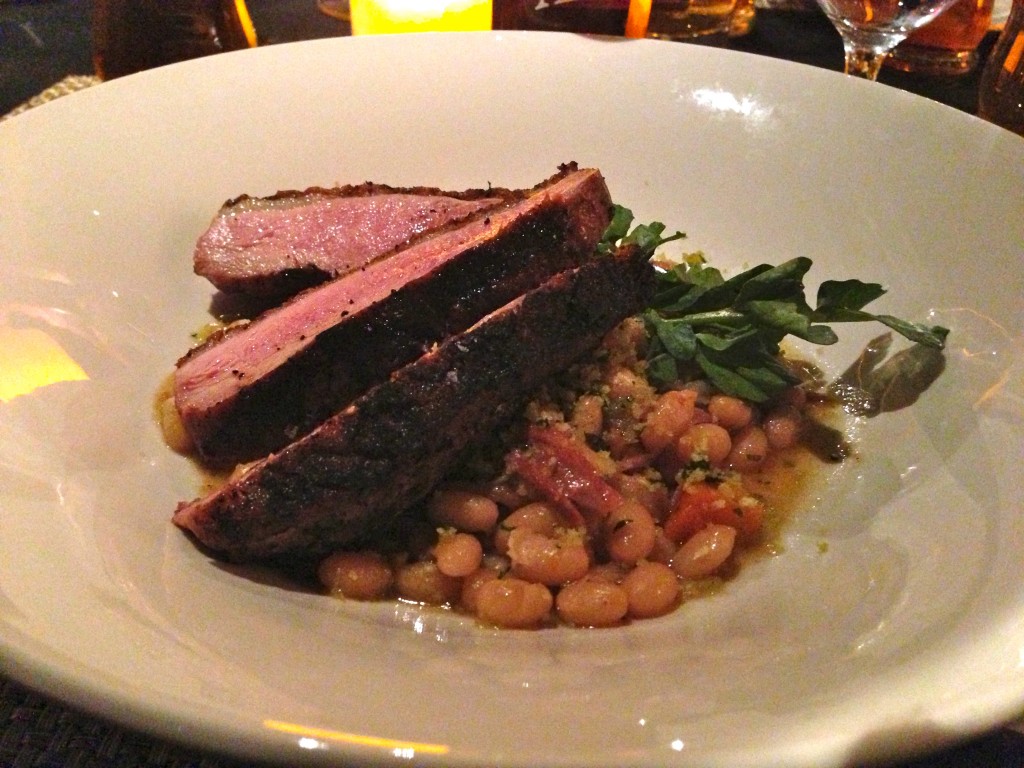 Char grilled duck in a white bean cassoulette paired with Sam Adams Double Bock.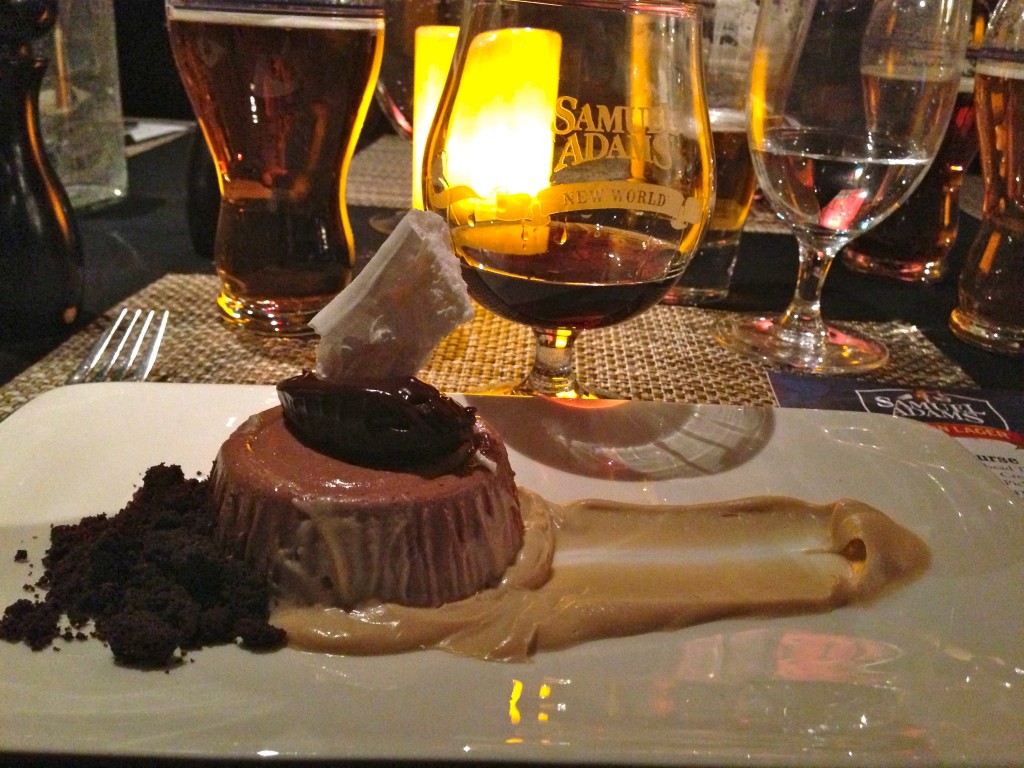 Some kind of a chocolate custard with rich ganache and meringue on top. Honestly though, this was the highlight of the entire meal: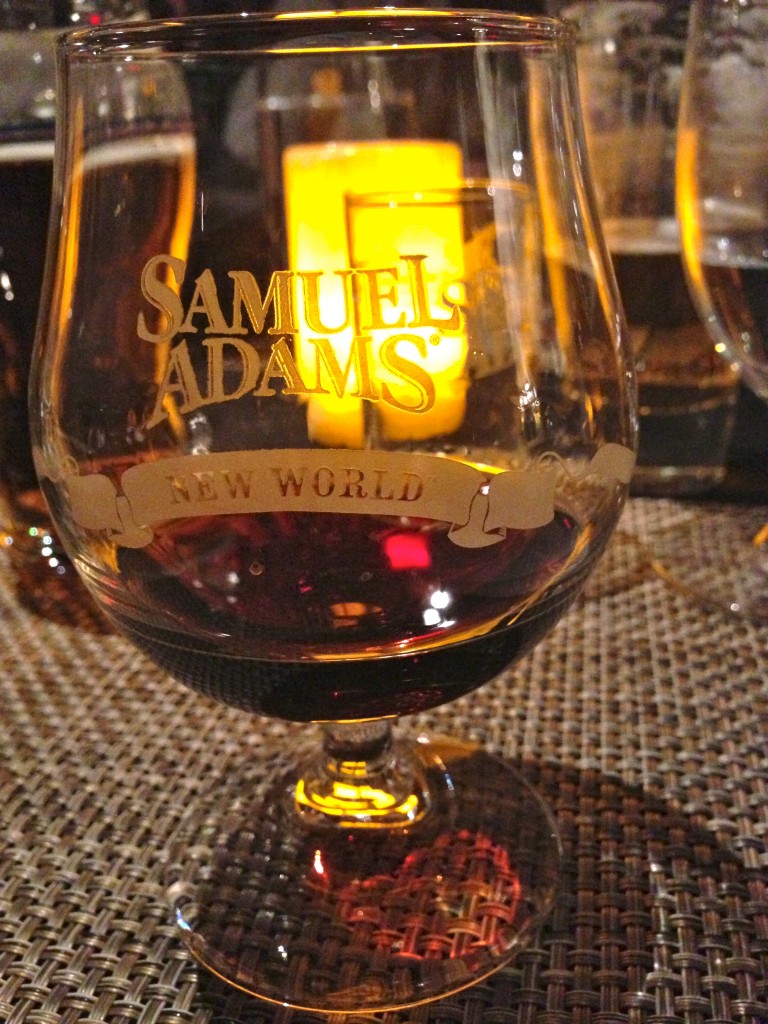 UTOPIAS! I've never had the chance to try this before – 29%ABV, extreme flavors of Bourbon with a high sweetness and hints of oak, smoke and vanilla. I could've sipped a few ounces of this over the entire night and been content.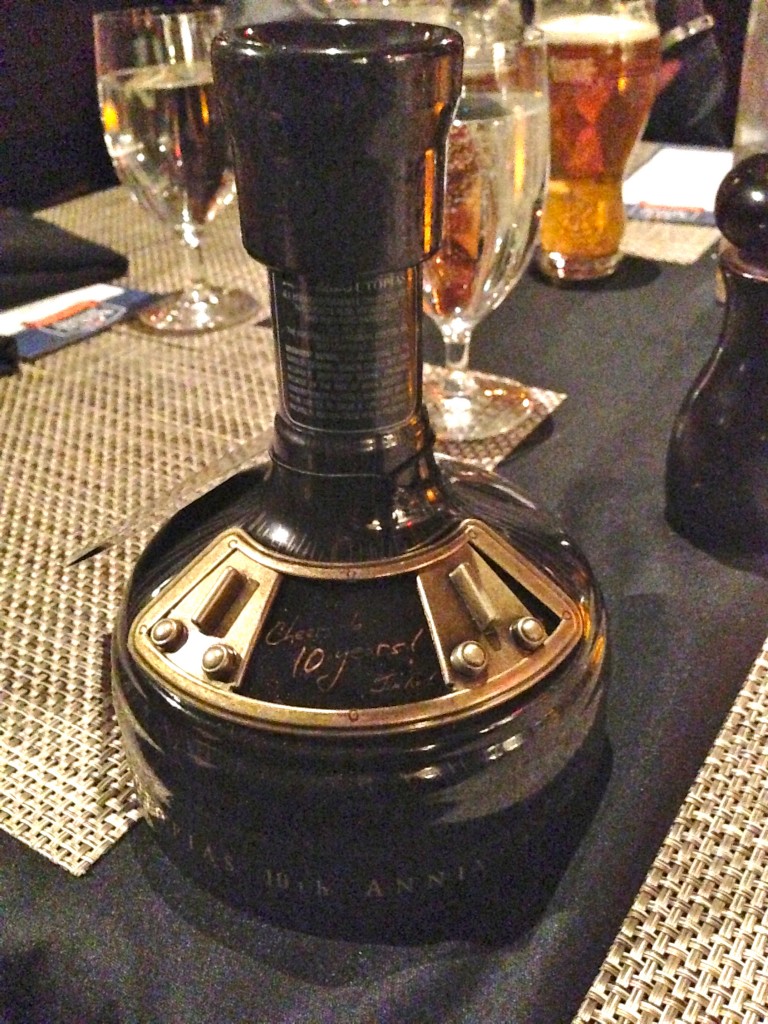 Utopias 10th Anniversary bottle. I wants it. I wants it so much.
Our final day consisted of a six hour class with beer and cheese pairings and tastings.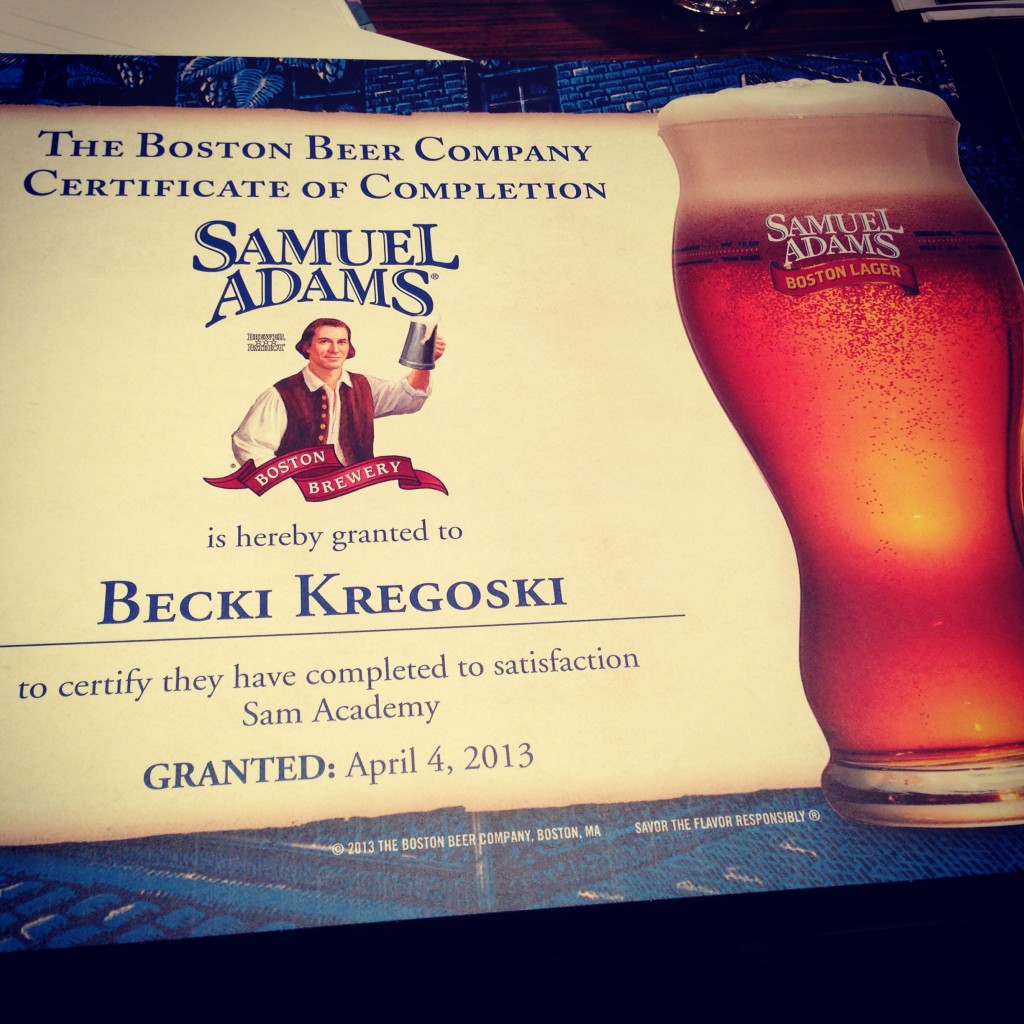 Ta-daaaaah! We got shipped off to the airport and flew back to Los Angeles on a long 6.5 hour flight.
Can I be a professional student of beer for a living?