With the cold days we had this week, I've been craving fall foods. When I was a tiny six year old living in Illinois, my family would go apple picking in the orchards. It was always a brisk day, sometimes with wisps of rain falling from the sky, surprising us with an icy splash across the face. After we'd gathered our bushels, we'd traipse to the barn where they sold fresh fruits and vegetables and grab a jug of freshly squeezed apple cider and a box of steaming hot cider donuts. Once home, we'd light the fireplace and curl up with steaming mugs of cider garnished with cinnamon sticks and lick the crumbs and flecks of sugar from our fingers.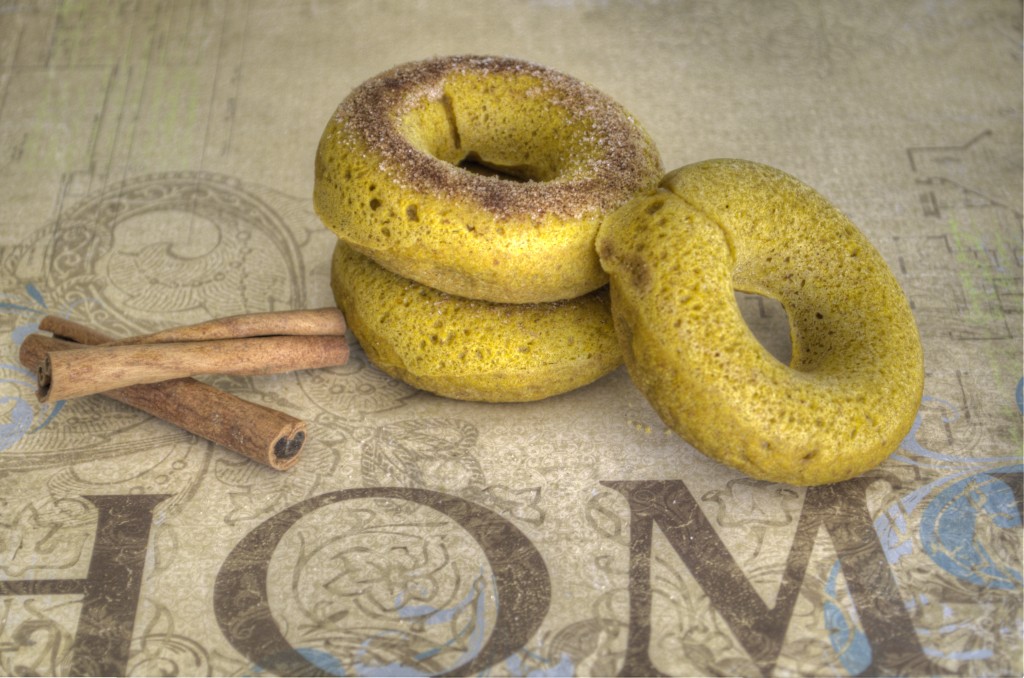 I used this recipe from the Blue Eyed Bakers to make Pumpkin Spice Donuts, subbing 3/4 cup of oat flour for the regular white and using 2tsp of pumpkin pie spice instead of seeking out all the individual spices. These soft, moist and slightly dense donuts melt in your mouth with an essence of cinnamon and an extra hint of sweetness from the cinnamon-sugar topping. Memories of childhood danced across my tongue. Something tells me they'll disappear quickly at the brewery tomorrey.
My brain got to turning after making these. I tried to think of the perfect autumn meal to match with the cooling temperatures outside. Chili and cornbread have been a little bit of an obsession ever since Brie and I had our pumpkin beer/food pairing/tasting a few weeks ago. I decided to put my brand-new donut pans into overdrive.
Pumpkin Ale Cornbread Donuts – Printable recipe can be found HERE.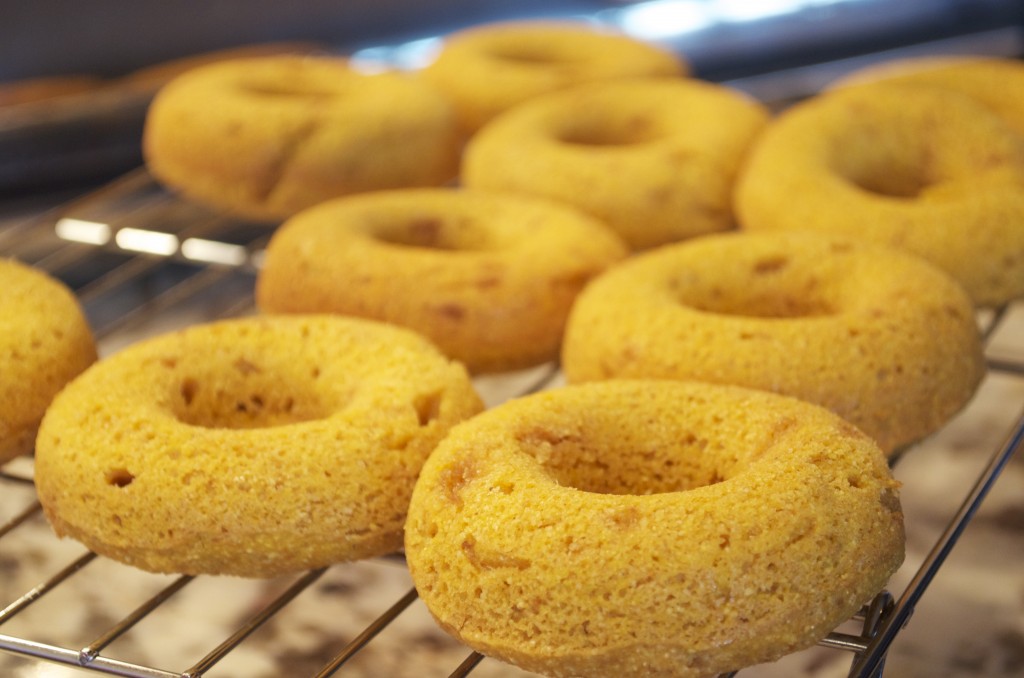 Ingredients:
1/2 cup white whole wheat flour
2/3 cup corn meal
1+1/2 tsp baking powder
1/2 tsp salt
5 tbsp butter
1/3 cup tightly packed brown sugar
1/2 cup pumpkin puree
3/4 cup pumpkin beer (Any sweet, malty beer (like Shipyard Smashed Pumpkin) works great in this recipe)
1 egg

1. In a large bowl, combine the pumpkin puree, beer and egg and whisk well.
2. In another bowl, cream the butter and sugar together.
3. In a third bowl, combine the flour, corn meal, salt and baking powder.
4. Mix all three bowls together and mix until just combined, being careful not to overmix.
5. Using a piping bag, or a simple plastic bag, pipe the batter into a greased donut pan.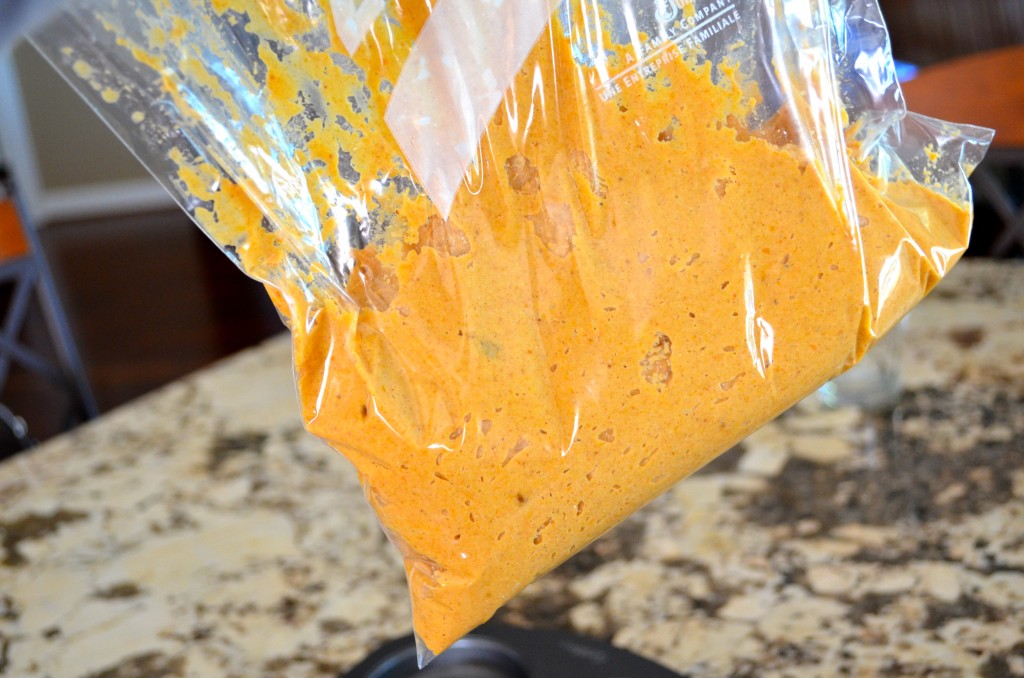 Homemade piping bag!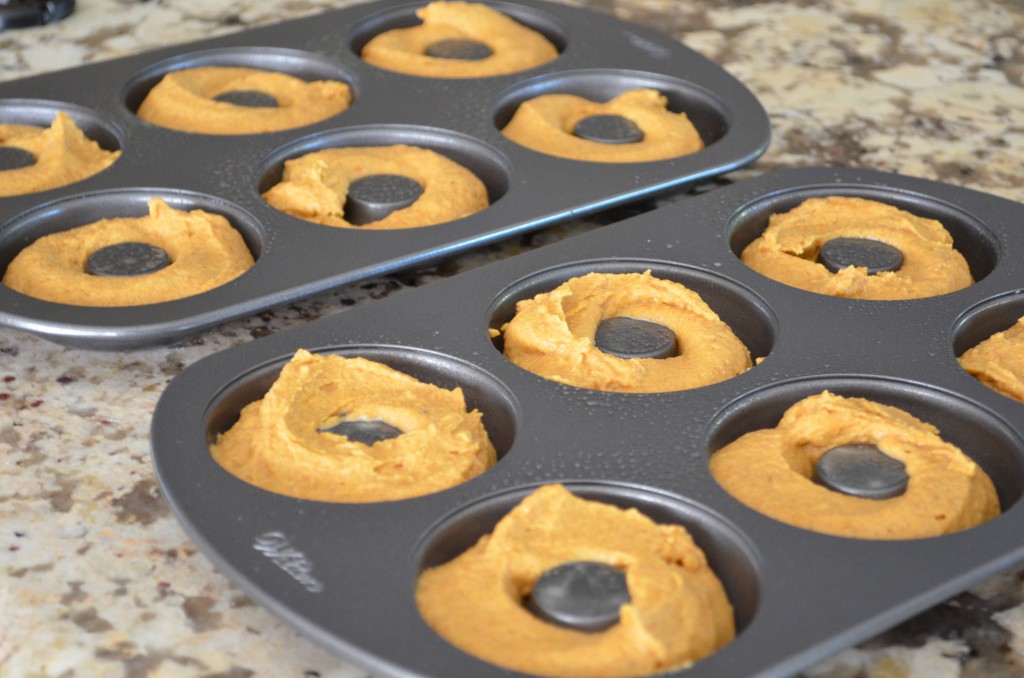 6. Put the pans in an oven preheated to 350 degree Fahrenheit oven and bake for 15-20 minutes, or until a toothpick inserted into the middle of the donut comes out clean.
7. Remove the donuts and place on a wire rack to cool.
The perfect way to consume these donuts? With warm chili, full of vegetables and beer. Everything is better with beer!
Autumn Pumpkin Ale Chili– Printable version of the recipe available HERE.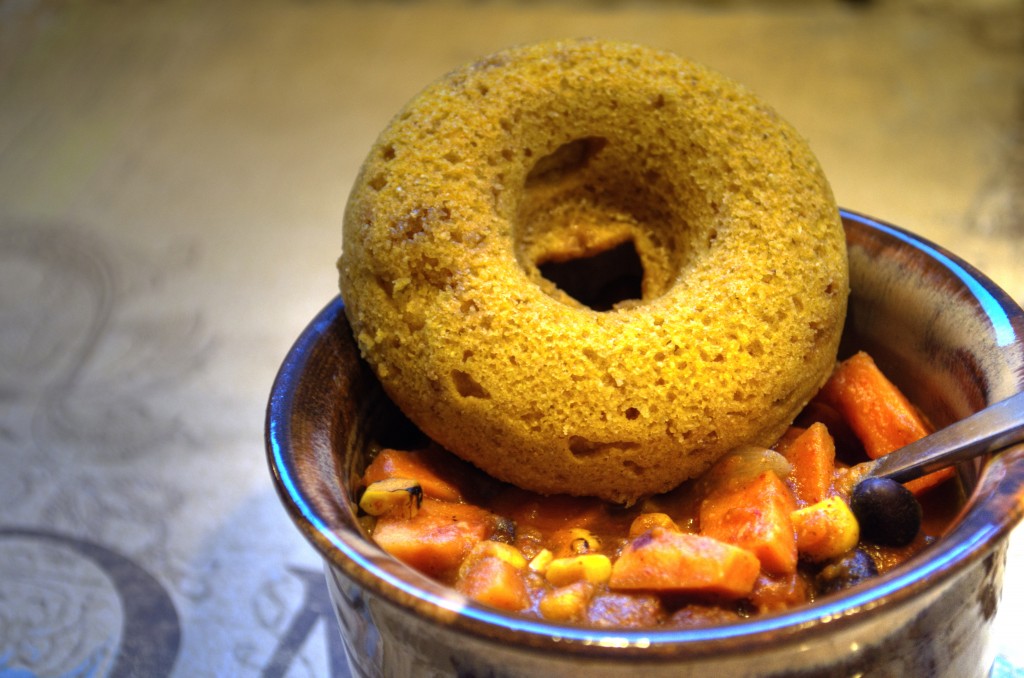 Ingredients:
1 large sweet potato, peeled and diced
1 large onion, diced
5 cloves of garlic, minced
2 tbsp chili powder
3 tsp cumin
1 tsp cinnamon
1 tsp paprika
3 tsp salt
1+1/2 cups vegetable broth
1+1/2 cups pumpkin ale
1 15 ounce can pinto beans, drained and rinsed
1 15 ounce can black beans, drained and rinsed
1 15 ounce can diced tomatoes
1 cup pumpkin puree
1 cup corn
2 tbsp olive oil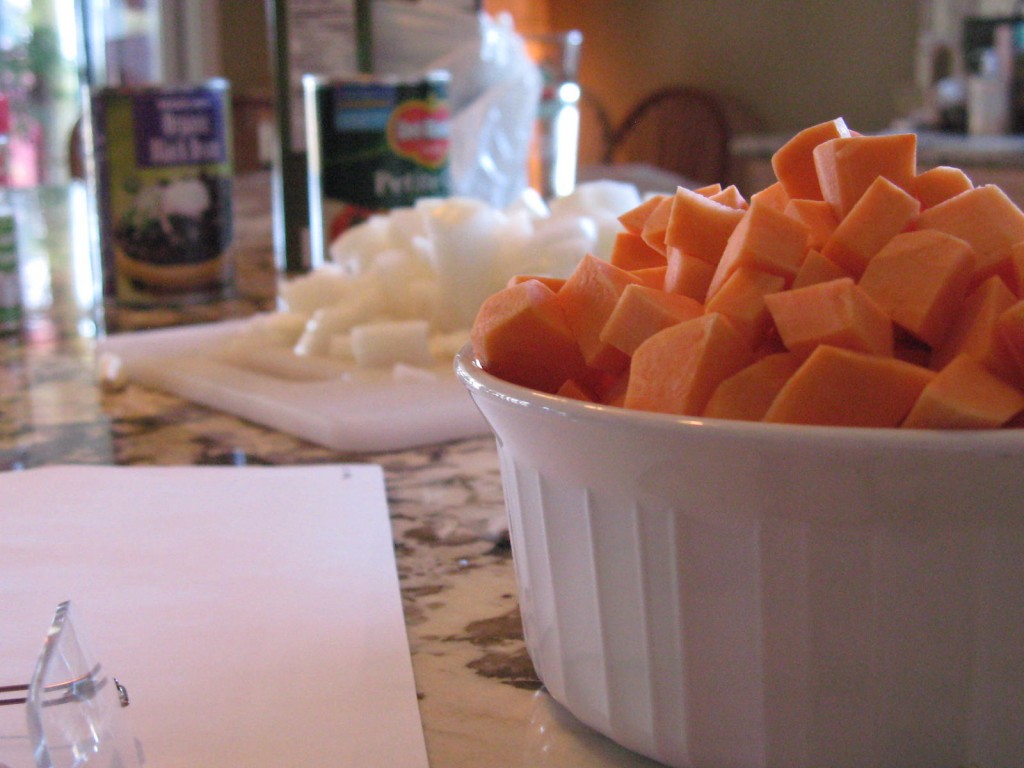 1. In a large pot over medium heat, saute the sweet potato and onion in olive oil for 15-20 minutes, until the onion is softened.
2. Add the garlic, chili powder, cumin, cinnamon, paprika, salt, beans and tomatoes and mix well.
3. Add the vegetable broth and pumpkin ale, bring to a boil, then reduce to a simmer for 20-3o minutes, until sweet potato is tender.
4. Add the pumpkin puree and corn and simmer until heated through.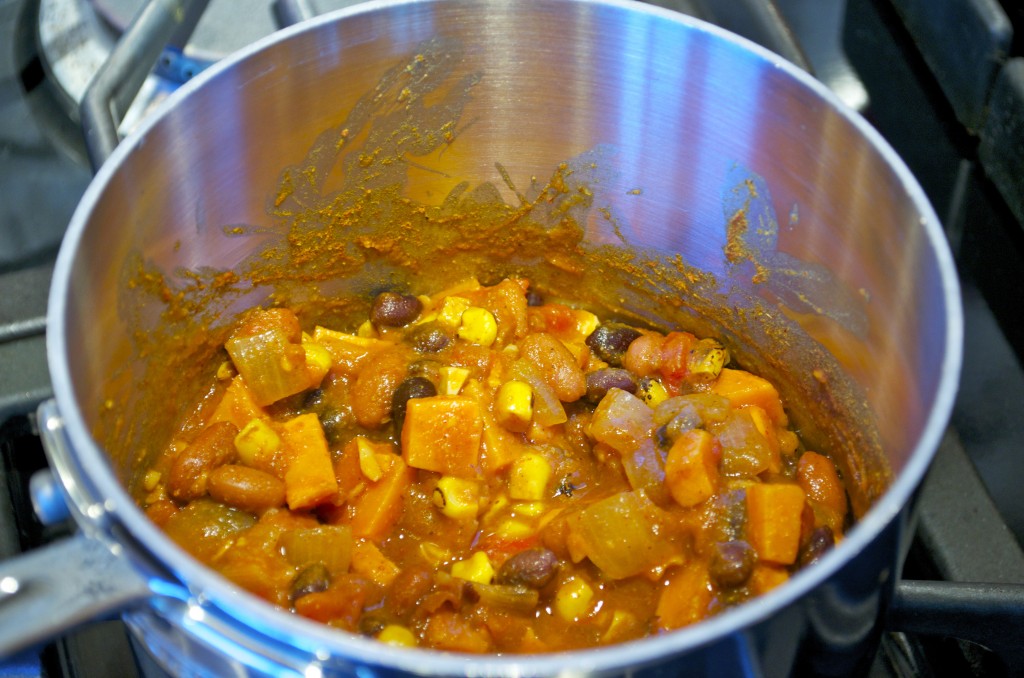 5. Serve with pumpkin ale cornbread and a pumpkin ale.

HDR Drool.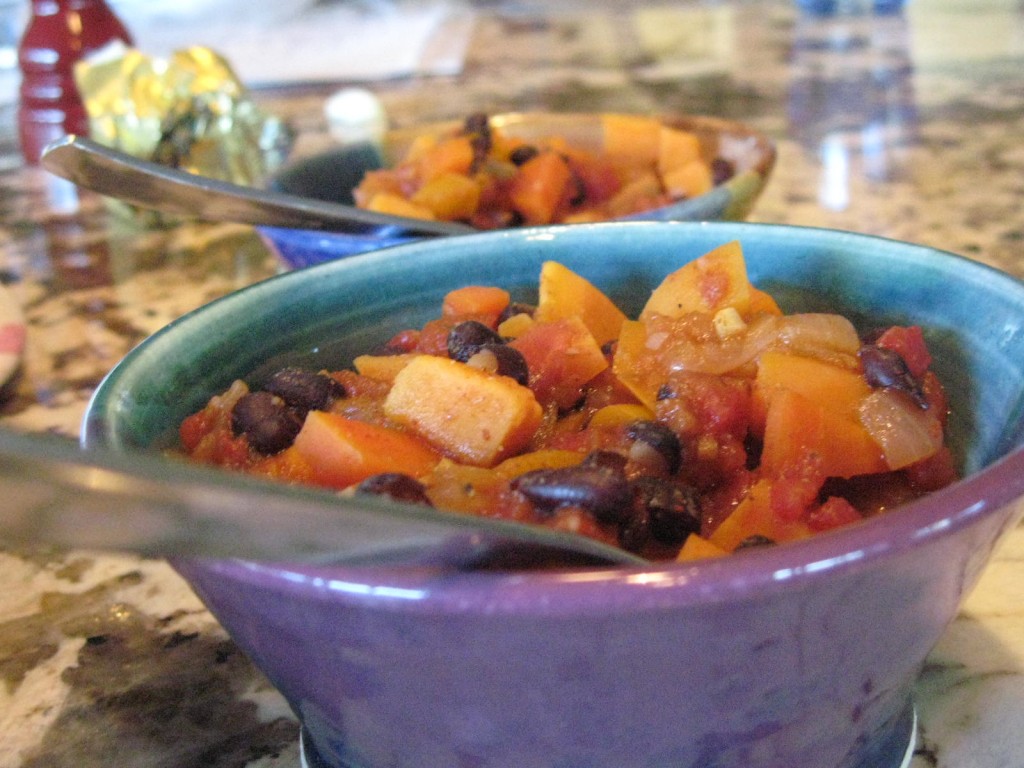 Realistic picture drool.
The next time the temperature drops below 70 degrees, I encourage you to make this combination. Donut pan purchase? Best/worst decision I've ever made (If I gain a couple of extra layers to keep me warm this winter, I guess I'm okay with that). On a totally unrelated note, I'll be taking about two dozen pumpkin spice donuts and cornbread donuts to the brewery tomorrey morning…